A chalkboard wall is the perfect addition to a children's playroom. It adds a fun, playful touch, and keeps the kids busy for HOURS! And, the best part is it's not too difficult to make!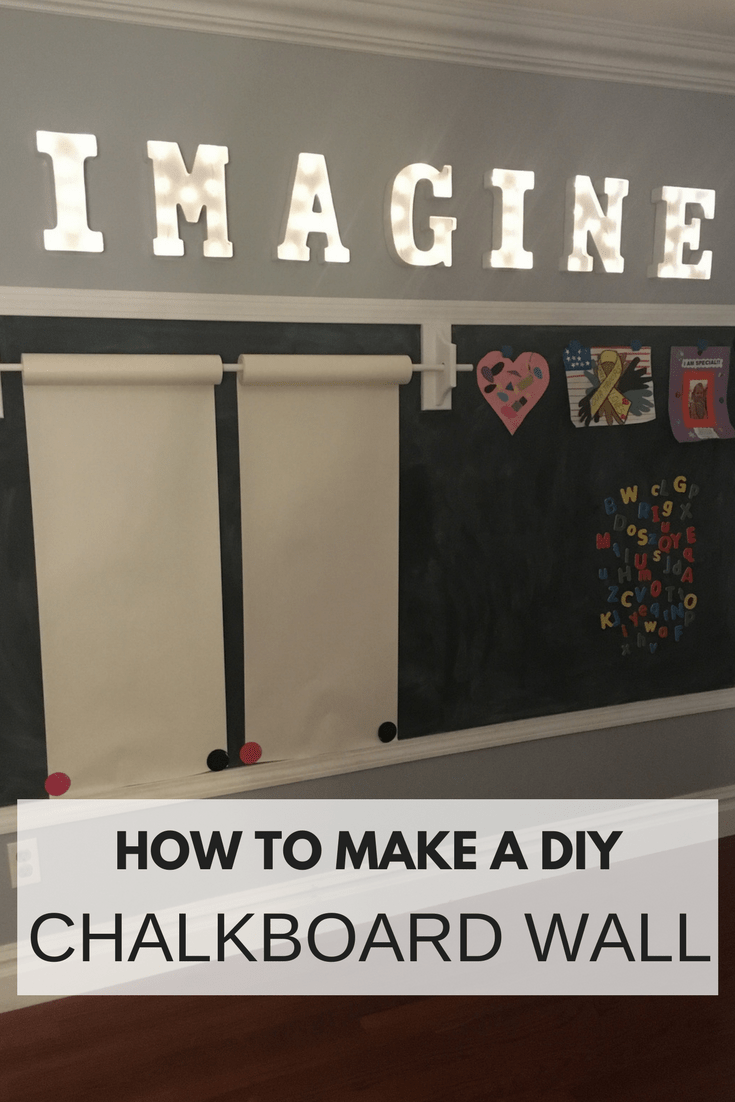 Disclosure: We are a participant in the Amazon Services LLC Associates Program, an affiliate advertising program designed to provide a means for us to earn fees by linking to Amazon.com and affiliated sites. I may earn money or products from any of the companies mentioned in this post. Purchasing through an affiliate link comes at no extra cost to you. Note that my recommendations are included because I think they are they are helpful and useful, not because of commissions I make if you decide to buy something.
HOW TO MAKE A MAGNETIC CHALKBOARD WALL
Materials
4' x 8' galvanized steel sheet
(2) 15' pieces of white trim
Chalkboard paint
White paint
Wood glue
White caulk
Painter's tape
2" roofing nails
Finish nails
Paint roller
Paint brush
Sandpaper
Screw gun/drill bit
Miter saw
Hammer
Nail gun (optional)
Stud finder
Level
Tape measurer
Optional Items to Decorate
Magnetic letters/numbers
Magnets
Marquee letters
Chalk
Curtain rod (optional, if you add a paper roll for painting)
Easel paper roll (optional, if you add a paper roll for painting)


Prepare the Board
1)     Paint your galvanized sheet metal with chalkboard paint with a paint roller. While the paint only takes a few hours to dry, you will need to let it cure for at least 3 days. (Read the details on your paint can for the timing specific to your paint.) (Meaning – don't touch it or write on it!)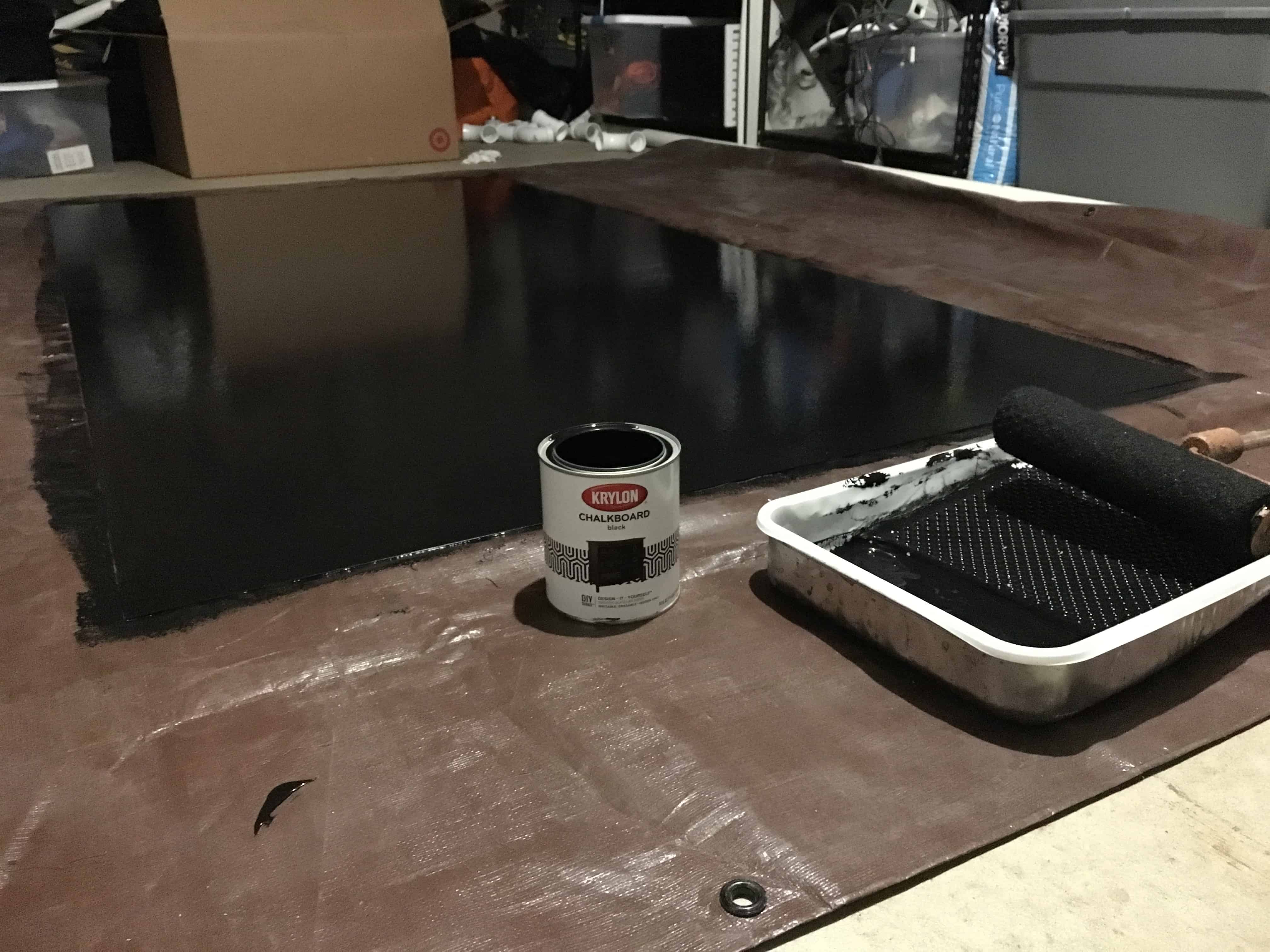 Measure/Plan
2)     Use painters tape to map out where the chalkboard will be hung. Use a level to make sure its straight. (I purchased an air grip laser level that suctions to the wall and projects your level line, but you can use a standard level too.)

3)     With a pencil, trace around the painter's tape for the four corners and some lines on the top. You do not need to trace the entire area. You just need to leave some markings so that you will be able to see where the board should go when you pull off the tape.
4)     Using your stud finder, locate the studs in the wall. Measure where the studs are in relation to where you are hanging the chalkboard. You will want to identify the distance from the edge to each stud and you will use this information to determine where you should pre-drill holes in your metal sheet in step 5.
Note, the exact measurements will differ for everyone depending on where you choose to hang your chalkboard. We chose to attach the chalkboard to the wall using 6 nails on the top, and 6 on the bottom.
5)     Use the measurements you calculated in step 4 to identify where you will be attaching the chalkboard to the wall. With your screw gun and drill bit, predrill holes into the metal sheet.



Hang the Board
6)     Have someone help you hold the metal sheet to the wall in place. Use the pencil marks you made in step 3 as a guide.
7)     Hammer roofing nails into pre-drilled holes of the metal sheet and wall to attach the board to the wall.
Trim the Board
8)     Use a miter saw to cut your trim with 45 degree edges. You will want your trim to be slightly longer than your board so you can nail it directly into the wall (rather than into the metal sheet).
For our 4' x 8' board, we cut the trim to be 8' 2.75" and 4' 2.50" point to point.
9)     Attach the trim to the wall using finish nails. You can also add a small amount of wood glue to the corners. (It's helpful to use a clamp around the corners to hold the trim together as your glue dries.)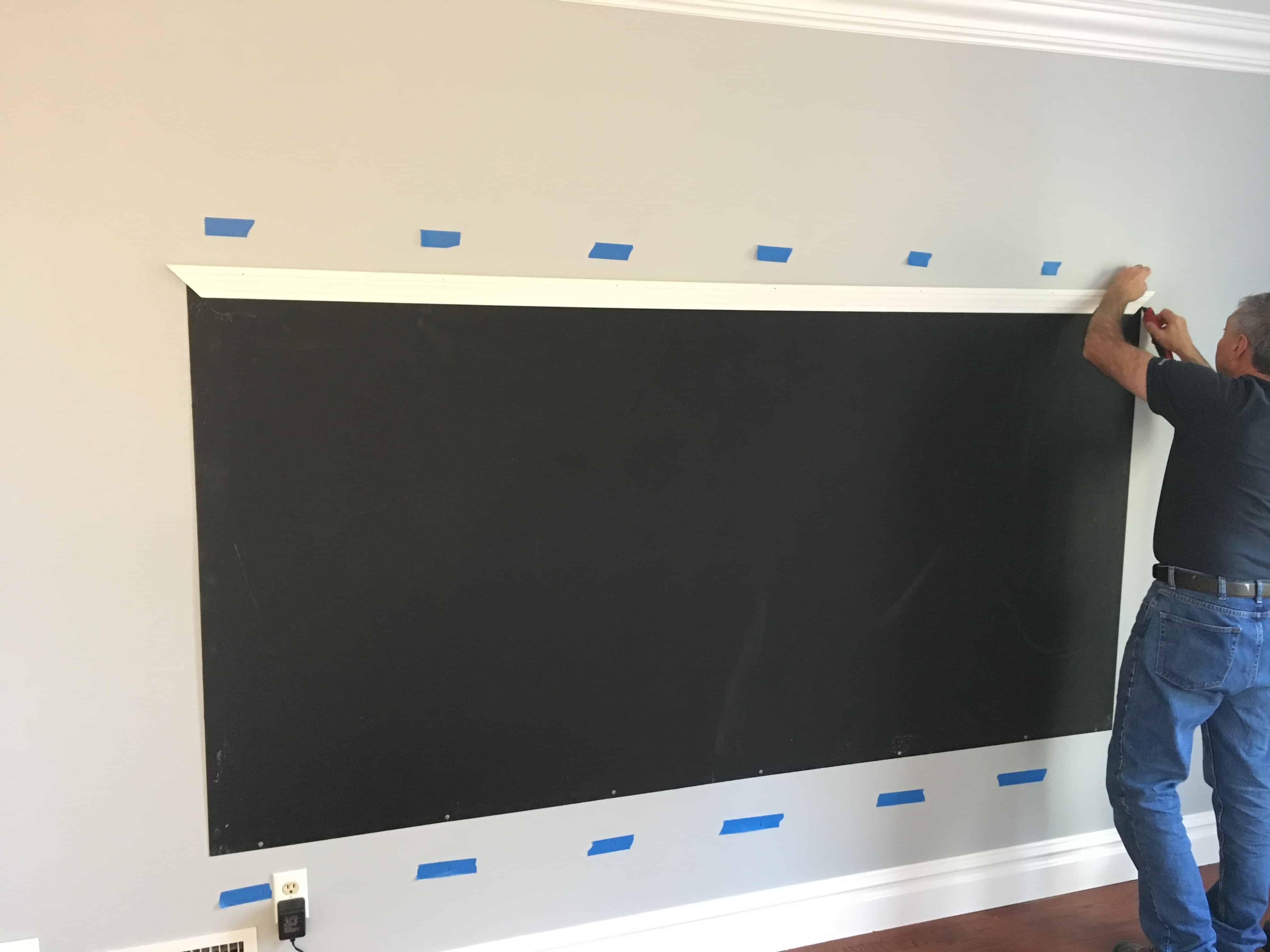 10)  Caulk the outside of the trim to fill the gap between the trim and wall.
11)  Rub wood putty over nails on trim. Once dry, sand over putty to smooth.
12)  Paint trim with white paint.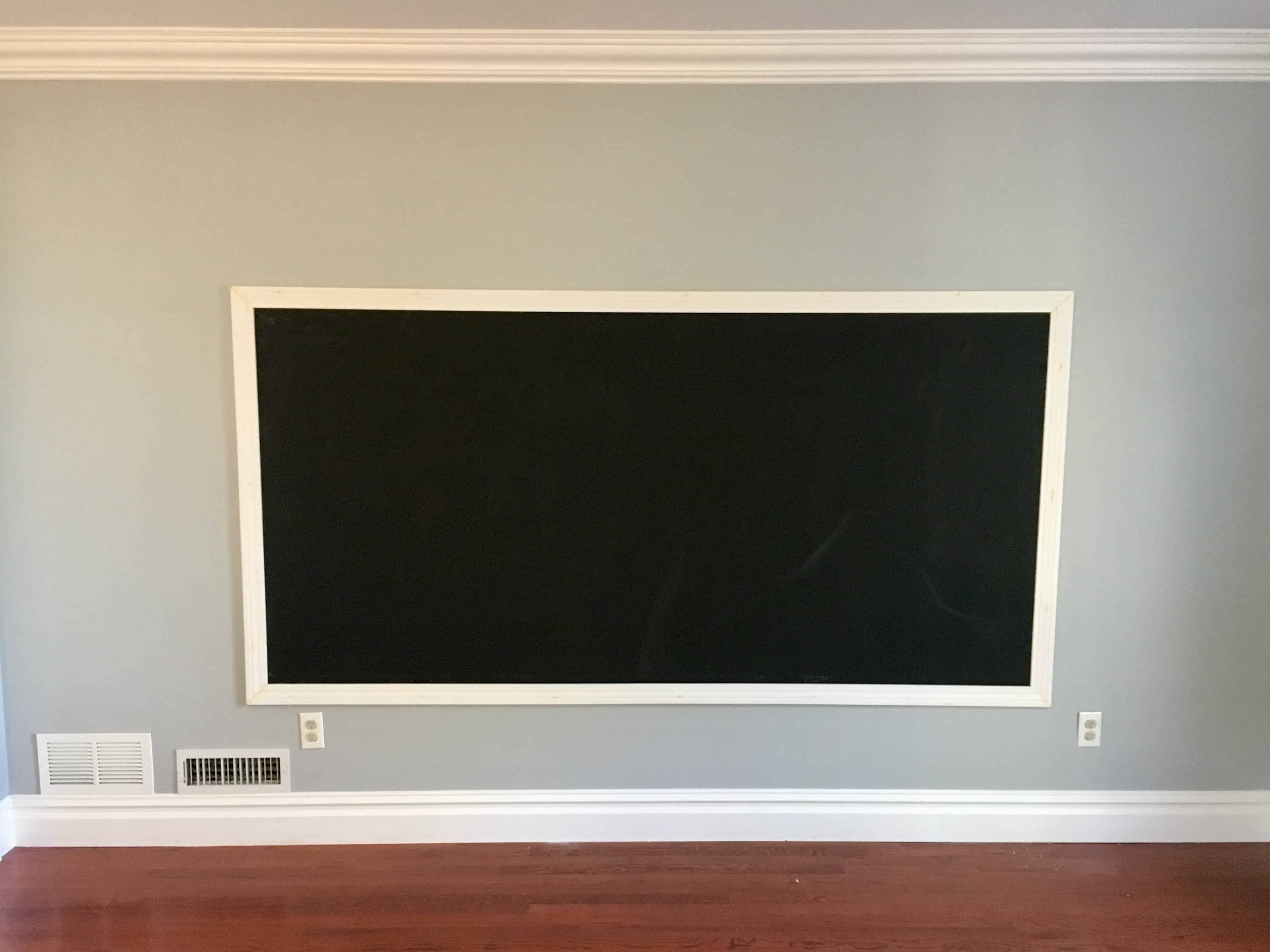 Season your Board
13)  Before you can write on your new chalkboard, you will need to season it. Chalkboard paint is very porous and if you write on the chalkboard before you season it, you will never be able to completely erase what you have drawn.
Take a piece of chalk and rub the side of the chalk over the entire surface of the board. Then use an eraser or dry cloth to remove. After you season your board, it will no longer be dark black, but will have an authentic blackboard look.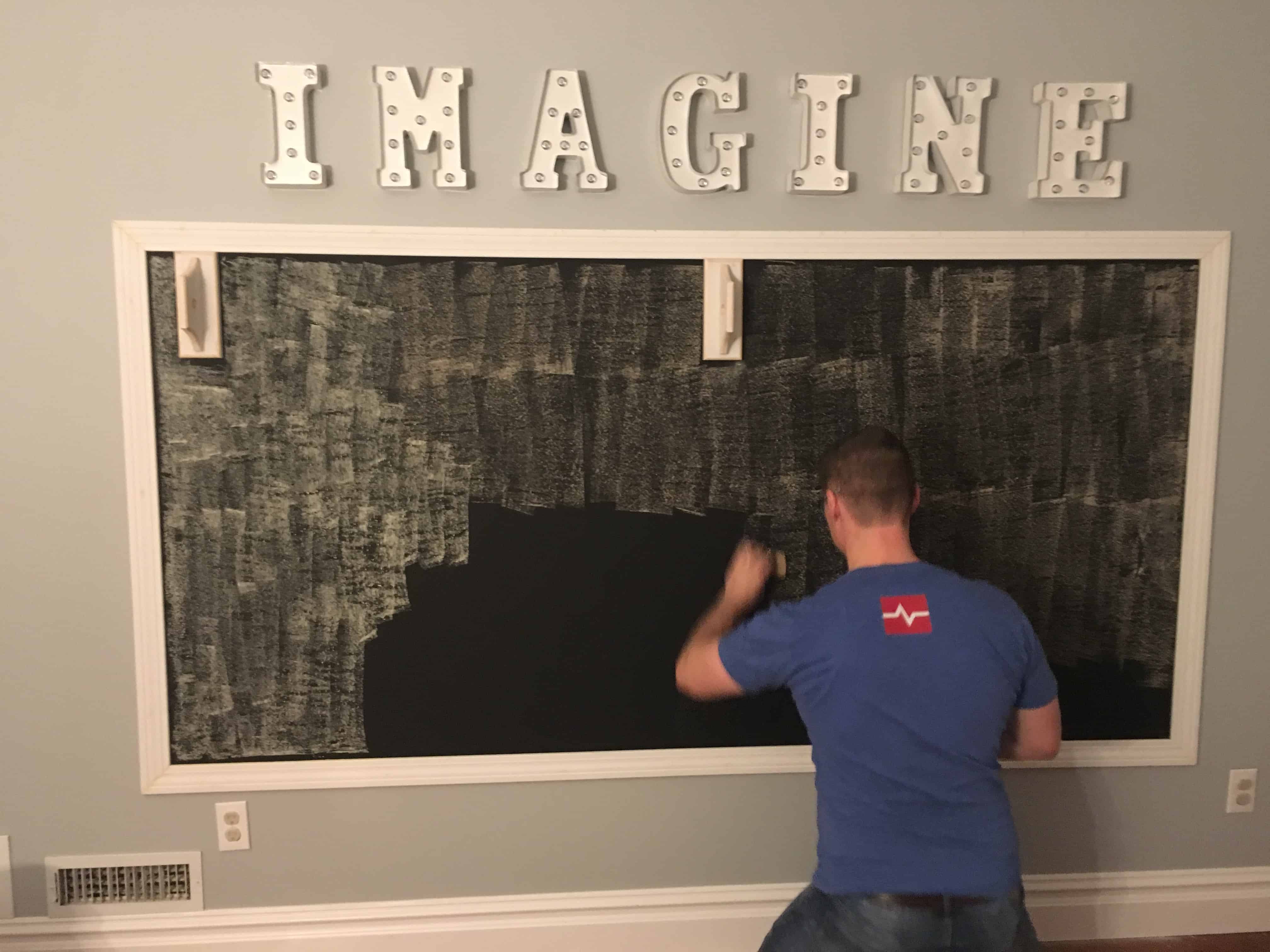 You can use a damp rag to remove some of the chalk dust, but I would not use a wet rag.
Hang the Paper Rolls for Painting
A heads up that my directions here are lacking a bit as this was actually done by a friend. We had planned on drilling large eye hooks into the board and inserting a curtain rod through the hook to hold the paper rolls. However, we were pleasantly surprised when our friend created a beautiful molding to hang the paper rolls. I'm not exactly sure what he did, but I've taken a close-up picture if you'd like to create something similar.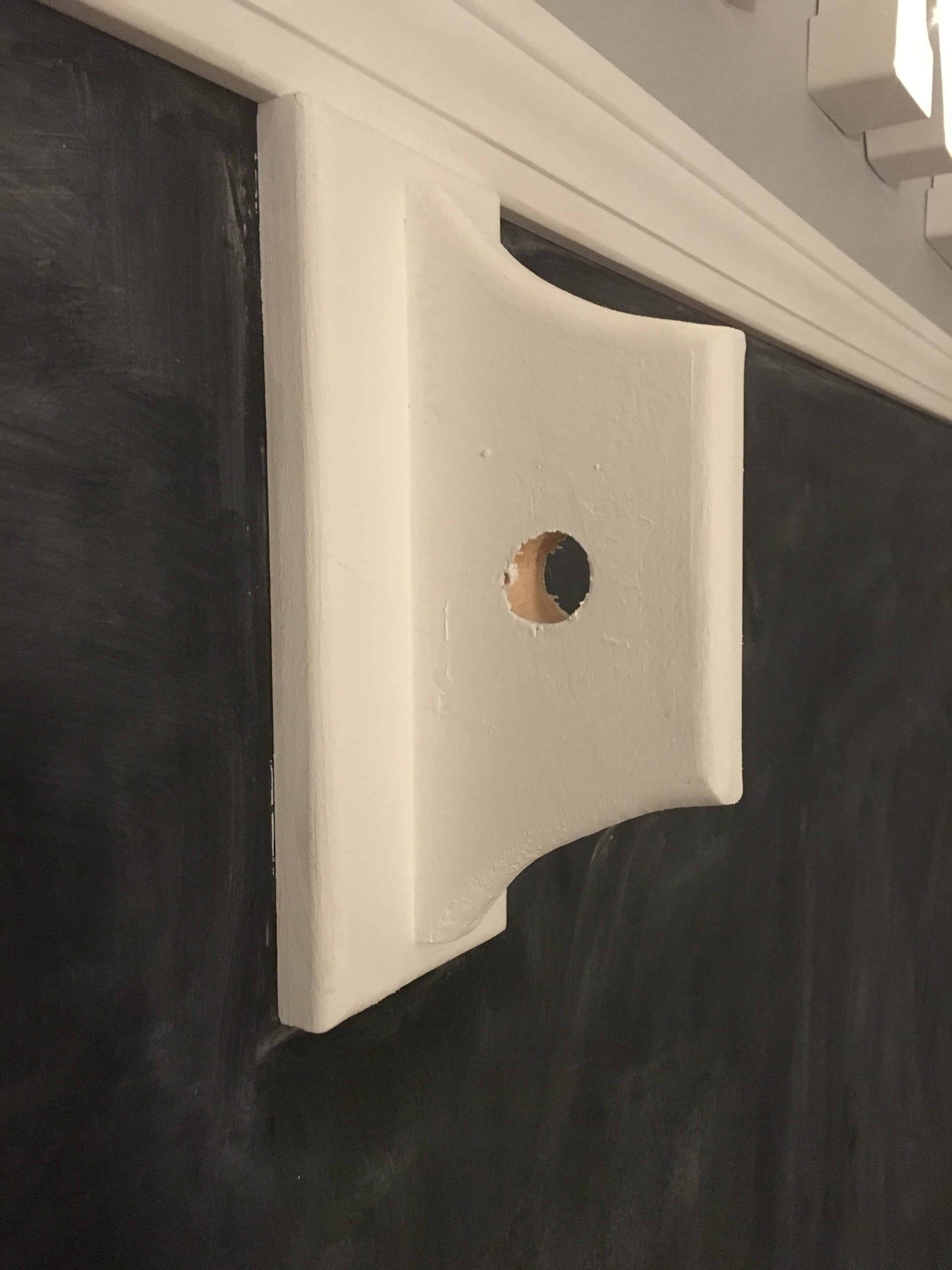 Decorate and Enjoy your Chalkboard Wall!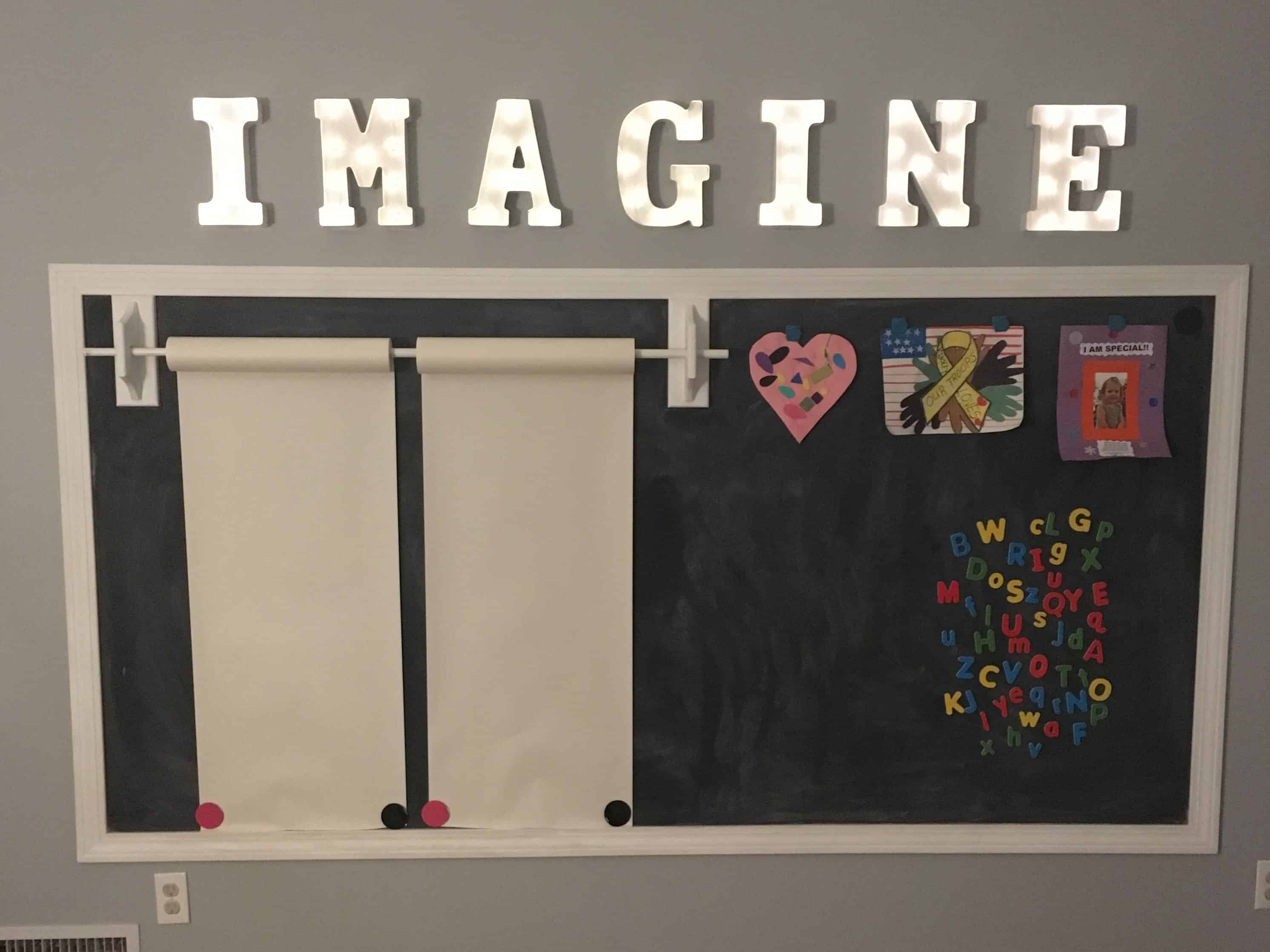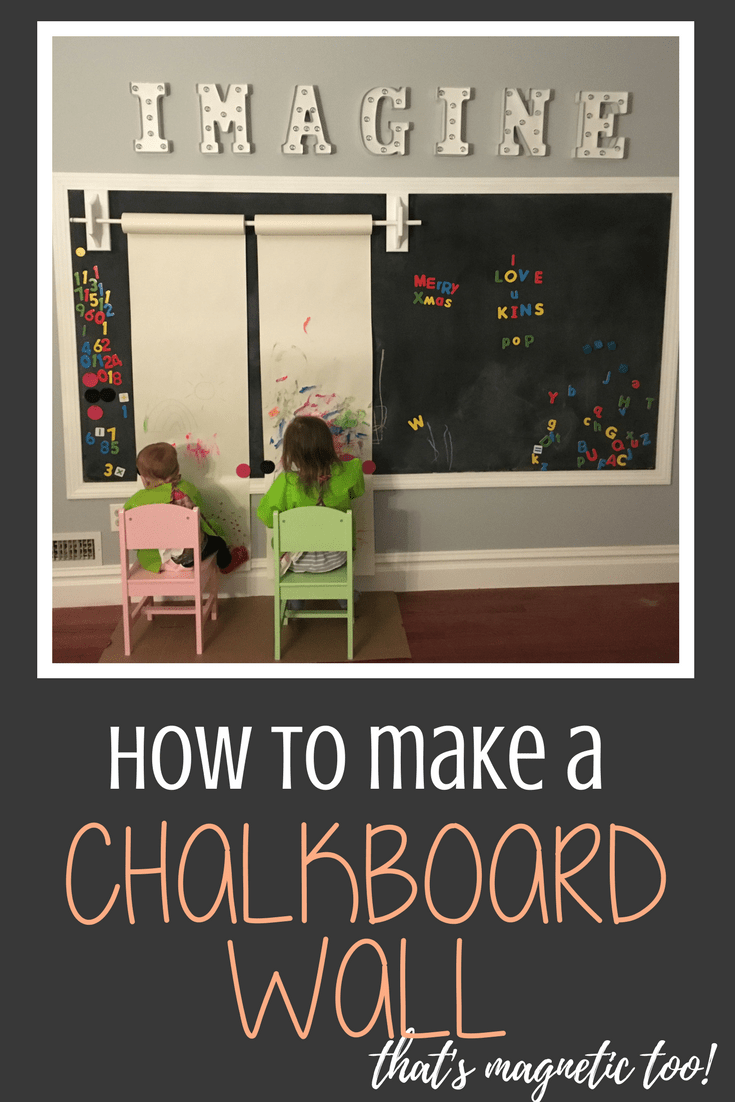 Receive Weekly Life Hacks and Other Practical Information
Subscribe to get our latest content by email and receive exclusive life hacks and practical information sent directly to your inbox! By using this form you agree with this site's privacy policy.