Everything You Need to Know About Cutting Down a Christmas Tree
There is nothing quite like a real, live Christmas tree. Many families around the world make a whole tradition out of it. The experience of going to the farm, picking out your perfect Christmas tree, and cutting it down is something that kicks off the start to a new Christmas season.
The last thing you want is to end up with a needle-shedding, brown, and dried-out Christmas tree for Christmas. Learn the best tips for cutting down your Christmas tree, how to care for your live Christmas tree, and how to dispose of your Christmas tree. (And even how to get sticky sap off the carpet!)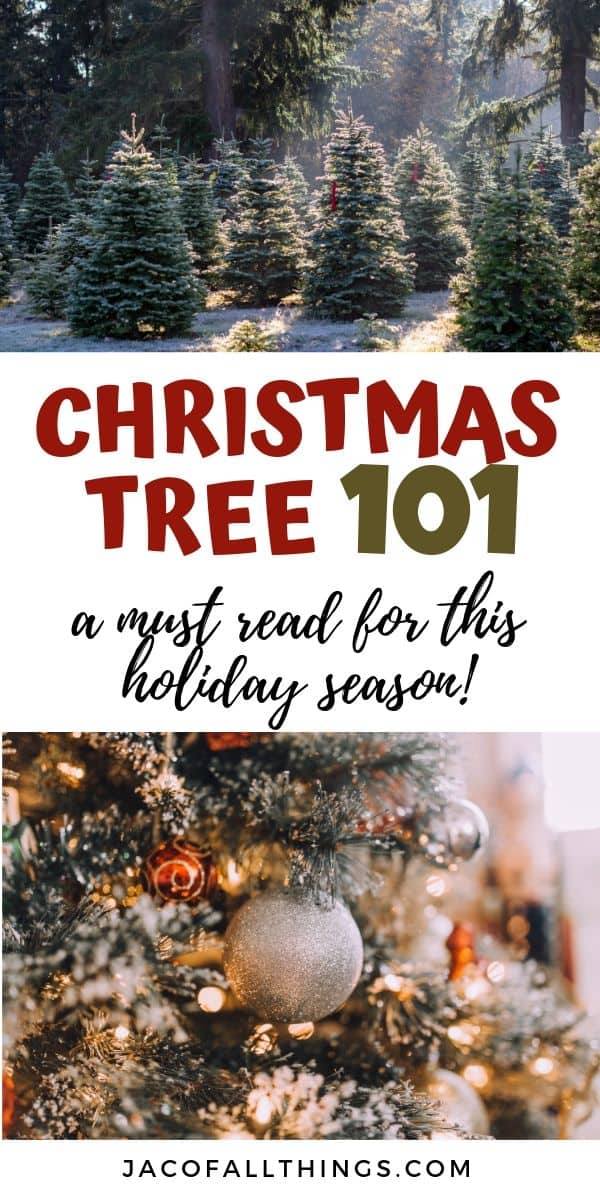 This post may include affiliate links. As an Amazon Associate I earn from qualifying purchases. Read the full disclosure here.
Tips for Cutting Down your Christmas Tree
Before You Go to the Christmas Tree Farm
Measure the desired height of your tree (minus the height of your tree stand and tree topper)
Measure the desired width of your tree
Know what type of tree you want before you get one. (Check out this article and chart with details on the most common varieties to choose from)
Related: 20 of the Best Christmas Traditions You'll Want to Add This Year
What to Bring/Wear to the Christmas Tree Farm
If you are cutting down the tree yourself, avoid thin pants (like leggings) as the needles will likely poke through and may hurt
Bring a tarp to help carry your tree and to line your roof before putting your tree on top of your car
Bring strong gloves for carrying your tree
At the Christmas Tree Farm
Make sure your tree is fresh:

Run your hands over a branch and make sure the needles don't fall off
Bend a needle; needles from a fir tree should snap and needles from a pine tree should bend
Once you are ready to cut your tree, one person should hold the tree steady, and the other lay under the tree to begin to cut
If you brought a tarp, lay down the tarp before cutting your Christmas tree so it will fall on it
At Home: How to Take Care of a Live Christmas Tree
Make a fresh cut and put your tree in water within 4 hours. (If you do not, the sap seals over the base and hinders water absorption.)

You only need to cut about a half of an inch from the trunk of the tree
Make sure your cut is even to maximize the surface area of water absorption. (You do not want to cut at an angle or in the shape of a "V")
Keep tree away from sources of heat. Not only is this a fire risk, but the heat will also dry out your tree faster.
Never let the water level fall below the trunk in the stand. Without water, the base of your tree will seal off and not allow any more water to be absorbed.
Your tree will drink a lot in the first few days so check your water often and refill as necessary. (This may mean a few times a day for the first few days.)

You may have heard to add aspirin, copper pennies, or bleach to the water to extend the life of the tree. According to the National Christmas Tree Association, this is not necessary, and even be detrimental to a tree's moisture retention and increase needle loss.
On an ongoing basis, you can expect your tree to drink one quart of water per day per inch the stem is wide. (For example, a tree with a three-inch wide trunk, will likely drink around 3 quarts of a day.
You no longer have to get under the tree to water it with these genius watering devices that are disguised like a gift bag to place under your tree.
Secure your tree (especially if you have young children) using fish line and eyelet hooks.
What do do if your Christmas Tree Isn't Taking Water
If your Christmas tree isn't taking water, there are a few things you can do to try to remedy the situation.
Hot tap water in the tree stand increases water uptake in some tree
If you are able to, re-cut the bottom
Clean Up: How to Dispose of a Christmas Tree
The key to disposing a Christmas tree with limited mess is to try to keep your tree from drying out. You may be tempted to stop watering your tree after Christmas, but it will only cause the tree to continue to dry out and cause even more needles to fall off.
Before disposing of your Christmas tree, remove all lights and decorations. Your tree will most likely be chopped and mulched, so you do not want to leave on any materials that are non-recyclable.
To minimize the amount of needles falling off (and in turn scattering around your house), cover your tree in a bag, sheet, or tarp before taking it down.
Jumbo Christmas Tree Disposal and Storage Bag – Fits Trees to 9-Feet

Where Can You Dispose of a Christmas Tree?
How you dispose of a Christmas tree may vary depending on where you live. Many towns and communities offer free curbside Christmas tree pickup in January each year.
This may either be offered through your town or through your local waste management provider. If curbside Christmas tree pickup is available to you, you simply bring your tree to your curb. It will be collected, chopped, and mulched.
If curbside pickup is not available to you, you can contact your local recycling center to see if they accept Christmas tree drop-off services.
You can also search for non-profit Christmas tree pickups.
These companies will pick up your tree, often for only the cost of a small donation.
How to Remove Sap from your Carpet or Clothes
Even if you are incredibly careful, you may still end up with some sap on your carpet or clothes. The good news is there is a relatively easy way to remove sap from your carpet or clothes.
Simply, put a small amount of rubbing alcohol or hand sanitizer (with alcohol) on a rag and dab (don't rub) on the sap stain.
The alcohol will dry the sap to where you can easily pick off your carpet or clothes.
WANT TO RECEIVE HACKS LIKE THIS ONE TO YOUR INBOX?
Email subscribers receive a new life hack each week!
Join our list today! You will receive a weekly email with the latest posts added to Jac of All Things, as well as a weekly "Did you know" tidbit of information or life hack to make your life easier. Simply provide your email address below.
By using this form, you agree with this site's privacy policy.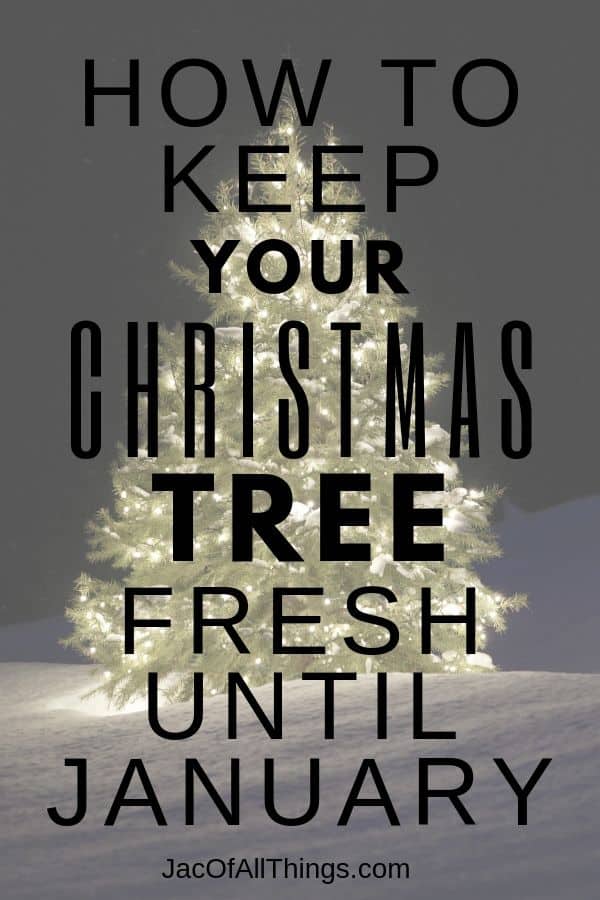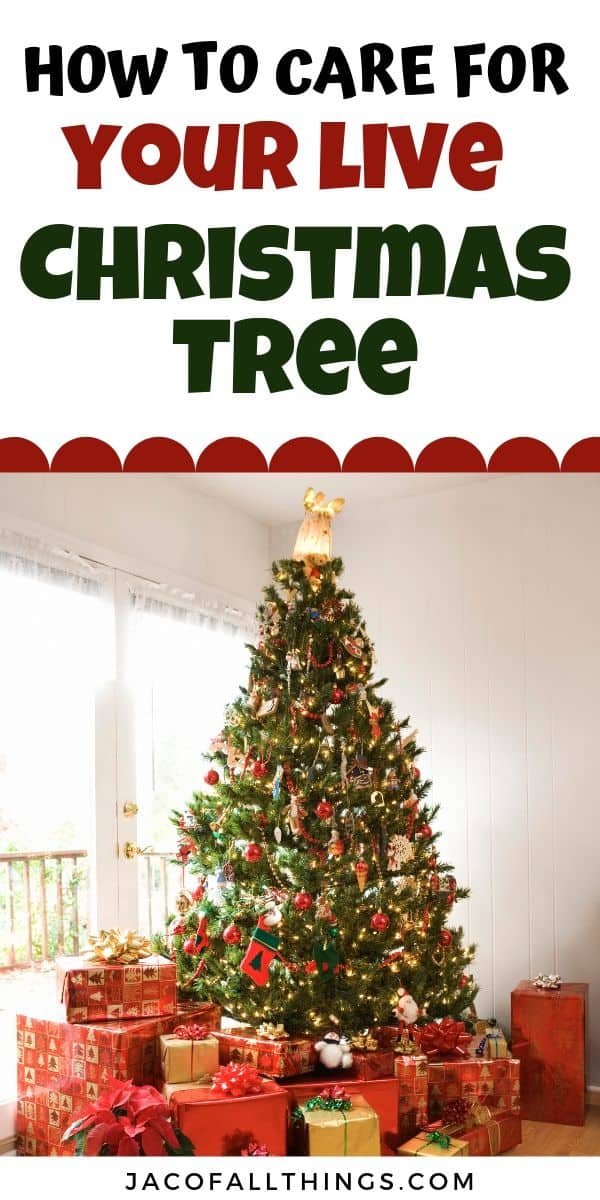 Receive Weekly Life Hacks
Subscribe to receive exclusive life hacks and practical information sent directly to your inbox! By using this form you agree with this site's privacy policy.