Halloween Mad Libs are so fun for kids! I can remember spending hours with friends when I was younger doing Mad Libs and seeing whose stories were the silliest, craziest ones. Little did I know these Mad Libs were actually teaching me a thing or two about the parts of speech.
Now I do Mad Libs with my daughter and the fun comes right back to me. We created the Halloween Mad Libs for an upcoming party and I just had to share it with you! (It would also be great for the classroom, play dates, or parties. Or Mad Libs are a great to keep with you for long car drives, when waiting at a doctor or restaurant, or just hanging around the house!)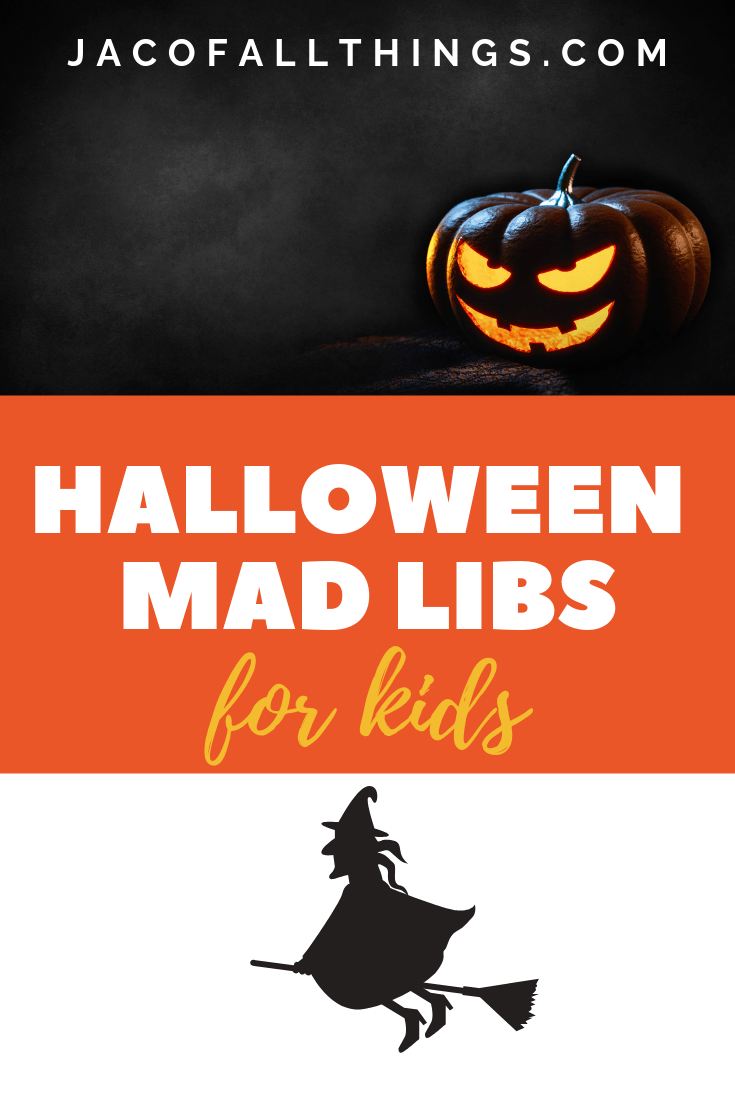 You can access your Halloween Mad Libs by clicking on the link below. (You may want to print a few copies for friends to enjoy!) These Mad Libs for kids can keep them busy for hours at a time! And the best part is you can do them over and over again and the full keeps going!
Access Halloween Mad Libs Here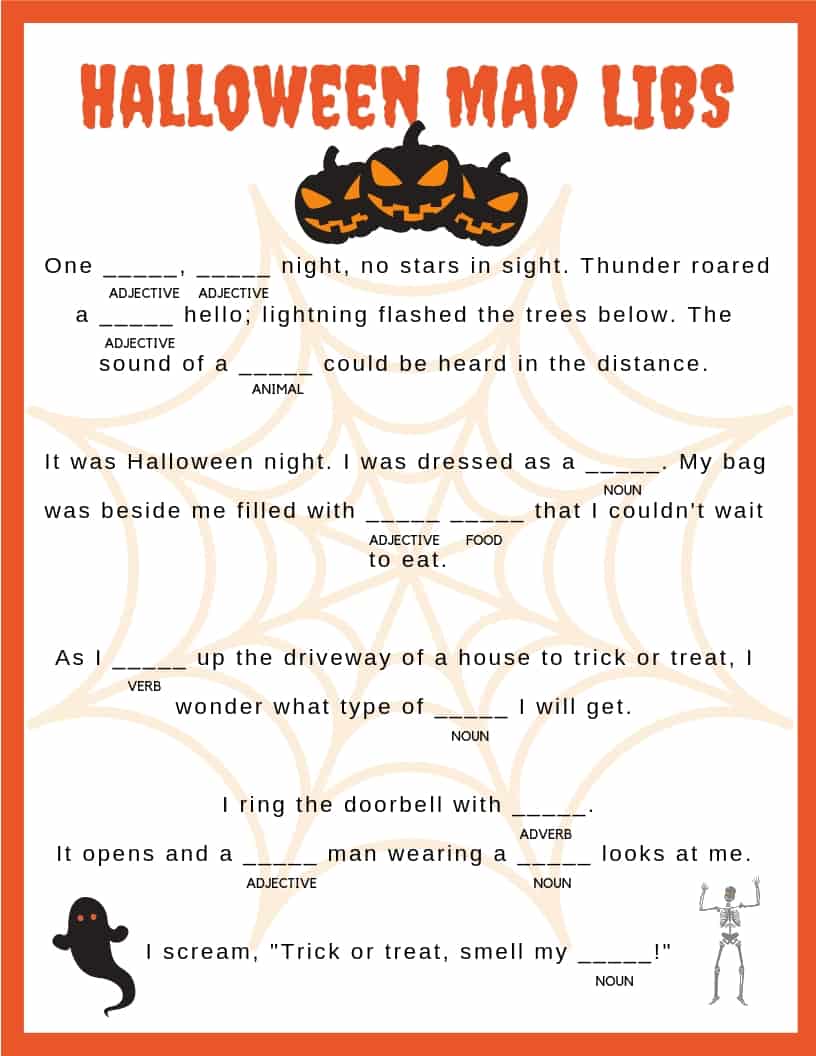 (Before printing your Halloween Mad Libs, check your print preview to ensure the Mad Libs are on one page. If you are having a difficult time printing on one page, either open in a new browser (i.e. Chrome, Explorer, Safari) or adjust the print settings to fit to one page.)
What are Mad Libs?
Mad Libs are fun stories that you create by filling in missing words to an already partially created story. Mad Libs have words removed from a story and the person completing them needs to fill in words where they are missing. The catch is that the person completing the story doesn't know the context of the words they are providing to fill in the missing words. This often leads to hysterical stories that leave you laughing for hours!
Mad Libs are a great way to teach kids the parts of speech as they are asked to provide nouns, verbs, adverbs, and adjectives to fill in the missing words to a story. It's a great way to tie in fun with learning!
How Do You Fill Out Your Halloween Mad Libs?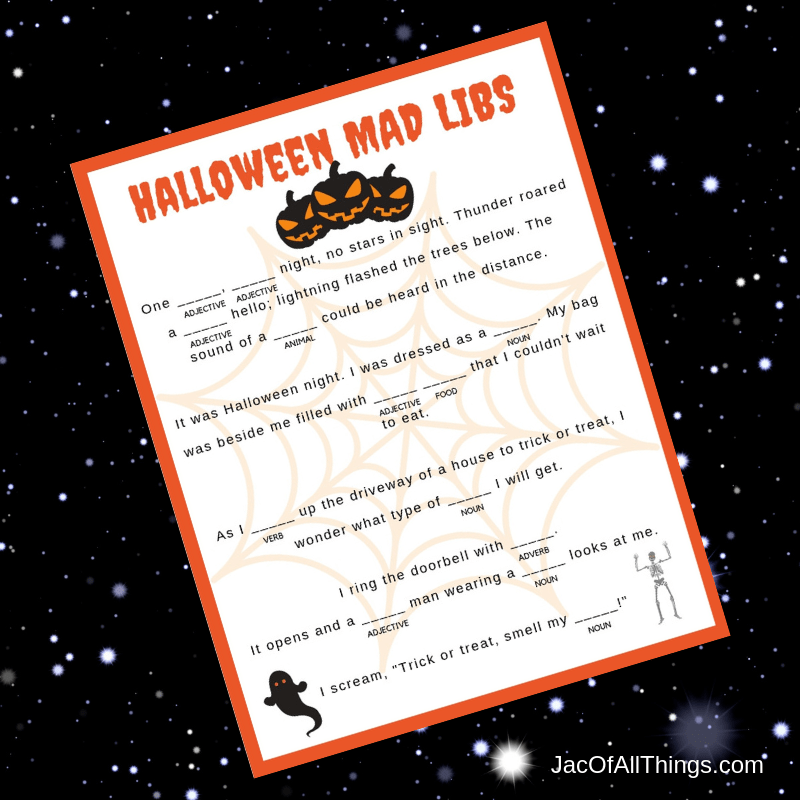 A minimum of two people are required. Person A scans over the Halloween Mad Libs for the missing words. They ask Person B to provide words that fit the needs of the missing words. Be sure to not read the full story yet! Just scan through and ask Person B to provide an answer for every missing word, filling in their response while you go.
For example, the story may say: "We ate the most ADJECTIVE food last night. It tasted like NOUNs. After we ate it, I VERBed with such excitement!"
In this example, Person A would ask Person B to provide an adjective, noun, and verb and fill in their responses within the Mad Libs.
After all missing words are complete, Person A reads the story back to Person B.
As an example: "We at the most STINKY food last night. It tasted like SHOEs. After we ate it, I SKIPPED with such excitement!"
If you have younger children who may not understand the parts of speech yet, you can modify your clues when asking for a word. For example, with my four-year-old, she doesn't understand what nouns, verbs, adjectives, or adverbs are, but we still get to enjoy doing Mad Libs with her. We simply modify our requests. For example, "name a thing" or "name something you do" or "name a food" or "name how something smells". You really can be quite flexible when doing Mad Libs with kids and make it work for their skill set.
Need a Refresher on Your Parts of Speech?
Can't remember the difference between an adverb and adjective? Use this key below as a refresher to complete your Halloween Mad Libs.
Noun: people, place or thing
Verb: a word that describes an action, occurrence, or state of being
Adverb: a word that modifies a verb, adjective, or another adverb
Adjective: a word that modifies or describes a noun
Do you want to access more Mad Libs for kids? You can find more Mad Libs for Kids right here, including Valentine's Day Mad Libs, Thanksgiving Mad Libs and Christmas Mad Libs!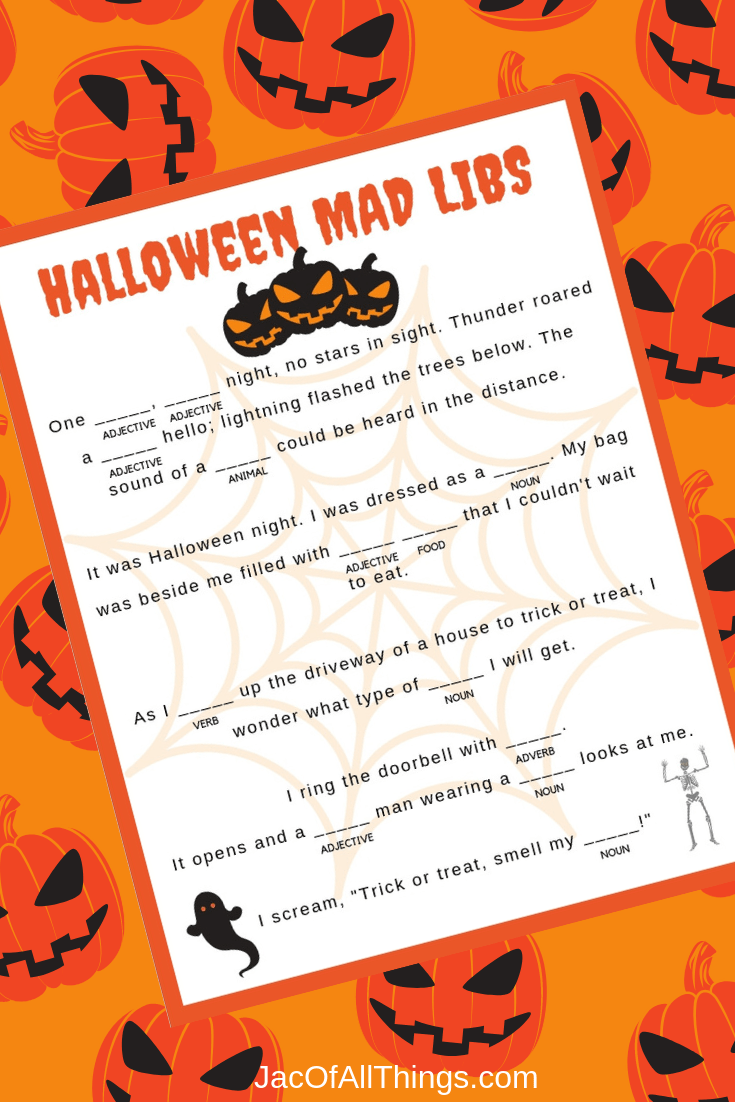 Receive Weekly Life Hacks and Practical Advice
If you want to be notified of future posts, be sure to sign up for our email notification list! You will receive a weekly email with the latest posts added to Jac of All Things, as well as a weekly "Did you know" tidbit of information or life hack to make your life easier. Simply provide your email address below. By using this form, you agree with this site's privacy policy.
Receive Weekly Life Hacks
Subscribe to receive exclusive life hacks and practical information sent directly to your inbox! By using this form you agree with this site's privacy policy.