My daughter's school pictures came in the other day and the cheapest package was $49. (yikes!) I think they are just adorable, so I had to get them. But honestly, this is our fourth year of getting school pictures and most go unused or end up in the standard school photo envelope in our filing cabinet.
As I wrote the check to claim our pictures, I promised myself this year would be different and I'd figure out how to display their school pictures and what to do with all of the copies!
I chatted with a few friends and searched the web to create a list of ideas to display school photos and not let them go to waste. I found a ton of cute ideas to display school pictures and other ways to make them go to use (outside of sitting in the filing cabinet.)
I've outlined some of my favorite ideas below.
Be sure to share your favorite idea in the comments!
Tip: Before doing anything with your school photos make a small note on the back of them with your child's age and grade. While I'm sure it may be fresh in your head now, over the years, it may get harder and harder to identify how old your child was in each picture.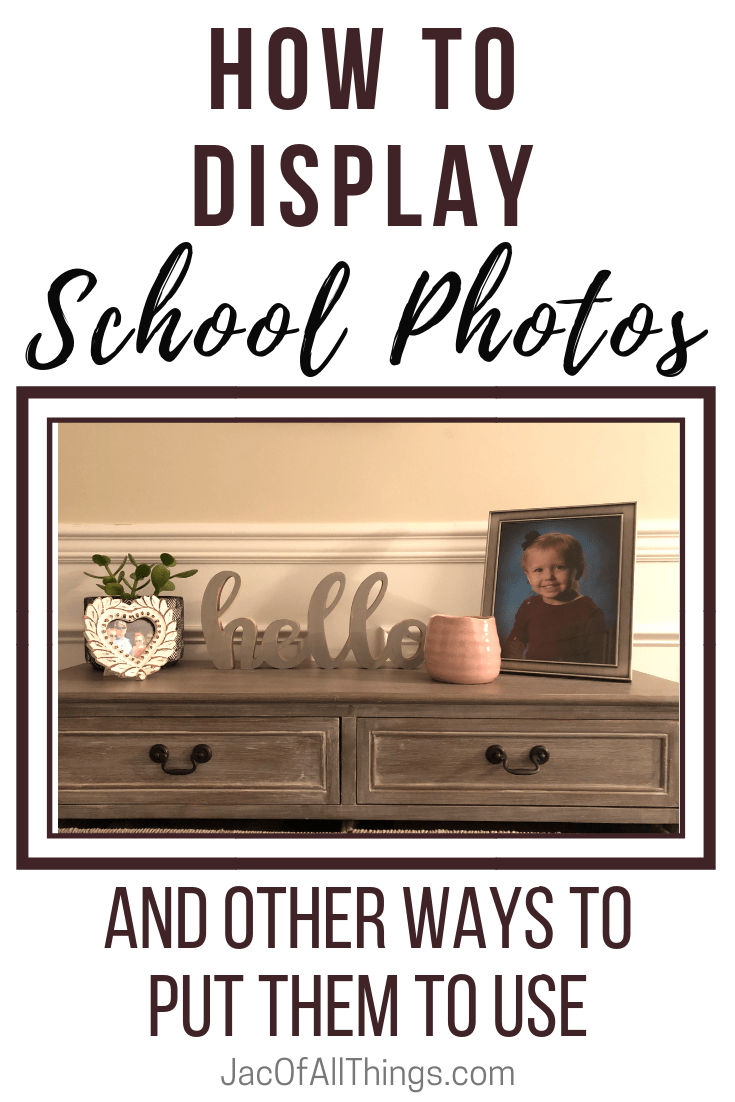 This post may include affiliate links. As an Amazon Associate I earn from qualifying purchases. Read the full disclosure here.
HOW TO DISPLAY SCHOOL PHOTOS (AND OTHER WAYS TO PUT THEM TO USE!)
STORE SCHOOL PHOTOS IN A BINDER WITH PLASTIC PROTECTOR SHEETS
You can use baseball card sleeves for wallet size photos or clear protector sheets for the larger ones. It's easy to keep them safe, organized and doesn't take up a lot of space. You can use a standard (plain) binder and decorate yourself or find a fun one on Amazon.
CREATE A SCHOOL MEMORY BINDER
You can take your binder one step further and create a school memory binder that includes pictures, other fun memories, and details about your child's year.
You can read how I create a DIY school binder (and download the printables to use for free) in this post.
Or if you don't want to do-it-yourself, you can purchase one on Amazon like this school memory binder.
EMAIL SCHOOL PHOTOS TO YOUR CHILD (TO BE OPENED IN THE FUTURE)
You can go paper-free all together and send your school pictures via email! One of my favorite ideas I read about is creating an email address to pass along to your child when they are older. You can scan in your school photos and send them to the email address for your child to access for years to come. (You can also send them notes to read in the future and share fun memories.) This is great if your school offers an electronic version of your child's school picture!
CREATE A SCHOOL PHOTO COLLAGE BLANKET
For those of you who may already have years of school pictures, you can create an adorable school photo blanket to cherish your photos over the years. You can find several sellers on Etsy who will create a custom blanket with your school photos. (You will need to convert hard copies to digital images though!) Check out this blanket by Etsy seller RunningStichShop. This is one of my favorites and something I want to do once my children are out of their school ages.
FRAME AND DISPLAY SCHOOL PHOTOS ON WALL
One of the obvious choices is to display your school photos on your wall. One of my childhood friends had a grand gallery wall with all of their school pictures over the years. We always gravitated to the wall and shared happy memories of our year's at school together.
Because frames can get very expensive, my go-to place to buy them is either Amazon.com or Ikea. I like how you can choose a variety of sizes and you can mix in other pictures in addition to the school photos.
(If you like a coordinated look, be sure to purchase a few extra frames in the event you want to expand your gallery wall down the line and they no longer sell your frame of choice.)
SEND SCHOOL PHOTOS TO FAMILY AND FRIENDS
This is another obvious one, but one we ALWAYS forget to do. (Hence the envelopes still filled with past year's pictures.)
When is the last time you sent a letter just because? Make someone's day by letting them know you are thinking of them and include your child(ren)'s school photo.
TURN SCHOOL PHOTOS INTO CHRISTMAS ORNAMENTS
I love Christmas trees with personalized ornaments. There is something so special about knowing that each ornament has its own story and memories attached to it. I love the idea of creating a new ornament for each school photo.
On Etsy, you can find plenty of sellers with adorable ideas. Products available vary from personalized ornaments to more DIY-style (where you paste in your school photo.)
Check out Lily Reed for the custom ornaments that you can create with your school photos.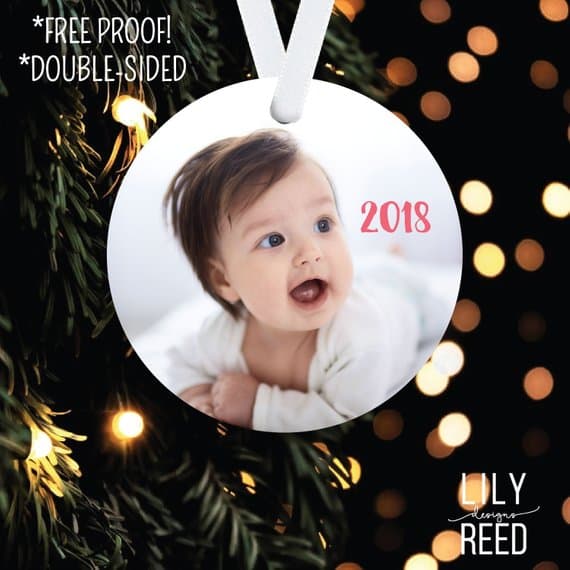 Little1Fun offers these DIY Christmas ornaments for you to paste in your child's picture.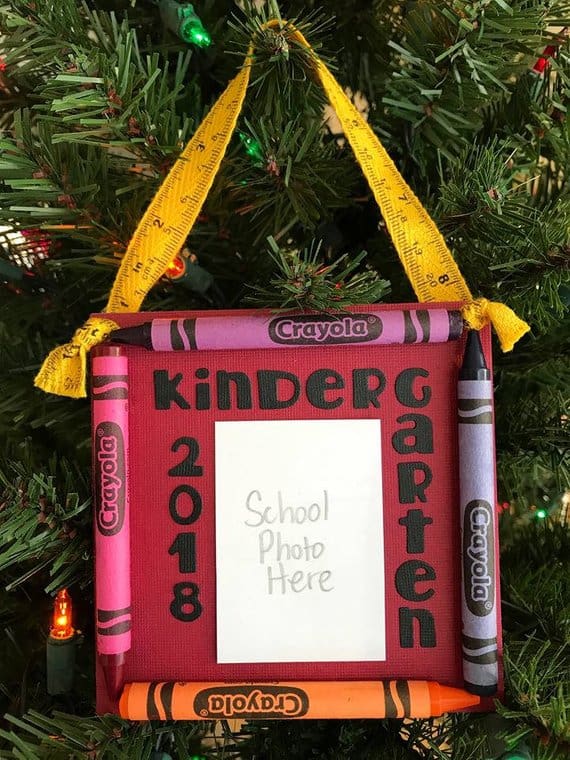 CREATE FAMILY TREE DECAL WITH SCHOOL PHOTOS
You can find these adorable family tree decals on Amazon to hang on your walls. They come with an adhesive to attach your school photos to the tree. Your school photos become the highlight of any room with these decals!
DISPLAY SCHOOL PHOTOS ON FRIDGE IN MAGNETIC FRAME
Of course, you can simply throw a magnet over your school photos to attach them to your refrigerator, but I like the clean look that these collage frames provide. You can find them on Amazon here!
CREATE AN ARTSY HANGING GALLERY
I came across these light-up photo clips/string lights to create a hanging photo gallery. They are fun, playful, and artsy! You can also mix in school photos with other school artwork to create a full display of special memories.
DISPLAY ON K- 12 PICTURE BOARD
How cute is this personalized K- 12 picture board by RusticOakDesign for your child's room or playroom! This is perfect for wallet-sized school pictures! I love how the years are side-by-side so you can see the growth of your child from Kindergarten through high school.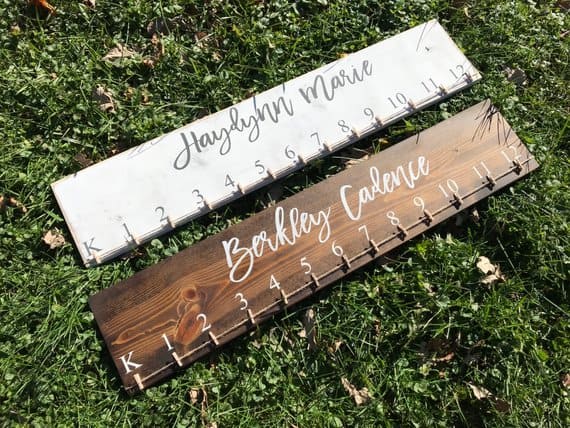 OTHER FRAME OPTIONS FOR SCHOOL PICTURES
There are TONS of options for frames to display your school pictures. I could spend all day linking to options, but rather, just included a few of my favorites.
"The days are long, but the years are short" distressed frame by RusticRedDoorCo.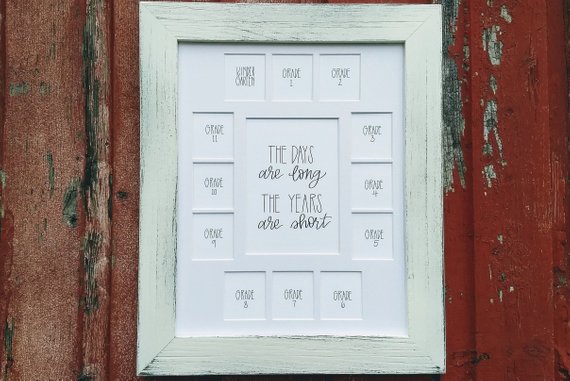 Personalized school years picture frame by StansGiftsHandmade.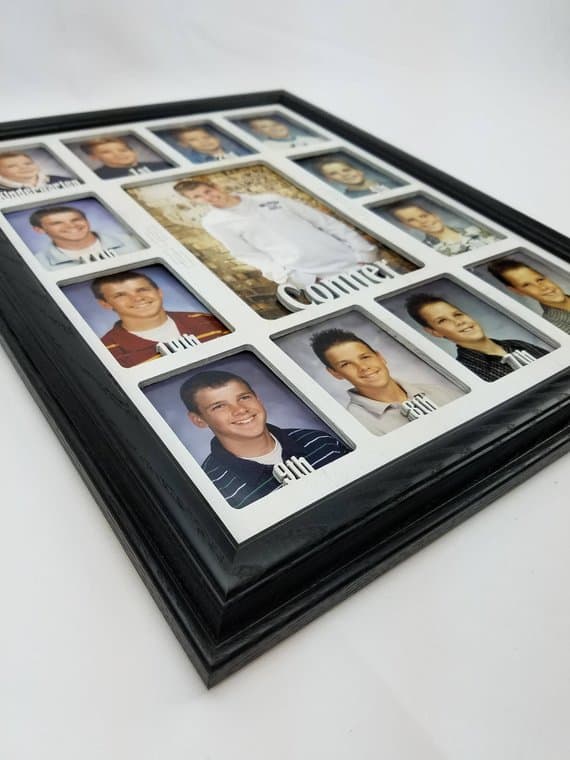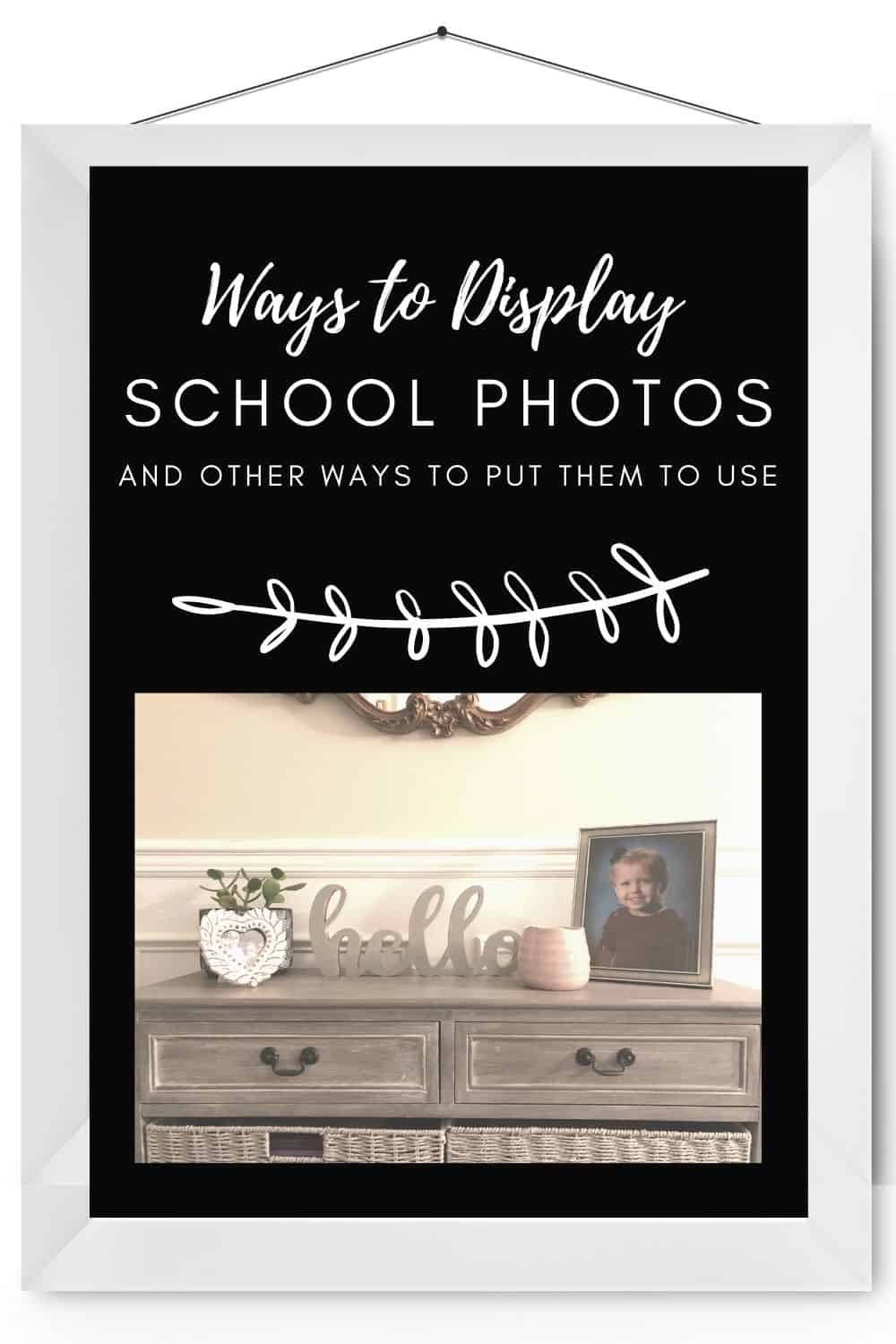 RECEIVE WEEKLY LIFE HACKS AND PRACTICAL ADVICE
If you want to be notified of future posts, be sure to sign up for our email notification list! You will receive a weekly email with the latest posts added to Jac of All Things, as well as a weekly "Did you know" tidbit of information or life hack to make your life easier. Simply provide your email address below. By using this form, you agree with this site's privacy policy.
Receive Weekly Life Hacks
Subscribe to receive exclusive life hacks and practical information sent directly to your inbox! By using this form you agree with this site's privacy policy.