I love the fact that my daughters get to be SO creative at school, but the amount of artwork and important files that they bring home is out of this world. I feel like we are drowning in papers many days (and not to mention the glitter that seems to be on all of their artwork!!) I had to find something that worked for our family to keep school artwork and other important files organized and keep our favorite school memories together. A school memory binder was the perfect solution!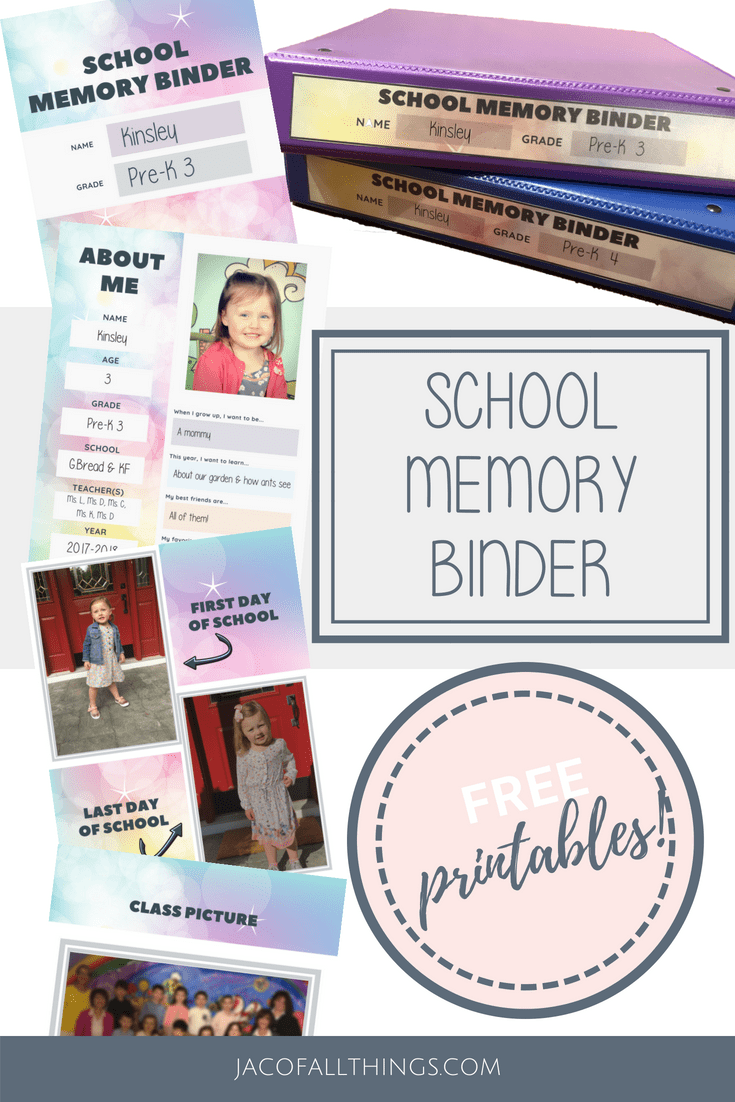 Disclosure: I may earn money or products from any of the companies mentioned in this post. Purchasing through an affiliate link comes at no extra cost to you. As an Amazon Associate I earn from qualifying purchases.
CREATING A SCHOOL MEMORY BINDER
I still love coming across the old files of random things my parents kept from my childhood, so I wanted to give the same to my children. I want them to be able to look back and remember their silliness and all the fun they had in school. (And honestly, some of their artwork is just too cute to throw away.)
For a while, my system was either to shove their important school documents into our front entrance drawer or toss it (and hope the kids didn't find it in the garbage.) But having an organized approach to keeping their artwork and important files is so much better! (And honestly, not that time consuming!)
A while ago, I was scrolling through Facebook posts and my friend shared a picture of her school memory binder. I knew it was the perfect solution when I saw it, and have since customized it for our family's needs with custom printables for our school memory binder. As my children bring home their artwork and other files, I decide if it's something we keep or not. (We don't keep everything – usually just pieces that are personalized, or anything that includes a handprint or footprint, because I'm a sucker for those.)
For every school year, we create a binder filled with their school memories. We either three-hole punch it directly into the binder or for more precious work, we put it in a plastic protector. We could also laminate if we want (and we have this laminator) but honestly, this makes it feel like more of a chore to me, and never seems to gets done.
At the beginning of the year, we fill out a super cute "About Me" page to capture their thoughts about the year, what they want to be, what they want to learn, their best friends, and some basic details about their school/class. We also include their first day of school picture, last day of school picture, professional school pictures and their class picture. Having a school memory book is a great way to capture all of the precious memories throughout the year and safeguard it for years to come!
Here are some of the pages from my daughter's school memory binder.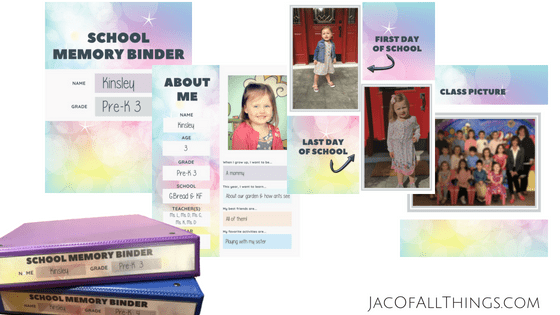 And here is a 30 second video of the "insides" of her school memory binder. (Given that she is in pre-school, it contains mostly artwork and pictures, but as she grows older, I'd imagine the contents may change at bit.)
At the end of the year, the binder gets added to a bin, personalized for each child and stored safely away.
Before starting this organization method, I came across several other suggestions to put your child's school artwork directly into labeled file folders in a bin. While I love the organized look to this, I knew it just wasn't going to work for our family. Because we keep our bins in the attic, I didn't want to constantly go up there just to put in some new artwork. I needed something smaller that I could keep handy as I'm unpacking their school bags on a daily basis.
The school memory binder sits within that same entrance way drawer I previously shoved their school artwork and files into, but this way is much cleaner! I also keep a three hole punch in the drawer and a small folder of plastic sheet protectors.
As I'm unpacking their bags, I simply take 15 extra seconds to hole punch their work and add it to the school memory binder (or put it into a plastic protector sheet) or admire it for a minute and toss it. It really takes no time at all to do and keeps all the clutter from school files away!
WANT TO CREATE YOUR OWN SCHOOL MEMORY BINDER?
HERE ARE THE SUPPLIES NEEDED:
1.5-inch 3-ring Binder (or another size that fits your needs)
Sheet Protectors
Hole Punch
Free Printables for School Memory Binder (see directions below to access)
ACCESS FREE SCHOOL MEMORY BINDER PRINTABLES
The school memory binder printables are free to email subscribers of Jac of All Things (as well as access to all printables in the resource library). The free school memory binder printables include the following:
School Memory Binder Cover
About Me Page
First Day of School & Last Day of School Picture Template
Class Picture Template
School Memory Binder Spine Template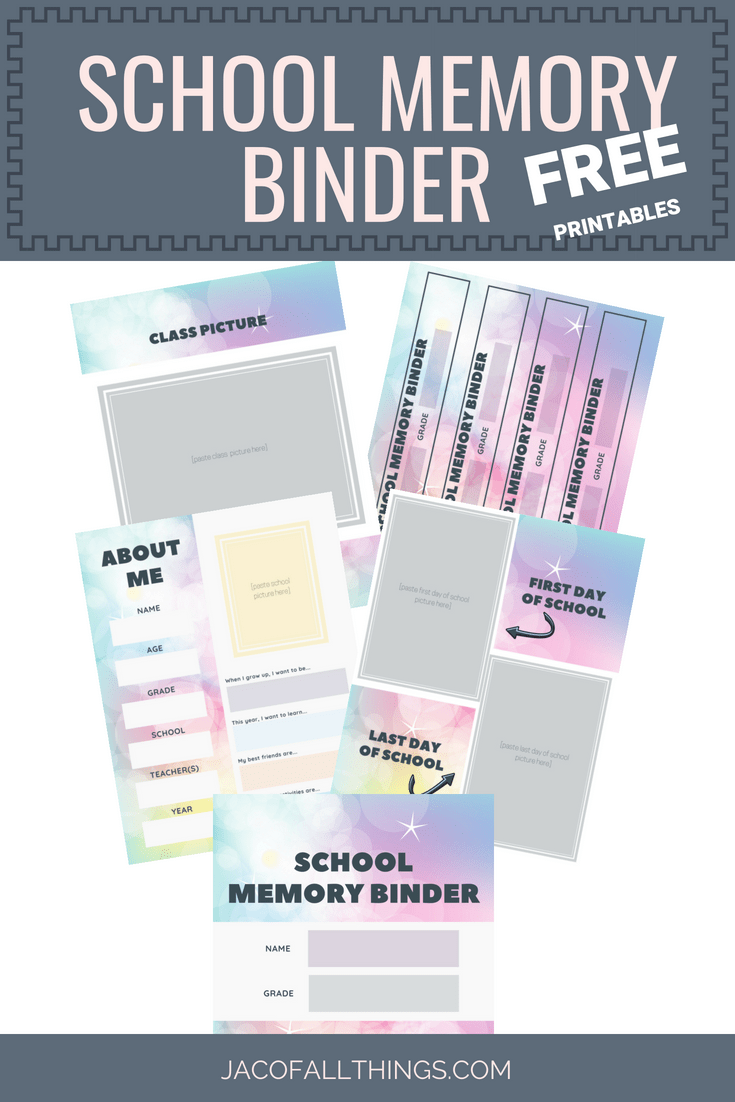 If you are not yet a subscriber, you can sign up (for free) below. As a subscriber, you will get one weekly email that contains a life hack or other tidbit of practical advice as well as what's new on Jac of All Things. (You can unsubscribe at any time!) Note by using this form, you agree with this site's privacy policy.
---
OTHER ORGANIZATION POSTS
How to Create a Planner Wallet Combo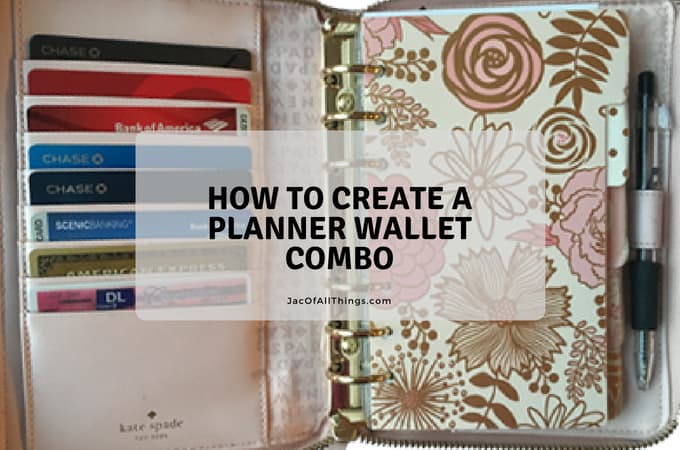 ---
RECEIVE WEEKLY LIFE HACKS AND PRACTICAL ADVICE!
If you want to be notified of future posts, be sure to sign up for our email notification list! You will receive a weekly email with the latest posts added to Jac of All Things, as well as a weekly "Did you know" tidbit of information or life hack to make your life easier! To receive this amazingly awesome information and email notifications of new posts, simply provide your email address below. By using this form you agree with this site's privacy policy.