Are you a paper and pen person? While it feels like the world has moved over to electronic planners, lists, and more, I can't live without my paper.
I use my paper planner for my everyday appointments, meetings, events, and grocery lists. I used to carry around my planner in my purse, but with two kids (one still in diapers), my purse space has become tight.
Because I didn't want to give up my planner all together, I decided to create a planner wallet combo.
And I am completely in love with it!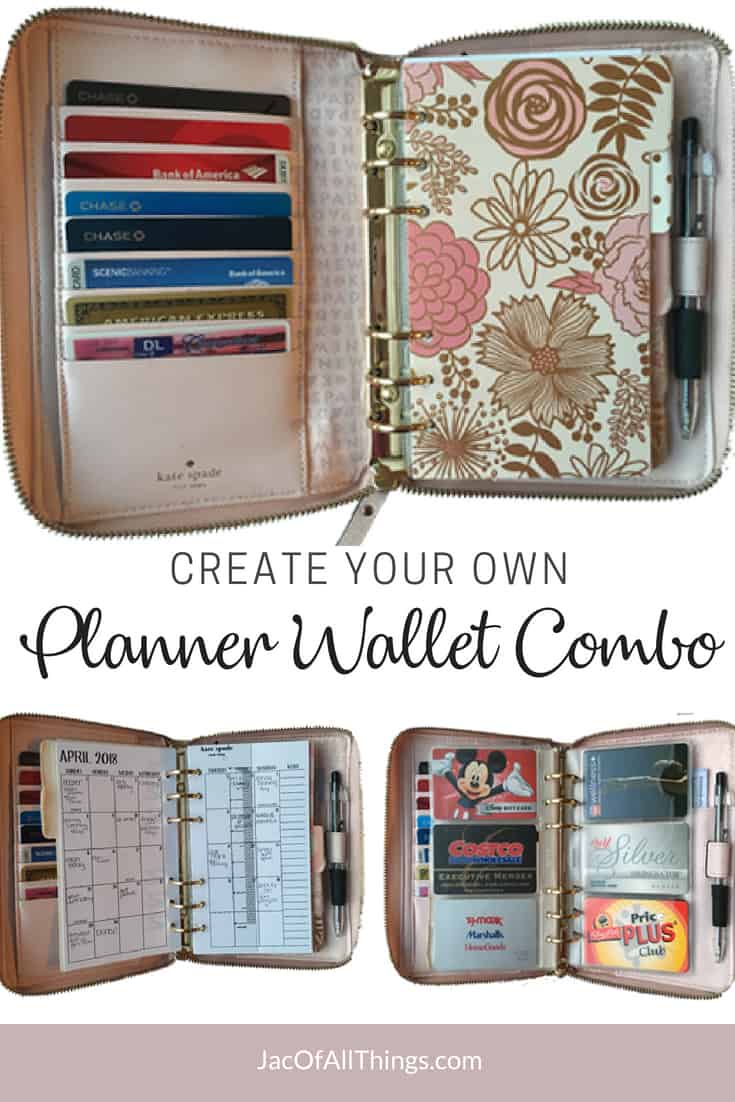 This post may include affiliate links. As an Amazon Associate I earn from qualifying purchases. Read the full disclosure here.
How to Create a Planner Wallet Combo
The best part about a planner wallet combo is it can be completely customized for you. Here is a look inside my planner wallet combo.
A look inside my planner wallet combo
The planner itself…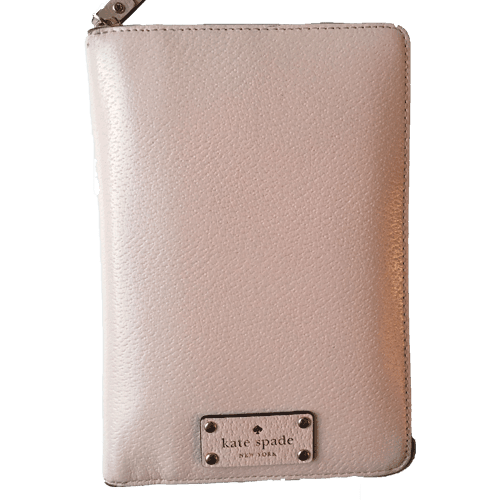 I purchased the Kate Spade Wellesley Leather Zip Around Personal Sized Planner. You can find these often at the Kate Spade Outlet stores (usually at a steep discount).
At times, you can find them on Amazon (though they are sometimes sold out.) See below for a few other similar options that you can find on Amazon.
I think that the personal size is the perfect size for my bag – its small enough to not take up too much space, but still holds everything I need.
I also love how it zippers around, so nothing can fall out.
The one downside is the light color I chose. It's a very pretty pale pink, but in a bag full of things, it often gets dirty. On the plus side, because its leather, its relatively easy to clean!
The Kate Spade Wellesley planner comes with daily inserts already included, but I wanted to customize my inserts completely for my needs, so I tossed everything but the bookmark that they provide.
The "insides" of my Planner Wallet Combo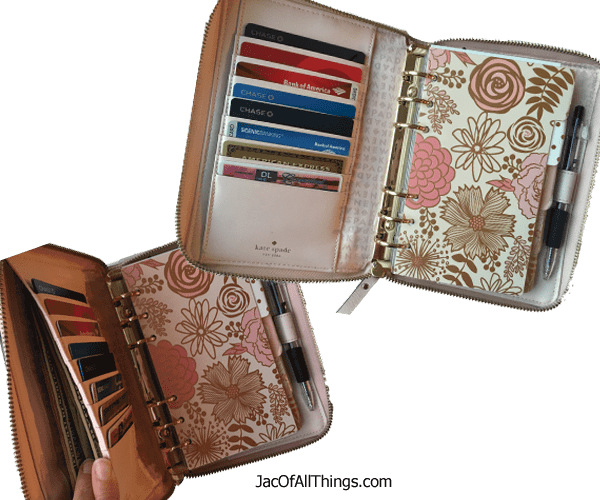 Planner Inserts
The possibilities are endless on what you can include in your planner wallet combo. For me, I didn't want it to be too bulky, so I just chose a few things that I purchased on Etsy.
Planner Dividers
I chose these cute rose gold planner dividers with tabs from Amour For Your Planner on Etsy. I like to keep each section grouped together and these make them easy to find. (And are pretty too!)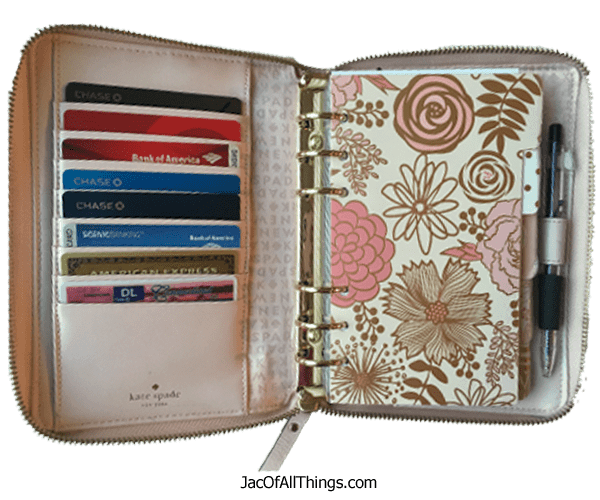 Laminated Full Year Calendar
This front and back, laminated yearly calendar is great when I need a quick look at the days/weeks of the year. The front is for the current year, and the back shows the following year.
The version I purchased is no longer available, however you can find a similar one from Printable Pineapple on Etsy.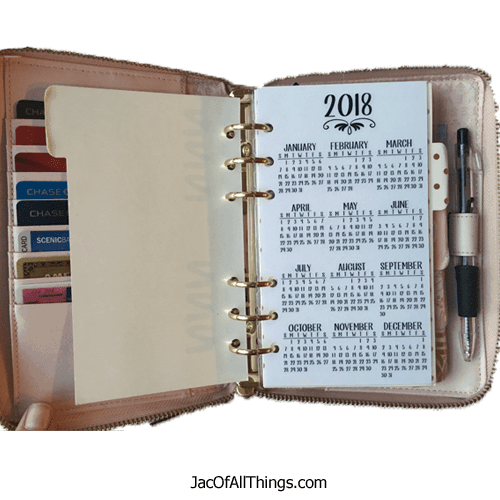 Monthly Planner Calendars
There are hundreds of customized inserts and calendars to choose from on Etsy. Because I only wanted to capture my key events of each day, I chose to show the full month across two pages.
You can choose from several different options though, including one day per page, one week per page, etc…
I purchased my monthly calendar inserts also from CityGirlPlanners on Etsy in the personal size. (Note that the Kate Spade Planner Wallet Combo fits personal sized inserts, but if you choose a different planner shell, you may need to adjust to a different size.)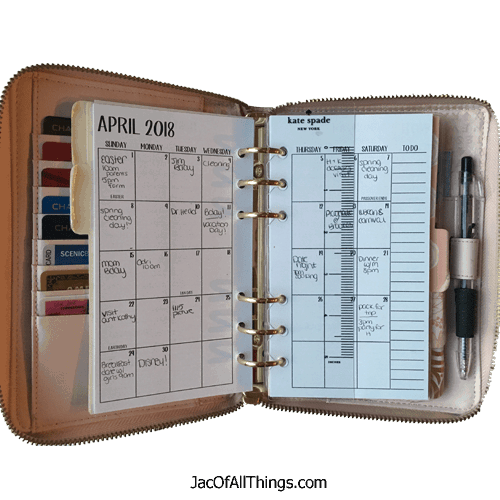 Meal Planner Inserts
Can I just say these make meal planning and grocery shopping SO much easier?
The front side of these inserts for my planner wallet combo outline the days of the week for weekly meal planning. The backside is for my weekly grocery list.
When I go shopping, I simply take my planner wallet combo with me and have my list on hand! These were also purchased from CityGirlPlanners on Etsy.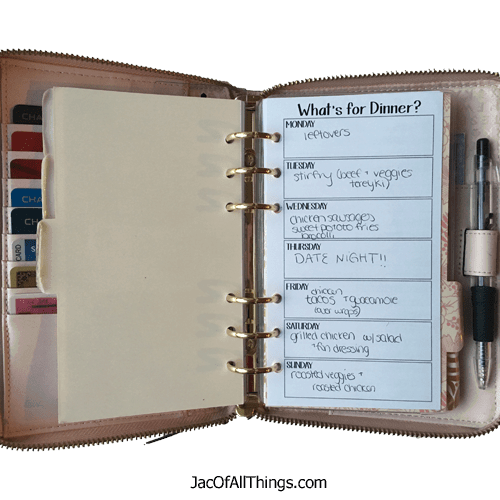 Notes (Inserts)
I chose to include a few lined sheets of paper for random notes to take. These are also from CityGirlPlanners on Etsy.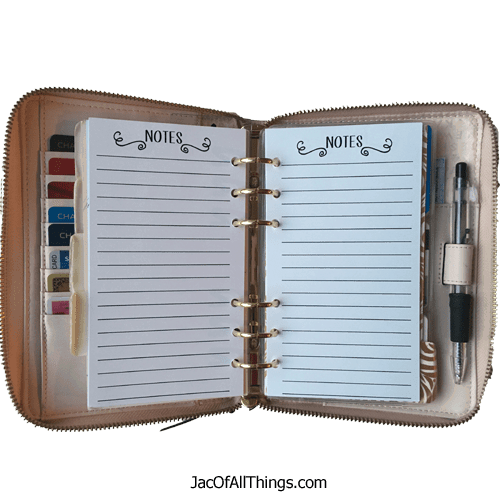 Credit Card Holders
I love how the Kate Spade planner has a place for credit cards and your ID, but it's not enough for me. I purchased the Filofax Credit Card Holder inserts from Amazon to hold all of my other credit cards, store cards, insurance cards, etc…
If you have a lot of cards, you can fit two cards in each slot to avoid purchasing additional holders.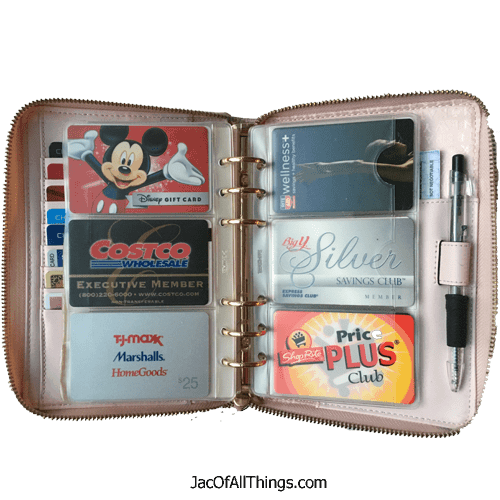 Zippered Pouch
This is the perfect solution for loose coins, keys, stamps, and whatever else you have that may need a secure home in your wallet. I purchased the Filofax Ziplock Envelope on Amazon.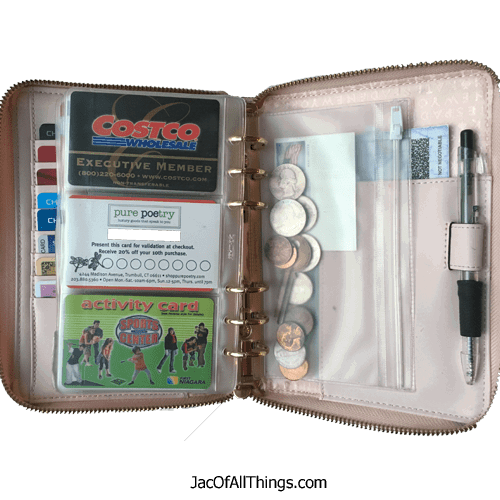 Other Possibilities to Include in Your Planner Wallet Combo
The possibilities are endless on what you can include in your planner wallet combo. Here are a few other items that I've been considering adding:
I love that my planner wallet combo perfectly fits my needs and I can customize it at any time to meet my desires.
Related: Create a School Memory Binder (to keep artwork and papers organized)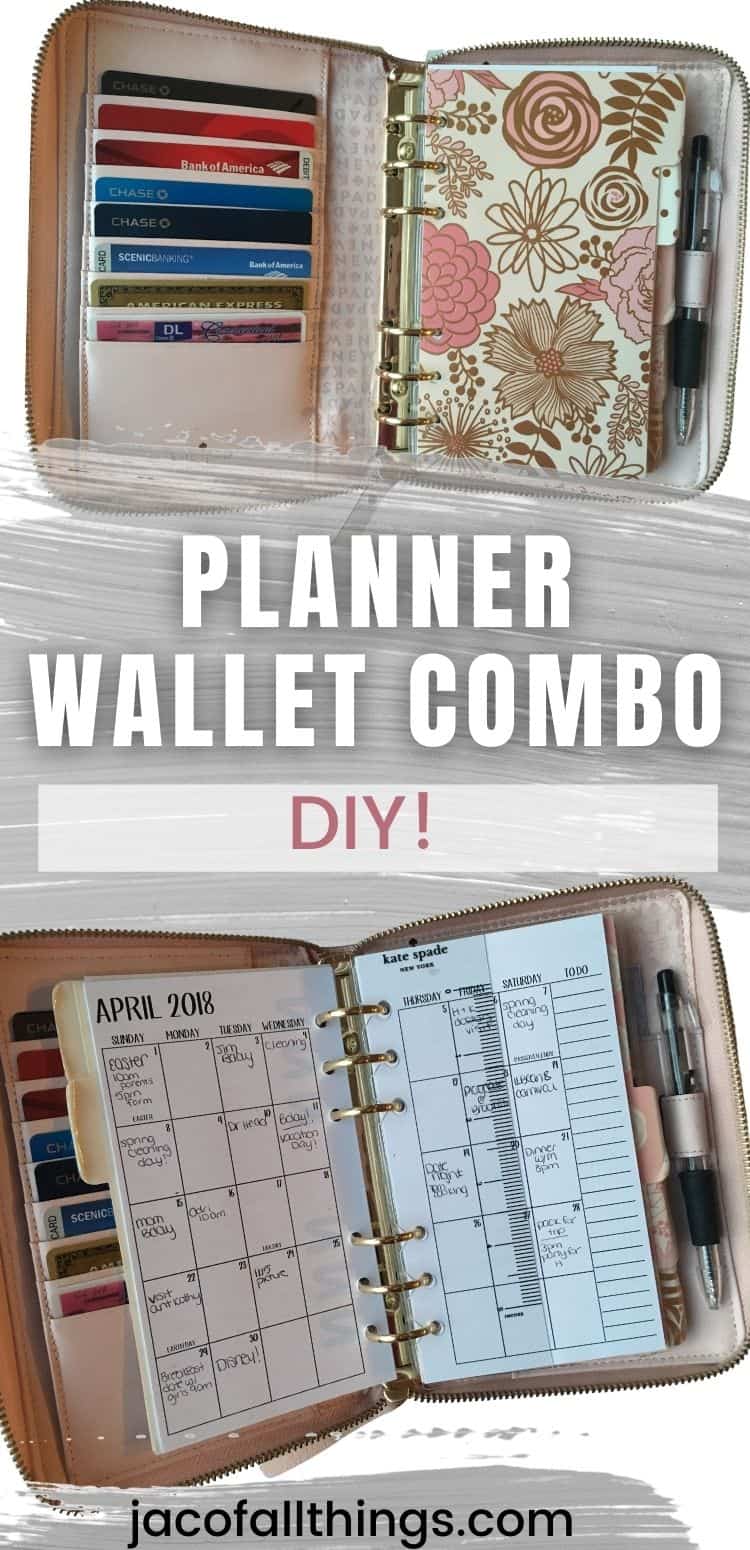 Receive Weekly Life Hacks
Subscribe to receive exclusive life hacks and practical information sent directly to your inbox! By using this form you agree with this site's privacy policy.