How many times have you used food coloring and NOT gotten it on your skin? As careful as I am, I always seem to spill a little out of the container onto my hands. And if my daughters are involved, they are almost always covered in food dye by the end of our craft or activity.
A few weeks ago, we built snowman in our yard and decided to make them colorful by spraying them with a water-food coloring mixture. While it may have been the perfect touch for the snowman, it was not for my two-year-old's hands (or face, or arms…)
Luckily, we had a few tricks up our sleeves to remove the food dye from her skin. Read on to learn how to remove food coloring from skin in seconds with these simple steps.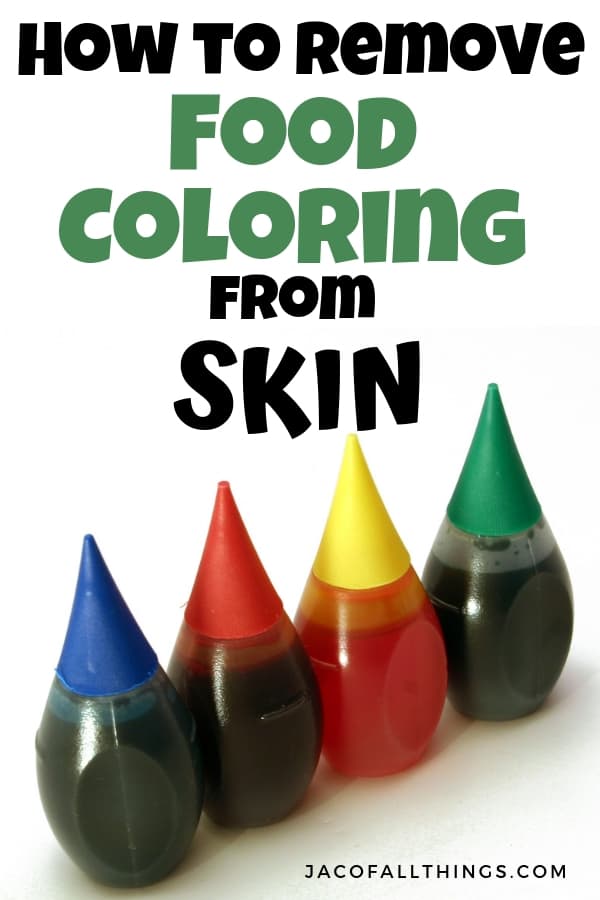 HOW TO REMOVE FOOD COLORING FROM SKIN
There are a few ways to remove food coloring from your skin. The key is to take action as soon as possible. The sooner you remove the dye, the easier it is to come off.
Before all options, wash hands with warm soapy water to remove as much of the stain as possible.
HOW TO REMOVE FOOD COLORING FROM SKIN OPTION 1: SHAVING CREAM
Simply rub foam shaving cream on the skin with food coloring. Massage into skin and let sit approximately 30 seconds. Then wipe off. Most, if not all, of the food coloring will have disappeared from the skin.
(This is our preferred approach!)

HOW TO REMOVE FOOD COLORING FROM SKIN OPTION 2: RUBBING ALCOHOL OR HAND SANITIZER
Dab some rubbing alcohol or hand sanitizer on a cotton round/ball and rub the stain. Watch the food coloring disappear before your very eyes.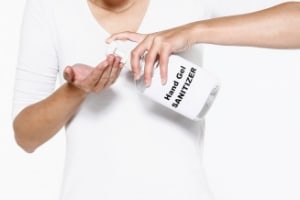 Related Post: How to Remove Strawberry Stains from Clothes
HOW TO REMOVE FOOD COLORING FROM SKIN OPTION 3: TOOTHPASTE
Massage a whitening or non-gel toothpaste on skin with food coloring for about 2 minutes. Then wash off.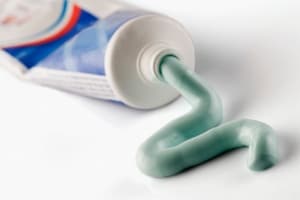 HOW TO REMOVE FOOD COLORING FROM SKIN OPTION 4: VINEGAR AND BAKING SODA
Dip a clean washcloth into a bowl of distilled white vinegar. Rub on skin until the food coloring fades. If the vinegar starts to sting, dilute vinegar with equal parts water. Avoid rubbing the stain back into the skin by using a fresh section of the wash cloth as it gets stained.
If the stain persists, add two tablespoons of baking soda with one tablespoon water to form a paste. Rub over stain for approximately one minute, then wash off.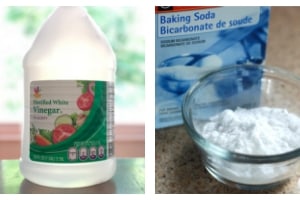 WANT TO RECEIVE HACKS LIKE THIS ONE TO YOUR INBOX?
Email subscribers receive a new life hack each week!
Join our list today! You will receive a weekly email with the latest posts added to Jac of All Things, as well as a weekly "Did you know" tidbit of information or life hack to make your life easier. Simply provide your email address below. By using this form, you agree with this site's privacy policy.
Receive Weekly Life Hacks
Subscribe to receive exclusive life hacks and practical information sent directly to your inbox! By using this form you agree with this site's privacy policy.