As a mom of two little girls, I've quickly become obsessed with matching outfits. I know my little girls and I won't be able to match forever, so I am enjoying it while they still find it fun!
With the summer quickly approaching, I've been on the search for the perfect mommy and me matching bathing suits. Friends, we are in luck! There are such cute options to choose from this year!
Check out some of my favorite matching bathing suits in 2019 below.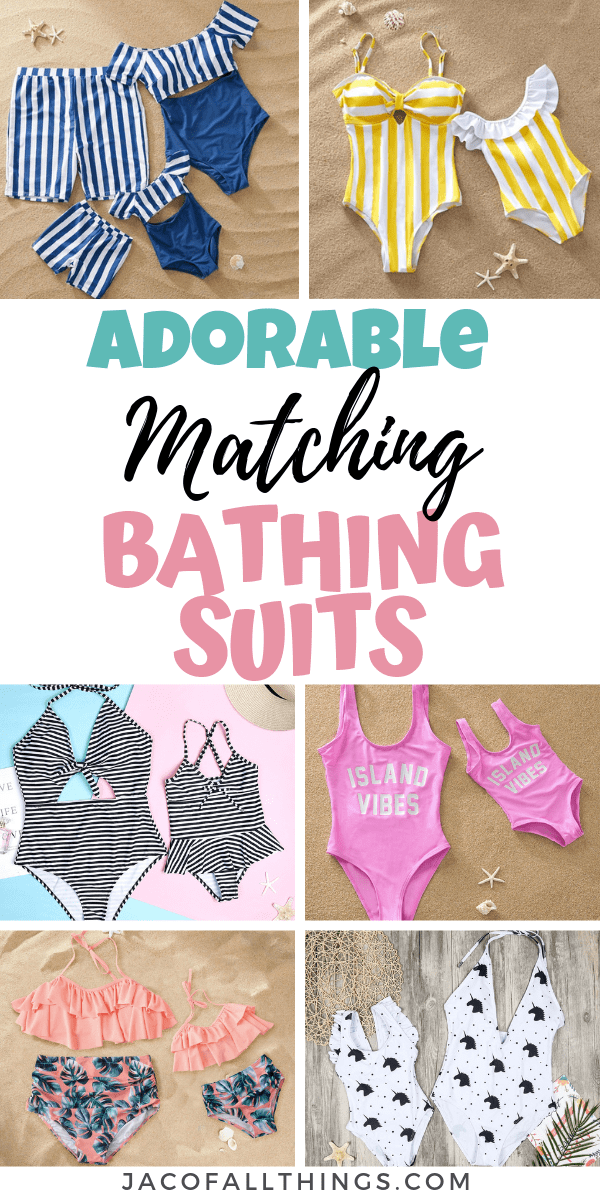 This post may include affiliate links. As an Amazon Associate I earn from qualifying purchases. Read the full disclosure here.
Mommy and Me Matching Bathing Suits
PatPat.com is a goldmine for finding matching bathing suits for the family. And they have SO MUCH MORE than just swimsuits! You can find other matching outfits and matching pajamas.
The best part about them is they are INCREDIBLY cheap and they offer TONS of sales like Buy 2 Get 10% Off.

You can get 10% off using the code AFF10.
You can find mommy and me (girls) matching bathing suits or swimsuits for the whole family (including Dad and little boys too!)
Some of my favorite suits are…
In addition to matching mommy and me bathing suits, they also have matching cover ups! How cute are these!
You can even find some adorable matching family swimsuits on Etsy. Check out my favorites below from MADEMOISELLE LOUISE shop on Etsy.
You can also find some Mommy and Me matching suits for moms and little boys on Etsy! Check out the shop Lil Boo Apparel for some cute options for little boys to match their moms (or sisters) too!
Will all of these options, it's hard to select which ones to buy! What are your favorites?
Receive Weekly Life Hacks and Practical Advice
If you want to be notified of future posts, be sure to sign up for our email notification list! You will receive a weekly email with the latest posts added to Jac of All Things, as well as a weekly "Did you know" tidbit of information or life hack to make your life easier. Simply provide your email address below. By using this form, you agree with this site's privacy policy.
Receive Weekly Life Hacks
Subscribe to receive exclusive life hacks and practical information sent directly to your inbox! By using this form you agree with this site's privacy policy.