Ever since having my firstborn, we have purchased matching Christmas pajamas for the family to wear on Christmas Eve and Christmas morning. It's no secret that I love matching my daughters, but it's special that my husband gets to be included in this tradition as well.
This post may include affiliate links. As an Amazon Associate I earn from qualifying purchases. Read the full disclosure here.
On Christmas Eve, our tradition is always to enjoy homemade pierogies over my parents house and then come back to our house to change into our matching Christmas pajamas and read "Twas the Night Before Christmas".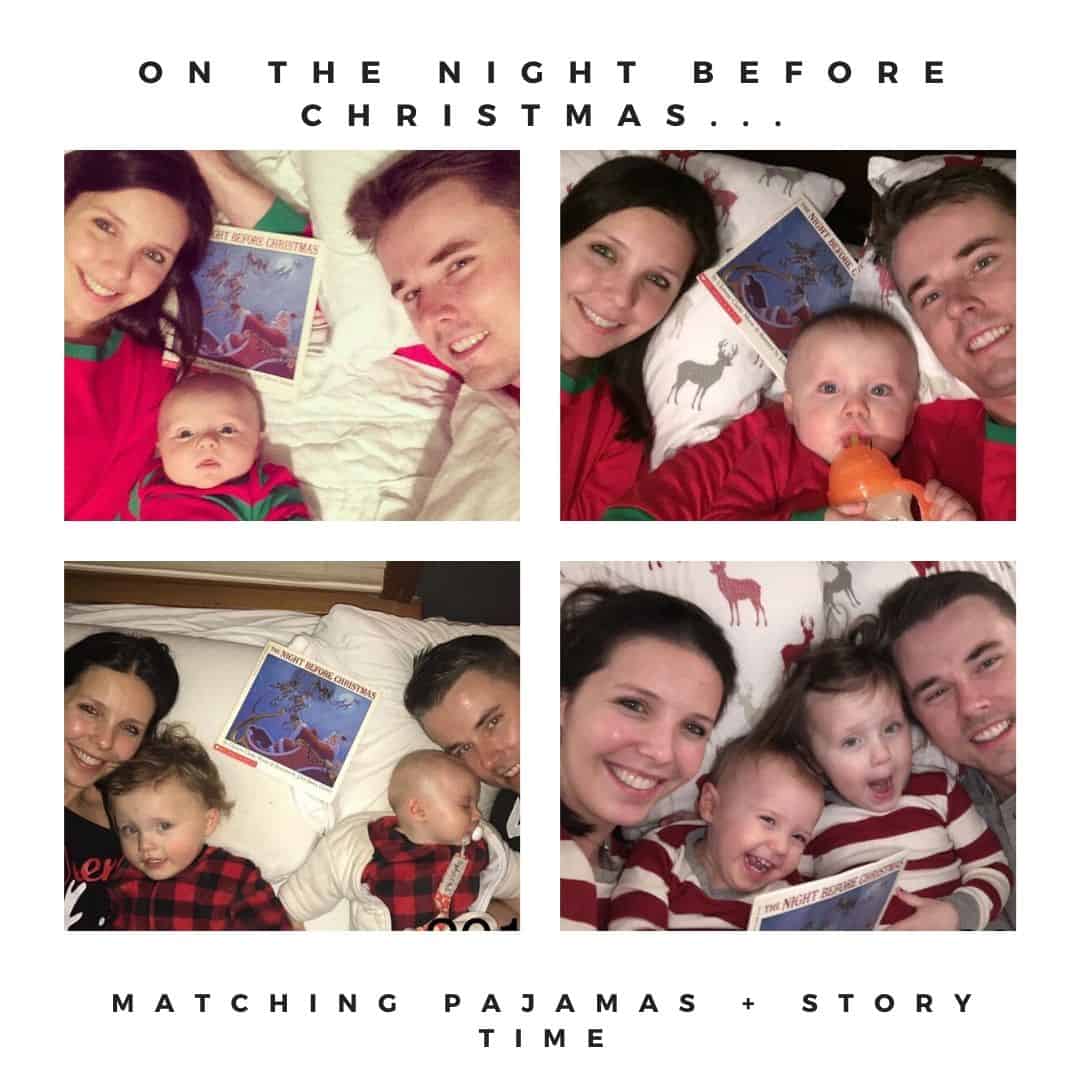 When we buy our matching Christmas pajamas, we try to get them a bit larger than typical for my daughters so they can (hopefully) last them 2 years. (But this hasn't always worked out and we need to buy new matching Christmas pajamas for 2019!)
The good news is that our "old" Christmas pajamas always seem to have a high resell value on tag sale sites and I'm able to recoup a good amount of my investment in them and put that money towards new matching Christmas pajamas.
I've put together a list below of where you can buy matching Christmas pajamas in 2019. I'm still deciding which ones we are going to get. Help me make my decision by posting your vote in the comments!
THE BEST MATCHING CHRISTMAS PAJAMAS FOR THE FAMILY IN 2019
MATCHING CHRISTMAS PAJAMAS AVAILABLE AT AMAZON
There are TONS of matching Christmas pajamas you can find on Amazon. Here are some of our favorites.
These matching pajamas are so cute! I love the mixture of traditional buffalo plaid with the gray top. (These were my husband's favorite of all the options.)
I love the Buffalo plaid look in these matching pajamas. (The fleece is also a plus for those cold winter nights!)
These family matching red plaid onesie pajamas look so comfortable! A few years ago, my sisters and I got similar pairs to wear and I LOVED them. But, when I showed my husband this option, he was not a fan (for him) so unfortunately they are crossed off our list.
Here is a picture of my sister's and I in similar matching pajamas a few years ago.
I like how these matching Christmas pajamas can be worn outside of the holiday season too! Because buying matching pajamas for the whole family can get expensive, I really like how you can get more of your money's worth by using these all winter. (And the micro-fleece material looks like it would keep you warm on cold nights!)
These snowman matching pajamas are silly but so fun! (These were my daughter's first choice of all the options.
I always read the reviews on Amazon before purchasing. This matching pajama set consistently gets 5 stars! I like how they have a holiday spin, but can be worn all winter too!
MATCHING CHRISTMAS PAJAMAS AVAILABLE AT ETSY
Etsy is another one of my favorite places to purchase matching Christmas pajamas for the whole family. Our pajamas for the past few years have come from Etsy sellers and I've always been very happy with them. There are SO many options available on Etsy, so I've just included a few of my favorites below.
However, there are many sellers on Etsy that require significant advance notice when purchasing pajamas! So if you are interested in any of the pajama sets sold on Etsy, be sure to check out the descriptions and seller notes under each item to learn more about the pre-order process.
These striped Christmas pajamas are a go-to, solid set to purchase. (We purchased these in red and green one year.) They were soft and fit everyone nicely. I opted to not get them personalized as I like to sell our Christmas pajamas after a few years and re-invest the money in a new pair.
I also love these gray buffalo plaid moose matching Christmas pajamas. The design is subtle, and can be used all winter if you want!
I found these matching Christmas shirts and I really love them. Almost all other pajamas come in top and bottom sets, but this gives you the opportunity to save some money and just purchase a matching top.
MATCHING CHRISTMAS PAJAMAS AVAILABLE AT TARGET
Target has a TON of matching family pajamas for holidays year-round! You can find ghosts and skeletons for Halloween, stars and stripes for 4th of July, and even matching Harry Potter pajamas!
Most of the matching Christmas pajamas at Target are very affordable and come in many sizes to fit the whole family. You can either ship them to your local Target store, or get free shipping for orders over $35. I've outlined some of my favorites from Target below.
They have your traditional buffalo plaid look. These matching flannel family pajamas come in every size. You can even get a matching set for your dog!
Target also sells Burt's Bees Baby matching Christmas pajamas! Check out their red striped pajamas for a classic Christmas look. We purchased Burt's Bees Baby matching Christmas pajamas in the past and they were my favorite material ever! While they are a bit pricier than other options, the quality was top notch and very cozy.
These fuzzy white and gray pajamas look so soft. I like the subtle colors and the fact that you can wear them all winter long. These are perfect for those who live in cold climates!
MATCHING CHRISTMAS PAJAMAS AVAILABLE AT KOHL'S
Kohl's has a great selection of budget-friendly matching Christmas pajamas for the family. They also offer many of their matching Christmas pajamas in stores so you can try them on before you buy. Here are a few of my favorites from Kohl's.
Any Disney Frozen fans here? You can find Disney Frozen matching Christmas pajamas at Kohl's! These are so perfect for those who love Disney's Frozen or even as a special treat if you are spending the holidays at Disney.
These gray Christmas pajamas are similar to a few others I've linked. (Can you tell I'm into the gray options this year?) I like how these are holiday pajamas that can be worn all winter.
Red and green. Simple pajamas. There is something about the simplicity of these matching Christmas pajamas that I'm drawn to. (Besides the price!)