Need a healthy snack on the run? These 20 healthy snack ideas are super simple and leave you feeling satisfied.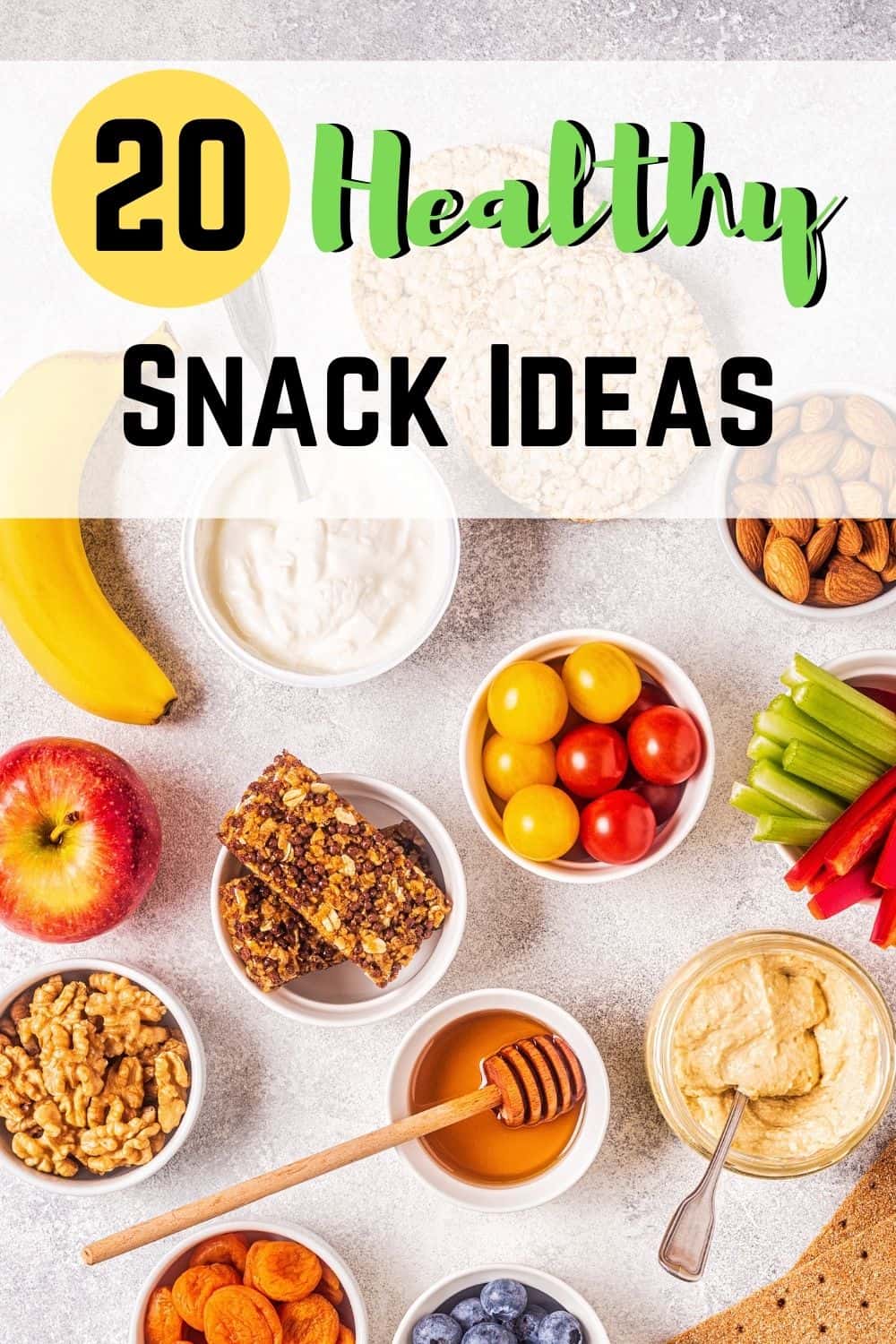 ---
This post may include affiliate links. As an Amazon Associate I earn from qualifying purchases. Read the full disclosure here.
---
20 healthy snack ideas that you can eat without feeling ashamed
Bananas with Nut Butter and Dipped into Chocolate
Cut bananas into slices. Place two slices together with peanut butter (or almond butter, cashew butter, etc…) in the middle and then dip into chocolate. Freeze until the chocolate is solidified.
Apples with Nut Butter or Cinnamon
This is quick and super easy. Cut up an apple and dip it into peanut butter (or almond butter, cashew butter, etc…) or sprinkle them with cinnamon.
Yogurt Covered Berries
Cover your berries of choice with yogurt and freeze. They can even be a healthy alternative for a sweet dessert.
Rice Cakes with Nut Butter
Coat a rice cake with a thin layer of nut butter. You can even add bananas on top too!!
Frozen Yogurt Bites
Fill a Ziploc bag with yogurt and pipe small dots onto a baking sheet. Freeze them until solidified.
Fruit Ice Cream
Put frozen fruit of your choice into a blender and add milk of your choice. For a non-dairy option, try using coconut milk in a can! Blend together until creamy. It is a fruity and healthy alternative to ice cream.
Banana and Peanut Butter Roll-Ups
Take a tortilla of your choice and cover it with peanut butter. Place an entire banana in the middle (extra toppings can be honey, chocolate chips, etc) and roll it up. You can even cut it into slices!!
Fruit Popsicles
Using a popsicle mold (or paper cups with popsicle sticks), place your favorite fruit inside and add a liquid of your choice (coconut water, almond milk, water, etc.)
Apple Nachos
Slice up apples and spread them out on a plate. Microwave peanut butter and drizzle it onto the slices. Top with your favorite nuts or honey.
"Apple Pie"
Apple pie without the crust. Slice up an apple and add two tablespoons of grass-fed butter. Sprinkle cinnamon to taste. Mix it together and microwave for 1 1/2 to 2 minutes. Top with granola (optional).
Celery with Peanut Butter or Cream Cheese
Commonly known as Ants on a Log, you can throw raisins on top of it to be "ants" too. Or you can just stick to PB or cream cheese!
Frozen Grapes
Pop some grapes in the freezer for a few hours and they will come out as a frozen, sweet treat to munch on. They are absolutely delicious. (For an extra special treat, try to find Cotton Candy Grapes!)
Veggies with Hummus
There are a variety of veggies that are paired nicely with hummus: carrots, celery, cucumbers, broccoli, peppers, etc. There are so many variations of hummus, you can make endless combinations.
Homemade Trail Mix
Making your own trail mix is perfect for those who are picky and do not like what is in the store-bought one. It is also MUCH cheaper to make your own. Trail mix can be made with essentially anything. Options include any kind of nuts, raisins, M&Ms, chocolate chips, pretzels, dried fruit, coconut, Chex cereal, dried cherries, etc.
Cucumber Salad
Slice up some cucumbers and add your favorite dressing (Balsamic Vinaigrette or Italian Dressing work well) on top. You can add other toppings if you choose, like onions, Feta cheese, tomatoes, etc.
Strawberries and Chocolate Hummus
Have you tried chocolate hummus yet? It's hard to believe it's made from chickpeas and not straight fudge in a container. For this easy snack, simply dip strawberries (or bananas, pineapple, apple, etc…) in chocolate hummus and enjoy your guilt-free snack.
Roasted Chickpeas
Rinse a can of chickpeas and dry them using paper towels. Place them on a baking sheet and season with salt, pepper, and garlic. Bake until they are crispy and have a crunch. These are the perfect snack to munch on or to throw on top of salads.
Avocado Toast
This is a classic snack or even meal option and is quite trendy nowadays. Take a piece of whole wheat bread (toast it if you'd like) and add about 1/3 of smashed avocado on top. Add a sprinkle of sea salt or everything but the bagel seasoning and you're good to go. Top it with tomatoes or arugula for an extra special treat.
Kale Chips
Chop your kale into bite-size piece and place on a baking sheet. Massage the kale with oil and salt. Add additional seasoning or dressings if you would like. Bake for 10-15 minutes at 350 degrees Fahrenheit. Once crisp, remove from the oven and enjoy a guilt-free chip. To keep them crisp, store them in a brown paper bag.
Tomatoes with Mozzarella
Using a toothpick, add a cherry tomato with a ball of mozzarella and dip it into the balsamic dressing.
Receive Weekly Life Hacks
Subscribe to receive exclusive life hacks and practical information sent directly to your inbox! By using this form you agree with this site's privacy policy.