As a fellow parent, I think we can all agree we want to foster kindness and appreciation in our children. One of my favorite ways to build kind little souls is to teach acts of kindness at a young age. These selfless acts require minimal effort to make someone's day or make the world a better place.
Encourage your child(ren) of any age to complete at least one random act every day! Here is a list of several acts of kindness for kids to try.
Practical Application

Print this list of acts of kindness for your children and keep it in a place where you can easy access it. Challenge them to do at least one act of kindness each day. As you work your way through the list, highlight those that they have completed.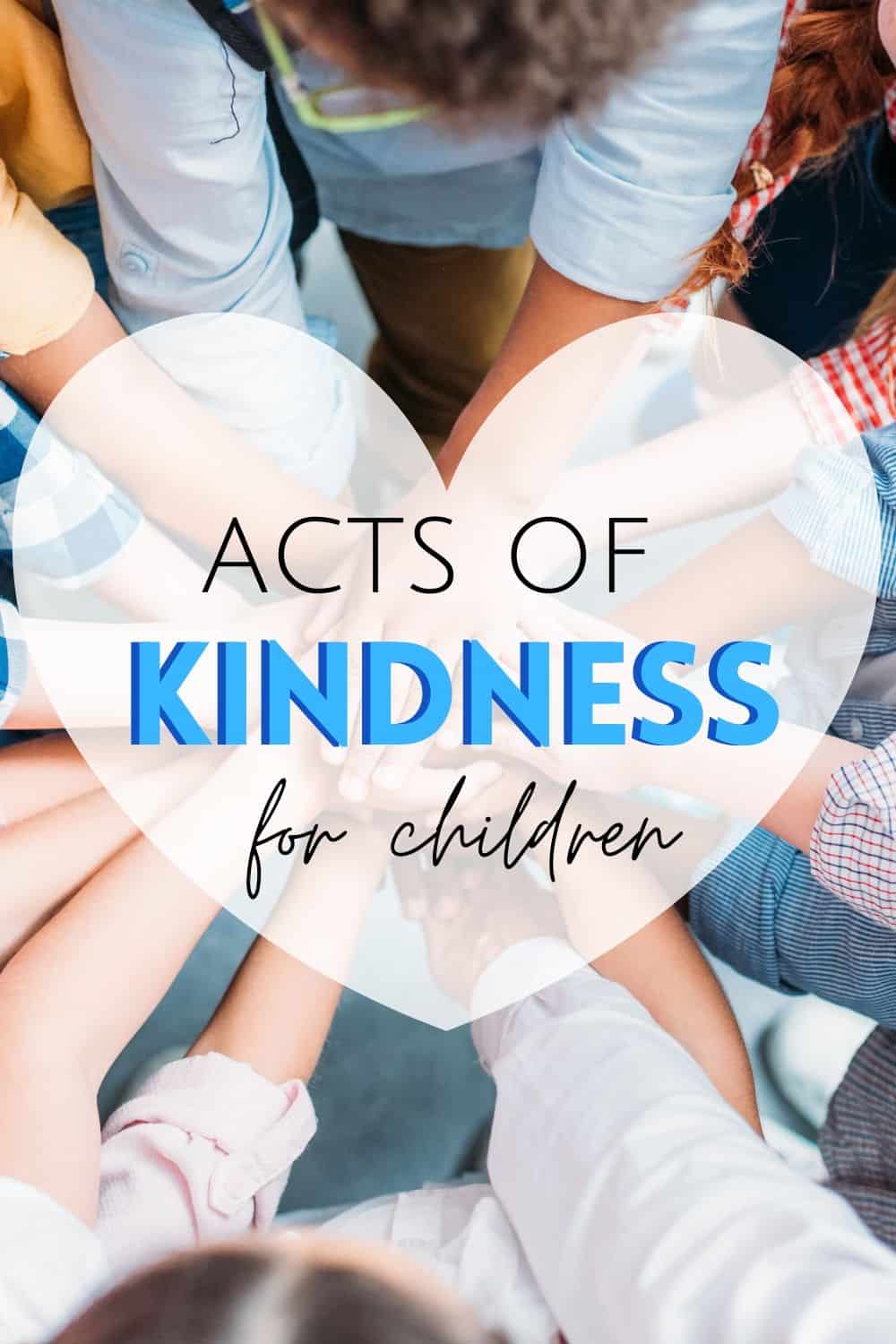 This post may include affiliate links. As an Amazon Associate I earn from qualifying purchases. Read the full disclosure here.
Personal Acts of Kindness
Say "please" and "thank you."
Greet everyone with "good morning" in the morning time.
Be forgiving.
Tell someone how much you love them.
Be patient.
Act as a role model.
Ask for charitable donations in place of birthday gifts.
Pray for others.
Call someone to sing "happy birthday."
Think before you speak.
Smile at everyone! It is very contagious.
Acts of Kindness at Home
Make someone else's bed.
Set the table for dinner.
Do a siblings chore without telling them.
Clean up your toys.
Help cook dinner.
Take out the trash.
Put your clothes away.
Spend extra time with your pets.
Sweep or dust the house.
Walk your dogs.
Leave notes for all your family members.
Help with laundry.
Acts of Kindness for Others
Bring treats to the police station or fire house.
Hand out water bottles or snacks to mail carrier or garbage men.
Play with someone new at the playground.
Walk a neighbor's dog.
Help a senior citizen cross the street.
Sit with someone new at lunch.
Pick a few old toys to donate.
Give someone flowers.
Let someone go ahead of you in line.
Help a teacher clean up or pass out papers.
Share your notes with a sick classmate.
Send a soldier a card.
Share your umbrella with someone when it's raining.
Help someone load/unload groceries.
Walk dogs at the animal shelter.
Offer your seat to someone else on the bus or train.
Bring back someone's grocery cart.
Donate old or used books to the library.
Hold the door open for someone.
Compliment a friend.
Leave a kind note in a library book.
Donate old clothes.
Write kind messages on the sidewalk in chalk.
Leave encouraging words on a post-it around town.
Donate to a charity.
Donate to a food bank.
Adopt a pet from an animal shelter.
Community service.
Bring someone dinner.
Shovel a neighbor's driveway.
Give a friend a high five.
Wash someone else's car.
Teach someone something new.
Give your parents a hug.
Environmental Acts of Kindness
Plant something.
Use less plastic.
Take shorter showers.
Recycle.
Pick up litter.
Start a compost.
Feed the birds.
Start a garden.
Related

Intentional Parenting – 10 Tips to Parent with Purpose
Receive Weekly Life Hacks
Subscribe to receive exclusive life hacks and practical information sent directly to your inbox! By using this form you agree with this site's privacy policy.