As parents, we hold an incredible amount of responsibility in raising our children. Everything we say and do plays a role in who they become. Of course, I think we all try to be the best we can and raise strong, kind, good-hearted children. But, I also think we should always strive to be better. This post walks through 10 tips to being more mindful in parenting and how to parent with purpose.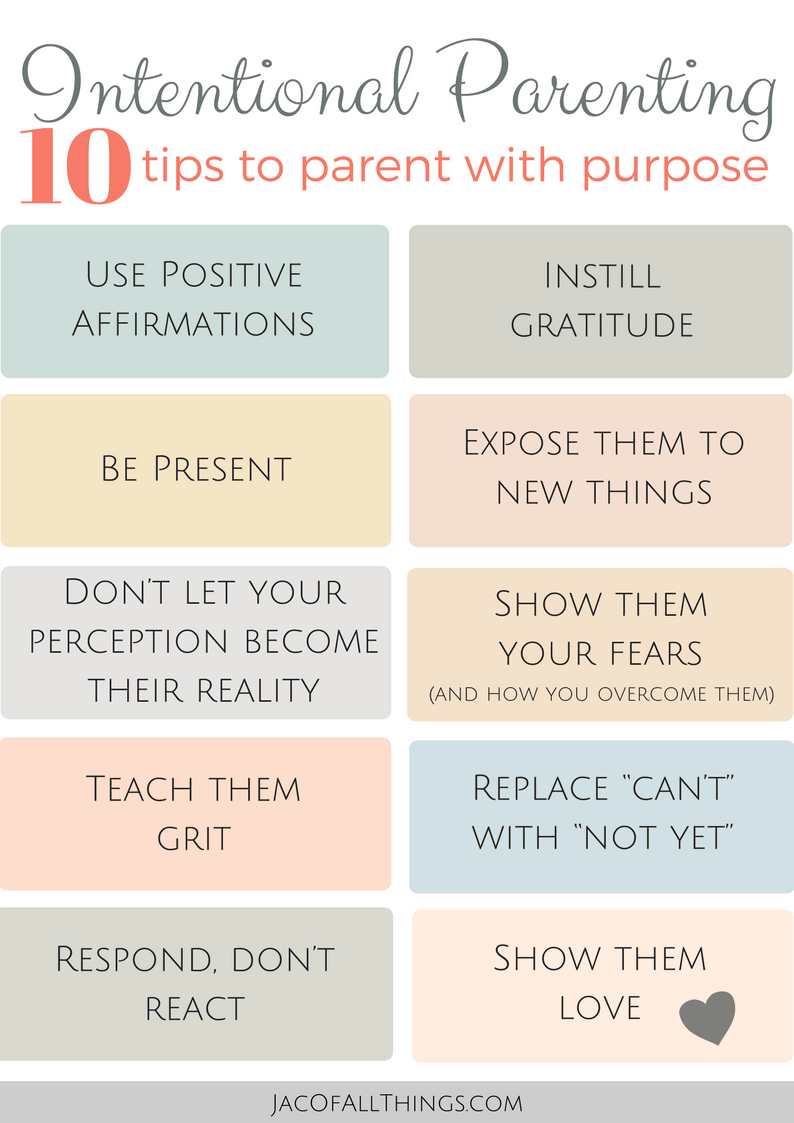 Disclosure: We are a participant in the Amazon Services LLC Associates Program, an affiliate advertising program designed to provide a means for us to earn fees by linking to Amazon.com and affiliated sites. I may earn money or products from any of the companies mentioned in this post. Purchasing through an affiliate link comes at no extra cost to you. Note that my recommendations are included because I think they are they are helpful and useful, not because of commissions I make if you decide to buy something.
BE SURE TO SIGN UP FOR THE INTENTIONAL PARENTING 10 DAY (FREE) EMAIL CHALLENGE! (Exclusive to subscribers)
This FREE challenge goes through each of the 10 tips to parenting with purpose in more detail. Each day, you will receive an email that walks you through a practical application and includes a simple daily challenge to take action and become a more intentional parent. Sign up and let's become better parents together! #intentionalparentingchallenge Note that this free challenge is exclusive to email subscribers. Please provide your information below to join as a subscriber (for free!) In addition to this challenge, you will receive a weekly email from Jac of All Things with a "Did you know" tidbit of information and life hack as well as new updates for Jac of All Things. By using this form, you agree with this site's privacy notice.
INTENTIONAL PARENTING – 10 TIPS TO PARENT WITH PURPOSE
1) USE POSITIVE AFFIRMATIONS
Teach your child the strength of your words. Show them how our thoughts can become our reality. Teach your children the power of positive thought and affirmations. Continue to use words of affirmations like you are so beautiful, handsome, and smart, but also add in others like strong, independent, a leader, brave, compassionate, generous.
2) BE PRESENT
Put the phone away. Turn off the TV. Close your laptop. Give your child your 100% attention. Look them in the eyes when they talk. Study their mannerisms. Capture all that they have become. You are their world; show them that!
3) DON'T LET YOUR PERCEPTION BECOME THEIR REALITY
Don't limit your child based on your thoughts. Let your child have big dreams, and don't crush them. Be mindful of your words and the power that you have as their greatest influencer. Your child may ask to live in a castle one day, or be the president, or be a movie star. Don't say "no" or "that's not going to happen". Rather teach them that anything is possible and if they want it, and will work for it, they can make their dreams become their reality.
4) TEACH THEM GRIT
There will be struggles in life. Allow your child to understand what a struggle is and learn the skills they need to overcome them. Teach your child how to problem solve. Teach them the power of persistence. Teach them not to fear failure, but rather to learn from it. Teach them how to have courage. Teach them tenacity. Teach them resiliency. Create challenges for your child to learn how to overcome.
5) RESPOND, DON'T REACT
Be mindful in how you respond in situations of struggle or disdain. Use both your conscious mind and unconscious mind in your responses. Synthesize the situation and consider the impact of your words and actions on others before responding.
6) INSTILL GRATITUDE
Rejoice all of the blessings you have. Show thankfulness for all of the material and non-material items you have. Teach your child to feel humbled by their blessings. Teach your child to appreciate all that they have rather than lust for more. Show your child how to recognize others and be thankful for their contributions.
7) EXPOSE THEM TO NEW THINGS
Show the world to your child. Create adventures. Instill confidence in your child to eliminate discouragement and fear of trying new things. Focus on the journey rather than the outcome when trying something new. Encourage curiosity. Foster a sense of excitement. Praise them when they have the courage to try something new, regardless of the outcome.
8) SHOW THEM YOUR FEARS (and how you overcome them)
Remember that you are your child's idol, their hero. Show them that everyone has fears. Teach them that fear is normal; even a good thing. Teach them that fear is an emotion and that it's our reaction to fear that may be the issue. Show them that fear is not weakness. Teach them that bravery doesn't exist without fear. Tell them about times where you have had fear and how you overcame it. Share with them all of the new and exciting experiences that wouldn't have been possible without pushing through your fear.
9) REPLACE CAN'T WITH NOT YET
Can't is a limiting word. Teach your child that you can do anything you put your mind to. Teach them to say "I can't do that, yet." or "How can I do that?" Show them that they may not be able to do something yet, but with time (and practice) they can do anything.
10) SHOW THEM LOVE
Show your child endless, unconditional love. Teach them how to open their heart to others. Show them affection. Tell them you love them, but also tell them why you love them. Show them how to love yourself.
DON'T FORGET TO SIGN UP FOR THE INTENTIONAL PARENTING 10 DAY (FREE) EMAIL CHALLENGE!
Receive Weekly Life Hacks
Subscribe to receive exclusive life hacks and practical information sent directly to your inbox! By using this form you agree with this site's privacy policy.