Choosing a daycare for your child can be one of the hardest decisions you need to make as a new parent. You are leaving your baby in the hands of someone else to care for them; of course, you want to make sure that person is best fit for the job, that you feel at peace with your decision, and that you choose a quality daycare. Before you enroll your child in a daycare, you will likely want to interview the child care provider and do a tour of the facility. Read on for a complete checklist for choosing a daycare and questions to ask the daycare provider for your infant/toddler.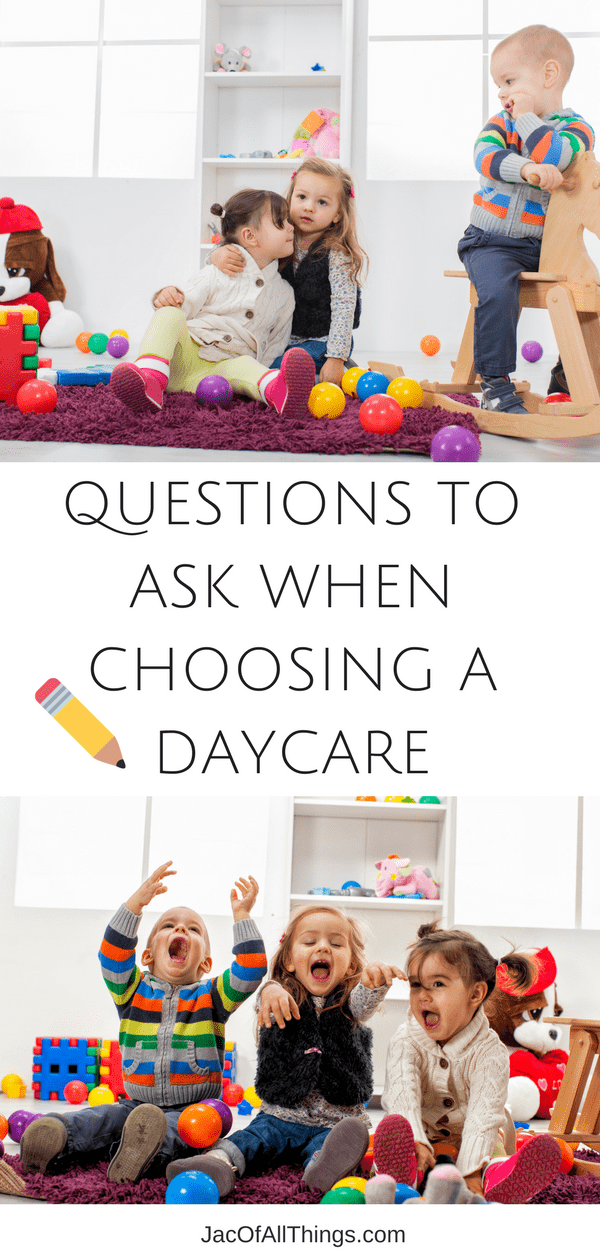 Checklist for Choosing a Daycare
EXCLUSIVE FOR SUBSCRIBERS! Access your free printable PDF daycare interview and tour checklist. (As well as access to the Jac of All Things Resource Library for FREE! Simply enter your email address below and it will be sent to you immediately. You will receive a weekly email with the latest posts added to Jac of All Things, as well as a weekly "Did you know" tidbit of information or life hack to make your life easier! To receive this amazingly awesome information and email notifications of new posts, simply provide your email address below. By using this form you agree with this site's privacy policy.
---
Questions to Ask Your Daycare Provider
Hours and Schedule
What are your hours?
Are you closed on holidays? If so, which holidays?
What time (or range) is pickup? Drop off?
Is there any flexibility in pick up and drop off times?
---
Meals and Snacks
Who provides meals? (Parents or school)
Who provides snacks? (Parents or school)
Who provides utensils and serving bowls?
How do you handle allergies?
How do you handle breastmilk (fresh or frozen) or formula preparation?
When do children eat? (Meals and snacks)
Will you heat food?
Is there a refrigerator to store food?
---
Supplies
Are diapers provided?
Are sheets and blankets provided?
What other supplies are required?
---
Parent Requirements and Visits
How do you communicate with parents? (email, newsletter, daily activity log, app, etc…)
What are your expectations of me as a parent?
Can parents visit during the day?
Do you offer parent/teacher conferences?
---
Size and Class Structure
What are your class sizes?
What's the caregiver-child ratio for each class?
When does my child "graduate" to the next class?
How many children attend the daycare across all classes?
---
Schedule and Activities
What will my child's activities be on any given day?
Do you have a safe, enclosed outside play area?
How often do children play outside?
(For babies and infants) Will you follow our suggested schedule or do you put all children in the class on the same schedule?
---
Comforting/Disciplining Policies
How do you comfort children?
How do you discipline? Do you do time-outs?
How do you handle hitting or biting?
How do you handle bullying?
---
Health
Are immunizations required of all children?
What is your sick policy?
Will you administer medicine and/or emergency allergy treatments?
---
Safety
Do you have a sign-in and sign-out sheet?
Are doors secure?
What is your policy for others (besides parents) picking up children?
What is your disaster plan?
What is your plan for other emergencies?
---
Staff
How do you train your staff? How do you keep staff educated?
What degrees or certifications do employees have?
Do you conduct background checks on employees?
What is your employee tenure?
What licenses/accreditation do you have?
---
Cost and Enrollment
What are your fees?
What is the late-pick up fee?
What forms of payment are allowed?
When is payment due?
Do you have an annual registration fee?
What is the termination policy?
Do you offer any discounts? (Such as multiple child discounts or early pay discounts)
Is there a waitlist? If so, how long is the waitlist?
Do we pay when our child is sick or on vacation?
---
Miscellaneous
Are cloth diapers allowed?
How do you handle potty-training?
Do you transport the children for any reason?
How often are toys/supplies sanitized?
Are there references that I can connect with?
---
Signs of a Good Daycare
In addition to scheduling a tour and interviewing your daycare, you may want to hear what others are saying. One of your best sources of information is other parents. Ask around to see if you can obtain feedback from other local parents. If you do not know anyone locally, consider joining a local Facebook parent's group and ask for feedback within the group.
You can also contact your state's childcare licensing agency to learn more about licenses and potential infractions.
---
How to Choose Your Daycare Provider
After your interview and tour, take a few minutes to let your visit soak in. While the answers to the questions are important, it's also important for you to listen to your gut. Did you feel comfortable at the daycare? Did the child care providers show love and respect to the children? Don't be afraid to check out multiple daycares so you can compare.
And remember, while choosing the perfect daycare is the goal, if you select one, and it ends up not being the right fit, you can change your mind!
---
Don't Forget to Print These Questions for your Tour!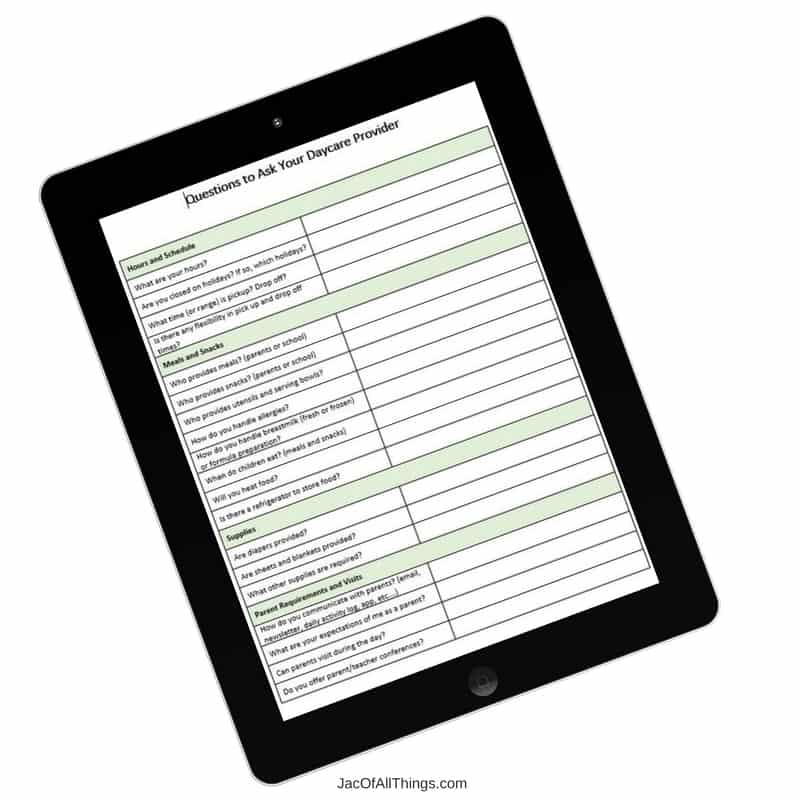 ---
What other questions would you suggest asking a daycare? Do you have any other signs of a good daycare that you'd like to share? I'd love to hear from you in the comments.
---
Related Posts:
Spoon-Feeding Your Baby – Tips from a Feeding Therapist
Easy Toddler Lunch Ideas for Daycare
Intentional Parenting – 10 Tips to Parent with Purpose
How to Plan a Birthday Party (Checklist)