Are you tired of coming up with easy school lunch ideas for your children? I have two little ones and we are already running around like crazy in the mornings before preschool/daycare – we don't need the added stress of trying to come up with what to pack in their lunchbox!
After numerous stressful mornings trying to pull together a semi-decent and healthy lunch for my kids, I decided enough was enough and I was going to eliminate the extra thinking (and decision fatigue) in the mornings. I created a master list of all the school lunch ideas to choose from.
No more frantic searching the refrigerator and pantry to come up with ideas of what to pack! We simply refer to the printable checklist of easy and quick lunchbox ideas, and in no time have a complete, healthy meal to send them off to school!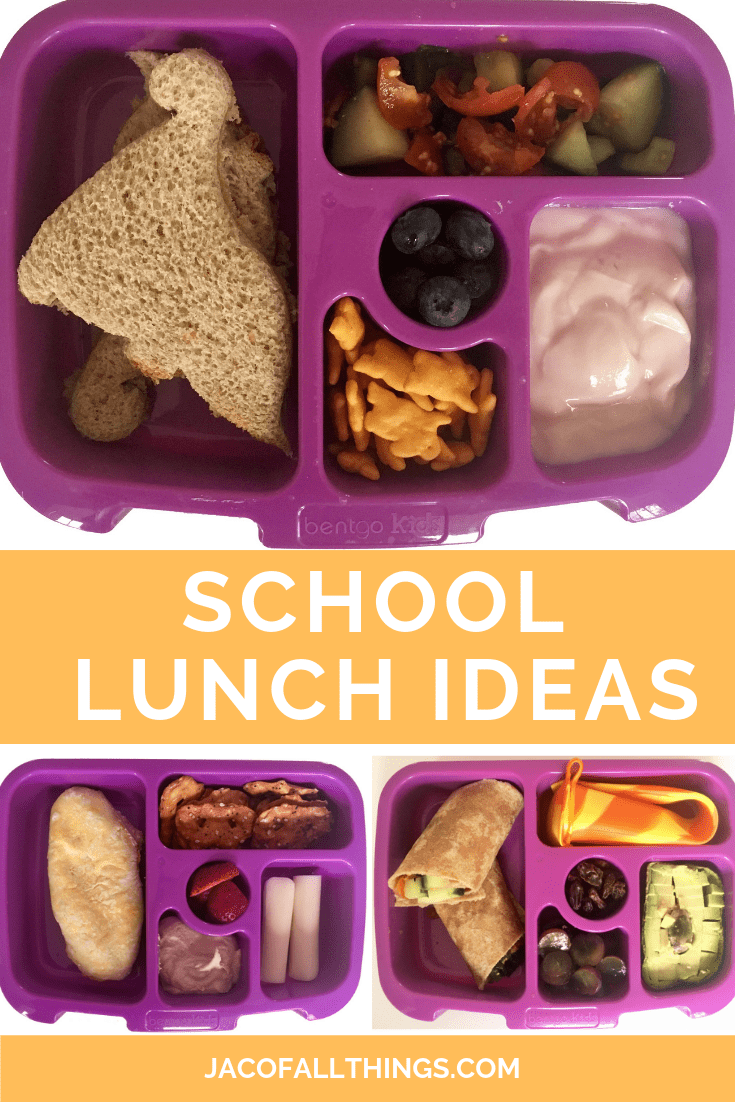 This post may include affiliate links. As an Amazon Associate I earn from qualifying purchases. Read the full disclosure here.
EXCLUSIVE FOR SUBSCRIBERS! Access your free printable PDF toddler/child lunch ideas checklist. (As well as access to the Jac of All Things Resource Library for FREE! Simply enter your email address below and it will be sent to you immediately. By using this form you agree with this site's privacy policy.
WHAT TO PACK?
As my daughters are toddlers and in preschool and daycare, they can bring in either hot or cold lunches and their teachers will heat it up for them (if needed.) But, if they bring a lunch to be heated, they need to wait while their friends are eating, so we try to not always rely on hot lunches. (And, when they start kindergarten, they will not have the luxury of hot lunches anymore!)
They typically will get one main meal, three to four snacks, and a drink. The list below separates each food by category (main meals (including both hot and cold; sandwiches and non-sandwiches), dairy, fruit and vegetables, other snacks, and desserts. You can pick and choose from the list to fit your child best.
---
LUNCH IDEAS – MAIN MEALS (SANDWICH AND NON-SANDWICH OPTIONS)
Bagel and cream cheese
Cheese and crackers
Chicken nuggets
Chicken salad sandwich
Chicken soup
Chili
Deli meat and cheese roll-ups
Deli meat and cheese sandwich
Dr. Praeger's Spinach Littles
Egg salad/Egg salad sandwich
Eggs in a wrap
Grilled cheese sandwich
Hard-boiled eggs
Homemade "hot pockets"
Mac and cheese
Make your own pizzas (crackers, sauce, cheese)
Meatballs and pasta
Meatballs and BBQ sauce (frozen meatballs, cooked and covered in BBQ sauce and cheese)
Pasta and butter
Pasta and meatballs
Pasta salad (pasta and Italian dressing)
Pita bread with hummus, cucumbers, and tomatoes
Quesadilla (cheese, chicken and cheese, or beans and cheese)
Quinoa salad (quinoa, peppers, tomatoes, cucumbers)
Ravioli
Sun butter and jelly sandwich (or Peanut Butter if your school allows)
Tacos (chicken or beef, beans, cheese, guacamole, salsa)
Tomato soup
Tortellini
Tuna salad
Veggie burgers
Waffle with cream cheese and jelly
---
LUNCH IDEAS – FRUITS AND VEGETABLES
Apple sauce
Apples
Avocado
Baby carrots (and ranch)
Bananas
Beans
Clementine
Cucumbers
Dried fruit
Edamame
Frozen smoothies
Fruit cup
Grapes (cut the long way)
Hummus
Kiwi
Melons
Peaches
Pineapple
Pouches
Raisins
Raspberries
Red pepper slices
Sliced oranges
Snap Peas
Strawberries
Sweet potato
Watermelon
---
LUNCH IDEAS – SNACKS AND TREATS
Cheese
Cheese sticks
Chocolate chips
Fig bar
Fruit snacks
Goldfish/Cheddar Bunnies
Graham crackers (and cream cheese)
Granola
Granola Bars/ LaraBars/Cliff Bars
Honey Grahams
Muffins
Oreos
Pirates booty
Popcorn
Pretzels
Pudding
Rice cakes
Tortilla chips
Trail mix
Veggie sticks
Yogurt (containers, tubes, pouches)
---
HELPFUL SUPPLIES FOR SCHOOL LUNCHES
Fun Sandwich Cutters
Cut your child's sandwiches into fun shapes with sandwich cutters. You can find them in so many different shapes and will make any sandwich 10x more fun. These will help encourage even the toughest eaters to eat. They can also be used to cut pancakes, watermelon, etc.
Thermos
Who says you need to be limited to cold lunch only? You can now pack hot lunches as well in this compact, portable thermos.
Silicone Muffin Liners
The muffin liners are not just for baking! They are a fun way to send in snacks and veggies.
Inspirational Notes
Back when I went to school, my mother used to write little love notes on the outside of our brown paper bags. Every day I looked forward to her sweet message and vowed that when I had kids, I would send them to school with the same "love notes".
Bento Lunch Containers
We did an interesting experiment in our house. I sent my kids to school with their lunch in a handful of disposable bags one day, and the next in a fun bento box with compartments. We like to give a mix of healthy snacks and some fun ones too, so there is quite the variety in our lunches. Want to know what happened on those days with disposable bags? Those "healthy snacks" didn't get touched. They were sent home without a single bite! But when that same lunch/snack combo was presented in the bento box, my kids tried every option. The verdict in our house…bento boxes = better choices made by my kids.
Check out some of our favorites below.
Ice Packs
Want some lunch with that ice? Thin ice packs are a must in every child's lunch box.
Water Bottle
The Yeti Jr Rambler is our top choice for a water bottle on-the-go. (The best part…these water bottles can be thrown in the dishwasher, unlike so many others, for easy cleaning!)
Reusable Snack Bags
Reusable bags beat disposable bags any day of the week.
---
FREE PRINTABLE – EASY SCHOOL LUNCH IDEAS
Don't forget to grab your free printable with all of these ideas outlined in one list. Keep it in your pantry or tape to the back of your cabinet for easy access! (As a reminder, this is exclusive for subscribers!) You will also receive access to the Jac of All Things Resource Library for FREE! Simply enter your email address below and it will be sent to you immediately. By using this form you agree with this site's privacy policy.