Are you tired of coming up with easy school lunch ideas for your children? I have two little ones and we are already running around like crazy in the mornings before preschool/daycare – we don't need the added stress of trying to come up with what to pack in their lunchbox!
After numerous stressful mornings trying to pull together a semi-decent and healthy lunch for my kids, I decided enough was enough and I was going to eliminate the extra thinking (and decision fatigue) in the mornings. I created a master list of all the school lunch ideas to choose from. No more frantic searching of the refrigerator and pantry to come up with ideas of what to pack! We simply refer to the printable checklist of easy and quick lunchbox ideas, and in no time have a complete, healthy meal to send them off to school!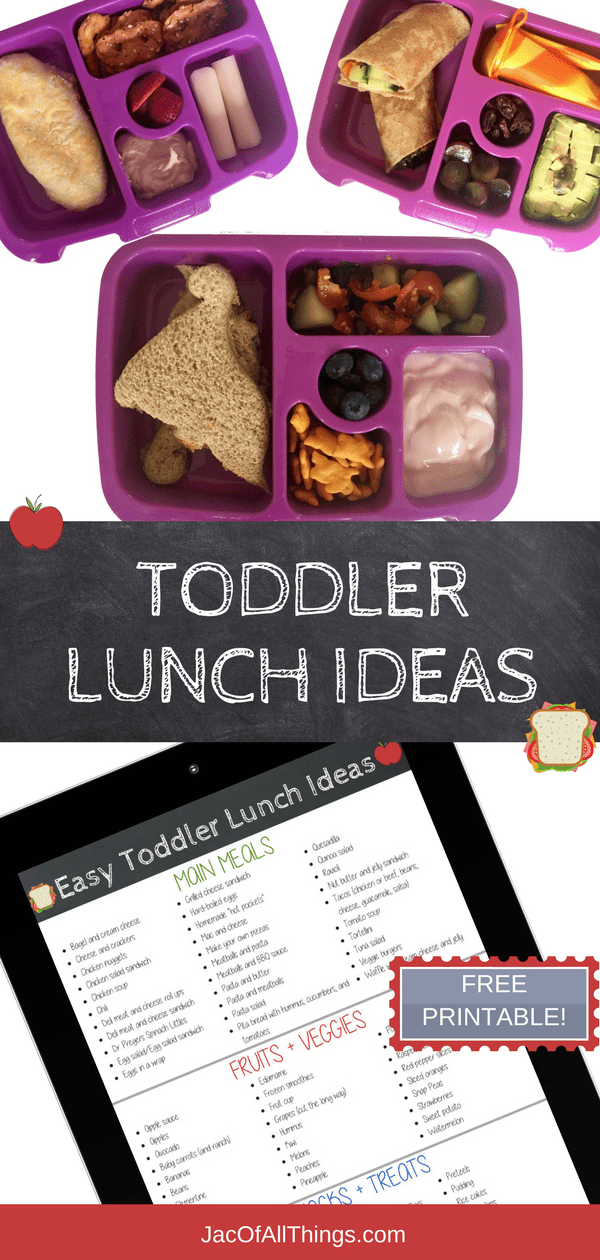 Disclosure: We are a participant in the Amazon Services LLC Associates Program, an affiliate advertising program designed to provide a means for us to earn fees by linking to Amazon.com and affiliated sites. I may earn money or products from any of the companies mentioned in this post. Purchasing through an affiliate link comes at no extra cost to you. Note that my recommendations are included because I think they are they are helpful and useful, not because of commissions I make if you decide to buy something.
EXCLUSIVE FOR SUBSCRIBERS! Access your free printable PDF toddler/child lunch ideas checklist. (As well as access to the Jac of All Things Resource Library for FREE! Simply enter your email address below and it will be sent to you immediately. You will receive a weekly email with the latest posts added to Jac of All Things, as well as a weekly "Did you know" tidbit of information or life hack to make your life easier! To receive this amazingly awesome information and email notifications of new posts, simply provide your email address below. By using this form you agree with this site's privacy policy.
---
What to pack?
As my daughters are toddlers and in preschool and daycare, they can bring in either hot or cold lunches and their teachers will heat it up for them (if needed.) But, if they bring a lunch to be heated, they need to wait while their friends are eating, so we try to not always rely on hot lunches. (And, when they start kindergarten, they will not have the luxury of hot lunches anymore!)
They typically will get one main meal, three to four snacks, and a drink. The list below separates each food by category (main meals (including both hot and cold; sandwiches and non-sandwiches), dairy, fruit and vegetables, other snacks, and desserts. You can pick and choose from the list to fit your child best.
---
Lunch Ideas – Main Meals (Sandwich and Non-Sandwich Options)
Bagel and cream cheese
Cheese and crackers
Chicken nuggets
Chicken salad sandwich
Chicken soup
Chili
Deli meat and cheese roll ups
Deli meat and cheese sandwich
Dr. Praeger's Spinach Littles
Egg salad/Egg salad sandwich
Eggs in a wrap
Grilled cheese sandwich
Hard-boiled eggs
Homemade "hot pockets"
Mac and cheese
Make your own pizzas (crackers, sauce, cheese)
Meatballs and pasta
Meatballs and BBQ sauce (frozen meatballs, cooked and covered in BBQ sauce and cheese)
Pasta and butter
Pasta and meatballs
Pasta salad (pasta and Italian dressing)
Pita bread with hummus, cucumbers, and tomatoes
Quesadilla (cheese, chicken and cheese, or beans and cheese)
Quinoa salad (quinoa, peppers, tomatoes, cucumbers)
Ravioli
Sun butter and jelly sandwich (or Peanut Butter if your school allows)
Tacos (chicken or beef, beans, cheese, guacamole, salsa)
Tomato soup
Tortellini
Tuna salad
Veggie burgers
Waffle with cream cheese and jelly
---
Lunch Ideas – Fruits and Vegetables
Apple sauce
Apples
Avocado
Baby carrots (and ranch)
Bananas
Beans
Clementine
Cucumbers
Dried fruit
Edamame
Frozen smoothies
Fruit cup
Grapes (cut the long way)
Hummus
Kiwi
Melons
Peaches
Pineapple
Pouches
Raisins
Raspberries
Red pepper slices
Sliced oranges
Snap Peas
Strawberries
Sweet potato
Watermelon
---
Lunch Ideas – Snacks and Treats
Cheese
Cheese sticks
Chocolate chips
Fig bar
Fruit snacks
Goldfish/Cheddar Bunnies
Graham crackers (and cream cheese)
Granola
Granola Bars/ LaraBars/Cliff Bars
Honey Grahams
Muffins
Oreos
Pirates booty
Popcorn
Pretzels
Pudding
Rice cakes
Tortilla chips
Trail mix
Veggie sticks
Yogurt (containers, tubes, pouches)
---
Helpful Supplies for School Lunches
Bring some fun to your lunches with these fun sandwich cutters. (In full transparency, I actually sell these on Amazon under the brand name Sweet Honey Bee and Me.) With two young children, and my husband who is a pediatric feeding therapist, we frequently have to get creative around mealtime to encourage eating. These fun shaped sandwich cutters make mealtime so much easier. Not only are they fun for the children and encourage imaginary play, but they can be used to facilitate language and encourage trying new foods for the picky eater. (And they are good for non-sandwich options too; from waffles to pancakes to watermelon!)
---
Free Printable – Easy School Lunch Ideas
Don't forget to grab your free printable with all of these ideas outlined in one list. Keep it in your pantry or tape to the back of your cabinet for easy access! (As a reminder, this is exclusive for subscribers!) You will also receive access to the Jac of All Things Resource Library for FREE! Simply enter your email address below and it will be sent to you immediately. You will receive a weekly email with the latest posts added to Jac of All Things, as well as a weekly "Did you know" tidbit of information or life hack to make your life easier! To receive this amazingly awesome information and email notifications of new posts, simply provide your email address below. By using this form you agree with this site's privacy policy.
---
Do you have any other toddler lunch ideas for daycare that you'd like to share? Please do so in the comments.