As the summer comes to an end and the first day back to school nears, you are probably stressing about everything that has to be done. The last thing you are probably worrying about is all the fun traditions that the "extra" moms and dads always put together. Well, you don't need to worry any longer because I have you covered. Making your kids first day super special does not have to be difficult nor stressful.
Here are 12 traditions that you can easily start this upcoming school year to help make your child's first day of school one to remember.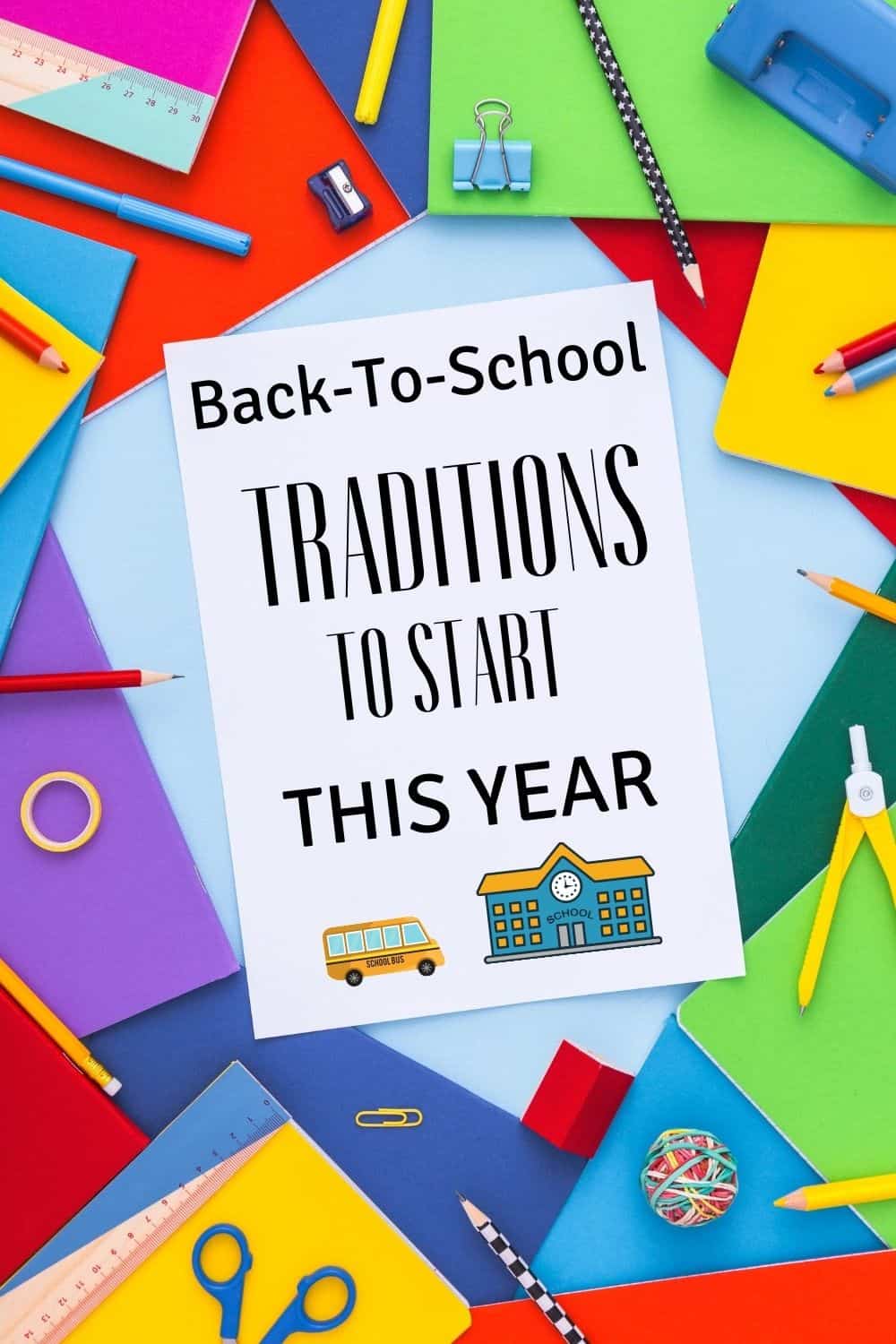 This post may include affiliate links. As an Amazon Associate I earn from qualifying purchases. Read the full disclosure here.
---
Have a fun and yummy first day of school breakfast (that becomes a tradition!)
Every kid enjoys a fun and exciting breakfast, especially on important days. Hopefully your kids will gladly wake up earlier and cooperate while getting ready if they know that they have pancakes or French toast waiting for them in the kitchen. If you're not one who likes to whip up some pancakes, waffles, French toast, eggs, etc., then you can always grab some store-bought donuts, muffins, or other pastries to add to their regular breakfast.
Start a countdown
Beginning in August, start a fun countdown for the kids to be involved in. Make an easy paper chain where your kids rip off a chain each day or simply draw one on paper that your kids can scribble out each day.
Have the Backpack Fairy visit the night before the big day
The Backpack Fairy is just like the Tooth Fairy, Easter Bunny, and Santa Claus. They all visit during the night and leave goodies for the kids to wake up to. Have your kids leave their backpacks out and then they will wake up with a nice surprise; their bags will be filled with fun goodies and new supplies to get them through their year.
Get them excited for a fun after school snack or treat
Whether you bake them a fun treat, like cookies or brownies, or give them a snack they normally do not get, they will be so excited. You could always set up a tray filled with snacks and treats to give them a variety of options. Or, if you don't feel like cooking, take them to get ice cream after their first day!
Cook your child's favorite dinner
As the grand first day back comes to an end, your kids might be less motivated for the next day. While rewarding them for getting through their first day, you should prepare them for the next day too. Cooking them their favorite dinner is rewarding and preparing them for their other days.
Designate the entire dinner to letting your kids tell you about their day.
The first day back is filled with the excitement of meeting their teacher(s) and classmates and all the fun activities they participated in. They will be so excited to ramble on about their day and tell you everything that happened. This is also such a special moment between you and your kids to learn more about them.
Read a motivational book the night before the first day of school
There are so many books available that provide positive and motivational messages to their audience. You can find one about the first day jitters or one about the far places that they will go someday.
Pack a special lunch with a special note

A special lunch does not have to be extravagant, just something special. You can add a special note for them to read, add fun stickers to their Ziploc bags, or put a photo of the family or your pets. The little things that will make them smile will mean the most.
Related: School Lunch Ideas Your Kids Will Actually Like!
Take a first day of school photo

The classic and simplest tradition is taking photos. Snap a quick photo on the first day and on the last day. It does not have to be a professional and perfect picture either, just a quick pic will do. Your kids will grow so much within a year and it will be very special to look back at those photos. Put them side by side in a scrapbook or frame it.
Create a back to school bucket list
Write down everything your children want to do or accomplish during the school year and go back to it frequently to see how much they accomplish.
Set up a first day of school interview
The first day typically involves ice breakers to introduce everyone and allow the kids to meet their new classmates. Asking your kids questions like what are their nicknames, what are their favorite foods, or what is their favorite color, can prepare them to introduce themselves once at school. This is also something that can be completed at the end of the year to see how much they have grown.
Bus stop or post-drop off brunch
This one is for the parents. After all those morning festivities for the first day and probably running around like crazy, you will need a rewarding brunch. You could either go out for brunch or set up your own for the neighborhood parents. Whether you put the kids on the bus or you drop them off, you can throw together a little brunch with coffee, pastries, (maybe even some mimosas if you really need a reward!).
Start a unique tradition
There are so many classic traditions, but there are so many things new and unique things that you can start. Make your own tradition for your family, whether it be something very small like saying a funny quote every year or eating something random every year. Make a tradition that is special to YOUR family. It will mean so much.
Receive Weekly Life Hacks
Subscribe to receive exclusive life hacks and practical information sent directly to your inbox! By using this form you agree with this site's privacy policy.