Are you ready for the best season of the year? Fall is arguably the best time of year, partially because of the amazing foods that come along with the season.
We've compiled a list of our favorite fall foods. How many of these foods can you add to your fall food bucket list this year?
Fall Food Bucket List Challenge:
Print the list below and check off how many foods you try before the end of the season. Come back and post your number in the comments!
Pumpkin Spice Lattes: Nothing screams fall quite like a PSL. (Pumpkin Spice Latte of course.)
Apple Cider Doughnuts: You can eat these for breakfast, for dessert, or even dunk into your favorite fall drink. A fall favorite!
Spaghetti Squash with Tomato Sauce: This dish is like pasta without all the carbs; filling, healthy, and satisfying.
Pumpkin Pie: One bite takes me back to childhood memories.
Apple Pie: A fall staple. Nothing quite like visiting the orchard to pick your own apples for this tasty dessert. If you are anything like my family, we come home with more apples than we know what to do with. Did you know that apple pie freezes really well? Next time you make an apple pie, make an extra (or two) and freeze to enjoy later.
Baked Acorn Squash: Fall is the perfect time to get your veggies in. This healthy fall food that can be served as a yummy side dish or vegetarian main dish.
Snickerdoodles: What's not to love about a cinnamon sugar cookie?
Caramel or Candied Apple: A delicious autumn dessert that tastes amazing with a scoop of vanilla ice cream!
Hot or Iced Apple Cider: The hot apple cider warms my bones on cool fall evenings.
S'mores: Technically a food that can be consumed year-round, but there is nothing quite like a cool fall night cooking s'mores over a bonfire.
Chai Tea: The spices in chai tea are perfect for autumn time. You can also take your chai tea up a notch by adding pumpkin cold foam. (You'll thank me later!)
Roasted Pumpkin Seeds: These savory seeds are a great fall snack that are a rich source of protein, unsaturated fatty acids, vitamins, and minerals.
Apple Spice Cake: Looking for a great dessert to make after picking apples in the orchard? Apple spice cake is a great alternative to your traditional apple desserts.
Pumpkin Bread: It's not fall without pumpkin bread! You can easily turn this into pumpkin muffins or mini-loafs as well and send in with your kids as a special school snack.
Pumpkin Beer: For those who enjoy a nice alcoholic beverage, this is the perfect drink for fall time.
Butternut Squash Soup: For those who need comfort food, this dish is for you.
Baked Mac & Cheese with Butternut squash: Want an easy way to sneak vegetables into your kid's diet? Blend some butternut squash into your homemade mac & cheese. It blends in beautifully and adds a little extra creaminess to this childhood favorite.
Apple Crisp: Apples and oats. What's better?
Mulled Wine: This is a fun adult-beverage to bring to fall gatherings.
Apple Fritters: They can be an appetizer or breakfast food. You choose!
Pumpkin Cinnamon Rolls: Oooy gooey and pumpkin spice! These go great with a cup of coffee in the morning.
Slower Cooker Meals: Nothing quite like a crock pot meal on a crisp fall day.
Apple Butter: This apple spread brings your toast game to the next level.
Baked Apples: Does it count as a dessert if it's a fruit?
Pecan Pie: A fall staple.
Pumpkin Chili: Take your chili to the next level this fall by adding pumpkin puree. While it doesn't change the taste by much, it enhances the texture and adds a nice thick creaminess.
Pumpkin Spice Pancakes: Simply add a few dashes of pumpkin pie spice to your pancake batter for a delicious fall-spin on this classic breakfast.
Baked Potato Soup: Nothing is more comforting than warm baked potato soup on a chilly fall day.
Pumpkin Butter: This is the perfect spread on toast in the morning.
Gingerbread Cookies: The mixture of ginger, nutmeg, and molasses in these cookies just screams "fall-time!"
Pumpkin Hummus: Sounds strange, tastes delicious!
Cinnamon Apple Crumb Cake: A delicious cake with the perfect fall-time flavors.
Acorn Squash Soup: This soup is the best way to warm up on a chilly fall day.
I can't wait to eat all these amazing foods this fall season! I hope you enjoy them too.
---
Related Content:
---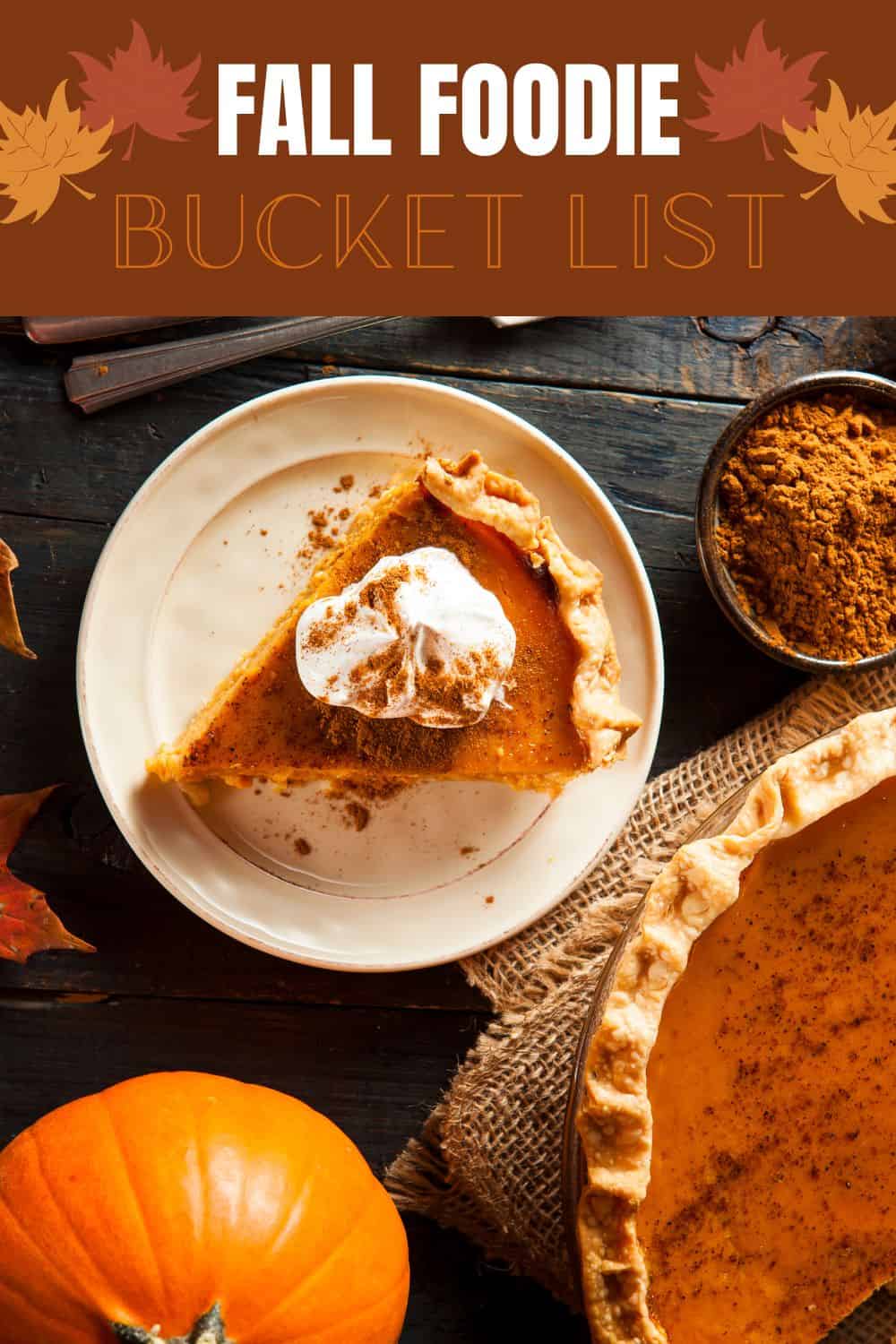 Receive Weekly Life Hacks
Subscribe to receive exclusive life hacks and practical information sent directly to your inbox! By using this form you agree with this site's privacy policy.