Selling your home can be very EXCITING, but it can also be OVERWHELMING and STRESSFUL. I'm familiar with the feeling and I can tell you that planning and preparation are everything!
Our house sold in LESS THAN A WEEK, with MULTIPLE offers, and went ABOVE ASKING PRICE.
Read more for the complete checklist of everything you need to do to get your house ready to sell and tips and tricks to sell your home fast.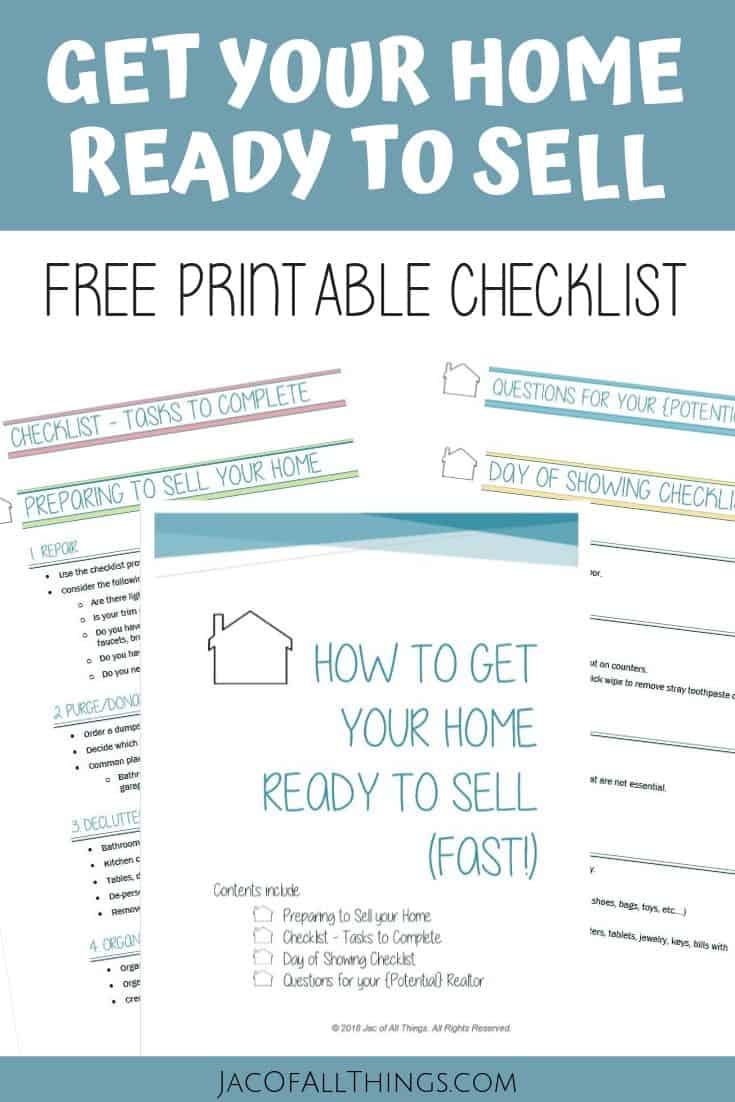 This post may include affiliate links. As an Amazon Associate I earn from qualifying purchases. Read the full disclosure here.
Get your Home Ready to Sell: Prepare and Stage
1. Repair
Walk through every room with a fresh set up eyes (and a pen and notepad).
Write down what repairs need to be done within the room.
Are there light bulbs that need to be changed?
Is your trim paint chipped?
Do you have minor repairs that you have been putting off? (Leaky faucets, broken handles, etc..)
Do you have chipped tile?
Do you need to re-caulk cracks?
Tip: Use the free checklist to keep track of what needs to be done, when it needs to be done, who is doing it, the cost, and any supplies needed.)
2. Purge, Donate, or Sell
This step is not only important for prospective buyers for your current house, but also for you as you think about your future house. When you move into your new house, you get the opportunity for a clean start.
Purge
The best $200 we spent when we sold our house was on a dumpster. It was amazing how many things we had been holding onto that should have been tossed. We easily filled up a 20-yard dumpster with junk and garbage that was laying around.
Take a look at your toiletries, in your food pantry, in your spice cabinet, in your shed/garage, your closet, and in your attic, and decide what you no longer need.
Donate
I felt wasteful tossing old clothes and shoes (unless they were ripped/destroyed) so I donated anything I had not worn in the past year (with the exception of few special occasion items.)
Sell
There may be some items that you prefer to sell. With social media tools, selling has never been easier. (Though you can go the traditional route too of having a tag sale.)
Check out your local online tag sale sites on Facebook or sell via Craigslist.
We made a few hundred dollars selling furniture we no longer needed, children's toys, sports equipment no longer being used, and outdoor tools.
3. Declutter
A prospective buyer wants to be able to picture themselves in your house. They do not want to be reminded that someone lives there today. Give your prospective buyer an opportunity to picture themselves in your house.
Take everything off of your bathroom counters. Put your essentials in a bin or in the drawers/cabinets. Leave just the essentials like soap and lotion.
We have bins like these in our bathroom drawers to hold our toothbrushes, toothpaste, razors, cotton ball, q-tips, etc.…
These containers are also great for deep drawers, cabinets, or closets to keep your makeup and other toiletries organized and off the counters.
Limit what you have on your kitchen counter to just the essentials that you use daily. Do you only use your blender on occasion? If so, remove it from the counter. Keep only what you use on a daily basis.
Declutter your tables, dresser tops, nightstands, coffee tables, etc… Remove everything that isn't decorative or absolutely necessary.
De-personalize your house. A prospective buyer wants to be able to picture themselves in your house. This does not have to mean removing all pictures in your house, but limit them and remove wherever possible.
Remove magnets, papers, pictures, etc.. from your refrigerator.
4. Organize
Potential buyers WILL look into your closets and pantries. Make your house more visually appeasing by keeping these areas organized.
Organize your clothes in your closet. Nothing should be on the floor.
If you are lacking in shelf space, you can purchase a hanging shelf unit for relative cheap like this one.
Organize your pantry. Use bins or containers to keep your food organized.
Give everything a home.
Those shoes that you put by the front door when you walk in… find a place in a closet for them or find a shoe rack.
Purses, backpacks, lunch boxes should have a home.
Every toy should have a bin.
5. Deep Clean
Vacuum and/or sweep daily.
Steam clean your carpets (If you do not have a steam cleaner, you can rent one at your local home improvement store or sometimes even your local grocery store.)
Dust (your furniture, your fans, your baseboard, anything that has a surface.)
Clean both the inside and outside of your windows.
Polish and/or clean all metal/faucets/appliances.
6. Enhance your Curb Appeal
The first thing that your prospective buyer is going to see is the outside. And while, we were always taught to not judge a book by its cover, well… we still do.
Mow your lawn.
Clean up leaves/branches that have fallen.
Trim bushes/shrubbery around your house.
Weed your flowerbeds.
Lay day fresh mulch.
Clean up any trash that may have blown into your yard.
Power wash your deck, patio, fences, windows, walkways, driveway.
7. Decorate
Remove any knickknacks and replace with simple decorations like a vase of fresh flowers.
Remember that neutral colors are your friend. If you decide to repaint any of the rooms in your house, go with a neutral color.
Replace bathroom and kitchen towels with white or beige towels.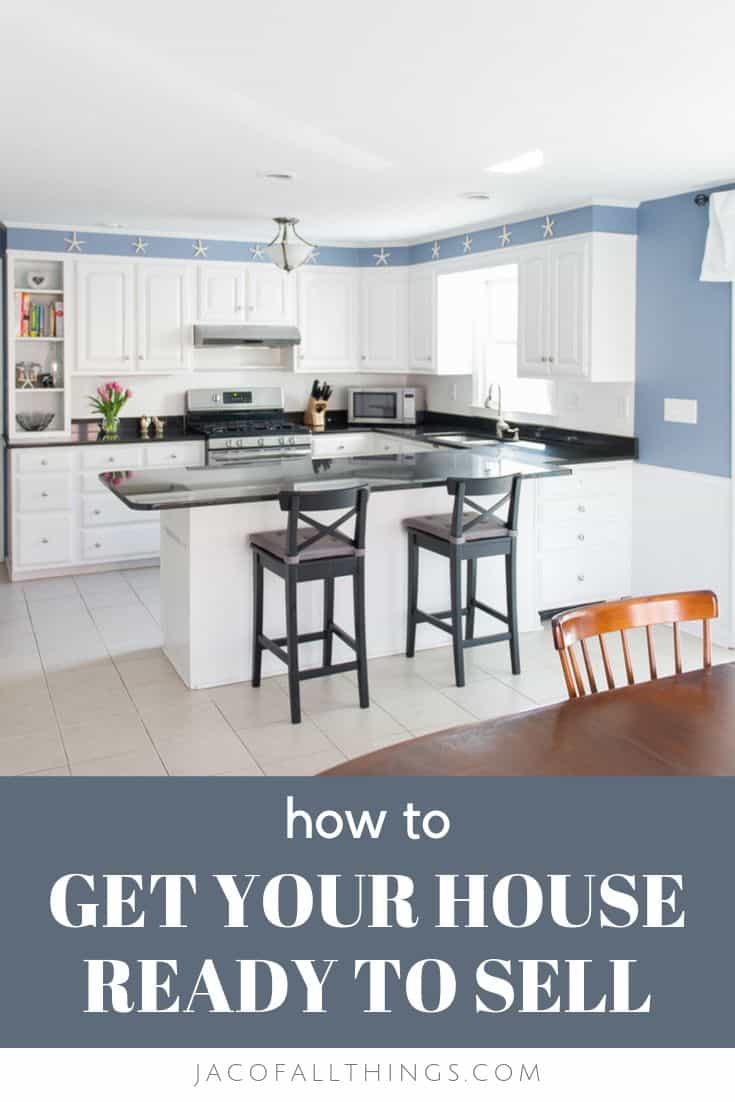 Daily Actions Before a Showing
Once you have all the major items complete, your daily tasks to do for a showing shouldn't take you long.
Bedrooms
Make all beds.
Pick up anything on the floor.
Bathrooms
Close the toilet seat.
Refold towels.
Remove anything you have put on counters.
Give the counters/mirror a quick wipe to remove stray toothpaste or soap marks.
Kitchen
Empty sink.
Take out trash.
Remove anything on counters that are not essential.
Wipe counters clean.
Sweep/vacuum.
Other Living Spaces
Fold all blankets and put them away.
Fluff pillows on couches.
Pick up anything on floors (including shoes, bags, toys, etc.…)
Turn on a few lights.
Secure all valuables including computers, tablets, jewelry, keys, bills with confidential information, etc.…)
Home Selling Checklist (Free Printable)
Did I mention planning is everything? I have put all this information (and more!) in a free printable checklist that you can grab here and check off as you go along. NOTE THIS IS EXCLUSIVE FOR SUBSCRIBERS!
You can also find a checklist outlining what you need to do day of a showing and a checklist of questions to ask a prospective realtor in the guide.
By using this form you agree with this site's privacy policy.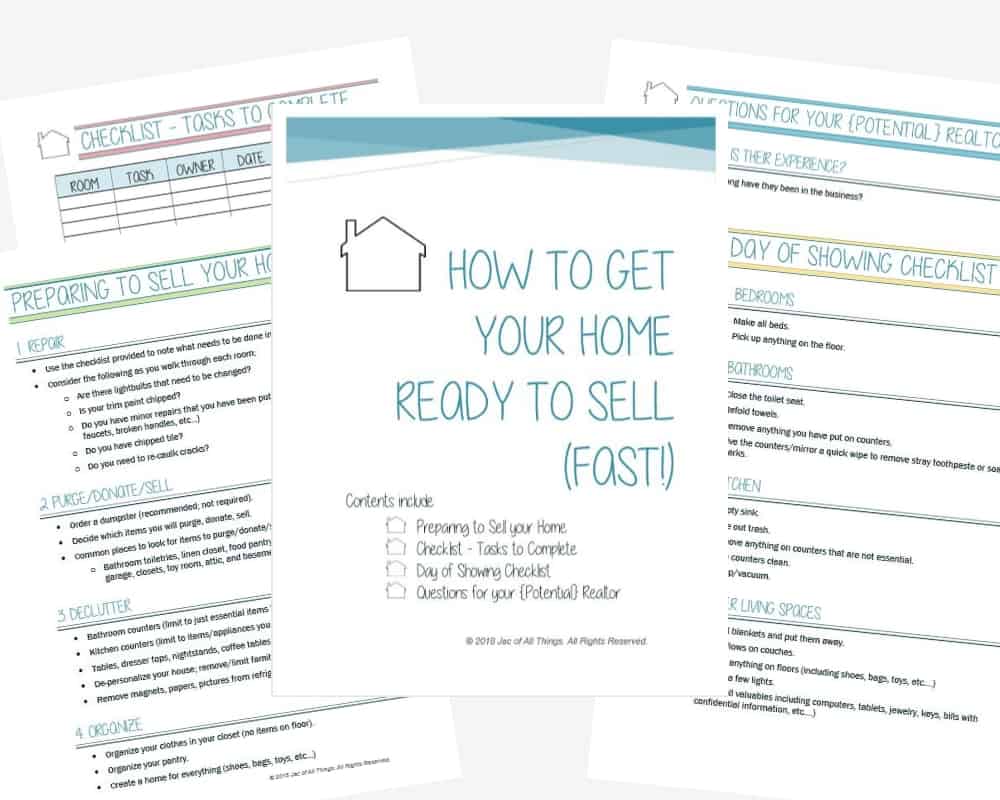 BONUS: Critical Questions to Ask Your Realtor
You can do your part in making your house as visually enticing as possible for prospective buyers, but having a realtor to get buyers in the door is critical too!
The thing is, not all realtors are equal…You can ask around and I'm sure you will be given the names of lots of potential realtors to work with. But when you are selling your house, such a large purchase, don't you want to work with the best?
The best doesn't always have to be the oldest, most established realtor. There are new realtors that are really good too.
But before you choose your friend's sister's child make sure you do your due diligence in making sure they are a fit for YOU.
As a bonus, you can find our top 12 questions to ask your realtor when you download your free checklist.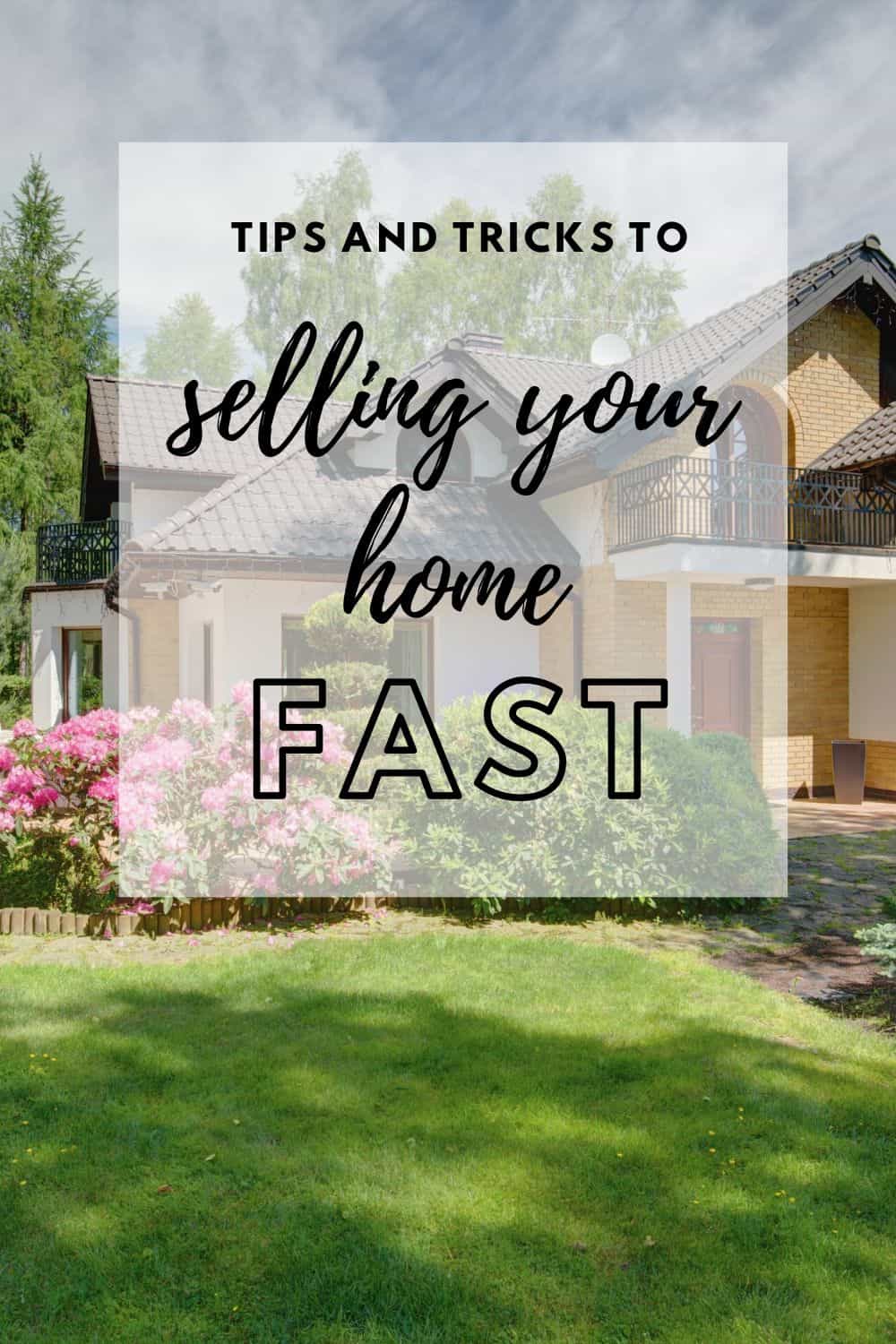 Receive Weekly Life Hacks
Subscribe to receive exclusive life hacks and practical information sent directly to your inbox! By using this form you agree with this site's privacy policy.