Shopping on Amazon has become a regular behavior of many around the world. Amazon has given consumers the ability to receive their products quickly, and shop around for the best deals. In 2017, I started selling my products on Amazon.com and learned so much more about the process and all that Amazon has to offer. Through selling on Amazon, I learned several tips, tricks, hacks and secrets to shopping on Amazon that help me to be a better consumer as well. Read on for my top 21 secrets to shopping on Amazon and getting the best deals and services.
21 Secrets to Shopping on Amazon

Disclosure: We are a participant in the Amazon Services LLC Associates Program, an affiliate advertising program designed to provide a means for us to earn fees by linking to Amazon.com and affiliated sites. I may earn money or products from any of the companies mentioned in this post. Purchasing through an affiliate link comes at no extra cost to you. Note that my recommendations are included because I think they are they are helpful and useful, not because of commissions I make if you decide to buy something.
---
1) Use camelcamelcamel.com to track the price on products and alert you when prices drop.
camelcamelcamel.com is a third-party website that will show you the price history for the product, including the high and low price. You can also use the data to see if there are any common trends in pricing and when the product goes on sale. If you sign up for price alerts, you will receive a notification whenever the price of the product is lowered or raised, so you can purchase at the best time.
See below for an example of the price history chart shown when searching for a BOB Double Jogging Stroller.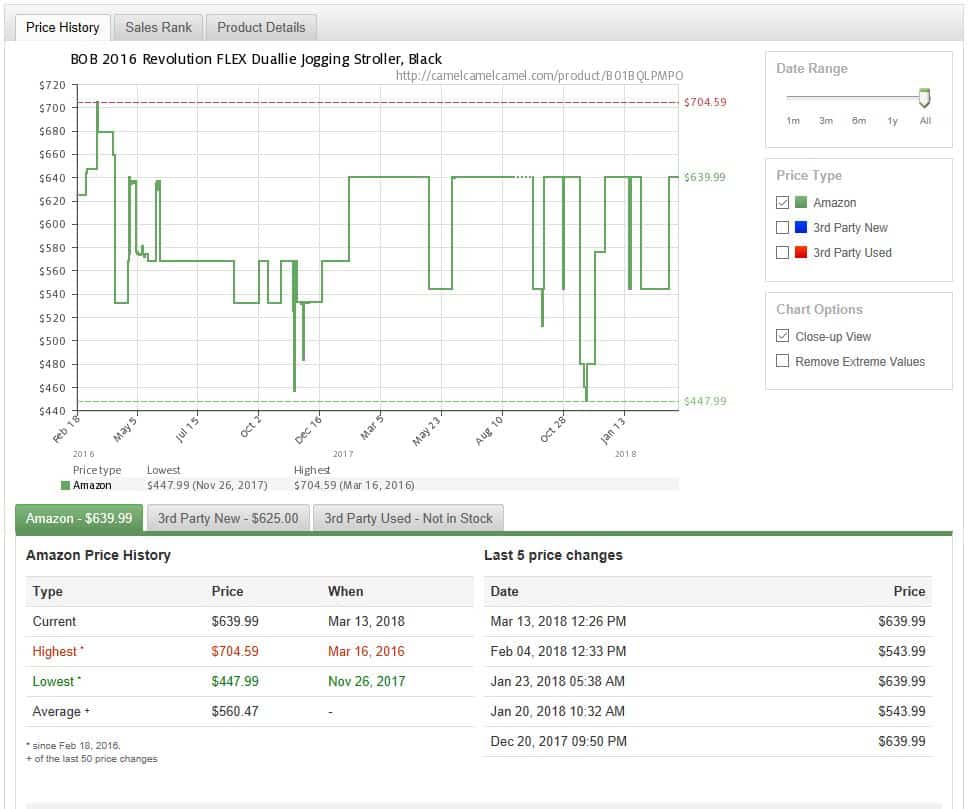 ---
2) Understand the Buy Box and what it means for you as a consumer.
If multiple sellers offer the exact same product, Amazon will group those sellers together and show just one product, rather than several posts of the same product. The sellers then compete for the Buy Box for the product. Being in the Buy Box is a big deal because it is presented as the first choice to buyers when they add the product to their cart. The Buy Box winner is selected by Amazon based on several factors, including pricing, performance, availability, and customer shipping address (among other things). Other sellers who do not win the Buy Box are listed under "Other Sellers on Amazon".
As a consumer, it's a good idea to take a look through the other sellers to see if you can find a better deal on the same product.
In the following image, you can see the Buy Box in the red box, and other sellers in the green box.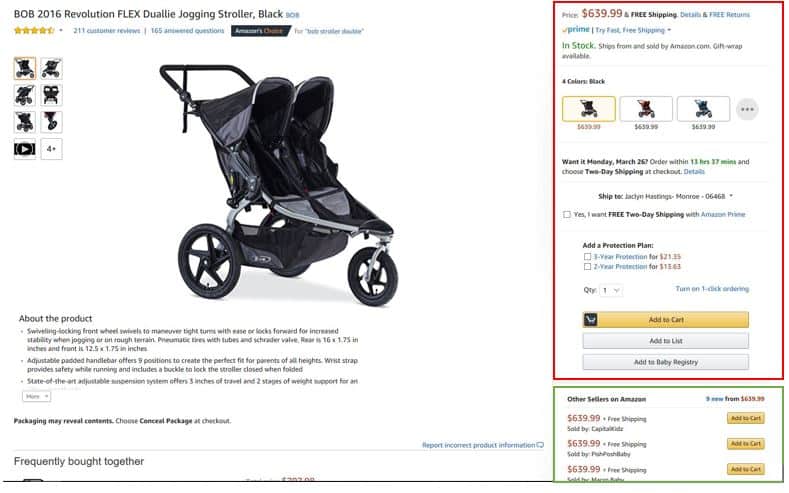 You can also download a third-party browser extension tool called Honey to identify if the product you are searching for is offered at a lower price from a different Amazon seller. (This tool is also good for thousands of other sites outside of Amazon.)
---
3) Read reviews (however don't let a product with few reviews sway you away from purchasing.)
Reading other's feedback on products you are interested in is a great feature of Amazon. However, don't let the number of reviews deter you from purchasing the product. In October, 2016, Amazon ban incentivized reviews. Prior to this ban, a seller could provide the product to a consumer for free or at a discounted rate in exchange for a review. While not every seller participated in this practice, those who did often have many more reviews than those who didn't participate or began selling after October, 2016.
Another policy change went into effect in March, 2017 which allowed consumers to opt-out of unsolicited emails from sellers. Sending follow up emails to customers who have purchased a product is one way many sellers have increased the number of reviews. Without the ability to send emails to those who have opted-out of communication, the number of customers writing reviews has likely decreased.
---
4) Understand the prices that are displayed for each product.
Over the past few years, Amazon has been fading out of displaying both the list price and sale price for a product. In the past, all products on sale were displayed with the list price (MSRP), the current price (or sale price), and the percentage off. The good news for consumers is that some of the list prices were inaccurately inflated, making it appear that you (as the consumer) were receiving a better deal than you were actually getting. However, because some products are still listed with a list price and sale price, and others just show the price today, it's hard to distinguish if you are getting a good deal or if you are buying the product while its on sale. (You can refer back to camelcamelcamel.com to track the price history and get a better understanding if the product is on sale.)
---
5) Don't be afraid to search beyond the first page for a product.
When you search for a product on Amazon, did you know that the first few listings that appear are sponsored listings? A sponsored listing is when the seller pays an additional fee to have their listing appear at (or near) the beginning of search results with the hopes that it receives more clicks and ultimately purchases. Products shown after the sponsored listings are often those that have proved to be popular (either from reviews or sales) and match the keywords you have listed. However, with the number of new sellers coming in each day, you can find great products outside of the first few pages. (And often times, these sellers may be eager to make sales and ultimately boost their ranking to an earlier page.)
(When I first started selling on Amazon, my product was listed on the 11th page – now its either on the first or second page depending on the search term used.)
---
6) Shop Gold Box Deals (Lightning Deals, Deals of the Day, Savings & Sales, and Coupons).
On the homepage of Amazon.com you can access "Today's deals" to shop the Gold Box Deals
, which are new every day. These deals reflect significant savings off standard prices and are often only available for a short period of time.

Lightning Deals
are promotions that are offered for a very short period of time in a very limited quantity. They end when either the time is up or the maximum quantity available is purchased.
Deals of the Day
are a single item (or small group of closely related items) that are offered at a discounted price for one day only.
Savings and Sales
are promotions and discounted items across all of Amazon.com.
Coupons
are virtual discounts that you can "clip" and apply to select products for an additional discount.

---
7) Use Amazon Family to save up to 20% on Diapers, Baby Food (and more).
Use the Amazon Family
(formerly known as Amazon Mom) benefit to save up to 20% on diapers, baby food, and more when used in conjunction with your Amazon Prime account. Note, to maximize the savings, you will need an Amazon Prime membership (discussed in more detail below).
---
8) Getting married or having a baby? Sign up for a registry.
Receive a free gift upon signing up and received a completion discount of 20% for Prime members and 10% for non-Prime members. Returns are easy with Amazon registries. Wedding Registry customers have up to 180 days and Baby Registry customer have up to 90 days to make returns.
Amazon also offers a Universal Registry Button so you can add items to your registry that are not sold on the Amazon website.

---
9) Use Subscribe and Save to set up automatic delivery of common purchases and up to a 20% discount when you subscribe to 5 or more products.
You can set up re-occurring purchases to be delivered to your home on a schedule that you choose – from once per month to once every six months. Once you set up your subscription, you don't have to think about ordering again; it just shows up at your next scheduled delivery. You can get additional savings if you subscribe to receive 5 or more purchases in a month.
---
You can get even more of a discount if you shop Amazon Warehouse Deals
or Amazon Outlet
. You can find these under "Today's Deals" on the main header.

Amazon Warehouse Deals
are special discounts and deals offered on products that were damaged in the warehouse or returned or opened or pre-owned. Each item is categorized with tags such as, "Like New", "Very Good", "Good", or "Acceptable". Amazon Outlet
is a place you can shop for deep discounts on markdowns and overstocked items. Limited quantities are available and new deals are constantly being added.
---
11) Trade-In your used items for an Amazon Gift Card.
Visit the Amazon Trade-In
page to discover the value of your items and receive an immediate offer and free shipping to trade your item in for an Amazon gift card. The trade-in categories change frequently , but common categories include cell phones, kindle e-readers, text books, tablets, Bluetooth speakers, and video games.
---
12) Shop Digital Deals for access to highly discounted (or sometimes free) Audiobooks, Kindle books, PC Downloads, Songs, and Albums.
Before you download your next book or song, head over to Amazon's Digital Deals
section of their site to see what daily deals are offered. You can frequently find Kindle books up to 80% off and several books for under $2.00. You can also sign up for a free Audible trial to receive two books for free during your trial. (Additional fees apply after your free trial is up.)
---
13) Use Amazon Home Services for furniture assembly, house cleaning, and home improvement.
Amazon Home Services
takes all the thinking out of finding a provider to set up your furniture, mount your TV, do a deep clean of your house, clean your gutters, and the list goes on. Amazon selects providers within your neighborhood who are background checked, insured, and licensed (if applicable). You indicate what service you need to have done and receive an up-front price in your cart and ability to schedule your appointment time.
---
14) If you are a frequent Amazon shopper, consider Amazon Prime.
Amazon Prime
is paid membership with many benefits including:
Free Two-Day Shipping (on eligible items)
Free Same-Day Shipping (in eligible zip codes)
Free 2-hour delivery through Prime Now (on eligible products in select locations)
Unlimited streaming of select music, videos, and TV episodes
Early access to deals and discounts
Deals and discounts exclusive to Amazon Family (up to 20% off diapers, baby food and more)
Access to Amazon Prime Elements; Amazon's exclusive private label household items
Access to the borrow books from Amazon Prime Reading
Twitch Prime (discounts on games, ad-free viewing on Twitch, and select free games.)
Access to additional supplemental memberships such as Amazon Fresh (grocery delivery), Amazon Channels (TV shows and movies), and Prime Pantry
(This list is not extensive – there are many more benefits outlined on Amazon) Visit Amazon for current pricing. (Note, additional discounts are available for students and customers with a valid EBT or Medicaid card.)
You can sign up for a free 30-day trial of Amazon Prime
if you want to try out the benefits before purchasing.
---
15) Use Amazon Key to receive free IN-HOME delivery.
Amazon Key
(available to Prime members) allows you to purchase a keyless entry device for your home. It includes both a lock/keypad and camera to monitor who is entering your home and allows you to grant access to others. If you purchase a product using the free in-home delivery option, (available in select locations for Prime members), your package will be delivered and left inside your home. Amazon authorizes the delivery, turns on the camera, and unlocks the door upon delivery. You can then watch the delivery (live or replay). This is great for those who do not wish to leave their packages outside their home.
Or, if you are not interested in in-home delivery, but looking for an alternative to leaving your packages outside, consider shipping your orders to an Amazon locker. Amazon lockers are secure kiosks where you can pick up your order when its convenient for you. (Available in select locations.)
---
16) Use Free No-Rush Shipping for additional promotions or discounts
If you don't need your order right away, consider selecting "Free No-Rush Shipping" upon checkout. You will receive your item within 6-business days, but will also receive an additional reward for your patience. (Actual rewards, discounts, and promotions change daily so its hard to say what exactly you will receive.)
---
17) Use Amazon Dash Button to quickly reorder your favorite products.
Amazon Dash Button
are small wireless devices with a button to press to instantly order additional products when you run out. They can be mounted where you choose in your house, such as in your kitchen, bathroom, pantry, laundry room, etc.. When you are low on an item, you simply press the button and an order will be placed to restock the item.
Similar to Amazon Dash Button
, you can also purchase the Amazon Dash Wand
that allows you to scan the barcode of everyday kitchen essentials and the item will automatically be added to your shopping cart.
---
18) Create Amazon Wish Lists to let friends and family know what you really want.
Create Amazon Wish Lists
of all of your favorite products to share with friends and family. Your family and friends can access it at any time and select from the list. You can also set up notifications to be notified when there is a price change or deal on an item on your list.
---
19) Use Ebates in conjunction with Amazon to get cash back on your purchases.
Before accessing the Amazon.com site, visit Ebates to see if there are available cash back deals with Amazon. (This may vary at various points during the year.) Click on the link to shop on Amazon through the Ebates site and earn cash back for your purchases. Each quarter, you will receive your cash back in the form of check or PayPal payment. Note, Ebates can be used at thousands of other stores outside of Amazon. I would highly recommend signing up for a free account. (If you sign up using my link below, you will also receive a $10 welcome bonus!)
---
20) Use AmazonSmile to give to others.
Visit smile.amazon.com to select the charity that you wish to support. Then simply shop and Amazon will donate 0.5% of the price of your eligible purchases to the organization you selected. It doesn't take any extra time or money out of your pocket (outside of the process of selecting your charity.)
---
21) Use Amazon Shop With Points to use your credit card rewards points to pay for purchases.
Use Amazon Shop With Points
payment method to use your credit card reward points to pay for your Amazon purchases (for select cards and programs.) Visit the Amazon Shop With Points
page to view eligible cards and to register your card.
---
What other secrets to shopping on Amazon do you have? I'd love to hear from you in the comments.
---
Do you want to receive additional life hacks and useful information in your email? Sign up to receive free notifications when new content is added and exclusive life hacks, and bits of knowledge to make you feel like you are winning at life. By using this form, you agree to this site's privacy policy.
---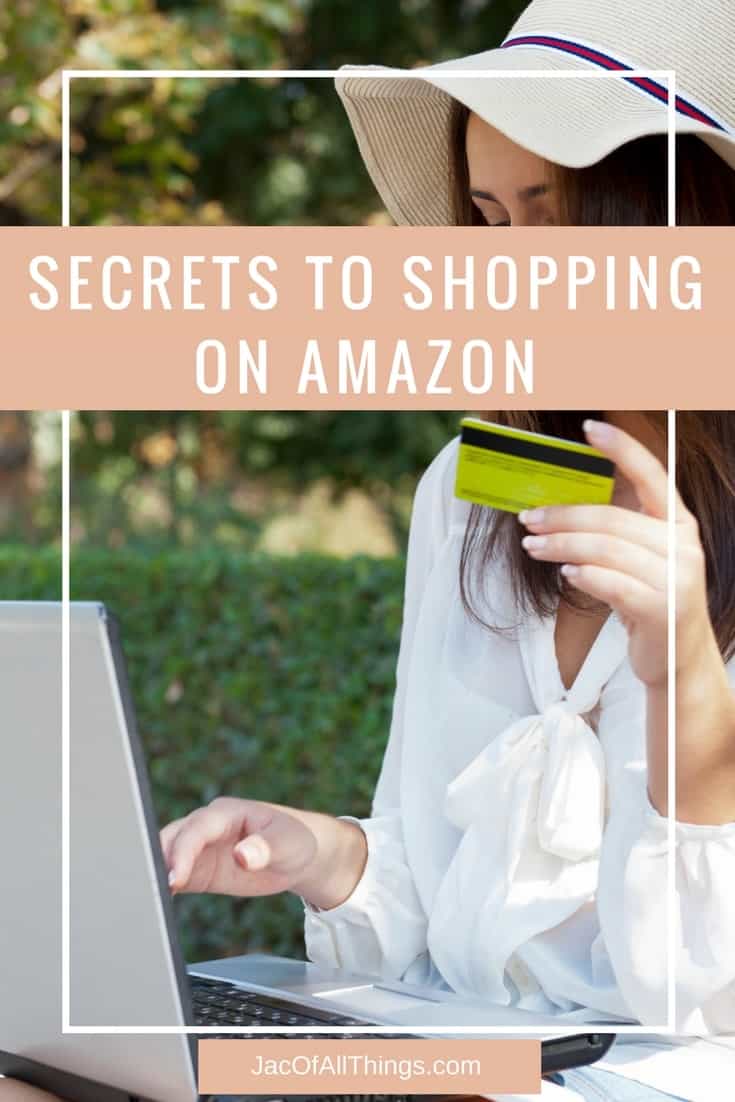 Read Other Life Hacks and Practical Advice