Sometimes it matters when you shop to get the best deals. If you can wait (or plan ahead) for some purchases, you can often find the best deal during a specific month. Use this guide for the best month to buy things throughout the year. This is the perfect shopping guide for what to buy every month of 2019!
The Best Months to Buy Things – Shopping Guide for 2019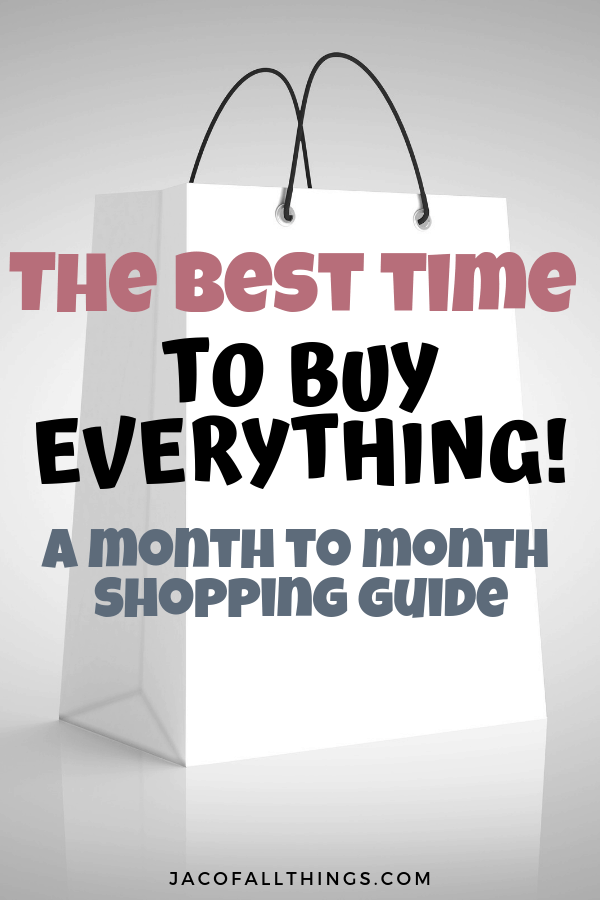 What to Buy in January
Gift cards, fitness equipment, planners/calendars, holiday decor, linens (during winter white sales), boats
What to Buy in February
Televisions (around Super Bowl), furniture (around President's Day)
What to Buy in March
Outdoor toys, camping equipment, winter clothes, small electronics, winter tools and equipment, luggage, frozen food
What to Buy in April
Car maintenance, winter tools and equipment (shovels, snow blowers, etc…)
What to Buy in May
BBQ equipment, spa services (around Mother's Day), mattresses, refrigerators
What to Buy in June
Gym memberships, tools (around Father's Day)
What to Buy in July
Winter coats, holiday decor (for Christmas in July)
What to Buy in August
Kitchen accessories, school and office supplies
What to Buy in September
Computers, summer clothing, pool supplies, cars, appliances
What to Buy in October
Patio furniture, lawn mowers, jeans
What to Buy in November
Grills, flooring and carpeting, appliances, and everything during Cyber Monday
What to Buy in December
Cars, restaurant gift cards
Other Shopping Tips
Tips for Finding the Best Deals
Use the Amazon app to price check items in store. (Download the app on your phone. Once in the app, use the scanning feature to scan bar codes in store. It will show you the price of the same item on Amazon.com so you can compare prices.)
Look for a coupon for EVERYTHING. Before you buy simply type in "coupon code for INSERT STORE NAME" (for online coupons) or "printable coupon code for INSERT STORE NAME" (for coupons to use in store.) (If you can only find online coupons, check the store's policies to see if you can purchase online and pick up in store to get the deal.)
Sign up for emails for the stores you want to shop at (ideally at least a week in advance). Many stores send exclusive coupons to their email subscribers. (Tip: Create a new email just for these promotional emails as you will likely be receiving daily emails from many stores.)
Related Post: 5 Things to Do with Unwanted Gift Cards
Budgeting & Money Shopping Tips
If you fear that you won't be able to stick to the budget in store, take out cash for in-store shopping.
Use Ebates to earn cash back when online shopping. (This is seriously one of the easiest ways to earn cash back…simply sign up for an account, and when you shop online, access the site through the Ebates portal. That's it! You don't have to do anything else, but watch your cash back total add up.) (Get $10 when you sign up using the link below.)
Upload receipts to Ibotta for additional cash back. (Ibotta is an app that you download on your phone. Within the app, you scroll through "rebates" for things that you are going to buy and tap to select them. Then you shop like always. When you are done shopping, simply upload a picture of your receipt to the app. Then watch the money come in!) If you use this link to sign up for Ibotta, you can earn up to a $20 welcome bonus!)
Related Articles: Holiday Shopping Tips
Receive Weekly Life Hacks and Practical Advice
If you want to be notified of future posts, be sure to sign up for our email notification list! You will receive a weekly email with the latest posts added to Jac of All Things, as well as a weekly "Did you know" tidbit of information or life hack to make your life easier. Simply provide your email address below. By using this form, you agree with this site's privacy policy.
Receive Weekly Life Hacks
Subscribe to receive exclusive life hacks and practical information sent directly to your inbox! By using this form you agree with this site's privacy policy.