Deciding on a wedding venue is a big, important deal! You want to make sure you ask all the right questions during your site visit so you can ensure a smooth sailing wedding! Read on for a checklist of all the important wedding venue questions you should ask. (Even better, take this free wedding venue checklist printable PDF with you so you don't forget a question!)
EXCLUSIVE FOR SUBSCRIBERS! Access your free printable PDF wedding venue checklist. (As well as access to the Jac of All Things Resource Library for FREE! Simply enter your email address below and it will be sent to you immediately. You will receive a weekly email with the latest posts added to Jac of All Things, as well as a weekly "Did you know" tidbit of information or life hack to make your life easier! To receive this amazingly awesome information and email notifications of new posts, simply provide your email address below. By using this form you agree with this site's privacy policy.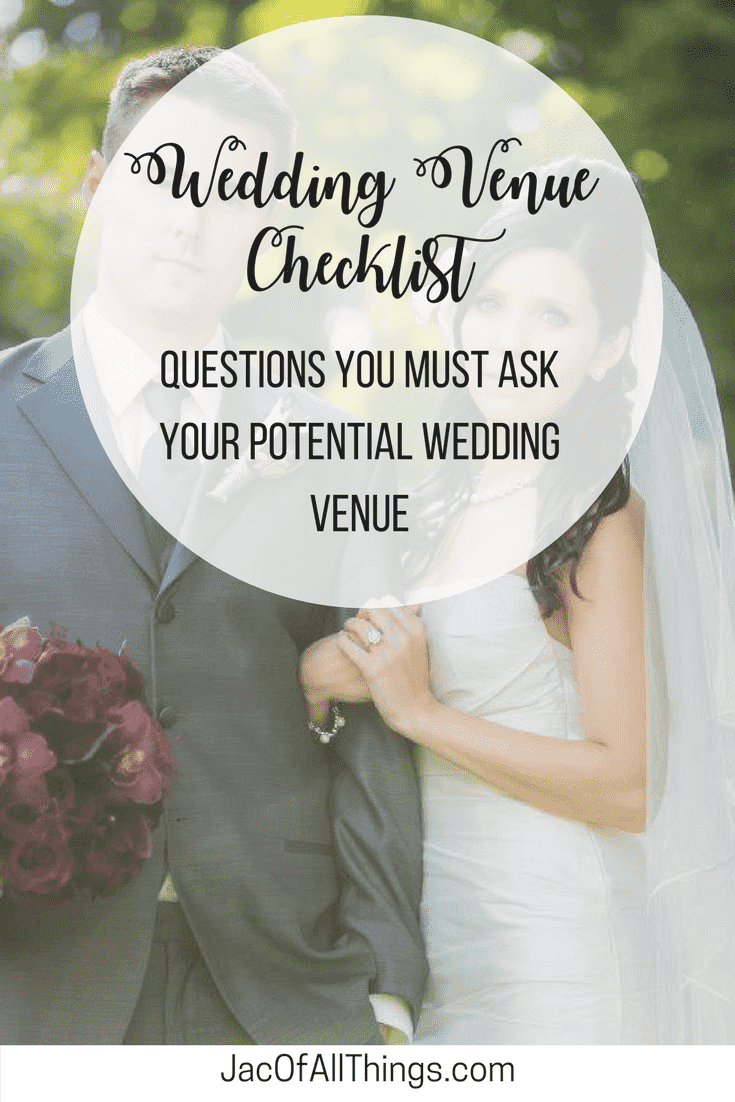 Wedding Venue Checklist
General Logistics
Is my preferred date and time available?
What is your minimum guest count? What is your maximum guest count?
Are there other weddings at same time?
Are thre other weddings on the same day?
Do you have a facility director/day-of coordinator?
When is the latest guests will be allowed to stay?
Where is closest hotel?
Do you provide a shuttle service to the hotel?
Do you charge for parking?
Do you offer valet parking?
What is the turnaround time for responses to questions?
Ceremony
What is indoor backup plan? How long before ceremony do you have to decide?
When is the rehearsal?
How long is the rehearsal?
Cocktail Hour
Where is cocktail hour?
How long is cocktail hour?
If the bride & groom do pictures after ceremony, is there time for them to participate in cocktail hour as well?
Reception
When do you do food tasting?
Do you allow outside caterers?
Do you allow outside beverages?
Do you require services from a preferred vendor list?
Who is responsible for setting up and cleaning up?
What are the options for how the reception room is arranged? (Round tables vs banquet tables, location of bar, dance floor, band/DJ, etc…)
Do you have a bridal party attendant?
Do we get the choice of place settings and linens?
Fees
What is the fee per person?
What is the fee per child?
What is the fee for our other wedding vendors (photographers, DJs, etc..)?
Is there a ceremony or site fee?
Are there set up fees?
What are the fees for extras? (dessert bar, etc.)
Is tip or tax included?
What is the payment schedule?
When is the last deposit collected?
What services are included in price? (cake, DJ, etc.…)
Do you require wedding insurance?
Is the deposit refundable?
When do you require a final headcount?
What are the fees for an extra hour?
What forms of payment do you take?
Miscellaneous
Will we have access to a bridal suite before the ceremony and during the reception?
What is the contingency plan if your venue closes?
What is the plan if there is a natural disaster or other event where having the wedding would not work?
What is your reschedule/cancellation policy?
Are there any noise restrictions?
Don't forget to print your free wedding venue checklist and take it with you on your site visit!
Related Posts
Tips for Creating the Perfect Wedding Seating Chart
If you want to be notified of future posts, be sure to sign up for our email notification list! You will receive a weekly email with the latest posts added to Jac of All Things, as well as a weekly "Did you know" tidbit of information or life hack to make your life easier! To receive this amazingly awesome information and email notifications of new posts, simply provide your email below.

(Pictures by Raw Photo Design)