You may have seen the striking photos on your computer screen background. The wavy, orange, red, and tan hues of the canyon walls that look like they are from another planet. That's Antelope Canyon, and it is every bit breathtaking in person as it is in pictures.
When we booked a trip to Arizona, I knew it had to include a stop to Antelope Canyon. While I scoured the web to read all about this famous canyon, I found very little about visiting with young children.
Given that we were visiting Arizona as a family, this excursion had to work for our little ones.
And now after taking them, I can tell you that they felt Antelope Canyon was as every bit magical as we (parents) did. My four-year-old asked if we can go back every weekend, and my three-year-old has shown everyone (and their mothers) our pictures.
Read on for our best advice on visiting Antelope Canyon with kids.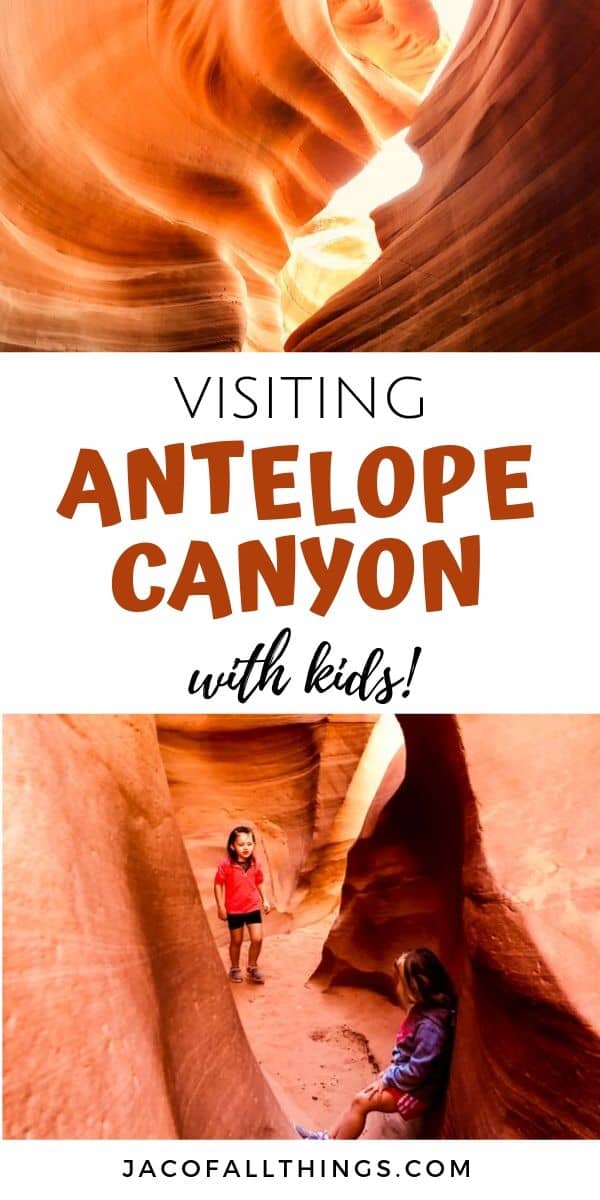 What is Antelope Canyon?
Antelope Canyon is a slot canyon located east of Page, Arizona in Navajo Nation. It's located on Navajo land and consists of three sections; Upper Antelope Canyon, Lower Antelope Canyon, and Antelope Canyon X.
In order to visit Antelope Canyon, you must book a tour.
What is the difference between Upper Antelope Canyon, Lower Antelope Canyon, and Antelope Canyon X?
Upper Antelope Canyon is known for it's sunbeams. Upper Antelope Canyon is shaped like an upside-down "V", with the bottom more open than the top. The helps create the famous sunbeams that the Upper Antelope Canyon is most known for. The trail is about 660 feet long and is a in-and-out trail.
Lower Antelope Canyon is shaped like a "V"; wider at the top and narrow at the bottom. As a result, Lower Antelope Canyon gets great light year round. It is a one-way trail that is approximately 1,335 feet long.
Antelope Canyon X is less well known, but still offers great views. You can see occasional light beams and it generally has great lighting, as long as you go before 2 pm. It's the shortest trail at 334 feet in and out.
Related: Creative Ways to Track your Travel
Booking a tour of Antelope Canyon with kids
There are a handful of different tour companies that offer Antelope Canyon tours, but only a few allow infants and young children.
The following companies allow you to book a tour of Antelope Canyon with kids:
Upper Antelope Canyon Tour Companies
Lower Antelope Canyon Tour Companies
Ken's Lower Antelope Canyon Tours
Dixie Ellis Antelope Lower Canyon Tours
Antelope Canyon X Tour Companies
Antelope Canyon X by Taadidiin Tours
We went with Ken's Lower Antelope Canyon Tours and we could not be more pleased with our experience. Shout out to our guide, Randy, for being the best guide ever!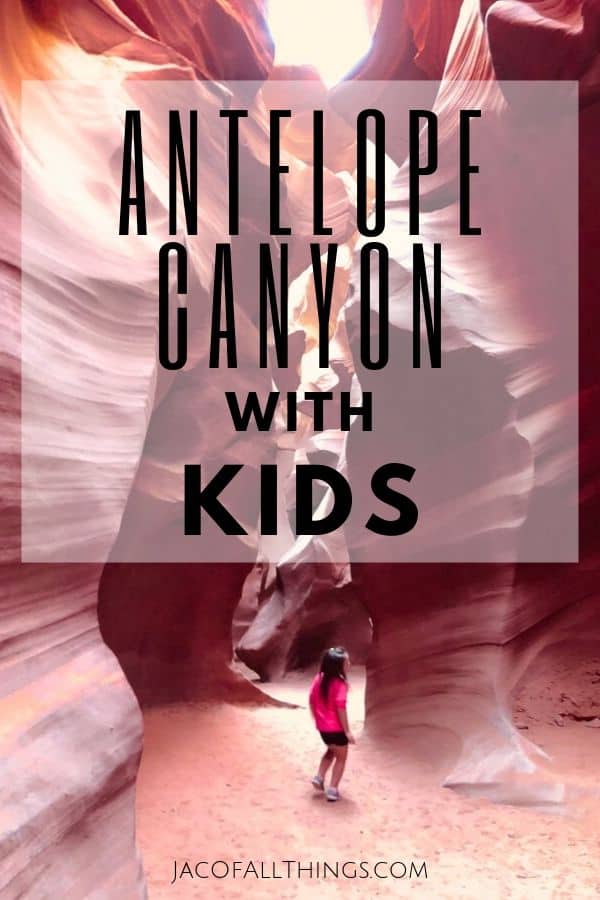 How to decide which Antelope Canyon to visit with kids?
If you are unsure which canyon to select for your visit with children, check out a few videos walking through the canyon to get a feel for the experience. (Video is not currently allowed on tours, so I couldn't take one, but you can check out already published videos on YouTube.)
You will see that Upper Antelope Canyon is probably the easiest from a terrain perspective. Both Lower Antelope Canyon and Antelope Canyon X have several steep staircases and narrow uneven terrain.
Depending on the tour company that you book with, you may be required to bring your own car seats for the trip. This is not required for Lower Antelope Canyon as you park right on site, but may be required for Upper Antelope Canyon and Antelope Canyon X tours as they provide transportation from the tour company to the canyon.
There is also a price differential between the canyons. In general, Upper Antelope Canyon tours are more expensive than the others. If traveling with young children (like we were) we were thrilled to see there was no cost for children 7 and under when touring with Ken's Tours of Lower Antelope Canyon.
Related: Vacation Packing List for the Whole Family
Other considerations when deciding to bring kids to Antelope Canyon
While kids are allowed on the tours noted above, you need to decide if bringing them is the best decision for you. (You can tell by this post what we decided for our family, but to be fully transparent, I'd like to share the pros and cons.)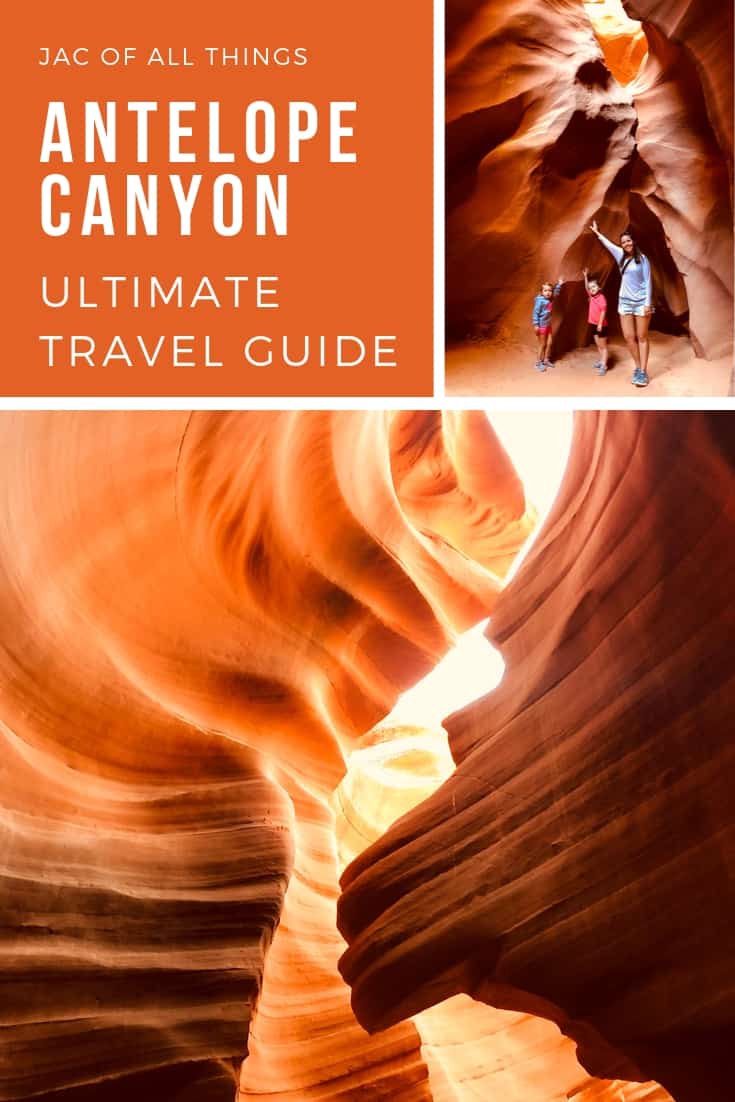 Let's start with the cons…
Length of Tour
Depending on the tour you select, tours will likely be between 45 minutes to 1.5 hours. You typically have to arrive well in advance of the tour, so the entire experience may take a few hours.
There are no bathrooms…
There are no bathrooms in the canyon and no changing tables on site. You may want to consider a pull up, even if your child is potty trained so you don't have to worry about accidents.
The terrain can be tough at times…
This comment is really specific to our experience at Lower Antelope Canyon. The terrain at Upper Antelope Canyon should not be as challenging.
There are a series of ladders that you must go down to get into Lower Antelope Canyon (and a few that you need to go up.) While some of these "ladders" are more like stairs, others are nearly vertical, with narrow steps.
Our four-year-old was able to make it down with my husband behind her with a tight grip. My three-year-old struggled quite a bit. I ended up carrying her down in one arm, while holding the railing with the other.
It was tough, but it was very short and only a small part of the amazing experience. If you can get past that, you are golden throughout the rest of the canyon tour.
Strollers are not permitted
Strollers are not allowed in Antelope Canyon. (And frankly wouldn't fit as some of the pathways are as narrow as the width of one foot.) Carriers are permitted, but there are some tight squeezes through the canyon and you may be bumping your child if in a carrier. (Note: As information constantly changes, please be sure to double check these rules with your tour company.)
And now for the pros…
There is no place like it in the world!
Antelope Canyon is a one of a kind experience. Walking through the canyon felt magical. With each step forward it just seemed to get better and better.
The time we spent in the canyon together as a family will forever be cherished. Despite our daughters young ages, I do think this is an experience they will remember. (And if you ask them what their favorite part of vacation was, out of all the places we visited in Arizona (the Grand Canyon, Horseshoe Bend, Phoenix, Sedona, all the pools and hot tubs…) they say Antelope Canyon.)
Related: Going on Vacation? 19 Things You Must Do Before You Leave
Tips for an amazing Antelope Canyon Experience
Photography Tips
Note these are general photography tips; I'm assuming you are not booking a photography tour if you are visiting the canyon with your children.
If you have an iPhone, set your camera to take pictures using your warm vivid filter. To do so, select the icon with three overlapping circles. (It looks like a venn diagram.) Swipe until you find the option called warm vivid. This will enhance the natural reds and warmth in the canyon walls.
You cannot bring selfie sticks, tripods, monopods, etc… We saw SO many people being asked to put them away before our tour.
Be sure to look up and back. There are some amazing views when you take a minute to look all around you, not just ahead.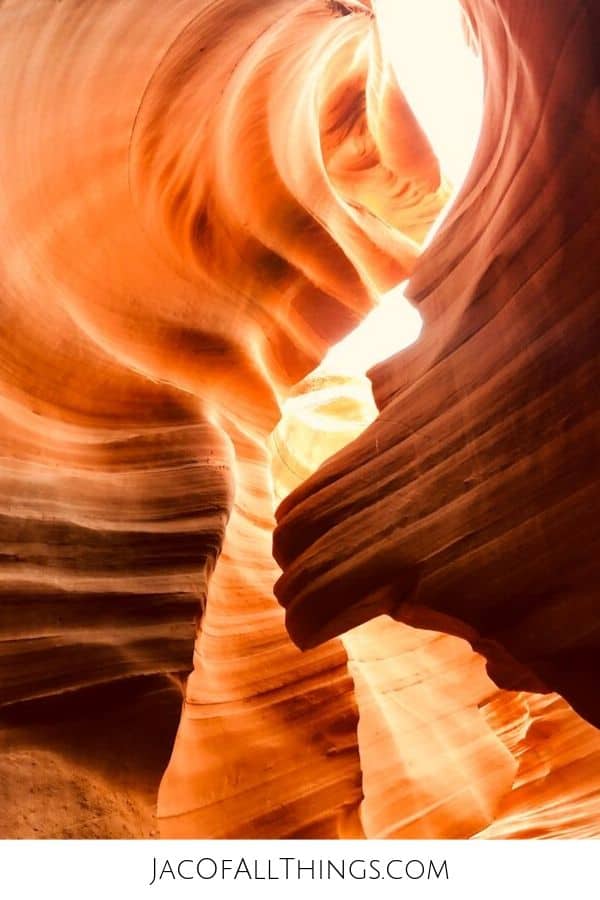 Other Tips
Bring cash to tip your guide.
Do not bring a bag or purse. Only a water bottle is permitted in the canyon.
Take a look at your tour companies dress policy. Our tour company required closed toed shoes and no dresses or skirts.
Ask your tour company when the canyon will be the least busy and try to book for that time.
On the topic of crowds…Prior to our visit, we heard the crowds were quite intense and fully expected our experience to be busy. We were pleasantly surprised with the lack of crowds (even on a weekend) and didn't feel overwhelmed by the number of people at all. We entered the canyon with a group of 10 (including our foursome), and our tour guide did a fantastic job keeping our group intimate.
Related: 11 Genius Hotel Hacks for Families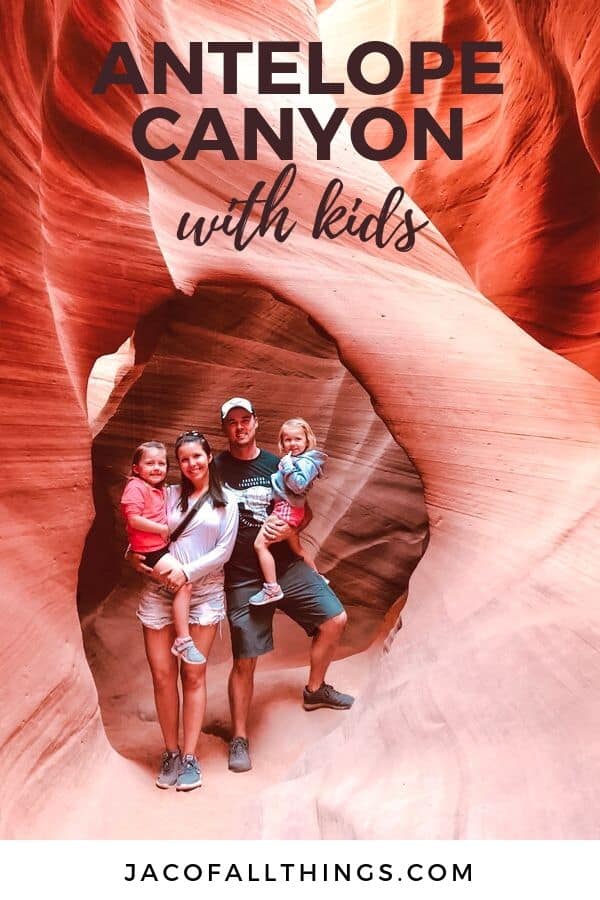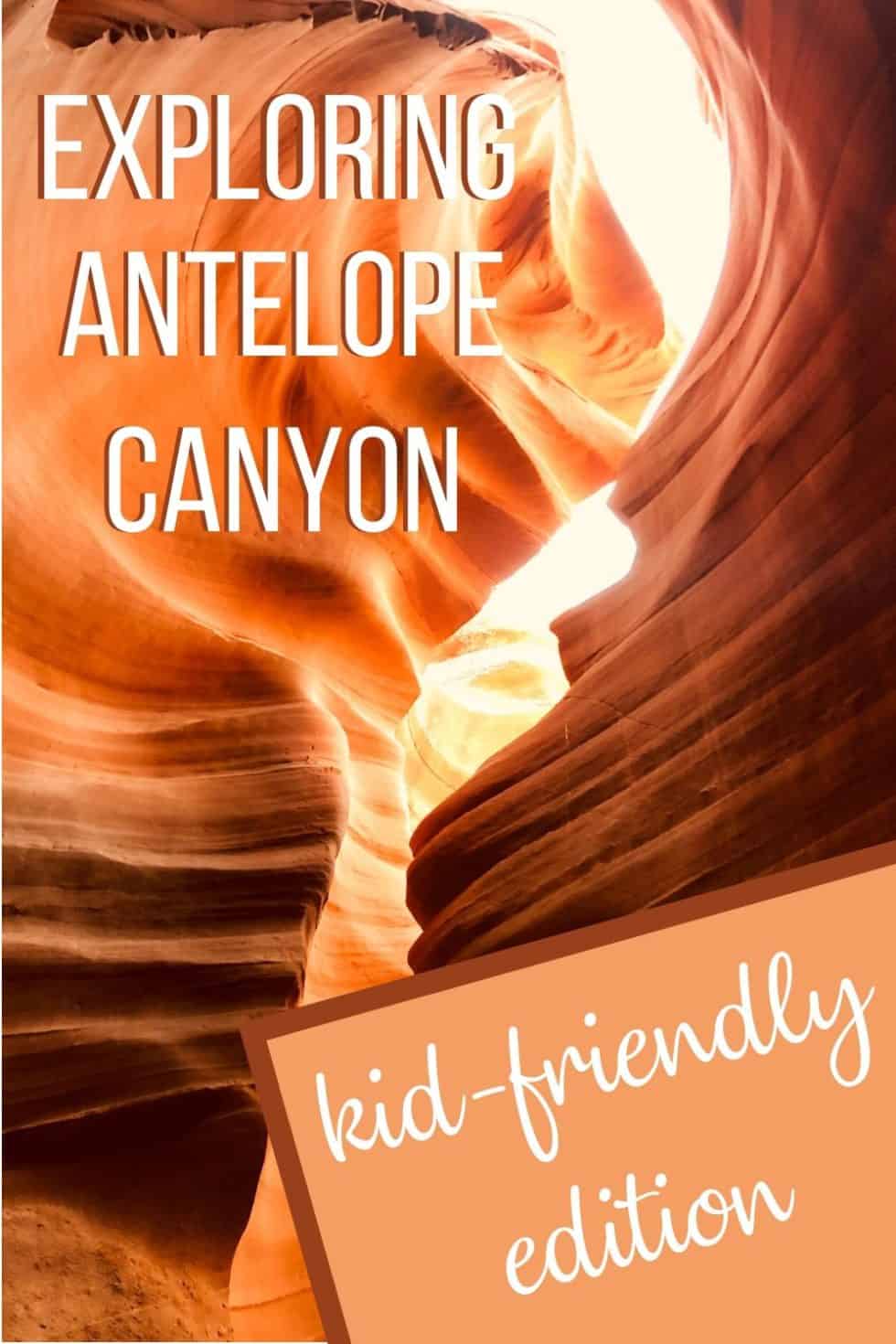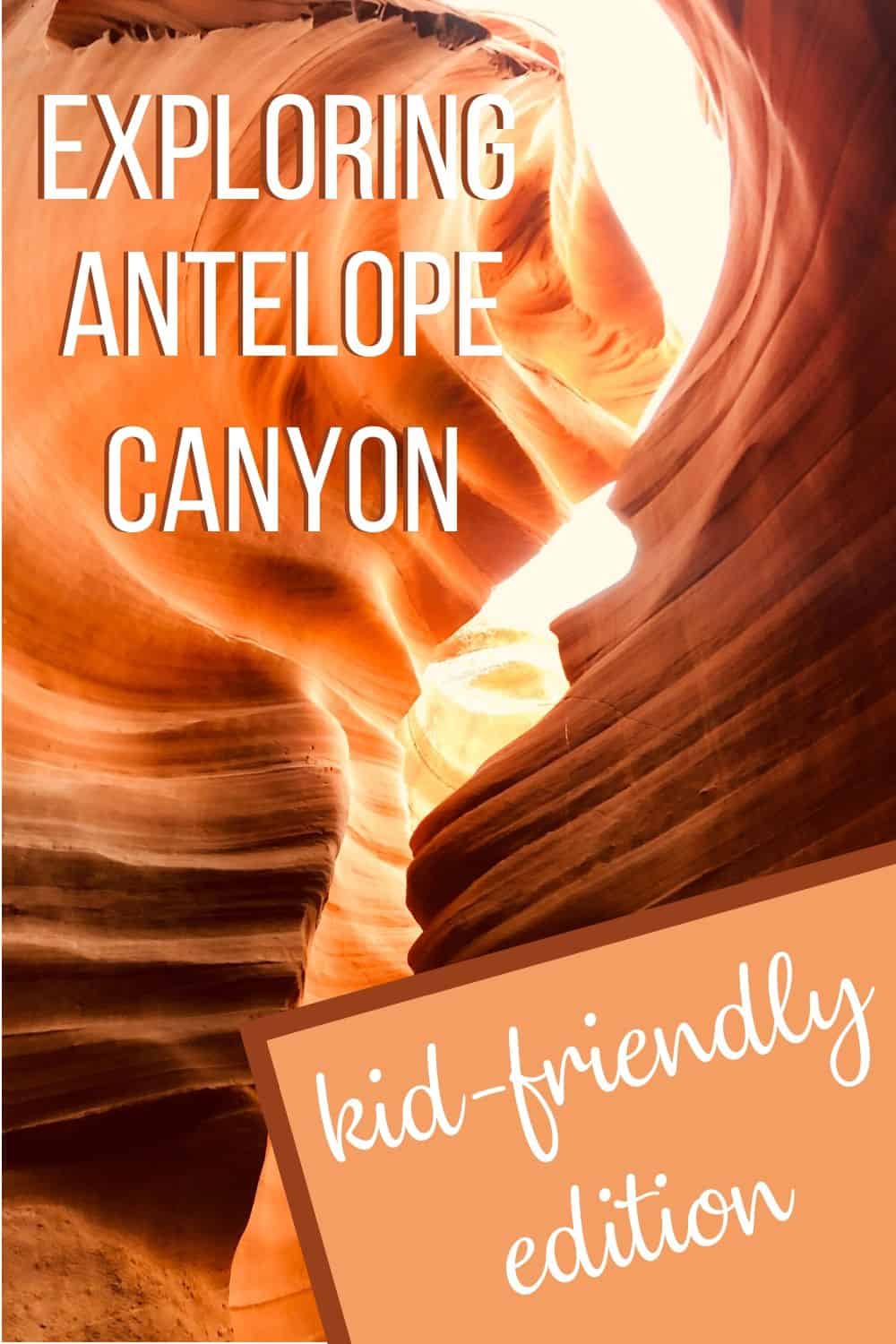 Receive Weekly Life Hacks
Subscribe to receive exclusive life hacks and practical information sent directly to your inbox! By using this form you agree with this site's privacy policy.