The anticipation of a family vacation is one of the best parts of the trip. Packing, and sometimes even the anticipation of packing, in my opinion, is one of the worst. For whatever reason I often used to add to that stress by waiting to finish packing the night before a big trip.
Shoving as many items as possible into a bag the night before a flight is a form of packing I once used to indulge in. As I've become responsible for an increasing number of smaller travel partners that call me Mom, that airy style of packing just isn't going to fly (puns intended).
Shoving the last item on my list into my suitcase is a great feeling. Shoving the last item on my list into my suitcase and knowing that everything is organized and accounted for, is an even better feeling.
To be clear, I don't enjoy packing and the responsibilities that's come with it, period. However, I've mastered the task and I want to share my tricks of the trade. Below I've created an easy to follow vacation packing list that will have you organized, prepared, and sleeping peacefully the night before your trip, knowing everything that is needed is packed and ready to go. Read more to access the free printable vacation packing list to make your packing be a breeze.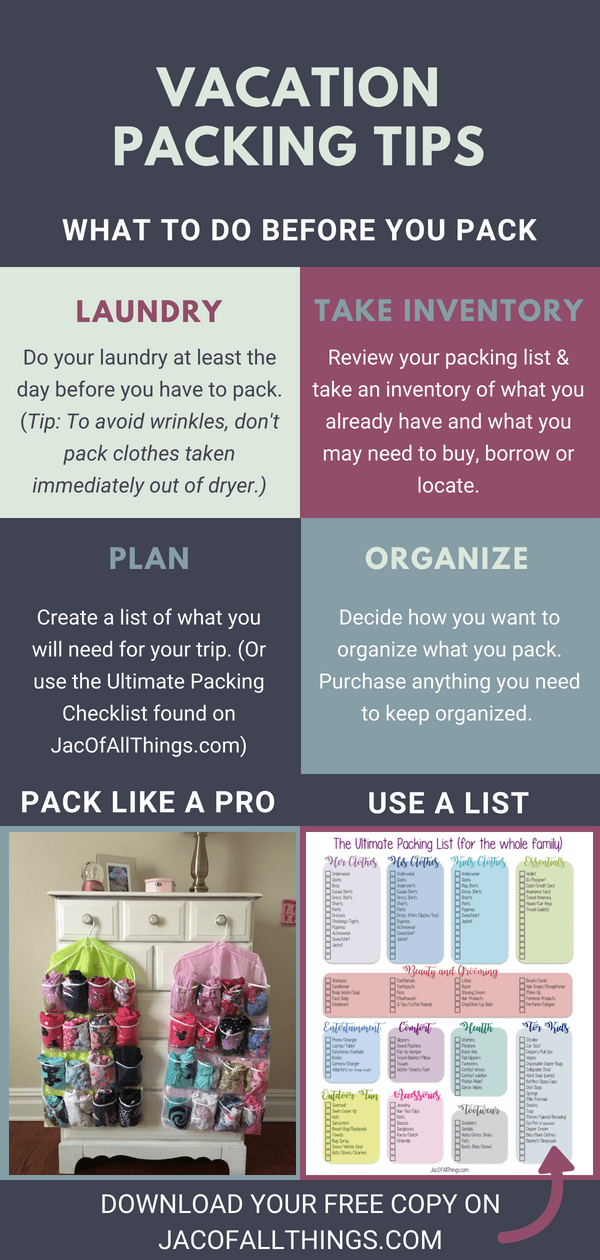 Disclosure: We are a participant in the Amazon Services LLC Associates Program, an affiliate advertising program designed to provide a means for us to earn fees by linking to Amazon.com and affiliated sites. I may earn money or products from any of the companies mentioned in this post. Purchasing through an affiliate link comes at no extra cost to you. Note that my recommendations are included because I think they are they are helpful and useful, not because of commissions I make if you decide to buy something.
VACATION PACKING LIST – TIPS – THINGS TO DO BEFORE PACKING
DO YOUR LAUNDRY
At least the day before you have to pack. If you wait until right before, and your clothes are still warm from the dryer, they are going to wrinkle much more when you roll/fold/shove them into your suitcase!
Take a look at my Ultimate Vacation Packing List days (or weeks) before your next trip and take an inventory of what you already have and what you may need to buy, borrow or locate.
THINK ABOUT WHAT YOU NEED FOR YOUR TRIP
Are you going somewhere where you will need multiple outfits each day? (And if you have young kids, this answer may be yes regardless.)
Do you plan on wearing the same clothes during the day as you will to dinner? Will you be doing anything active that requires active wear, sneakers, bathing suit, snow suits, etc…
Will you be staying in a hotel that offers complementary toiletries and provides linens, or will you need to bring your own?
Before putting anything in suitcase, write down what you need. (The Ultimate Vacation Packing List I've created should make this step easy for you to do.)
DECIDE HOW YOU WANT TO ORGANIZE YOUR "STUFF"
There are several different approaches, I'll share my favorites.
You can purchase over the door organizers like this
and store your clothes in each compartment. (This is great for kids, but harder for adults where clothes may not fit in the smaller sizes.) As an alternative, you can purchase a hanging closet organizer like this one
which is a bit bigger.)
Here you can see how I packed my daughter's clothes for a recent trip to Disney. This took any confusion out of the equation. It reduced the amount of time it took everyone to get dressed and kept a sense of organization in our hotel room. And my husband was able to get the girls dressed without asking me a single question!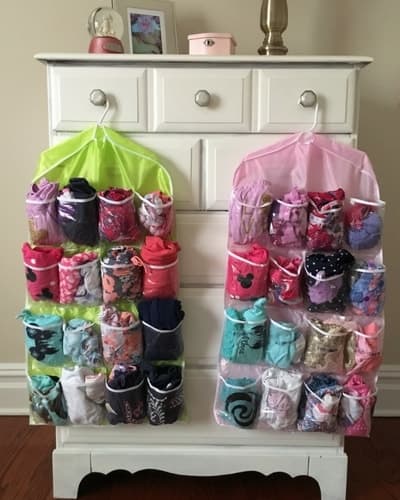 You can also use large zip lock bags or plastic grocery bags and pack each outfit in a different bag. Personally, I'm a fan of packing by the outfit rather than by type of clothes. For example, rather than packing all of my shirts together, shorts in another pile, socks in another, I would pack everything I need for my outfit together. Under this approach, when it's time to get dressed, I just have to take out the one bag I've conveniently labeled for that day, and it includes everything I need.
This is how I prefer to pack my clothes for a trip.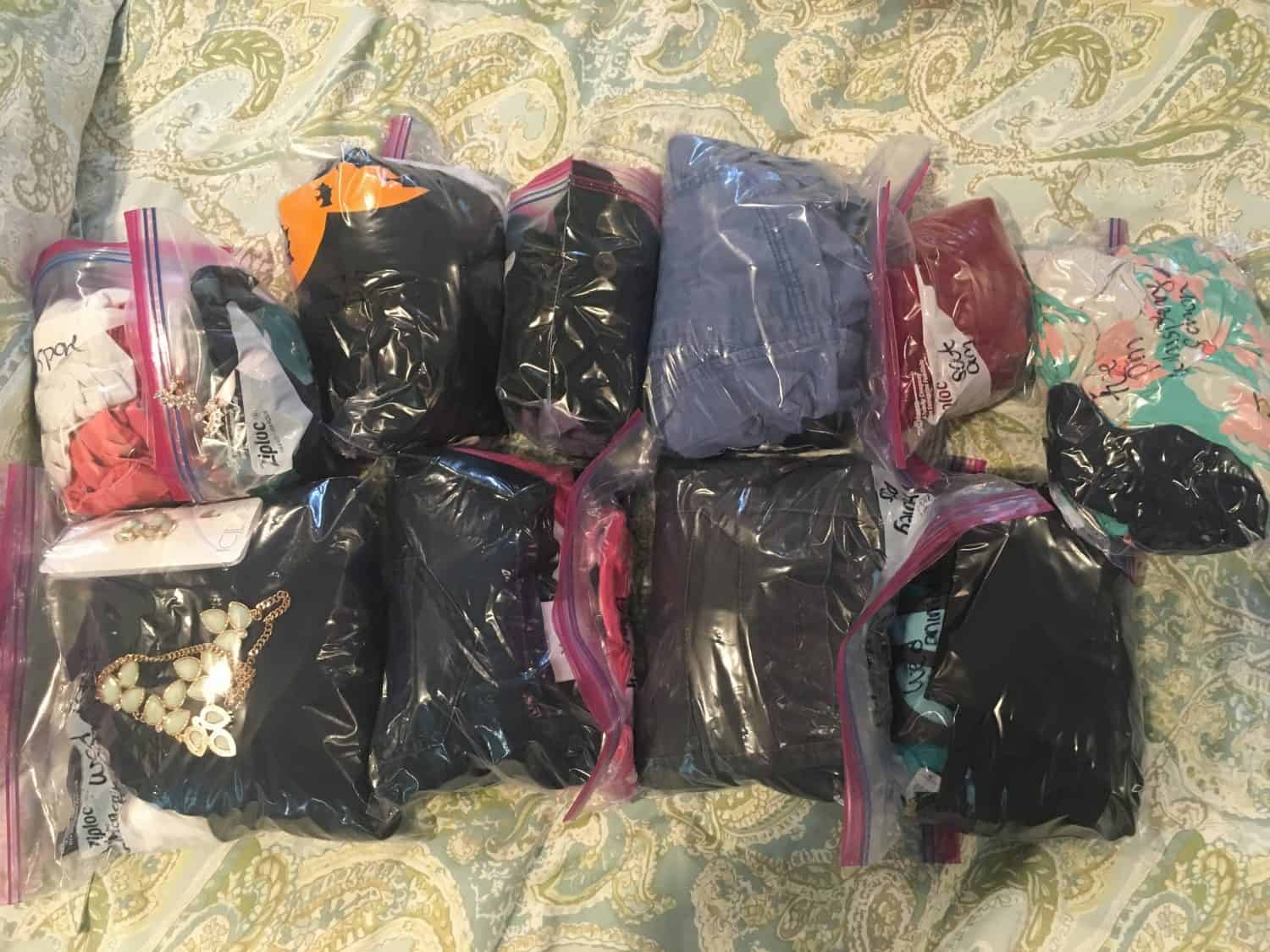 If you are flying, don't forget to check the weight limit restrictions for your airline and weigh your bag in advance of getting to the airport.
Finally, if flying, remember to pack a change of clothes, your valuables, and anything you must have in the first day in your carry on. Mistakes sometimes happen and airlines loose bags. (I have fond memories of the first 48 hours of our honeymoon without any clothes – get your mind out of the gutter – due to our lost luggage.)
VACATION PACKING LIST – THE ULTIMATE PACKING LIST FOR THE WHOLE FAMILY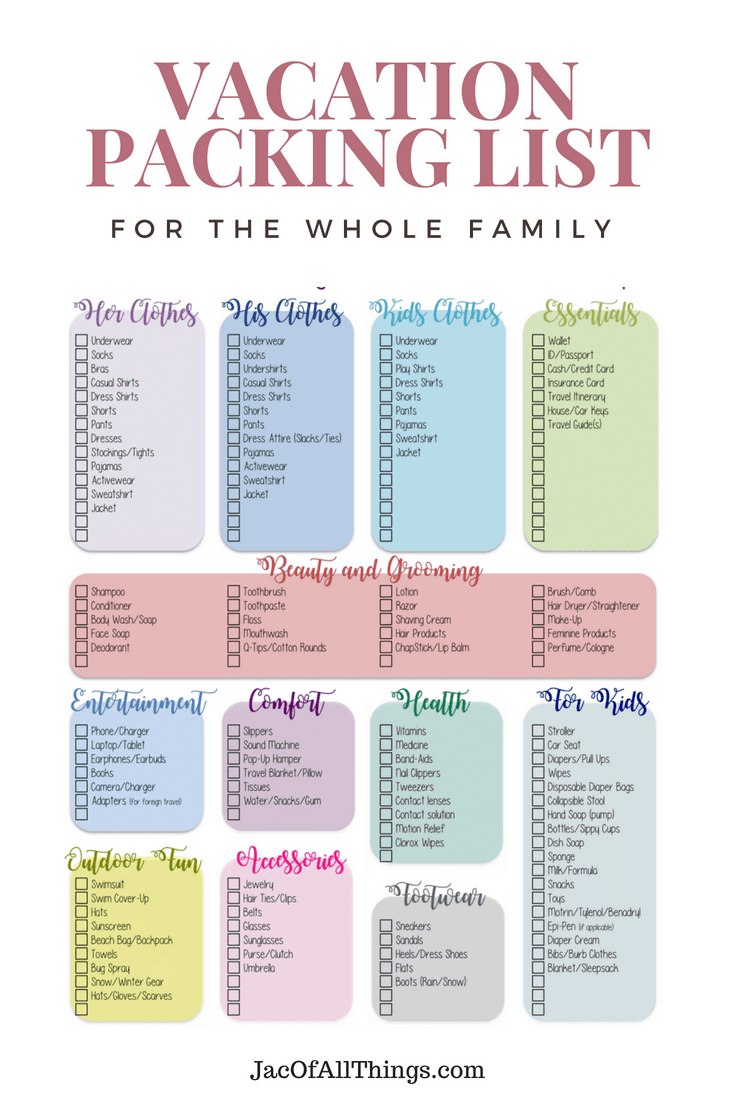 EXCLUSIVE FOR SUBSCRIBERS! Access your free printable PDF vacation packing list checklist. (As well as access to the Jac of All Things Resource Library for FREE! Simply enter your email address below and it will be sent to you immediately. You will receive a weekly email with the latest posts added to Jac of All Things, as well as a weekly "Did you know" tidbit of information or life hack to make your life easier! To receive this amazingly awesome information and email notifications of new posts, simply provide your email address below. By using this form you agree with this site's privacy policy.
Tell us where to send your free Ultimate Packing List!
ARE YOU TRAVELING TO DISNEY WORLD?
If so, be sure to check out my post on packing for Disney for additional items that you may need when traveling to this magical place.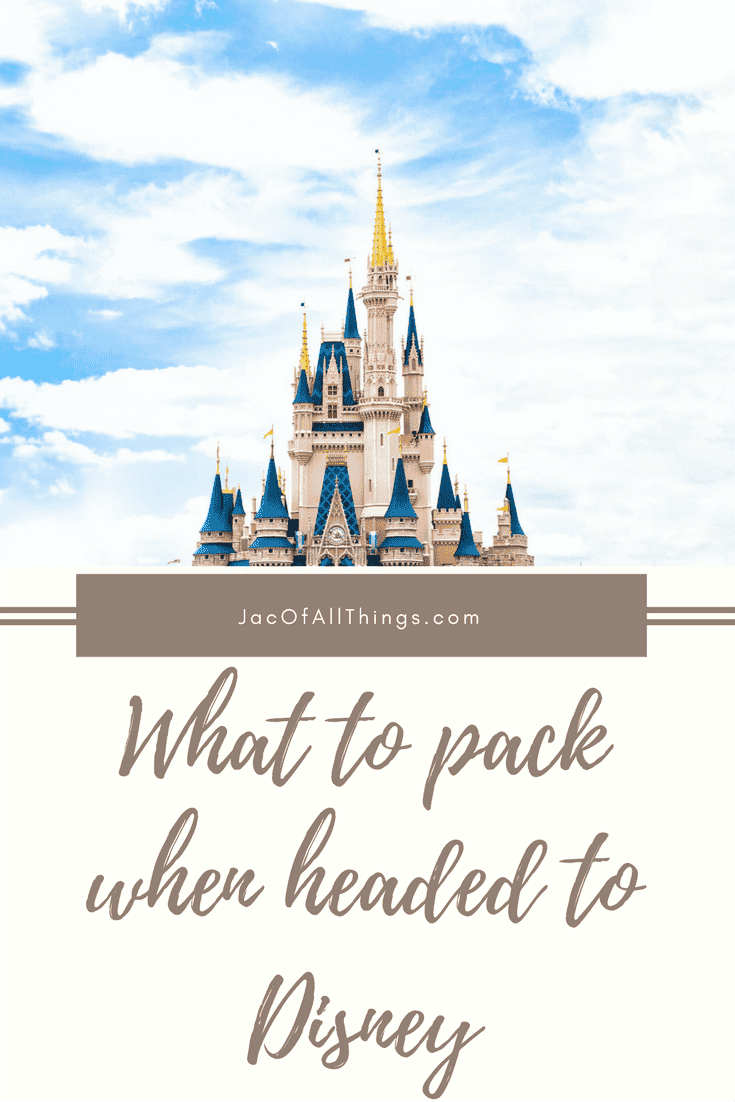 Do you have any other packing tips you'd like to share with others or anything to add to the vacation packing list? Please share in the comments!
Hope you enjoy your next trip!
---
Receive Weekly Life Hacks and Practical Advice
If you want to be notified of future posts, be sure to sign up for our email notification list! You will receive a weekly email with the latest posts added to Jac of All Things, as well as a weekly "Did you know" tidbit of information or life hack to make your life easier. Simply provide your email address below. By using this form, you agree with this site's privacy policy.
Receive Weekly Life Hacks and Other Practical Information
Subscribe to get our latest content by email and receive exclusive life hacks and practical information sent directly to your inbox! By using this form you agree with this site's privacy policy.