Disney World is one of the most magical places and one of my favorite places to visit with my family. Give me a Disney trip any day and I'll be happy… but packing for Disney World can be very overwhelming. Before our last trip to Disney World, I did a ton of research on Disney World to gather a list of items that I should pack.
We were SO prepared and it felt so nice to have everything we needed with us. I wanted to pass along the wealth of knowledge that I have collected to hopefully make you feel as prepared during your next Disney World trip and make packing for Disney World a breeze.
This post may include affiliate links. As an Amazon Associate I earn from qualifying purchases. Read the full disclosure here.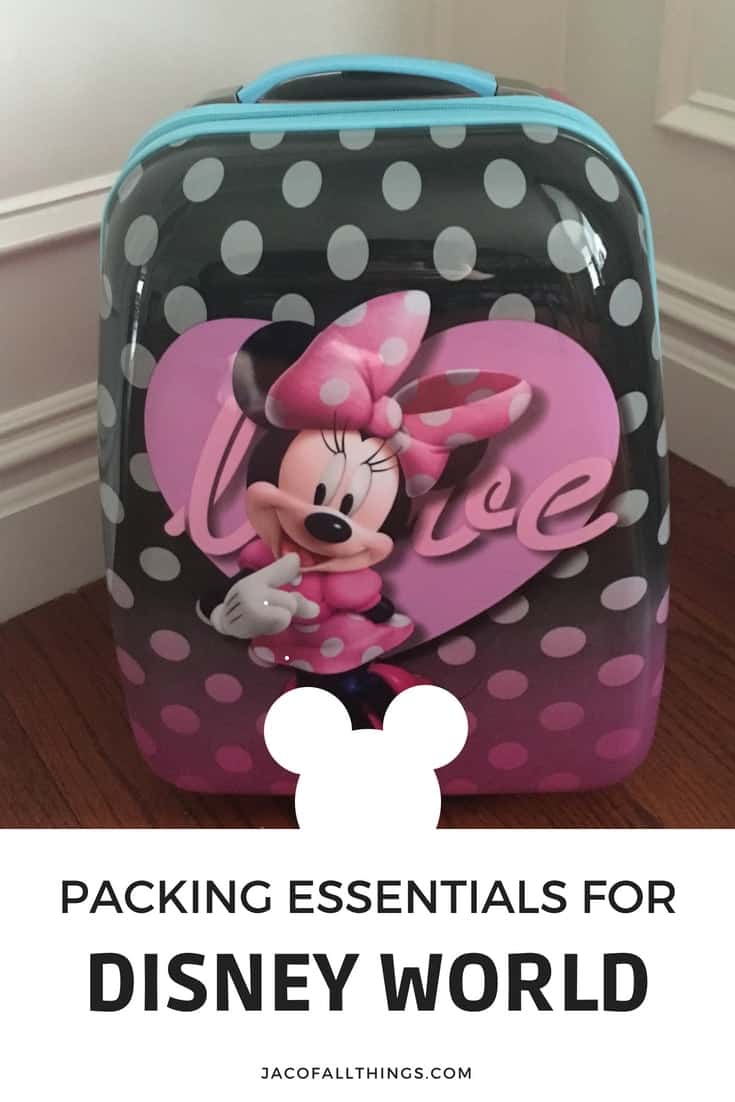 I've complied my Ultimate Packing List and tips for packing in this prior post but there are some things that are specific to traveling to Disney World that I wanted to call out in a separate post.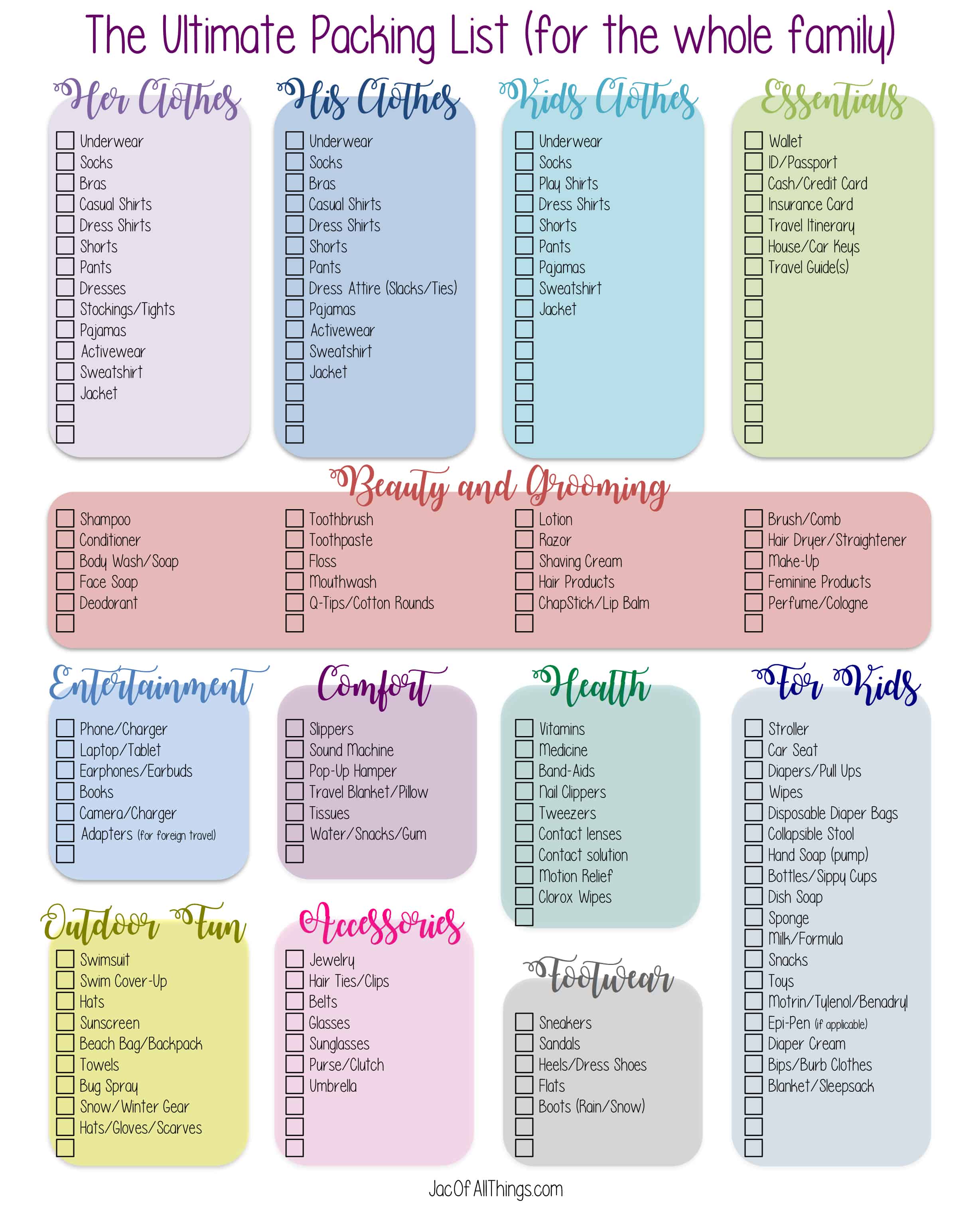 Want a copy of the Ultimate Packing List sent to your email? All email subscribers have access to download this packing list (for free)! To become a subscriber, simply enter your email below. You will receive one weekly email from Jac of All Things with a life hack or other tidbit of practical information as well as an update on what is new on Jac of All Things. By using this form, you are agreeing to this site's privacy policy.
PACKING FOR DISNEY WORLD – SUGGESTED ITEMS FOR THE PARKS
Never did I think I would wear a fanny pack, let alone get excited to tell others about it. But this gem came in handy during our last Disney trip. It's the perfect size to keep your phone, ID, and cash in and avoid carrying a purse or backpack. This fanny pack hides under your clothes and is sweat resistant. (And on the plus side, it squeezed in all the right places to minimize the look of those stubborn love handles.)
Get Waisted: The Unfanny-Fanny Pack Waist Pack

Rain Gear
Ponchos (for adults and kids): It is way cheaper if you bring your own rather than buy them at the parks.
Rain jacket (I prefer wearing a rain jacket over a poncho, but my husband prefers the opposite, so to each their own!)
Rain Cover for Stroller: This is the best! My girls slept through an entire rainstorm with this on their stroller.
Extra sneakers/shoes: You are going to want a dry pair if you plan on going out later in the day after getting stuck in a rain shower.
Lingito Rain Ponchos Family Pack | Emergency Raincoat Drawstring Hood Poncho for Children and Adults | Lightweight Reusable or Disposable 8 or 12 Pack

Columbia Women's Arcadia Ii Jacket

Repel Windproof Travel Umbrella with Teflon Coating (Black/Red)

Jeep Deluxe Stroller Weather Shield, Baby Rain Cover, Universal Size, Waterproof, Water Resistant, Windproof, See Thru, Ventilation, Protection, Shade, Umbrella, Pram, Vinyl, Clear, Plastic

Clip-On Stroller Fan
This stroller fan clipped right onto our stroller and provided instant cooling on those hot days. We have this one purchased on Amazon and it was used by all in my family. The downside is that it doesn't cover a large area so I wish we purchased more. For our next trip, we will bring three fans; one for each of my daughters and one facing upwards on the handle bar.)
SkyGenius Battery Operated Clip on Fan, Mini Desk Fan Portable Handheld Powered by Rechargeable Battery or USB, Small Personal Fan for Baby Stroller Car Laptop Table Camping Outdoors Home Office

Our phones drained faster than normal in Disney because we were on them throughout the day to check Fast Passes, check wait times, and take pictures and videos. A portable cell phone charger comes in handy to prevent your phone from dying. Simply plug your phone into the portable charger and it recharges on the spot. (But don't forget to bring an extra cell charger cord to plug into the portable charger. We bought a cheap extra cord that stays with our portable charger.)
Anker PowerCore 10000 Portable Charger, One of The Smallest and Lightest 10000mAh External Battery, Ultra-Compact High-Speed-Charging-Technology Power Bank for iPhone, Samsung Galaxy and More (Black)

Water Bottle(s)
Rather than purchasing a bottle of water at the park, bring your own water bottle and fill up at any Quick Service meal location at the parks for free. (Some don't enjoy the taste of the water at the parks, and also bring along Crystal Light On The Go Packets
.) (This is my favorite water bottle because it doesn't have a straw which makes it easier to clean on vacation, and it doesn't spill in your bag.)
Contigo Glacier Stainless Steel Water Bottle, 20oz, Monaco

Crystal Light Drink Mix, Variety Pack, On The Go Packets, 44 Count

Frogg Toggs/Chilly Pad
The Frogg Toggs/Chilly Pads are great towels to use on hot park days. You simply wet one of these towels and it provides instant cooling relief. (You can drape around your neck, pat your forehead, or put on your child's legs while they sit in the stroller.) Place the Frogg Toggs in a zip-lock bag filled with ice when you are not using them. This is a trick we used to keep them extra cold. You can fill up your zip-lock bags with ice at the Quick Service stations for free throughout the day.
Frogg Toggs Chilly Pad Cooling Towel

Autograph Book
Purchase an autograph book in advance to save money rather than buying at the parks.
Walt Disney World Disney Princess Autograph Book Disney Parks

Walt Disney World Four Parks Mickey Mouse Official Autograph Book

Walt Disney World Official Autograph Book (2019) (Original Version)

PACKING FOR DISNEY WORLD – SUGGESTED ITEMS FOR YOUR ROOM
Grab a cheap collapsible hamper at the dollar store or on Amazon to keep your dirty clothes in, for a clutter-free room.
Mesh Popup Laundry Hamper – Portable, Durable Handles, Collapsible for Storage and Easy to Open. Folding Pop-Up Clothes Hampers Are Great for the Kids Room, College Dorm or Travel. (Blue)

Tennis Balls
Roll your feet back and forth on a tennis ball after a long day of walking in the parks.
Penn Control Plus Tennis Ball Can, 3 Balls

We bring our sound machine regardless of where we go because we NEED the noise to sleep. However, it may be a good idea for you to bring one too if you are staying at a packed resort so you can drown out the sounds of other guests.
Marpac Dohm Classic White Noise Sound Machine, White

We have this collapsible stool that folds flat in our suitcase and makes bathrooms trips much easier for my toddler. She can also slide it over to the sink to wash her own hands.
Folding Step Stool – The Lightweight Step Stool is Sturdy Enough to Support Adults and Safe Enough for Kids. Opens Easy with One Flip. Great for Kitchen, Bathroom, Bedroom, Kids or Adults.

Along the lines of toddlers in the bathroom… My daughter hasn't yet mastered how to wash her hands with a bar of soap so we pack a small container of hand soap for the hotel room.
Mrs. Meyers Clean Day Hand Soap Lemon Verbena 12.5 fl oz

With all the walking you will be doing, you don't want to forget to pack some Band-Aids!
Band-Aid Brand Flexible Fabric Adhesive Bandages for Wound Care and First Aid, All One Size, 100 ct

Disney Gift Cards (both used and unused):
Unused gift cards go without saying, but its also helpful to pack your used Disney gift cards with you. If you need to initiate a refund and previously used a gift card for payment, your funds will be reimbursed onto the gift card you used.
Money Saving Tip! You can buy Disney gift cards at a discount at your local warehouse club, or at Target using your Target Red Card!
What other items do you find helpful when packing for Disney World? Leave a comment below!
An inside look into the Disney World Budget Worksheet…
Access Your Disney World Budget Worksheet Now!
Use this Disney World budget worksheet for planning a magical trip! This workbook can be customized to your trip to find out how much your Disney vacation will cost.
Buy now for only $4.99!
Receive Weekly Life Hacks
Subscribe to receive exclusive life hacks and practical information sent directly to your inbox! By using this form you agree with this site's privacy policy.