$1,835. That's how much we paid for our last Walt Disney World vacation! That includes our stay at the Polynesian Village Resort (a deluxe resort at Disney World) for six days, with four-days of park passes, and our flight from New York to Orlando. For our family of 4!
It is possible to do Disney World on the cheap!
Read more to find out how you too can save on your next Disney World trip and learn all the tips and tricks to get the best deals!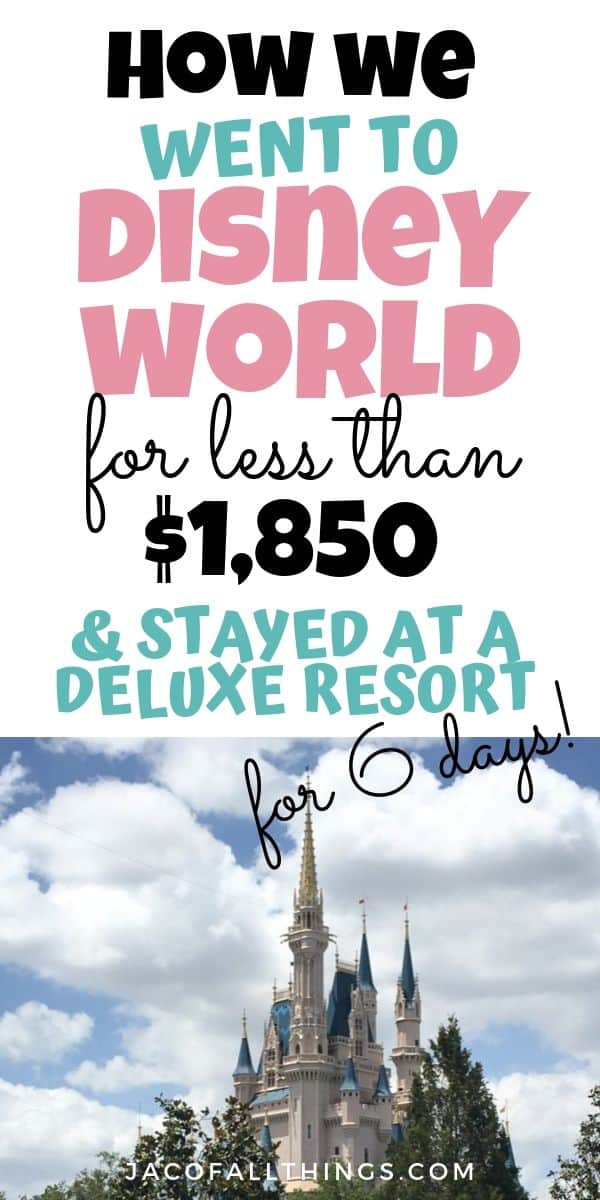 This post may include affiliate links. As an Amazon Associate I earn from qualifying purchases. Read the full disclosure here.
TABLE OF CONTENTS
The first, and possibly the largest place for saving money on your Walt Disney World vacation is where (meaning with whom) you book your resort stay. (For the sake of this post, I am focusing on staying onsite at a Disney World resort, but there are plenty of cheaper options if you choose to stay offsite.)
I'd suggest that you price your stay under several options.
Direct Booking with Walt Disney World
You can price your trip out on the Walt Disney World official site and get an instant quote. If there are no deals available to you, this will likely be your more expensive option.
However, at various points throughout the year, Disney offers coupons and other discounts (like free dining) which may make this a more attractive offering.
Rent Disney Vacation Club (DVC) Points
This is often a much cheaper option than booking directly through Disney World. You can either work directly with a DVC owner (if you know someone personally) or you can use a point rental company to facilitate the rental.
The two most common companies to use are David's Vacation Club Rentals and DVC Rental Store.
You can often save a lot of money by renting points rather than booking directly with Disney but note that there are several pros and cons to renting DVC points.
If you go with this approach, I'd encourage you to learn more about the process, and what's included in your stay. Disney Tourist Blog has a great article on Tips for Renting Disney Vacation Club Points if you'd like to learn more.
Note that your ability to rent points does depend on availability. When we looked into this option for our last trip, the prices were great, but there was no availability for the resorts we wanted in the week we desired.
Book with a Travel Agency That Offers Agency Exclusive Deals
This is what we did!
Most travel agencies will book your trip without any additional cost to you. There are some that also offer agency exclusive deals, which offer you significant discounts during various times of the year. (You do want to ensure you are working with an authorized Disney Vacation Planner and do your homework to make sure they are legit!)
I've had personal experience working with Magical Vacations Travel and booked our last trip with them (and upcoming trip as well). I've also had many friends and family book through them and have experienced nothing but good things!
It's free to obtain a quote and very simple. If you are interested in learning more, be sure to check out their website or you can email my favorite travel planner, Sue at [email protected] for a quote and tell her Jaclyn of Jac of All Things sent you over!
Side note: They typically offer a Labor Day deal with the steepest discounts of the year. If you are willing to travel mid-to end of August/early September, this is a deal to check out!
Related: 5 Things You Must Do Immediately When You Check Into a Hotel Room
Other Options for Booking
It would be impossible to list every place/website where you could book a trip. I would start with those mentioned above, but if you are interested in more, you can check out vacation deals at your local wholesale club (like Costco), deals offered through travel aggregator websites (like Orbitz), or other travel booking sites.
Under all options, you should review the terms and cancellation policies and ensure that you are comfortable booking. Each option has its pros and cons that you should research in advance of booking.
Related: Packing for Disney? Don't forget these items!
Use the quotes you collected in step one to compare and find the cheapest option. It is best to compare apples to apples, but you may have to do some manipulation to the numbers if they are not identical.
For example, if one quote includes the dining plan where another does not, you will want to either remove the cost of dining plan from your quote or add in the estimated cost of meals to the quote without dining so you can compare on like terms.
This is the table I created when comparing the quotes, I received for my last trip. (Note, we were not interested in the dining plan so it is not included below, but if you are, I'd suggest including a row for the cost.)
Trip Details
2 Adults, 2 Children (ages 2 and 1)
6 days, 5 nights (in September)
Resort: Polynesian Village Resort
Park Tickets: 4 Days
(Note, you do not have to pay for children under three, so we purposely booked our trip weeks before our daughter turned three for this added savings.)

You can see that the quote received through the Agency Exclusive Deal (with Magical Vacation Travel) was more than $1,500 cheaper than booking directly with Disney World.
Related: 5 Ways to Make the Most of Park Hopper Tickets at Walt Disney World
Additional Ways to Save on a Disney Trip
You may be thinking, but you said your trip was $1,835 and that included flight; how does that add up?
We actually ended up flying for free as we exchanged in our credit card points and hotel points into airline points. We personally use the American Express Gold Card for this, but there are many credit cards that offer points that can be converted to miles.
We were very diligent about paying off our credit card in full each month and not carrying a balance, but we used our card for almost all household purchases to rack up points.
In addition, one of the benefits to the American Express Gold Card is a $100 airline credit to an airline of your choice, to use for added costs like baggage. We were able to completely cover the cost of our baggage as well as several snacks and drinks by using this credit.
We also took a look at the other points we had banked under various hotel rewards programs. We were able to transfer these points over to airline points as well.
(Note, while I say we flew for free, it actually cost $33.60 in fees to transfer points, but in the grand scheme of it all, the costs were nominal.)
Related: Earn Airline Points for Eating Out!
Depending on how you book your stay, you may be able to use Disney gift cards to pay for your vacation. (This varies by agency or travel booking company, so ask before you book.)
The benefit to paying with Disney gift cards is that you can often purchase them for less than face value or receive other discounts and deals when purchasing them. This allows you to save even more money on your trip!
For the most comprehensive listing of ways to get Disney gift cards at a discount or even for free, this article is a MUST READ:
Discount Disney Gift Cards; Everything you need to know (2019)
Purchasing Disney Gift Cards at Less than Face Value
There are several places where you can purchase gift cards for less than face value.
Purchasing Disney Gift Cards in Conjunction with a Cash Back Deal
Several credit cards offer points for purchases, which you can in turn redeem for cashback. My credit card of choice for this is my Chase Card.
Each quarter they offer 5% cash back on certain categories of purchases, up to $1,500 in purchases. (Throughout the year, they offer 1% cash back on all other purchases.) This means you can purchase $1,500 in gift cards and receive $75 in cash back.
We used this method to purchase gift cards at our local grocery store (Stop & Shop) during the quarter where grocery stores were in the 5% cashback category. Because the categories that offer 5% cashback change each quarter, you may be more limited in your options on where you can purchase.
However, I've noticed that Chase Pay is typically always included in the 5% cash back deal. You can use Chase Pay at a variety of stores, one being Best Buy, which also sells Disney gift cards.
Related: 5 Things to Do With Unwanted Gift Cards
Purchasing Disney Gift Cards to Earn Fuel Points
Several grocery stores reward you with fuel points for your purchases. Typically (though this may vary by store,) you receive 1 fuel point for every dollar spent. (Keep an eye out for promotions throughout the year of up to 4x the points for each dollar spent.)
Points get redeemed for discounts on gas and every 100 points is $0.10 off per gallon. As an example, if you purchase a $500 gift card, you can receive 500 points, or $0.50 off per gallon of gas (usually up to a limit defined by the grocery store.)
You can save even more if you use your eligible credit card (with cashback deals) to purchase your gift cards, so you are receiving cashback from your credit card as well as receiving fuel points for the same gift card purchase.
(Note, upon further research this looks like gift cards are no longer eligible for gas rewards at my local grocery store, Stop & Shop, however do appear to be eligible at Kroger. Check your local grocery store for availability.)
Other Deals on Disney Gift Cards
You may come across other promotions and specials on gift cards throughout the year. At my local grocery store (Stop & Shop), they have run promotions on gift card purchases with a reward of a coupon to use at the store.
For example, one promotion I've seen in the past is receive a $20 coupon to use for your future purchases when you purchase a $100 gift card. There is typically a limit on how many you can purchase, and a small promotion period, but if you can catch one of these sales, they offer a great deal!
Important Note about Disney Gift Cards
You may end up with many gift cards if you decide to pay for your entire trip using them. To make things easier for you, you can combine gift cards onto one (or a few) using the site disneygiftcard.com.
Also, remember to save your gift cards and bring them with you on your trip to Disney World. (Even if they are empty.) If you need to be refunded, and pay with a gift card, your refund will be credited back to your gift card.
$1,956 – Resort and Park Tickets
$33.60 – Airfare (fees to transfer credit card points to airline points)
($75) – Chase Credit Card Rewards (5% cash back on up to $1,500)
($40) – Stop & Shop Coupon for Gift Card Purchase (2-$20 coupons for 2-$100 gift cards)
($40) – Gas Discount for Stop & Shop Gas Rewards ($0.50 off per gallon, up to 20 gallons, done four times)
$1,835 – Total Cost
Voila! Disney World on the Cheap!
---
Need a budget? Download the Disney Budget Tracker now!
Use this Disney World budget worksheet for planning a magical trip! This workbook can be customized to your trip to find out how much your Disney vacation will cost.
BUY NOW FOR ONLY $4.99!

---
Receive Weekly Life Hacks and Practical Advice
If you want to be notified of future posts, be sure to sign up for our email notification list! You will receive a weekly email with the latest posts added to Jac of All Things, as well as a weekly "Did you know" tidbit of information or life hack to make your life easier. Simply provide your email address below. By using this form, you agree with this site's privacy policy.