These helpful hotel hacks for families will help you make you feel more at home when staying at a hotel, and may help save money too!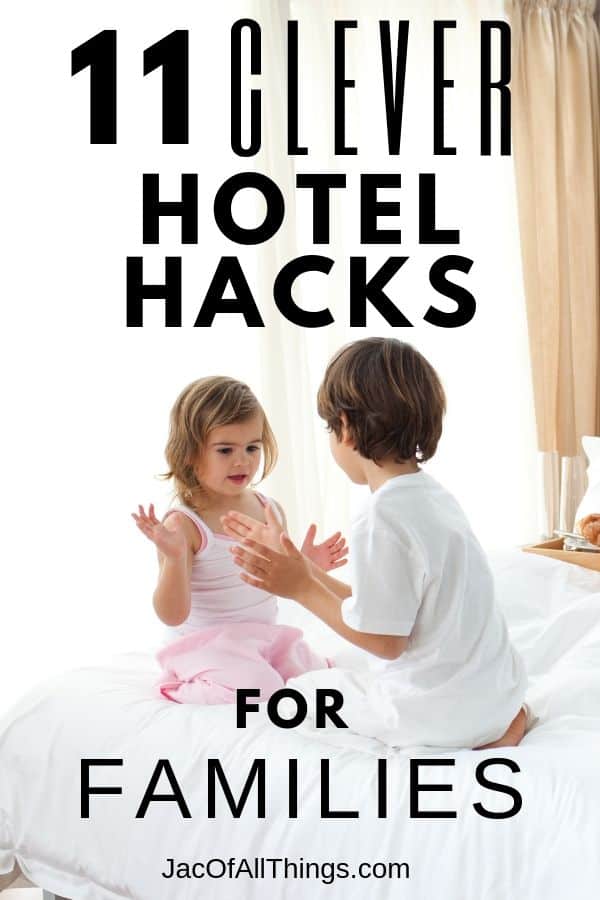 This post may include affiliate links. As an Amazon Associate I earn from qualifying purchases. Read the full disclosure here.
11 Genius Hotel Hacks for Families
1. Create a table with the ironing board
Use the ironing board for extra table space.
You can cover with an extra sheet, and place at the end of the bed for a makeshift table for kids.
This can be great for meals, games, or just to have some extra table space in your room.
It's perfect for kids because you can adjust the height to work best for them!
2. Keep your toiletries organized
To keep organized, store your toiletries in an over-the-door shoe hanger and hang in the bathroom.
Photo Credit: www.amazon.com
Use an over the door shoe hanger for toiletries while you travel.
3. Use shower caps to store dirty shoes in your suitcase
Before you pack up at a hotel, grab some extra shower caps. These are perfect for wrapping up dirty shoes so you don't bring the dirt into your suitcase.
4. Bring a pop up hamper
Bring a pop-up hamper to keep everyone's dirty clothes out of the way.
Photo Credit: www.amazon.com
Bring a pop up hamper for your hotel room!
5. Stream movies right in your hotel room
Many TV's have the capability to stream Netflix or other movies.
Bring your own streaming device (e.g. Fire Stick), plug into the hotel TV, hook up to WiFi, and start streaming.
Photo Credit: www.amazon.com
Bring a Fire TV Stick with you on your next trip to stream movies from your hotel room.
As you as you enter a hotel room, be sure to do these things immediately!
6. Tell your hotel if you are celebrating a special occasion
Hotels want you to have a great experience staying with them. If you are celebrating something special, be sure to share that with your hotel ahead of time. You may be surprised with a special treat or upgrade.
One of the easiest ways to do this is to write to the hotel concierge before you arrive.
Within your letter, let them know that you are celebrating a special occasion, and looking to make the experience extra special. You may ask them if they have any suggestions for local restaurants, fun experiences, or nearby gift shops. You can even ask them to provide a special note for your room for the person celebrating.
Be sure to provide information on your stay as well, including the dates you are staying and your loyalty number (if you have one.)
While this may not get you special treatment or an upgrade at every hotel, you may be surprised with the luck you have!
7. Ask for bed rails for your little ones
If you are traveling with little ones, ask your hotel if they have bed rails. Many hotels have bed rails that can be attached to your child's bed so you can sleep worry-free and avoid middle-of-the-night falls.
8. Ask for extra pillows
When traveling as a family, extra pillows can come in hand.
You can line the floor with them (if you are worried about your children falling out of bed and do not have bed rails.)
You can use them as a divider between kids sleeping in bed so each child has their own individual space.
You can also use them to wedge in between the bed and nightstand to avoid little ones from slipping "through the cracks".
9. Use the hotel coffee maker to make quick meals
Use the hot water in your hotel's coffee maker to cook food for the family!
It's really amazing how many meals you can make using just a coffee maker.
Of course there are the more simple ones like instant soup, Ramen, oatmeal, and mac & cheese where you just add water and follow the directions on the package.
If you feel like sprucing it up and making something more fancy, check out this post on more foods you can make in your hotel coffee maker.
10. Ask your hotel if they have appliances you can borrow
Some hotels offer blenders, crock pots, and other cooking appliances that you can borrow to make your hotel stay more homey.
Many also offer portable fans, games, even curling irons!
It doesn't hurt to ask your hotel what appliances they may have that you can borrow.
11. Have groceries delivered to your room
To save some extra money, avoid getting room service or eating out and use a grocery delivery service.
Ask your hotel concierge which local grocery stores deliver.
If you are an Amazon Prime member, you can also use Amazon Prime Now for cheap 2-hour grocery delivery!
WANT TO RECEIVE HACKS LIKE THIS ONE TO YOUR INBOX?
Email subscribers receive a new life hack each week!
Join our list today! You will receive a weekly email with the latest posts added to Jac of All Things, as well as a weekly "Did you know" tidbit of information or life hack to make your life easier. Simply provide your email address below.
By using this form, you agree with this site's privacy policy.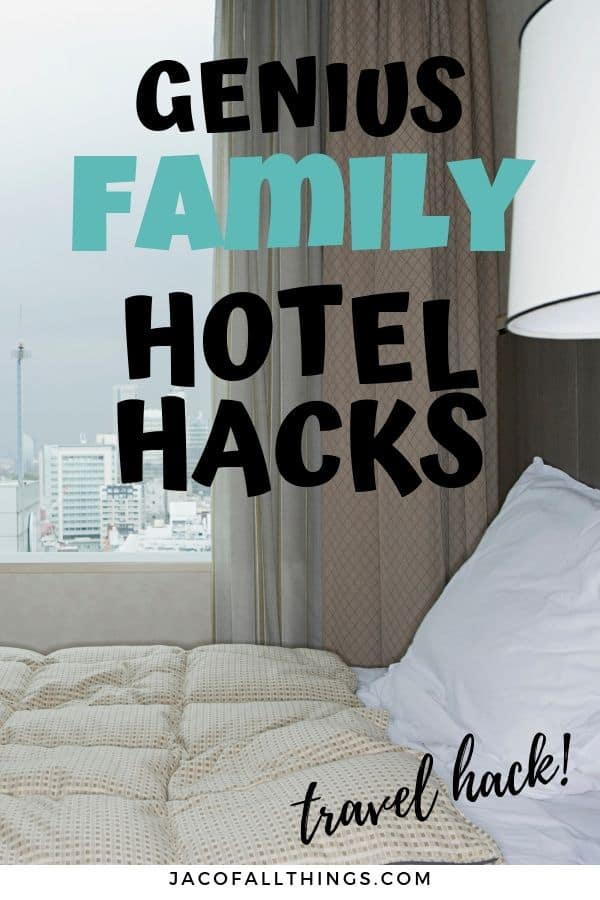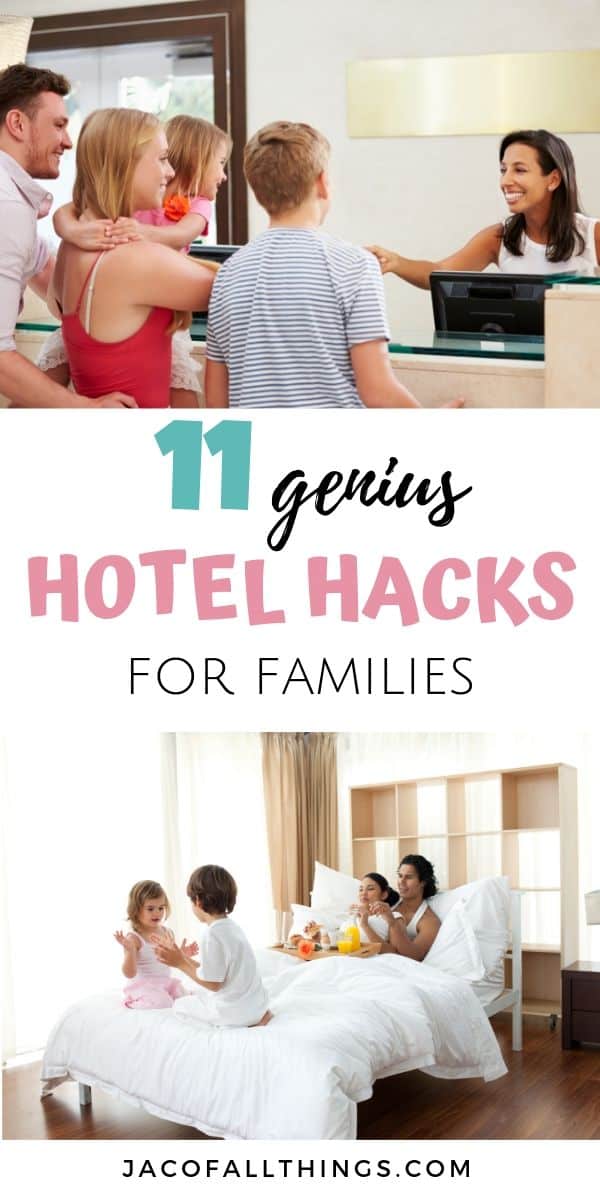 Receive Weekly Life Hacks
Subscribe to receive exclusive life hacks and practical information sent directly to your inbox! By using this form you agree with this site's privacy policy.