There are 4.45 billion (and growing) pages on the web. With so much information out there, you could be lost for days looking for the information you need. But, did you know that there are some easy and simple Google search tips that can help you get the information you need right away? There is no need to comb through multiple websites that do not apply. Use these Google search tips to save time and get the results you are looking for the first time.
Google Search Tips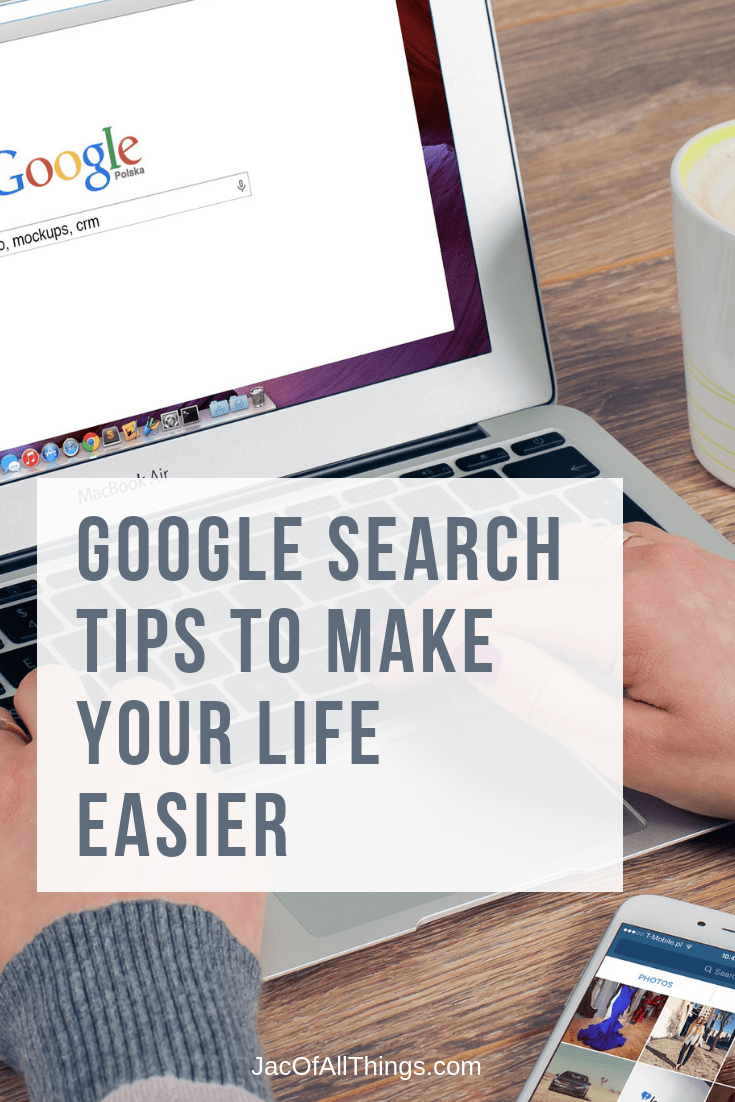 Use Quotations to Search for an Exact Phrase
Have you ever run a search on a specific term only to see several other search results come up that may match some, but not all of the words you were looking for? Next time, try putting your search term in quotes. This indicates that you are looking for that exact string of words in your search.
Practical Example:
Running a search for chicken soup from scratch brings up about 326 million search results (at the time of writing this article) and yields results that include any of those words, or similar phrases. If you change your search to "chicken soup from scratch" (note the addition of quotation marks) your search results yield about 459 thousand search results. That's a tremendous difference!
Use the Hyphens (-) to Eliminate a Word From a Search
Going back to the chicken soup example, imagine you want to make chicken soup, but you do not want noodles in your soup. When you type in chicken soup, a large number of the results are really for chicken noodle soup. To easily filter these results out of the mix, simply use a hyphen (dash sign) to eliminate a word from your search.
Practical Examples:
chicken soup -noodle
This will give you results that do not include the word noodle. Note that there is no space between the dash and the word you want to remove.
apple -phone
This would give you results for the word apple, that do not mention phone. You can add to the list of excluded words by adding a comma between excluded words. For example:
apple -iphone, -mac, -watch, -tech, -computer, -store
This filters out all of the sites that mention iphone, mac, watch, tech, computer, or store.
Use an Asterisk to Replace a Missing or Unknown Word
This Google search tips fills in the blank where you may know part of a phrase, but not the whole phrase. Simply use an asterisk to replace a missing or unknown word in your search. You can also use this as a wildcard for fun searches to see what comes up.
Practical Examples:
Use to complete words in a common phrase: the early * gets the worm
Use when you only know some of the lyrics you want to look up: break me off a piece of that * bar
Use as a wildcard to see what fun searches come up: most expensive * in the world
Search Within a Specific Website
You can limit your searches to just show results within a specific website with this Google search tip. Simply, type what you want to search followed by site:ADD WEBSITE HERE
Practical Example
To search for life hacks within Jac of All Things, type: life hacks site:jacofallthings.com
Use Google Search Tools to Narrow Date of Publication
Sometimes you want to see search results that are only recently published. Rather than having to comb through search results to identify the publication date, use this easy Google search tip to narrow your results to a specific date window.
Under the Google search bar, you should see the word "Tools".
Click on Tools, then click on "Any time", which creates a drop down allowing you to select the date you'd like to be included in your search results.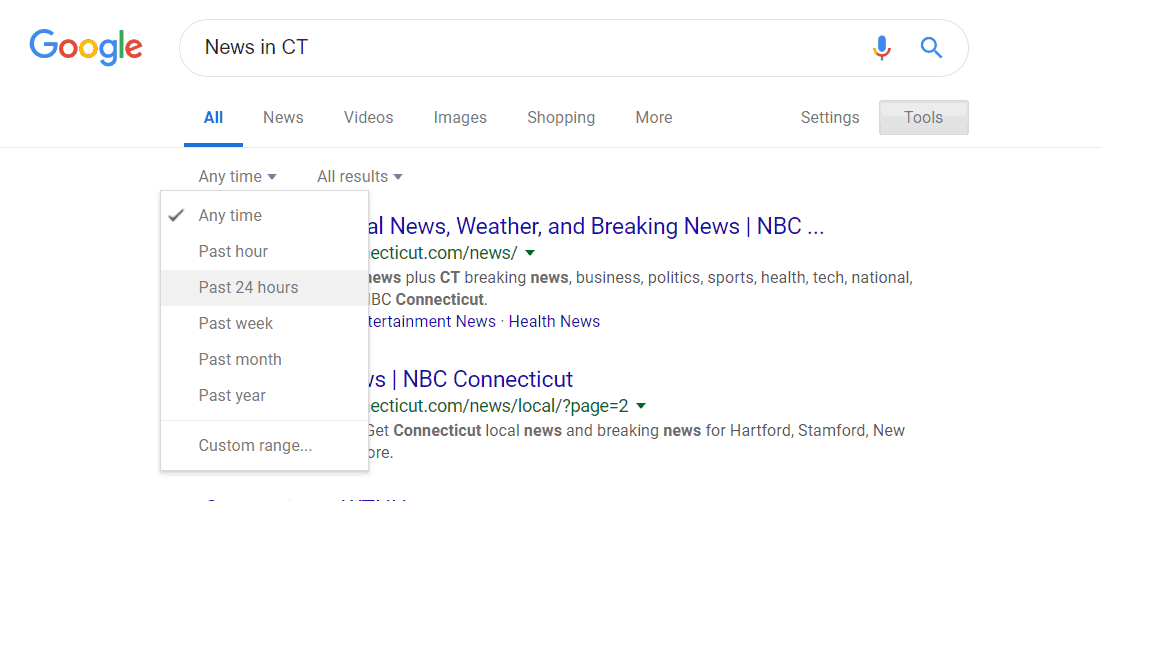 Use the Tabs at the Top of Your Search to Narrow Results
Google really makes some searches easy for us! They have categorized results so we can filter results by image, or news article, or shopping, or web. Simply click on the tab that applies the most to your desired search results to only see results of that type.
Search Cached Versions of a Site
This Google search tip may not be used everyday, but it's very helpful if you need to go back to a prior version of a site. The cached site shows the display from the last time the page was indexed. This may be helpful if you need to access a site that is temporarily unavailable or if you want to view the previous version of a page.
Practical Example:
To view the cached version of Jac of All Things, type: cache:jacofallthings.com
Find Related Pages
Say you enjoy the site Parents.com and want to find other similar sites. You can use this Google search tip to find related sites.
Practical Example:
related:Parents.com will show you results including BabyCenter, Babble, Fit Pregnancy, Family Education, and The Bump.
Search for Multiple Results using OR
You can search for multiple search criteria in the same search by adding in the word OR to your search.
Practical Example:
Gray OR Black will bring you results that include either color
Other Technology Tips:
How to Do a Reverse Image Search from your Computer or Phone
How to Narrow Your Email Search – Tips to Find Emails When Basic Search Isn't Enough
Receive Weekly Life Hacks and Practical Advice
If you want to be notified of future posts, be sure to sign up for our email notification list! You will receive a weekly email with the latest posts added to Jac of All Things, as well as a weekly "Did you know" tidbit of information or life hack to make your life easier. Simply provide your email address below. By using this form, you agree with this site's privacy policy.
Receive Weekly Life Hacks
Subscribe to receive exclusive life hacks and practical information sent directly to your inbox! By using this form you agree with this site's privacy policy.