Does the thought of tipping during the holidays give you anxiety or make you feel uncomfortable? You wonder if you are giving enough, if you are giving too much, or even if a tip is even necessary! Take all of the guesswork out of tipping this year with this guide to holiday tipping.
The most important thing to remember is that tipping during the holiday season is to show your thanks and appreciation. It's not obligatory, but a kind gesture for you to share with others.
Holiday tipping is different from standard tipping, where it's customary that you provide a tip after you receive a service. Holiday tipping is intended for those who provide regular service throughout the year. It's an extra thanks to those who provide a service for you on an ongoing basis.
While we have provided best practices around the amount to tip in our holiday tipping guide below, your budget may impact how much you actually spend. Regional factors should also be considered; typically the amount you tip is higher in larger cities than in smaller, rural towns.
If you are uncomfortable giving cash, it's completely fine to give a physical gift. This may be a bottle of wine, a box of donuts, a gift card to a coffee shop, or something homemade like hot chocolate spoons or a DIY Mason Jar gift. The thought is the most important part of holiday tipping and gifts!
And with any gift, don't forget to include a note of appreciation!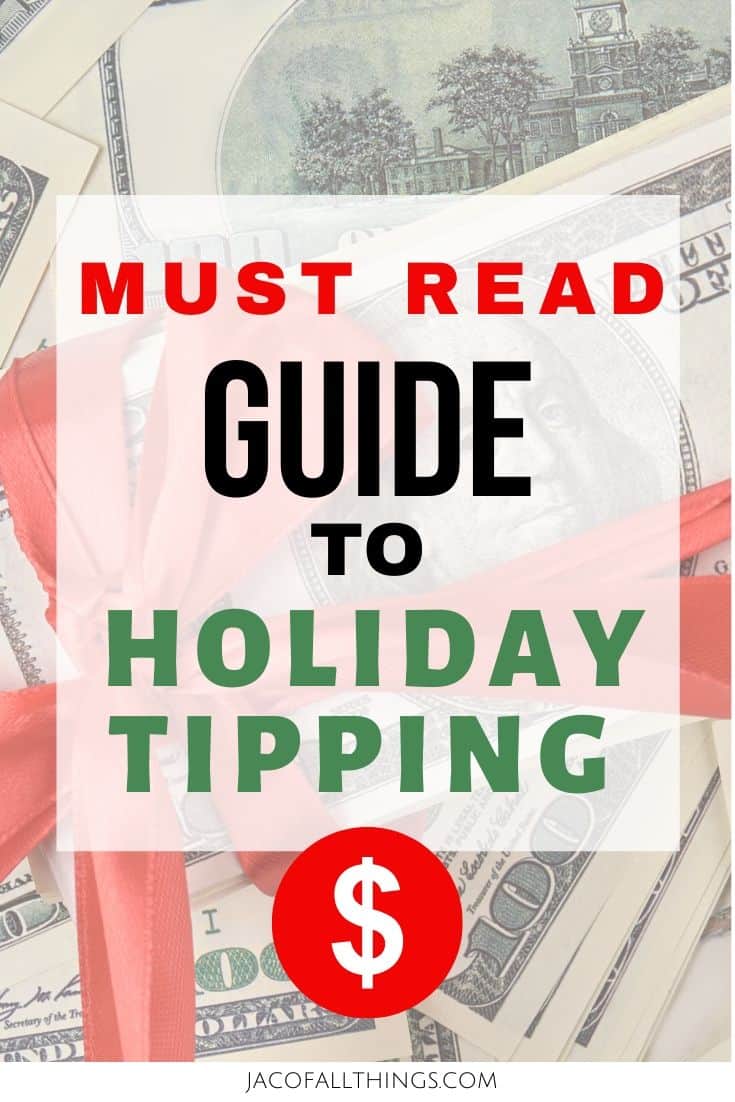 Holiday Tipping Guide
Au-Pair/Nanny: One week's pay.
Babysitter: One night's pay.
Cleaning Lady/Maid: One week's pay.
Garbage Collector: $15 – $30 if private garbage collection; no tip required for town or city provided services.
Doorman: $50 if one doorman, $15 per doorman if there are multiple.
Hairdresser/Stylists: $15 – $50 (depends on cost of typical service and how frequent you receive service.)
Mail Carrier: Technically, they are not allowed to accept cash gifts. A gift of appreciation is a nice gesture; they can accept gifts valued under $20.
Personal Trainer: $25 – $100 (depends on cost of typical service and how frequent you receive service.)
UPS/FedEx/Delivery Driver: $10 – $30 for regular deliveries with same driver.
Receive Weekly Life Hacks
Subscribe to receive exclusive life hacks and practical information sent directly to your inbox! By using this form you agree with this site's privacy policy.