Avoid these Thanksgiving cooking disasters this year! Read the top Thanksgiving cooking mistakes and learn how to fix them, and even better, how to avoid them!
Hopefully these tips can help you avoid a Thanksgiving cooking disaster!
THANKSGIVING COOKING DISASTERS
HOW TO AVOID:
Thaw your turkey in the refrigerator for about 6 hours per pound. (Leave on wrapping, but place on a tray to prevent any leakage of turkey juices.) This means if you have a 20-pound turkey, you will need to thaw it 5 days ahead of time (i.e. the Saturday before Thanksgiving.)
QUICK FIX:
You can thaw your turkey quicker by placing it in the sink with cold water. (Leave on wrapping, and refresh your water frequently.) It will take about 30 minutes for every pound to thaw. If you have a 20-pound turkey, you will need about 10 hours to thaw in cold water.
---
This is a common issue as the breasts of a turkey cook faster than the legs and thighs.
HOW TO AVOID:
Option 1: Put the turkey in the oven upside down (breasts down) with the legs facing the rear of the oven. Flip your turkey right-side-up about halfway through cooking time. (Because the back of the oven is often the hottest, this heats the legs/thighs more than the breasts.)
Option 2: Place a bag of ice on the breasts before cooking. This cools down the starting temperature of the breasts compared to the legs/thighs.
QUICK FIX:
If the breast is done, but the legs and thighs are under-cooked, remove the legs and thighs from the turkey and cook in the oven for a bit longer.
If the breast meat is overcooked (and therefore dry) there is little you can do but serve extra gravy and hope it helps add some moisture to the dry meat.
---
HOW TO AVOID:
Planning is everything! Before you cook anything, come up with a detailed plan of when each dish must be cooked, or re-heated, so everything is ready when it's time to eat.
QUICK FIX:
After letting your turkey rest (20 minutes or so after coming out of the oven), carve the bird and put on an oven-safe platter. About 30 minutes prior to eating, reheat your meat for about 20 minutes at 350. (Timing may vary.)
---
HOW TO AVOID:
Option 1: Cook your stuffing outside of the turkey.
Option 2: Make sure stuffing is room temperature when adding to the bird (not cold) and pack it loosely.
QUICK FIX:
Remove stuffing from bird. Put in a pan back in the oven to heat.
---
HOW TO AVOID:
Go back up to my comment about planning.
QUICK FIX:
Option 1:

Cover your turkey with tin foil. Add a cup or two of water or stock to the bottom of your roasting pan and crank up the oven heat to 450 degrees.

Option 2:

Cut your bird in half (longways) which will speed up the cooking time.
---
HOW TO AVOID:
Use a roasting pan that is just big enough. (Don't use a pan that is much larger than your turkey as the drippings will spread out and are more likely to burn.)
QUICK FIX:
Remove what you can from the pan drippings. Chop them finely and saute with butter, spices, and broth.
---
HOW TO AVOID:
QUICK FIX:
Add acid to balance out the salty-taste. (i.e. lemon juice, vinegar, wine)
Related Post: Out of an ingredient? Read these common cooking substitutions
---
HOW TO AVOID:
Too much mashing or mixing will cause gluey potatoes. Use a potato ricer or hand mash rather than using an electronic mixer.
QUICK FIX:
Make a casserole out of your mashed potatoes by adding butter, breadcrumbs, and grated cheese on top.
---
HOW TO AVOID:
Lumpy potatoes are caused by under-cooking, so make sure you cook them long enough.
QUICK FIX:
Mix in some milk or cream and cook your potatoes until the lumps dissolve.
---
HOW TO AVOID:
Do not over-bake your pie! Remove it as soon as it sets and allow it to cook a bit more out of the oven within its dish.
QUICK FIX:
Top with whipped cream so you do not notice the crack.
---
HOW TO AVOID:
QUICK FIX:
Purchase an extra boneless turkey breast. (You can always freeze it for another family meal if not needed.) It should only take about 1 1/2 hours to cook it if you do need the extra meat. Once you carve your bird, simply mix in the other meat and no one should notice a difference.
---
OTHER TIPS TO AVOID A THANKSGIVING DISASTER!
Make sure you pat your turkey dry (inside and out) before cooking so skin gets crispy.
Use a rack in your roasting pan to elevate the turkey and prevent your oven from smoking.
Allow your turkey to rest for about 20 minutes after it comes out of the oven and before you carve it.
When taking the temperature of your turkey, take it at the thickest point of the thigh.
Don't forget to take the giblets out before cooking!
When in doubt, call the Butterball Turkey Talk Line to get expert advice! (1-800-BUTTERBALL or text 844-877-3456).
Related Posts:
Bring some fun to the Thanksgiving table with these Thanksgiving Mad Libs
Create a Thanksgiving Thankful Tree
20 of the Best Christmas Traditions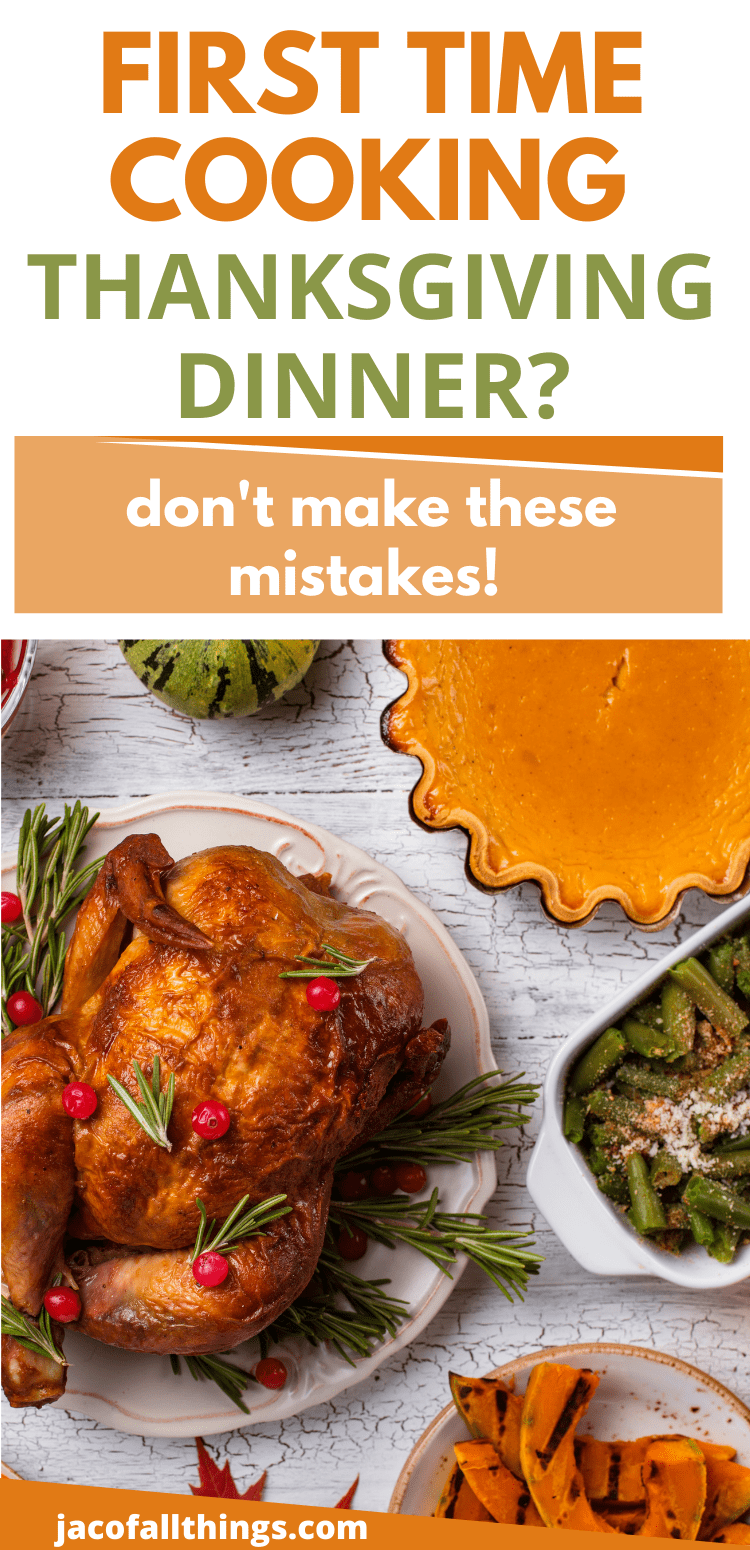 Receive Weekly Life Hacks
Subscribe to receive exclusive life hacks and practical information sent directly to your inbox! By using this form you agree with this site's privacy policy.