I love going on dates. After going on a date, I feel refreshed, energized and excited for the future with my husband. It's the perfect pick-me-up and reminds me how much love we have for each other. Since having children, our dates may not be as frequent, and sometimes, our dates even involve our children, but I still hold them dear to my heart and make every effort to date at least monthly.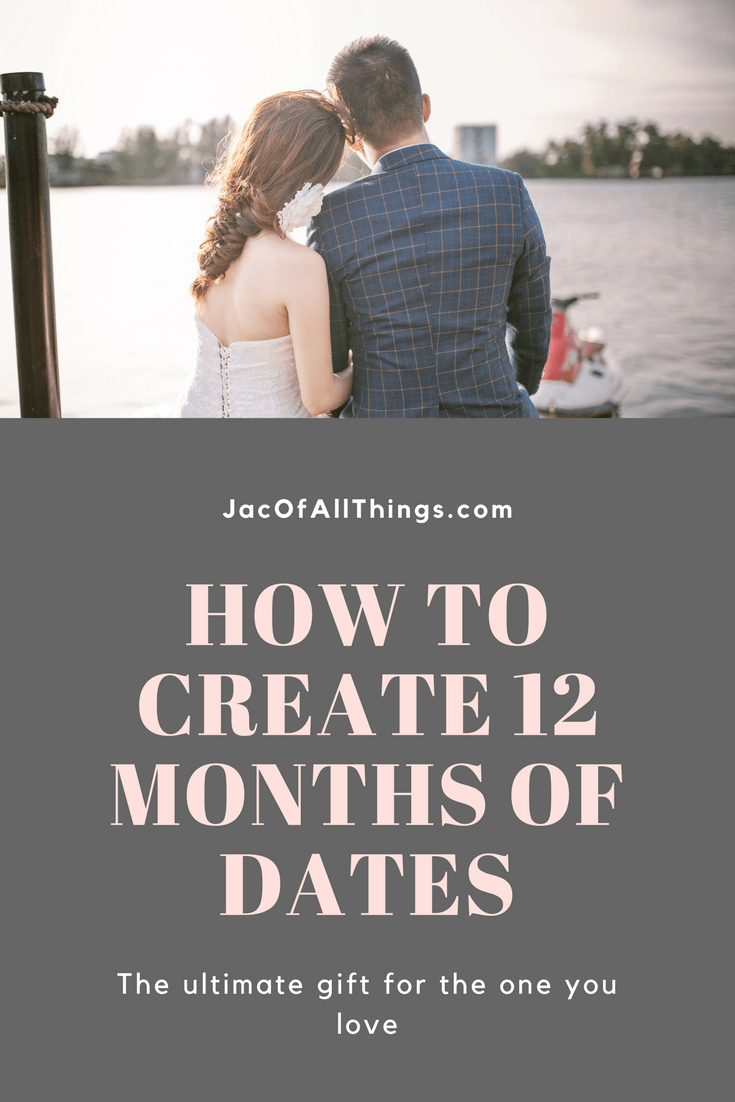 Disclosure: I may earn money or products from any of the companies mentioned in this post. Purchasing through an affiliate link comes at no extra cost to you. As an Amazon Associate I earn from qualifying purchases.
12 Months of Dates: Date Night Gift Idea
A few years ago, I was struggling with coming up with an anniversary gift for my husband. I thought back to his love languages and he is "bi-lingual" in "Gifts" and "Quality Time". (Side Note: You can read more about love languages in The 5 Love Languages: The Secret to Love that Lasts
. It's an excellent, fast read on understanding your love language and improving relationships with others.)
I wanted to give him a physical present, but to be honest, I just yearned for more time spent with him, and knew he felt the same way, so I decided to give him a 12 months of dates.
To start, I brainstormed a list of all dates I could think of. I found a lot of ideas by searching sites like Groupon and LivingSocial to see what deals they were offering to local events and possible date venues. My list included dates that were both free and cost money. (Don't let your budget prevent you from dating! You can easily come up with 12 months of dates that don't cost you any money if that is your hesitation!)
Here is the complete list of dates I brainstormed:
| | | |
| --- | --- | --- |
| comedy show | winery | planetarium |
| apple picking | rock climbing | movies |
| Frisbee golf | cooking class | picnic |
| casino | local high school play | hike |
| appetizer tour* | high school football game | drinks under the stars |
| visit local food truck | mini golf | paint-and-sip |
| brewery | couples massage | glass blowing |
| haunted house | volunteer together | dinner/drinking cruise |
| escape room | trip to NYC | fondue dinner |
| bowling | ropes course | make your own pizza night |
(For a more complete list of date night ideas, check out my post on 75 Fun and Romantic Date Night Ideas.)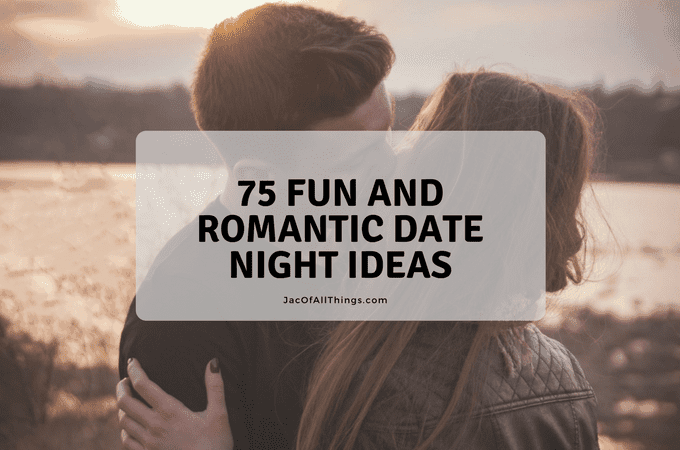 Ultimately, I wanted these dates to be extra special, so I weeded out the dates that were more common in our house and narrowed the list down to those we haven't done or didn't get to do frequently. I selected 12 dates to make up the gift.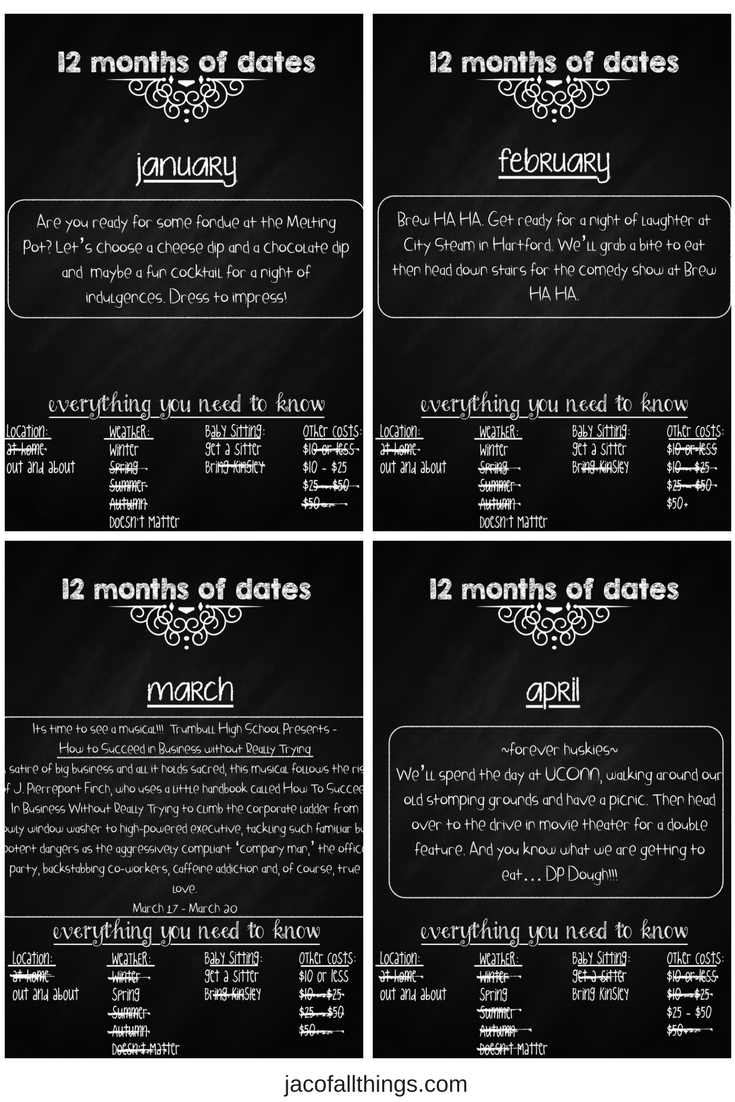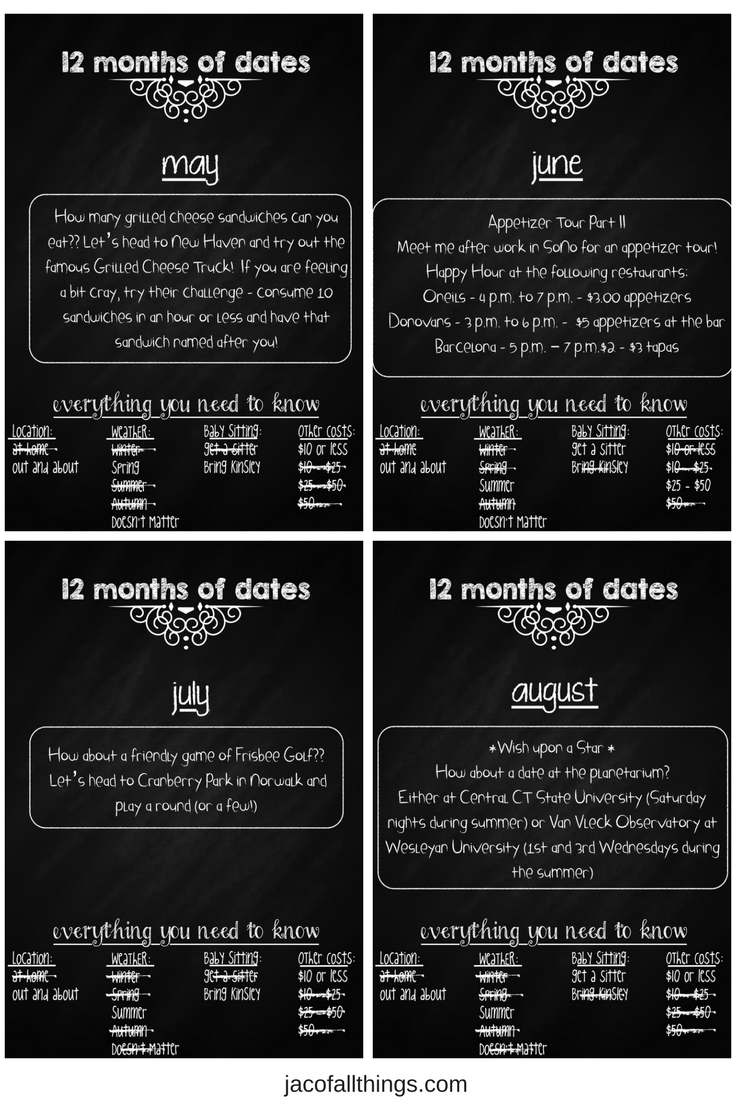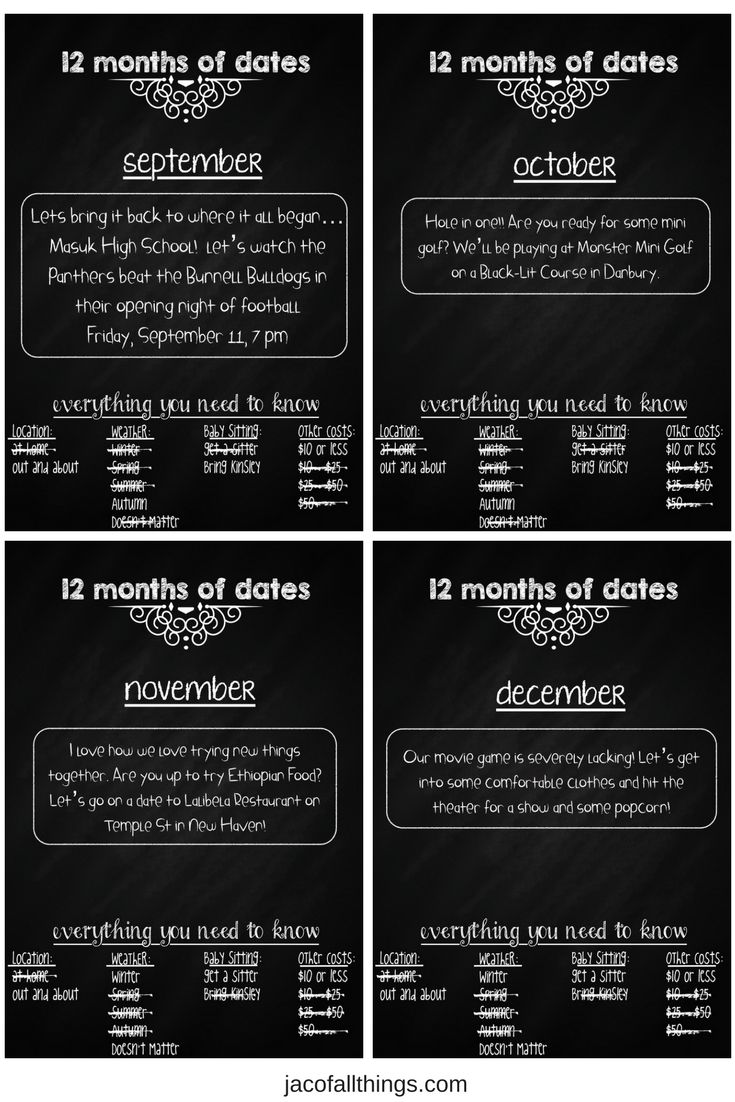 Wherever possible, I purchased what we needed for each date. For most of the dates, that meant a gift certificate, but for a date like drinks under the stars, I purchased a nice bottle of wine and scotch and paired that with the date night card. (This is where Groupon and LivingSocial really came in handy as I was able to purchase gift cards for several dates at a discount!)
I decided to put each date on a card and laminate them. This was actually much simpler than it looked!
Directions:
Choose your background. I wanted mine to look like a chalkboard, so I found an image that resembled a blank chalkboard.
In Microsoft Word, make the chalkboard image your page background. This can be done by going to the Design tab, then Page Color, then Fill Effects, and then choosing the image you want to use.
Add text boxes to the page to reflect the information you want to display. For my date cards, I chose to include the month that the date was to be used, a description, the location, weather, if a babysitter was needed, and the relative cost (e.g. $ – $$$). Depending on the design you are looking to achieve, you may want to download new fonts to use for your date night cards. I found a few fonts that I liked on dafont.com and downloaded them for use.
Laminate and add finishing touches. I have a laminator at home, but if you do not, your local office supplies store (like Staples) should be able to provide this service for you. I added a hole punch to the top left of each card and tied them together with a ribbon.
I hope you enjoy your dates as much as I have! Leave a comment with your favorite date night idea!!
Are you looking for other ideas to show love to the man in your life? Check out 23 Ways to Show Him Love for a complete list of ways you can show the man in your life that you love him.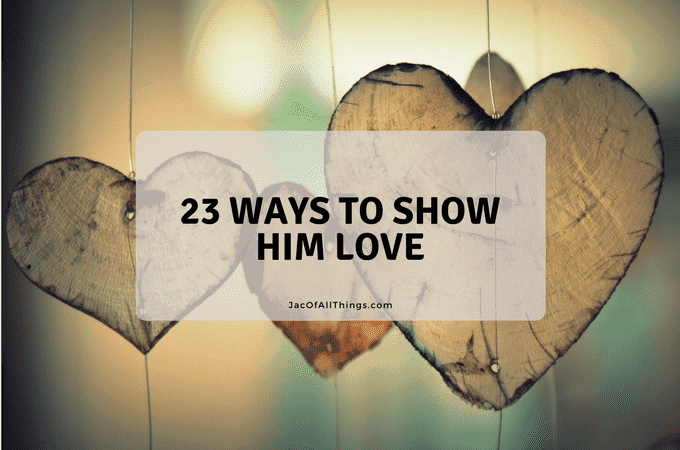 Marriage affirmations are also a great way to maintain a healthy, positive marriage. Read my favorite marriage affirmations here.
---
Receive Weekly Life Hacks and Practical Advice
If you want to be notified of future posts, be sure to sign up for our email notification list! You will receive a weekly email with the latest posts added to Jac of All Things, as well as a weekly "Did you know" tidbit of information or life hack to make your life easier. Simply provide your email address below. By using this form, you agree with this site's privacy policy.
Receive Weekly Life Hacks
Subscribe to receive exclusive life hacks and practical information sent directly to your inbox! By using this form you agree with this site's privacy policy.