The other day I stopped to get gas in an unfamiliar town. After filling up, and getting back on my way, I passed by another gas station, not more than 1 mile down the road, that was $0.30 per gallon cheaper! Ouch!
For my 20-gallon tank, choosing the wrong gas station cost me an extra $6.00.
Imagine if I chose the wrong station every week? That would be over $300 a year in money I could have saved, or put towards something else more fun than filling up my tank. Read these easy tips for how to save money on gas and make sure you are choosing the gas station with the cheapest gas.
7 Ways to Save Money on Gas
1. Use Gasbuddy to find the station with the cheapest gas
The good news is that it's really quite easy to make sure you are getting the best deal on your gas. You don't have to drive around town and search for prices yourself. There's an app for that!
Simply download the app GasBuddy (or visit at GasBuddy.com) to compare the prices of gas in your area and find the station with the cheapest gas.
2. Use cruise control
If you drive an automatic transmission car, put your car in cruise control to maintain your speed. This keeps you at a consistent speed, which uses less gas than if you were accelerating.
3. A/C on over 40 mph, Windows open under 40 mph
In a study done by the Society of Automotive Engineers, they found that running an air conditioner in your car decreased gas mileage by 5 to 10%. Before you turn on your A/C, give it some thought to if you really need it on.
If you are driving under 40 mph, consider driving with your windows open to get a nice cool breeze. But if you are driving on the highway or going over 40 mph, the extra drag that you will get with the windows down cancels out the savings of not using the A/C. You are better off using your A/C when going higher speeds than using your windows.
4. Keep your tires inflated to save on gas mileage
According to the US Department of Energy and the National Highway Traffic Safety Administration, "you can improve your gas mileage by 0.6% on average—up to 3% in some cases—by keeping your tires inflated to the proper pressure. Under-inflated tires can lower gas mileage by about 0.2% for every 1 psi drop in the average pressure of all tires. Properly inflated tires are safer and last longer."
5. Use the right motor oil for your car
There are two things you should look for when choosing the right motor oil for your car. First of all, you should look for motor oil that says "Energy Conserving" on the bottle, as these contains friction-reducing additives.
You should also use the right oil for your car. Take a look in your owners manual to see what type of oil your car calls for. Using the wrong type can cause a 1-2% reduction in your gas mileage.
6. Buy gas on a Monday (and avoid Fridays, Saturdays, and Sundays)
A recent study done by Gasbuddy shows that Monday is the cheapest day to buy gas and prices are highest on Fridays, Saturdays, and Sundays. (Monday's between 7 am and 10 am also have the shortest lines at the pump!)
7. Sign up for a gas loyalty program
Some gas stations have loyalty programs that offer you discounts by being a returning customer. Ask your local gas station if they offer a loyalty program for reduced price gas.
You can also save money on gas by using Pay with Gasbuddy, which is a membership program that offers you $0.05 – $0.20 off per gallon by paying for gas using their membership program. There are free memberships and low cost memberships available, depending on the membership tier you are interested in joining.
Related Posts:
10 Ways to Save on Movie Tickets
WANT TO RECEIVE HACKS LIKE THIS ONE TO YOUR INBOX?
Email subscribers receive a new life hack each week!
Join our list today! You will receive a weekly email with the latest posts added to Jac of All Things, as well as a weekly "Did you know" tidbit of information or life hack to make your life easier. Simply provide your email address below.
By using this form, you agree with this site's privacy policy.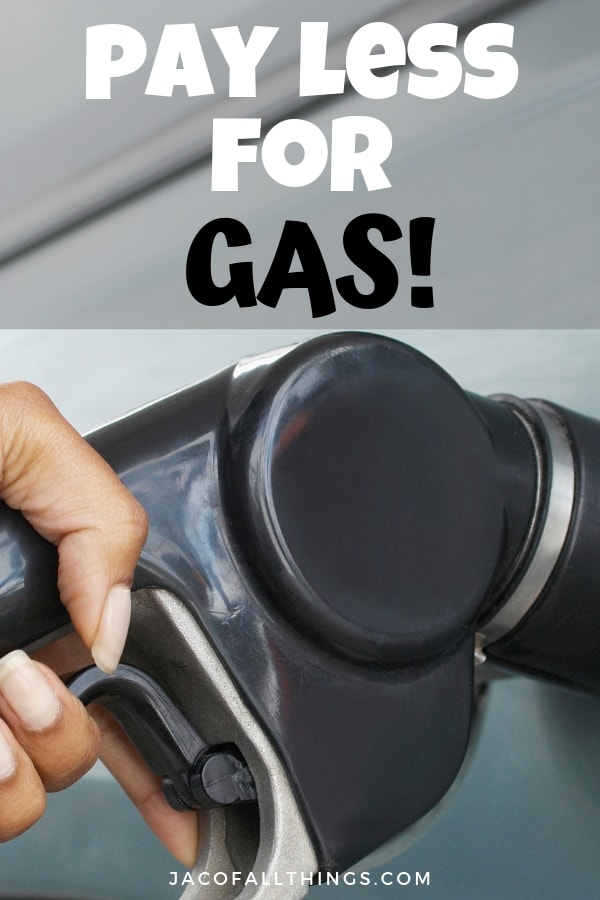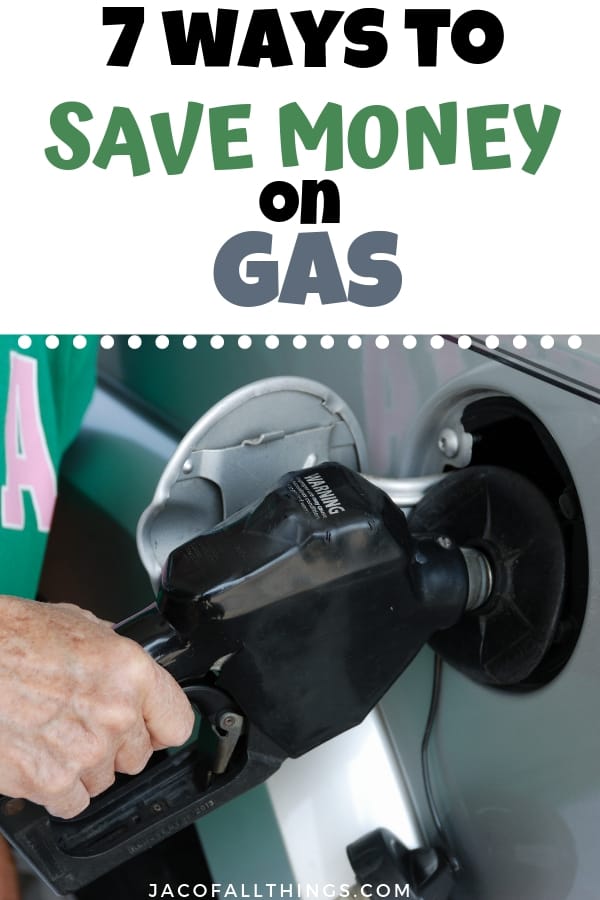 Receive Weekly Life Hacks
Subscribe to receive exclusive life hacks and practical information sent directly to your inbox! By using this form you agree with this site's privacy policy.