Although Disney World is a place designed for kids, every ride is not meant for the little ones. Some rides have height requirements that prohibit young ones from riding for their own safety. Others may not have a height requirement, but might not be a good idea for toddlers like Haunted Mansion or Spaceship Earth, as they are very dark rides and can be scary. Every child is different and has different fears, so you will need to base your ride choices off of your child.
Here is a list of our favorite toddler-friendly rides at Disney World.
Toddler-friendly rides in Magic Kingdom
Dumbo the Flying Elephant
Soar high in the sky aboard Dumbo the Flying Elephant. This classic ride allows you to ride on top of everybody's favorite circus elephant as he learns how to fly. You can adjust your altitude by moving the level to soar high or swoop low.
The Magic Carpets of Aladdin
Take flight over Adventureland on Aladdin's enchanted carpet. This 4-seater flying rug takes you around a giant genie bottle and magic lamp. The carpet can be moved up and down by those sitting in the front and tipped forward and back by those sitting in the back. Be sure to look for the spitting camel too!
WDW Railroad
(as of September 2022, this attraction is temporarily closed)
All Aboard! Climb aboard the Walt Disney World Railroad for a convenient way around the park or for a grand tour around Magic Kingdom. Run completely by steam power, you will take a relaxing journey through the sidelines of the park. It is a perfect way to move around the park while resting your feet.
"it's a small world"
This whimsical boat ride takes you on a musical journey through the seven continents along the Seven Seas Waterway. You will pass through the cultures of each nation with bright colors and vivid scenes. Your kids will learn about the different cultures on this 10-minute long journey around the world.
Buzz Lightyear's Space Ranger Spin
Blast off into outer space with Buzz Lightyear. Become Junior Space Rangers by firing your laser to earn points and defeat Evil Emperor Zurg. You will aboard two seater space ships equipped with two laser guns and a cruiser joystick.
Jungle Cruise
Embark on a river cruise through Asia, Africa, and South Africa piloted by your [very sarcastic] skipper. It is a 10-minute journey across 10,000 miles of treacherous waters.
Mad Tea Party
Hop in giant tea cups inspired by the Mad Hatter's tea party from Alice in Wonderland. Spin around and around during a music-filled whirlwind. You can choose how fast you want to spin based on how fast you turn the wheel.
Pirates of the Caribbean (warning! dark ride)
Set sail on a voyage to a long-forgotten time and place where pirates and privateers ruled the seas. Sing along with pirates as they chant "Yo Ho, Yo Ho, A Pirate's Life for Me." Although this ride does not have a height requirement, it might not be the best option for all kids. It is a very dark ride with loud cannon noises and guns and there is a dark drop down a waterfall. Choose this ride with caution.
Tomorrowland Speedway (32 inches & taller with a parent)
Cruise along a scenic miniature motorway in your very own race car. There is a working gas pedal and steering wheel that must be used to follow along the track, towards the finish line. Racers who are at least 32 inches tall can drive with someone who is over 54 inches. Racers who are over 54 inches can ride by themselves.
Peter Pan's Flight
Board your pirate galleon as you soar high in the sky following Peter Pan as you leave London and enter Never Land. Your journey takes you through iconic scenes from the movie Peter Pan. Your little ones will love the sensation of flying high above.
Prince Charming Regal Carrousel
Go for a royal spin aboard one of the 90 unique horses inspired by Cinderella. Gallop around with beautiful colors, lights, and whimsical music. Enjoy a gorgeous view of Cinderella's castle and some parts of Fantasyland.
The Barnstormer (35 inches & above)
Take flight above Storybook Circus with Goofy in a handmade stunt airplane. This junior roller coaster ride takes you along with The Great Goofini as he performs his world-famous aerial stunt show.
Transit Authority People Mover
This mass transit system of the future takes you on a 10-minute tour through Tomorrowland. This elevated tram gives you behind-the-scenes looks at Buzz Lightyear's Space Ranger Spin, Space Mountain, and Star Traders retail shop. It is a very futuristic way to relax and rest your feet for a bit.
The Many Adventures of Winnie the Pooh
Travel though Hundred-Acre Wood in one of Pooh's honey pots. You will pass through various scenes from Winnie the Pooh and encounter all of Pooh's friends. (Caution, this ride takes you through "thunder and lightning"; proceed with caution if your toddler is scared of stormy weather.)
Under the Sea: Journey of the Little Mermaid
Climb into a clamshell and sink into the depths of the sea to see Ariel's world. You will go for a slow moving ride through the classic "tail" of how Ariel found her true love, Prince Eric. You will not get wet in this ride, even though it is "under the sea".
---
---
Toddler-friendly rides in Epcot
Frozen Ever After
Aboard an ancient Nordic vessel for a voyage to Arendelle. This slow moving boat ride takes you on a musical tour through the wintery world of Frozen. It is in the dark with forward and backward plunges down a short waterfall that could get you wet. (Caution; there is a small drop on this ride.)
Gran Fiesta Tour Starring The Three Caballeros
Cruise down the Rio Grande on this dark boat ride to view some of Mexico's famous cities and sights in hopes of helping Panchito and Jose Carioca (2 of the caballeros) find Donald. The antics of these three caballeros carry you throughout the Mexican Pavilion in Epcot.
Journey into the Imagination with Figment
Figment guides you through the sensory labs of Imagination Institution. You will learn about the five senses as Figment turns the lab upside and creates some unusual surprises.
Living with the Land
Go for a gentle boat tour through Epcot's greenhouses and learn about the surprising history of farming. It provides interesting background on how Disney uses innovative growing techniques and cross breeding high-yield crops to help feed the growing planet. The food seen on this tour is used to supply Sunshine Seasons and the Garden Grill, which are both found in The Land Pavilion as well.
The Seas with Nemo and Friends
Visit Nemo and his friends on this ride through the sea as you climb into a "clamobile." As you descend below the waves, you follow along on the adventure to find Nemo who is lost again. This ride will not get you wet despite it being under the sea.
---
Toddler-friendly rides in Hollywood Studios
Alien Swirling Saucers (32 inches & above)
Join the aliens from Toy Story for a galactic spin through space. Space cadets of all ages can enjoy this gentle whirl through the sky. This is comparable to Magic Kingdom's Mad Tea Party.
Mickey and Minnie's Runaway Railway
Join Mickey and Minnie as you climb aboard a runaway railway for a whirlwind ride filled with unexpected twists and mind boggling transformations. This cartoon universe is filled with so many surprises.
Toy Story Mania!
Join the characters from Toy Story for an exhilarating 4D shooting game. Wearing 3D glasses, you will board a carnival-inspired tram equipped with a spring-action shooter to shoot at various targets. You compare scores with others in your tram. May the best toy win!!
Toddler-friendly rides in Animal Kingdom
Kilimanjaro Safari
Adventure on a guided tour through the African savanna to view the roaming animals. Your expert guide will drive you through the Harambe Wildlife Reserve, pointing out the various animals and sharing fascinating facts about some of them.
Na'vi River Journey
Take a mystical journey in a boat through Pandora's glowing bioluminescent rainforest. You will meet the legendary Na'vi Shaman of Songs who uses the power of music to send positive energy and connect to the life force of Pandora.
TriceraTop Spin
Take flight aboard a dinosaur to soar high above Dinoland. This 4-person triceratop ride can be lifted higher or lower by the lever in the back row and can be tilted forward or backward by the level in the front row.
Wildlife Express Train
Climb aboard this rustic locomotive to travel though the African savanna to get a behind-the-scenes look at the park's animals. You will see animal housing and veterinary facilities. It brings you to Rafiki's Planet Watch, which is an area designated to the preservation and conservation of animals. You can even take part in educational activities for all ages.
---
In addition to the magical rides listed above, there are countless shows, sing-alongs, and parades for your toddler to enjoy the most magical time at Walt Disney World.
We hope you (and your little one) have the most magical adventure!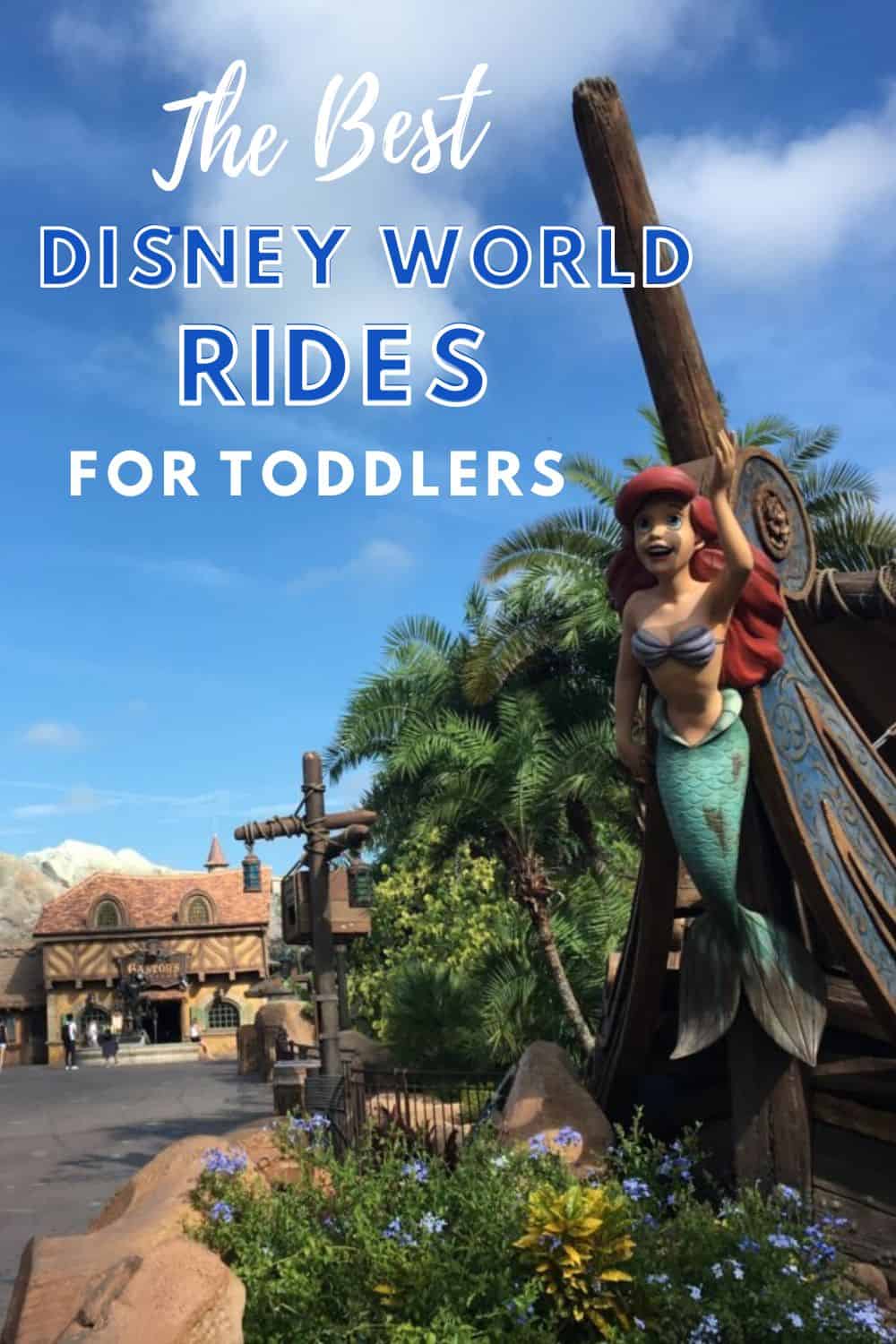 Receive Weekly Life Hacks
Subscribe to receive exclusive life hacks and practical information sent directly to your inbox! By using this form you agree with this site's privacy policy.