Christmas is right around the corner and you're not sure what to do with your home this year. You want to make it festive, but perhaps you don't know where to start. You've seen all of those decorations in stores, but it seems like everyone has the same things, and you want your house to stand out!
We have just the thing for you to add some holiday cheer to your home this year and stand out from your neighbors. This article will be reviewing our favorite unique and festive outdoor Christmas decorations. So without any further ado, let's get started!
---
This post may include affiliate links. As an Amazon Associate I earn from qualifying purchases. Read the full disclosure here.
---
Lawn Lights
Anyone can hang lights on their house, but how many people have their entire lawn sparkling? Lawn Lights are a unique way to enhance the look of your lawn and provide a little extra twinkle this holiday season.
Features:
Unique: If you want to stand out from your neighbors, these are a great option for you to add some extra holiday flair to your yard this Christmas season.
Easy to assemble: Assembly takes 10 – 15 minutes per set and does not require ladders, tools, or extension cords.
Efficient: Each set only uses less than 3 watts of electricity and one power outlet!
---
Mr. Christmas Outdoor Lights and Sounds of Christmas
Mr. Christmas Outdoor Lights and Sounds of Christmas are designed to help you take your outdoor Christmas decorations to the next level. With this nifty object, you can easily turn your lights display into a theatrical performance and spread good cheer throughout your neighborhood.
This apparatus is a fully automated all-in-one outdoor light and sound system that synchronizes yard lights with 20 Christmas songs. Embedded speakers put off a great sound that can be adjusted in volume. You can play songs randomly, select specific songs, or skip them altogether if they don't suit your taste in music. So whether you're hosting an impromptu gathering at home or lighting up your yard for neighbors, this is bound to be a hit.
Features:
Outdoor light and sound system synchronizes yard lights to 20 Christmas songs
The speaker is built-in with full volume control as well as the ability to play songs at random, choose songs, and skip songs.
20 preprogrammed Christmas carols (10 Siberian and 10 Rock n' Roll.)
Connect up to six separate lights strands to create a synchronized light show in synch to the music.
Multiple light settings so you can choose from a dynamic moving light show), blinking lights show, or steady on lights.
---
Starburst Twinkle Lights are a unique way to add a little bit of joy and festivity to your yard this holiday season. They're battery-powered, so you don't have to worry about cords and they can be placed anywhere that needs some extra cheer!
They come with a handy remote that allows you to choose from eight modes (combination, wave, sequential, glow, flash, slow fade, twinkle, continuous) and set a timer for maximum efficiency.
Features:
Can be used indoor or outdoor
Option to purchase battery or USB powered twinkle lights
Remote control
Multiple options for lights (combination, wave, sequential, glow, flash, slow fade, twinkle, continuous)
Timer for maximum efficiency

---
If you've been looking for the perfect Christmas decoration to add to your covered front porch, you might have just found it. The 60″ Bejeweled King Nutcracker is a hand-painted and handcrafted piece of art that will make your neighbors pause and smile. While technically intended for indoor use, this should be fine outside (under a covered porch) based on reviews.
Features:
Hand-painted and handcrafted details
60" H x 12" W x 12" D

---
The Choreographed Light Show Tree is a beautiful and unique addition to your outside Christmas decorations. The tree, which can be controlled via the included remote control, dazzles spectators with 300 choreographed light shows. Whether you're hosting a caroling party or simply looking for an extra bit of festivity in your life, this tree will bring joy to all who see it!
Features:
The 300 choreographed light shows in this sparkling masterpiece dazzle passersby, carolers, and spectators.
Can be controlled via remote control
---
This is a great animated light that will amuse everyone passing by your home this Christmas season. Santa kicking his feet in the chimney is an excellent decoration for Christmas time, and all of the kids (and adults!) will love it! It's unique and original, but most importantly it's animated! This is sure to make anyone laugh with joy.
Features:
Unique and original decoration for your home
Animated decoration
Will bring laughs and joy to your neighborhood

---
Don't fall Santa!!
This hanging Santa Claus is a great decoration for your home this Christmas season! You can hang it on your porch, gutter, roof, balcony, fireplace, chimney, or window. It's flexible so you can adjust to fit your house perfectly. It's a funny and clever decoration that will make your neighbors chuckle every time they look at it.
Features:
Can be hung on the porch, gutter, roof, balcony, fireplace, chimney, or window
Flexible limbs that can be bent to adjust Santa's posture at will.
Easy to install. Simply stick adhesive on the hat and two hands to attach to your house.
Durable 3M adhesive keeps Santa hanging on even in high wind and heavy rain.
---
Santa Claus has been known to make his rounds of homes on Christmas Eve, but what if he were able to come inside your home? This is no longer a dream with the Santa in the window hologram!
The Santa in the window hologram features a continuous looped video of Santa in your house. You can see him walking into the room with a big bag of gifts, checking his list, and unloading toys. Santa then has a nice glass of milk and cookies before waving through the window and wishing all a "Merry Christmas!"
Your neighbors will for sure love this unique Christmas display! This is a one-of-a-kind decoration.
Features:
Set up is easy. Simply hang the projection screen in your window, insert the DVD into your DVD player, and plug in the projector, to enjoy!
The video is continuously looping for unlimited run time.
Note, that this hologram requires a few supplies, including:

---
This massive inflatable Santa Claus, standing at 12 feet tall, is the perfect decoration to bring your outdoor Christmas decor to the next level. This giant Santa comes with an extension cord, ground stakes that prevent wind damage, and ropes to hold it in place during high winds. You can enjoy it day or night, as it comes with white LED lights.
Features:
12 feet tall
Bright white LED lights to shine at night
Comes with everything you need: a built-in fan, an extension cord, ground stakes, ropes, and built-in sandbag holders
Want a creative way to decorate those columns in the front of your house? This is just for you! This candy cane column wrap instantly makes your house look merry and bright.
Features:
The wrap can be reused year after year.
Simply roll it up and place in a small box to use again next year.
The festive and bright colors make everyone happy.
If candy canes are not your style, these fun wraps also come in other options.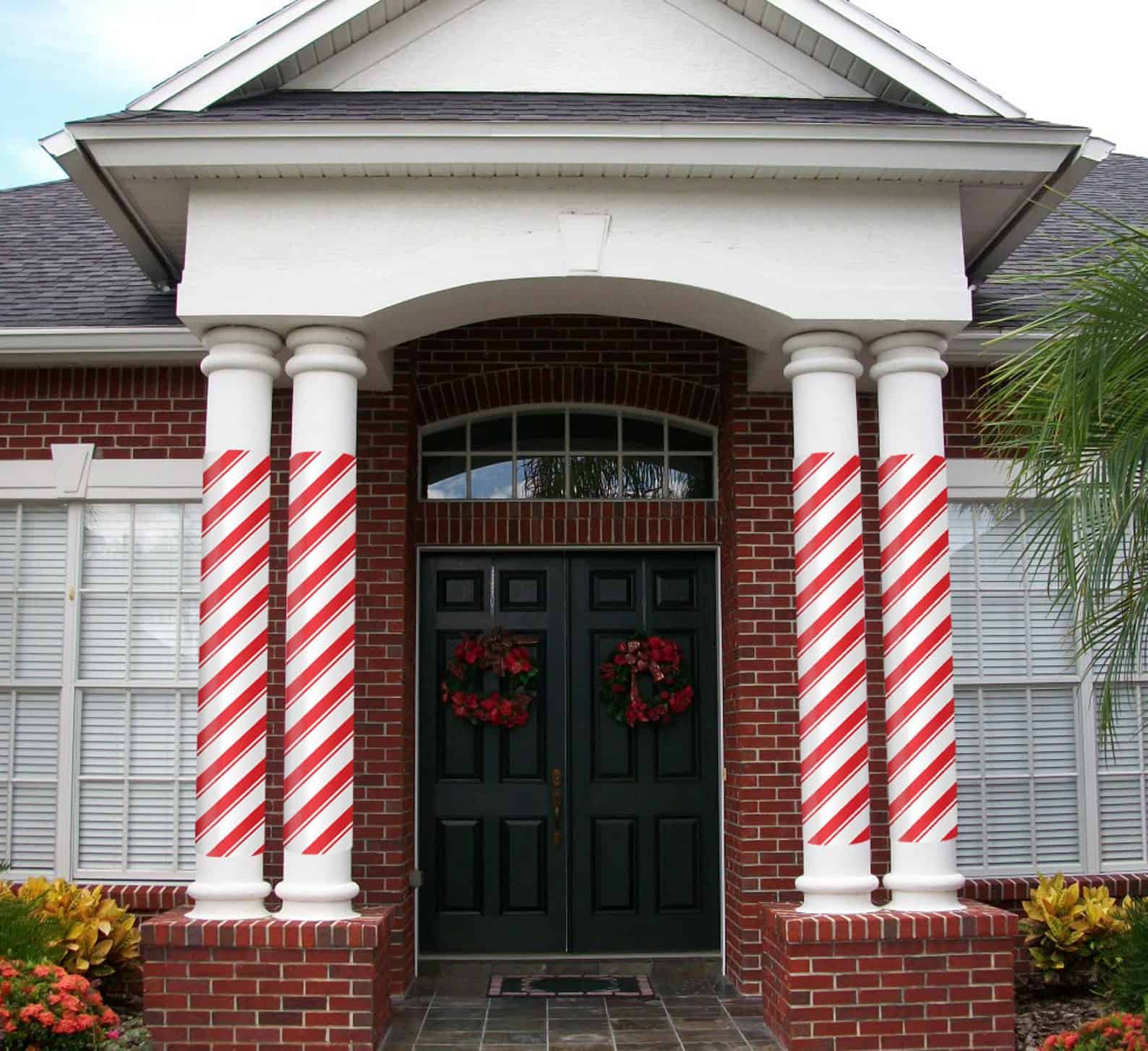 ---
If you're looking for a unique outdoor Christmas decoration that will be the envy of your neighborhood, we hope this list provided just what you need! With these decorations, there's no such thing as too much Christmas cheer around this time of year!
These amazing and unique outdoor Christmas decorations will instantly transform your outside space into a jolly Christmas wonderland that everyone will love.
Related Content: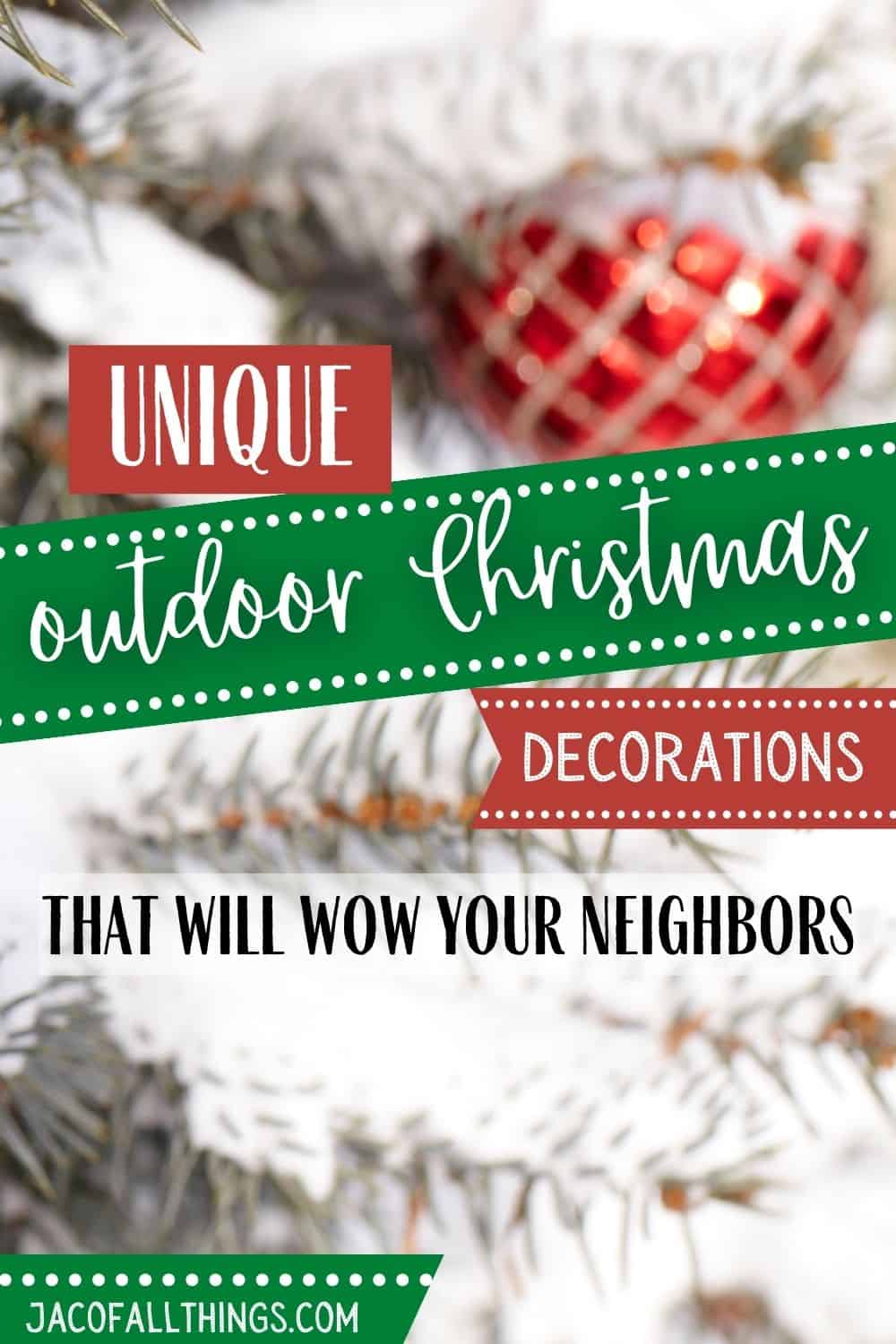 Receive Weekly Life Hacks
Subscribe to receive exclusive life hacks and practical information sent directly to your inbox! By using this form you agree with this site's privacy policy.