The Christmas season offers so many opportunities to spend time with family and enjoy the little things in life. Here is a complete list of 60 different things to complete this Christmas season.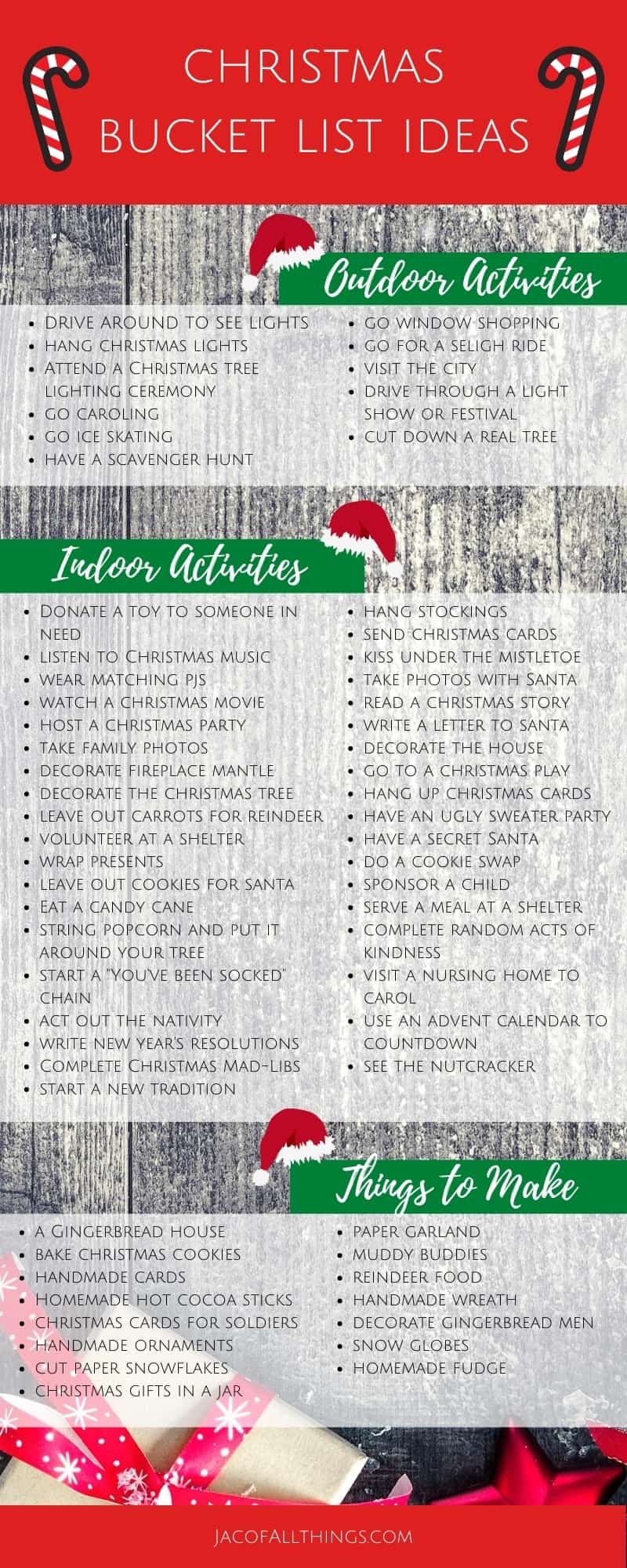 60 Things to Do Around Christmas Time
Drive around to find the best-decorated houses.
Hang Christmas lights.
Donate a toy to someone in need.
Listen to Christmas music.
Make a Gingerbread House.
Wear matching Christmas pajamas. (Check out our favorite matching pajamas!)
Watch a Christmas movie.
Host a Christmas party.
Take family photos.
Bake Christmas cookies.
Decorate your fireplace mantle.
Hang stockings.
Send Christmas cards.
Kiss under the mistletoe.
Take pictures with Santa.
Read a Christmas story.
Write a letter to Santa.
Drink hot cocoa. (Learn how to make your own hot cocoa sticks!)
Make your own Christmas ornaments.
Decorate the house.
Decorate a Christmas tree.
Attend a Christmas tree lighting ceremony.
Go caroling.
Go to a Christmas play or show.
Hang the Christmas cards you've received.
Volunteer at a local shelter.
Cut paper snowflakes.
Make garland from construction paper.
Have an ugly sweater party.
Make Muddy Buddies.
Make food for reindeer.
Wrap presents. (Don't forget to download this free Christmas gift tracker!)
Leave out cookies for Santa.
Leave out carrots for the reindeer.
Make a Christmas gift in a jar! (Check out some of our favorite Christmas gift in a jar ideas!)
Have a Secret Santa with friends. (Make it a white elephant gift exchange and check out our favorite gift ideas!)
Do a cookie swap.
Go ice skating. (Or one of our other favorite winter bucket list ideas!)
Go window shopping.
Sponsor a child.
Go for a sleigh ride.
Do a silly Christmas mad-libs (Check out this hysterical free printable Christmas mad-libs)
Serve a meal at a local homeless shelter.
Write out New Year's Resolutions. (This is our go-to printable for our resolutions and goals!)
Complete a random act of kindness. (Check out our favorite acts of kindness for kids!)
Act out the nativity.
String popcorn and put it around your tree.
Make a homemade wreath.
Cut down a real Christmas tree. (Christmas tree 101! Everything you need to know about cutting down a Christmas tree!)
Decorate Gingerbread men.
Make snow globes.
Visit a nursing home and sing carols.
Send Christmas cards to soldiers.
Start a "You've been socked!!" chain.
Make an advent calendar and count down the days.
Go see The Nutcracker.
Have a Christmas scavenger hunt.
Start a new tradition. (We love traditions in our family; check out some of our favorite Christmas traditions)
Make homemade fudge.
Drive through a light show or light festival.
Related: The Most Fun Winter Bucket List!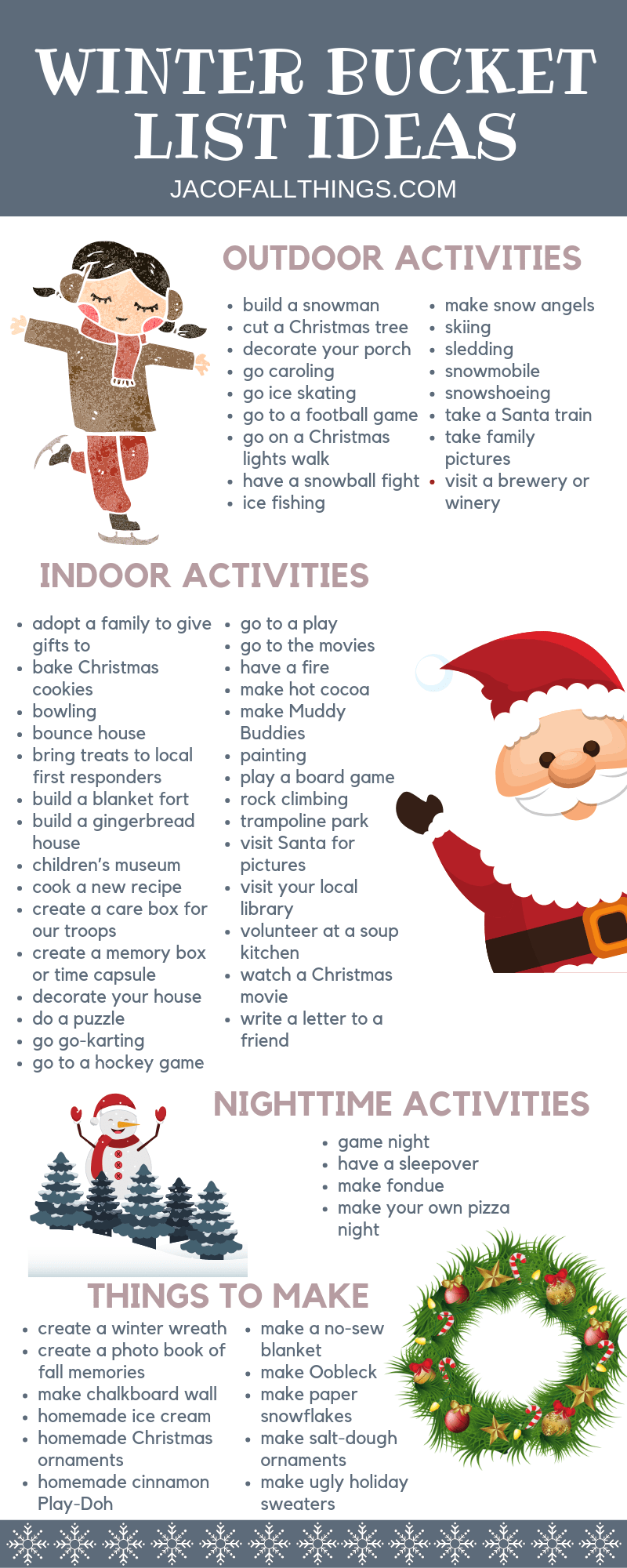 Receive Weekly Life Hacks
Subscribe to receive exclusive life hacks and practical information sent directly to your inbox! By using this form you agree with this site's privacy policy.