I was chatting with some friends the other day and one made a comment along the lines of "I'm so bummed winter is almost here and we lose all of our activities. Here comes the season of TV!" Don't get be wrong, I don't have an issue with TV (and we watch more in winter months than summer months) but I don't want to rely on it as my activity of choice for the whole winter season! There are still plenty of things to do in winter months with kids!
As I've done in the past, I created a winter bucket list for our family filled with plenty of family-fun activities to do in the winter months.
One of the reasons I love putting together a seasonal bucket list is because it encourages us to make the time for the activities we want to do, among the ever-filled weekends with parties and get-togethers. When we looked at our calendar, we realized that we had something planned almost every weekend through the end of the year.
Because I thrive off of family time, creating a bucket list (and planning it out accordingly) encourages us to take control of our calendar. (And book a few getaways and events that are important to us.)
While I love all the activities that come along with creating a bucket list, my favorite thing is that it fosters creating an intentional and purposeful schedule.
Grab a bucket list for every season! Spring Bucket List, Summer Bucket List, Fall Bucket List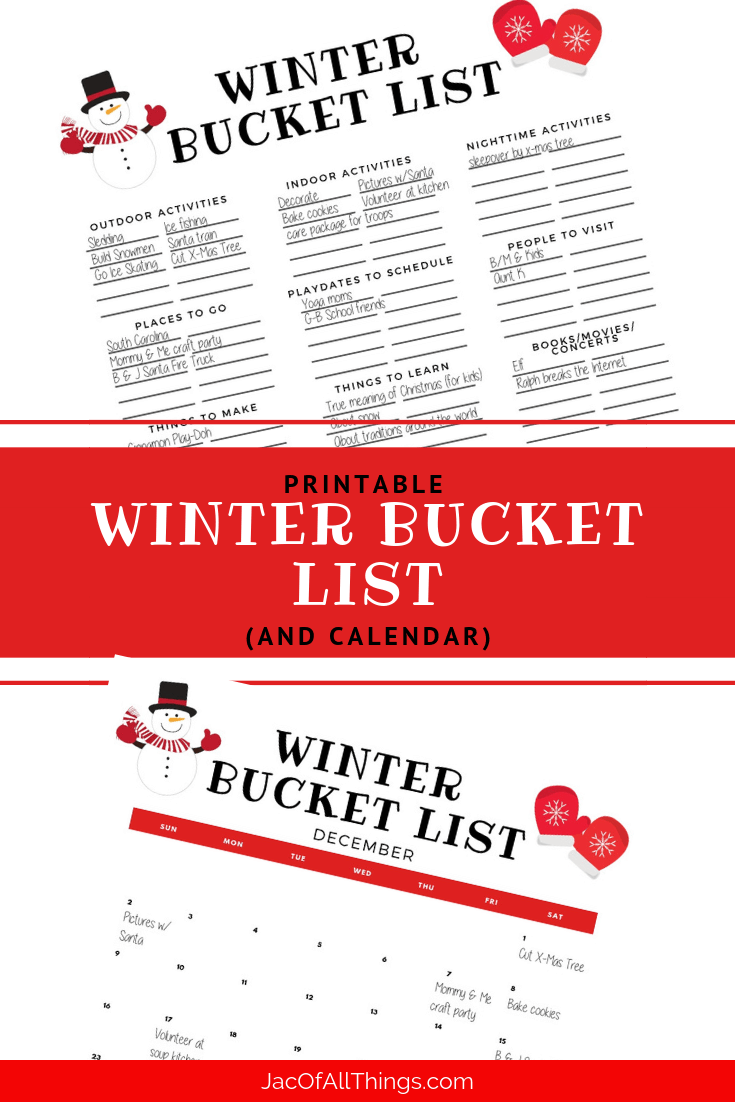 WHY DO YOU NEED A WINTER BUCKET LIST?
Do you sit around wondering how you can fill your days?
Are your weekends filled with various birthday parties and get-togethers and you never have time to fit in your own family fun?
Do you look back on prior months and wish you did certain activities that you never got a chance to do?
Do you always intend to catch up with certain friends (or schedule play dates) but never come around to doing it?
Do you have a list of books your want to read, movies you want to see, or concerts you want to attend?
Do you wonder what to do with the kids on a snowy or cold day?
Do you look back on the winter months and wonder where it went, but don't have anything to show for it?
Do you want to maximize your winter and have THE MOST FUN EVER!
If you answered yes to any of these questions, you need a winter bucket list!
A winter bucket list is a simple resource that encourages you to brainstorm all the fun activities that you want to plan. Having a winter bucket list encourages you to think about the life that you want to live and is the first step to putting it into action.
By putting together a winter bucket list, you are forced to think about all the things you want to do, people you want to see, places you want to visit, and put them out into the universe to happen.
Putting together a family winter bucket list gives everyone in the family a chance to choose adventures and contribute to your family's precious memories.
HOW DO I PUT TOGETHER A WINTER BUCKET LIST?
Typically, you put together a winter bucket list in the beginning of the winter, but there isn't any reason you can't start mid-winter All you need is paper and a pen. (Of course, I'm biased, and would suggest using my custom winter bucket list template, but you can use a simple blank paper as well.) (See the form below to access your free printable winter bucket list template.)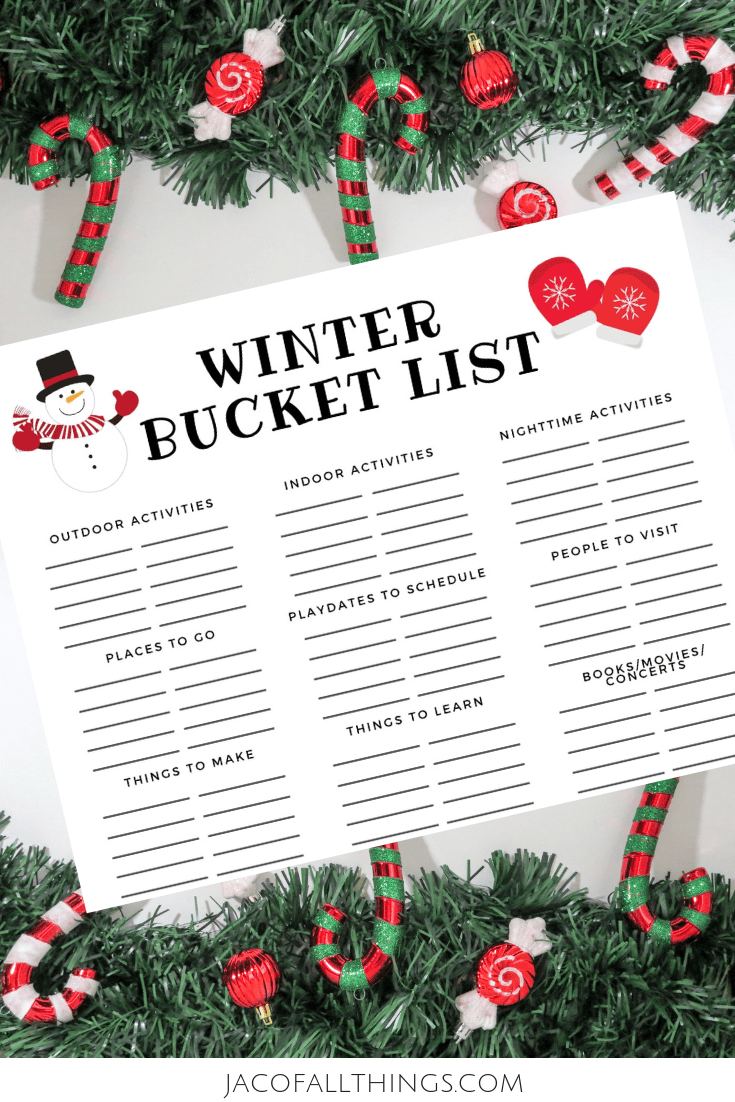 To start, brainstorming all of the fun activities and adventures you want to go on. I like to categorize my bucket lists into the following categories:
Outdoor Activities
Indoor Activities
Nighttime Activities
Places to Go
Play Dates to Schedule
People to Visit
Things to Make
Things to Learn
Books/Movies/Concerts
I like to do this together as a family. That way everyone gets a say and can contribute to planning the fun.
ACCESS YOUR FREE WINTER BUCKET LIST TEMPLATE HERE
As a gift to my subscribers, you can access your free winter bucket list printable by entering your email below or accessing the winter bucket list template in the resource library. Not a subscriber? You are welcome to join in! There is no cost to being a subscriber!
As a subscriber to Jac of All Things, you will receive emails from me with a life hack or other piece of practical advice (that is exclusive to subscribers!)
Tell us where to send your free Winter Bucket List Template
PUTTING YOUR WINTER BUCKET LIST INTO ACTION
Once you have selected the activities to include on your winter bucket list, you have to put it into action. Writing it all down is a good first step but planning it out is even better. Grab a calendar (or use my free winter bucket list printable calendar) to start scheduling out when you want to do the various activities on your list.
I prefer to schedule out the big activities in advance but leave some room for spontaneity. (You can't predict the weather so it would be hard to schedule out all the outdoor and indoor activities in advance without knowing the weather.)
Here is a sample of our family's winter bucket list calendar: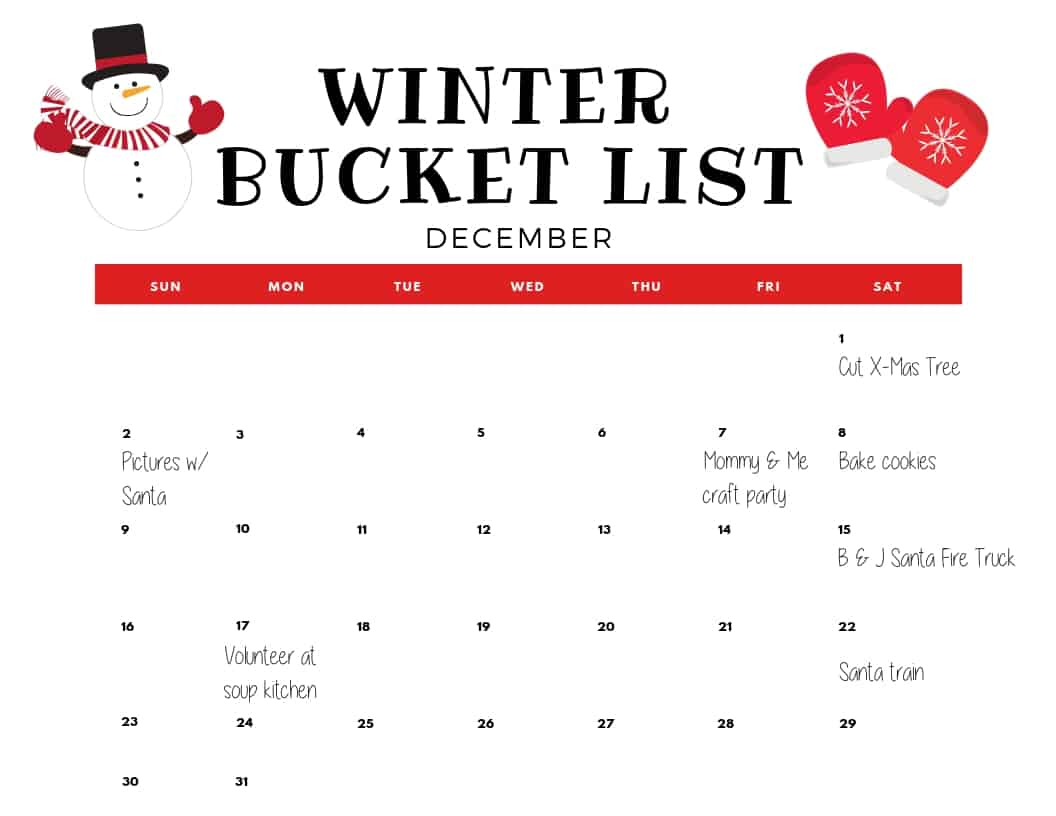 WHAT TO PUT ON YOUR FAMILY WINTER BUCKET LIST?
Every list is going to be different, but here are some ideas that we have on our bucket list.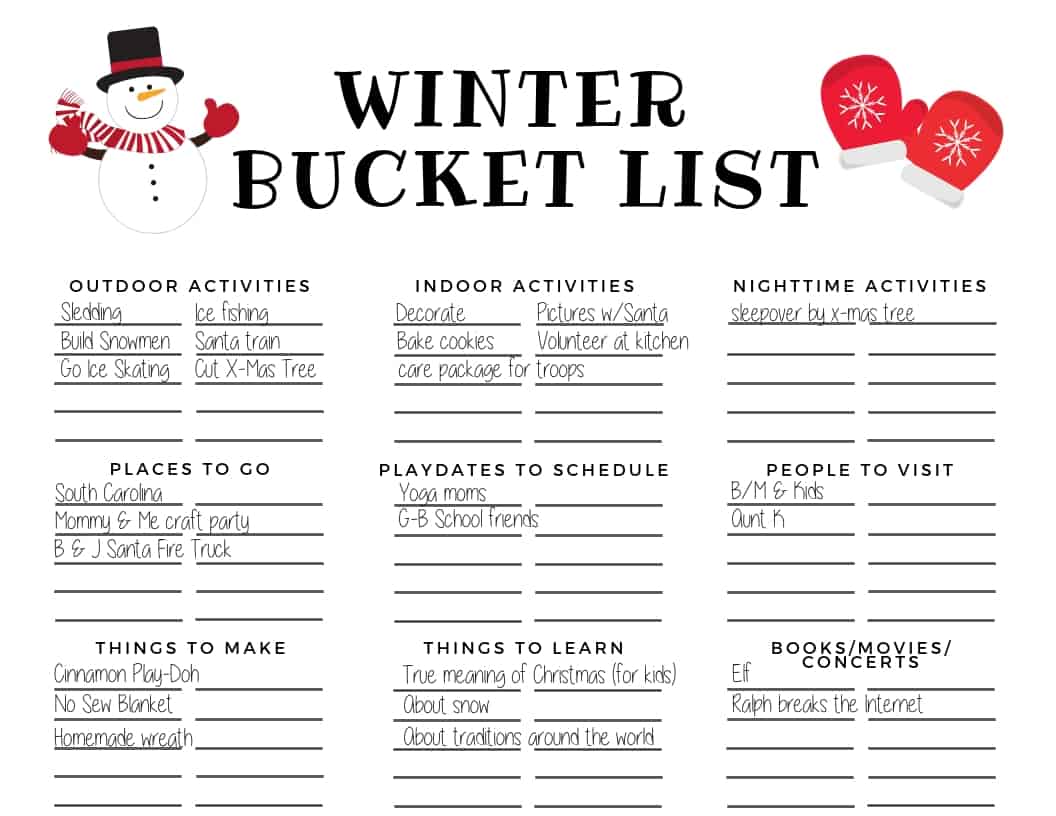 OUTDOOR WINTER ACTIVITIES
build a snowman
cut a Christmas tree
decorate your porch
go caroling
go ice skating
go to a football game
go on a Christmas lights walk
have a snowball fight
ice fishing
make snow angels
skiing
sledding
snowmobile
snowshoeing
take a Santa train
take family pictures
visit a brewery
INDOOR WINTER ACTIVITIES
adopt a family to give gifts to
bake Christmas cookies
bowling
bounce house
bring treats to local first responders
build a blanket fort
build a gingerbread house
children's museum
cook a new recipe
create a care box for our troops
create a memory box or time capsule
decorate your house
do a puzzle
go go-karting
go to a hockey game
go to a play
go to the movies
have a fire
make hot cocoa (or DIY hot chocolate sticks)
make Muddy Buddies
painting
play a board game
rock climbing
trampoline park
visit Santa for pictures
visit your local library
volunteer at a soup kitchen
watch a Christmas movie
write a letter to a friend
NIGHTTIME WINTER ACTIVITIES
game night
have a sleepover
make fondue
make your own pizza night
THINGS TO MAKE IN THE WINTER
create a winter wreath
create a photo book of fall memories
make chalkboard wall (directions here!)
homemade Christmas ornaments
homemade cinnamon Play-Doh
no-sew blanket
Oobleck
paper snowflakes
salt-dough ornaments
ugly holiday sweaters
OTHER IDEAS FOR YOUR WINTER BUCKET LIST
Books to read
Concerts you want to attend
Movies you want to watch
People to visit
Places to go
Play Dates to schedule
Things you want to learn about
Related Posts:
DON'T FORGET YOUR FREE WINTER BUCKET LIST TEMPLATE
Simply, enter your email address below to join as a subscriber and instantly receive your free template.
Tell us where to send your free Winter Bucket List Template
WANT TO SEE OUR WINTER BUCKET LIST IN ACTION?
Be sure to follow Jac of All Things on Instagram if you want to get an inside look into our family's adventures.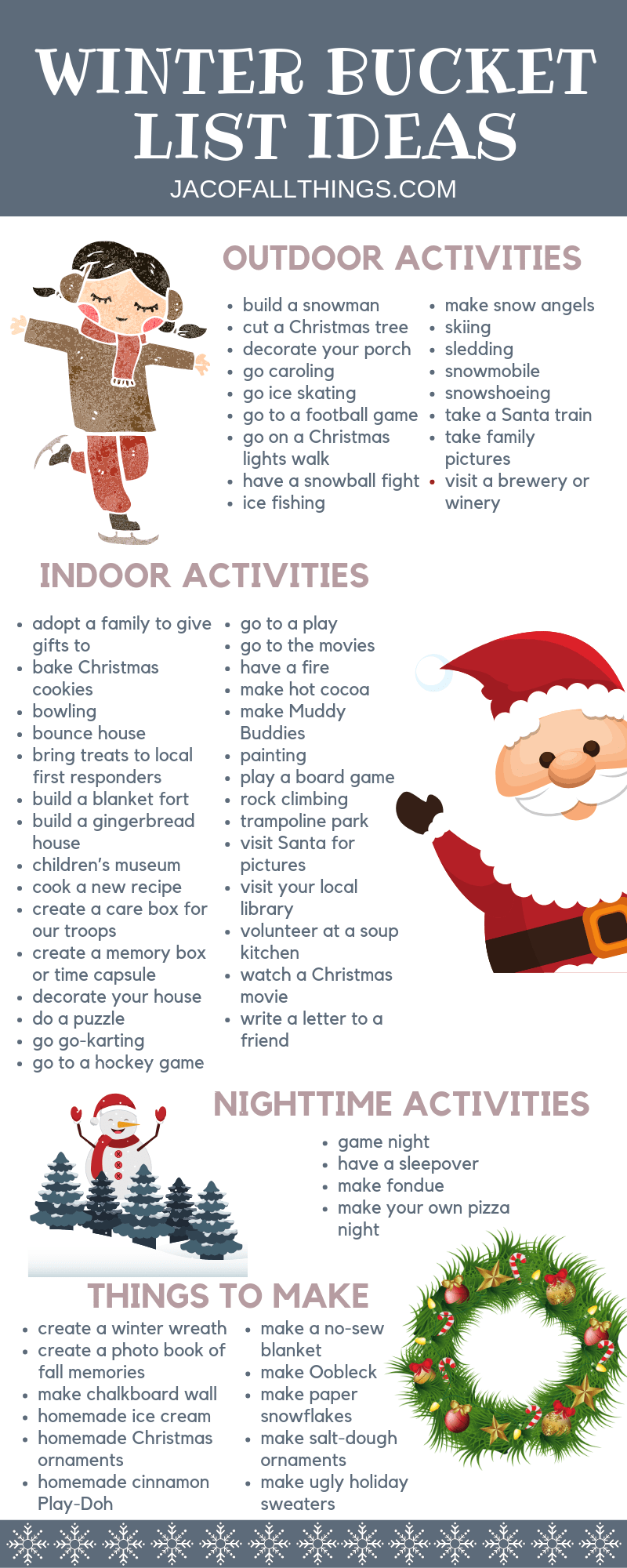 Receive Weekly Life Hacks
Subscribe to receive exclusive life hacks and practical information sent directly to your inbox! By using this form you agree with this site's privacy policy.