Are you looking for ways to improve your baking skills? Here are 22 baking hacks that will take your baking skills to the next level. These tips and tricks will simplify your life in the kitchen, and make you look like a pro!
22 Baking Hacks You Wish You Knew Sooner
If you do not have a piping bag, you can use a ziplock bag and cut off the corner.
Before cutting your dough, dip cookie cutters into flour to prevent sticking.
Use dental floss to cut things easily. This is ideal for cinnamon rolls, cakes, and other soft doughs.
Use an ice cream scoop to scoop cookie dough or cake batter for equal amounts/sizes.
If you're looking for the most even frosting, use an offset spatula and warm it up by dipping it in hot water and then drying it off as quickly as possible.
Store baked goods in the microwave to last longer.
Mix any store-bought frosting with a hand mixer to make it fluffier and double the amount.
Add a splash of vanilla to any store-bought frosting for a more homemade taste.
Use cookie cutters as stencils for piping designs or adding sprinkles.
Fill a piping bag easier by folding it over a cup and filling the cup.
Keep brown sugar soft by adding a few marshmallows to the container.
Use cookie cutters for pie crust to make a decorative top crust.
If you're out of powdered sugar, you can blend granulated sugar at high speed and it will turn it into powdered sugar.
Heat your knife by running it under hot water for a few seconds, drying off the water, and then use it to cut perfect slices of cake or brownies.
Make homemade marshmallow fondant rather than buying regular fondant. It is super easy, cheaper, and tastes much better.
Line baking sheets and pans with parchment paper for easier release and clean-up.
If you need softened butter but do not have the time to wait, try boiling water into a cup and then pour the water out. Use the cup to cover the stick of butter and it should soften in a few minutes.
For recipes that call for beer; did you know that you can substitute with a can of Sprite instead?
Run out of an ingredient in the middle of baking? Check out these substitutions.
Wet your finger to remove an eggshell. It will stick to your finger.
Coat chocolate chips and fruits with flour before putting them into a batter to ensure that they don't sink to the bottom.
Sift all dry ingredients. It makes a fluffier and lighter batter.
We hope to have taken your cooking game up a notch by sharing these simple yet effective tips and tricks for becoming an expert baker! Let us know which hack you found most helpful or if any other ones should be added to the list by leaving a comment below.
---
Read more life hacks and practical advice: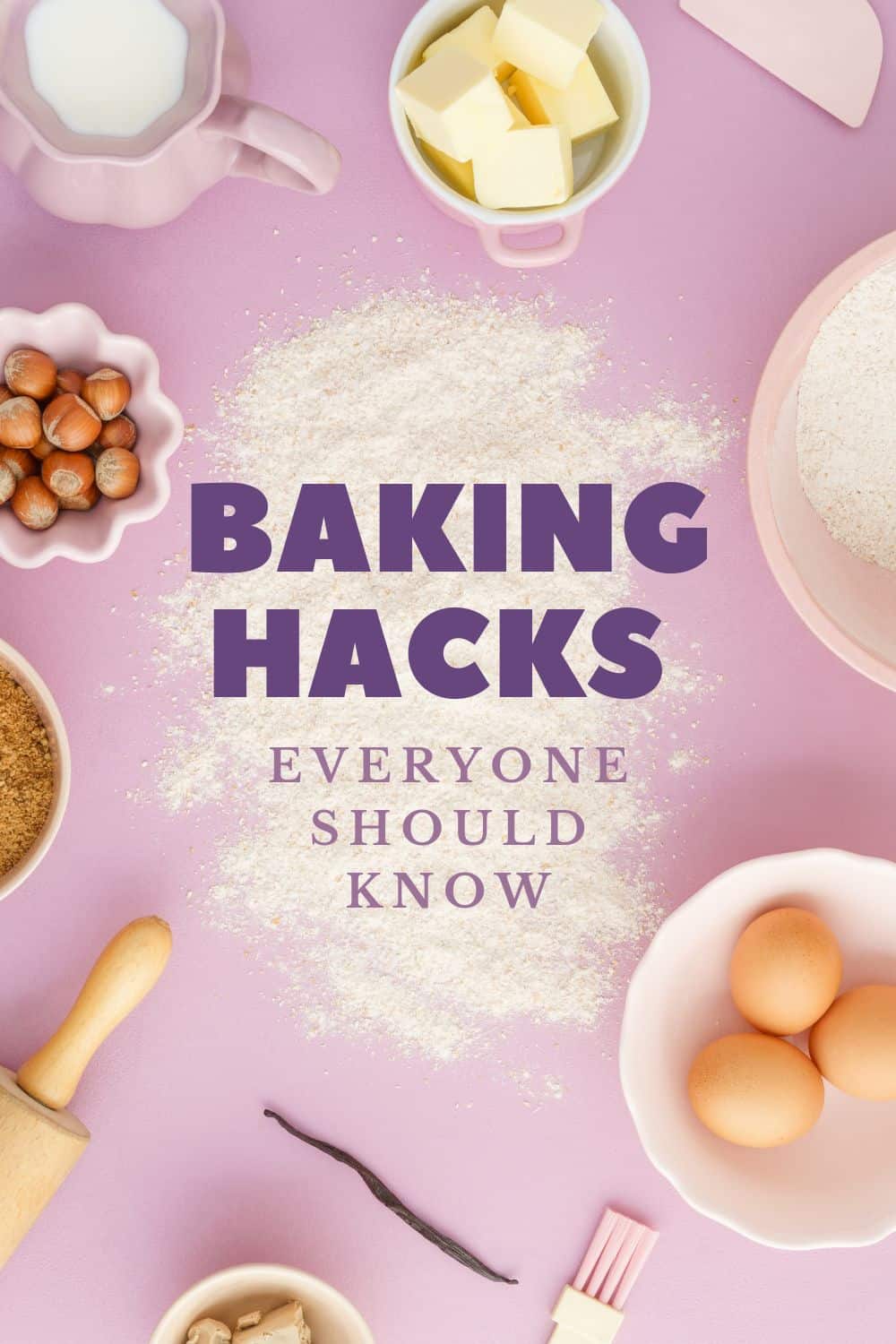 Receive Weekly Life Hacks
Subscribe to receive exclusive life hacks and practical information sent directly to your inbox! By using this form you agree with this site's privacy policy.