Unless you are one of the lucky few who works with your husband or gets to spend all day every day together, you likely spend hours apart many days of the week. While you are apart, what better way to show your love than sending love messages to him.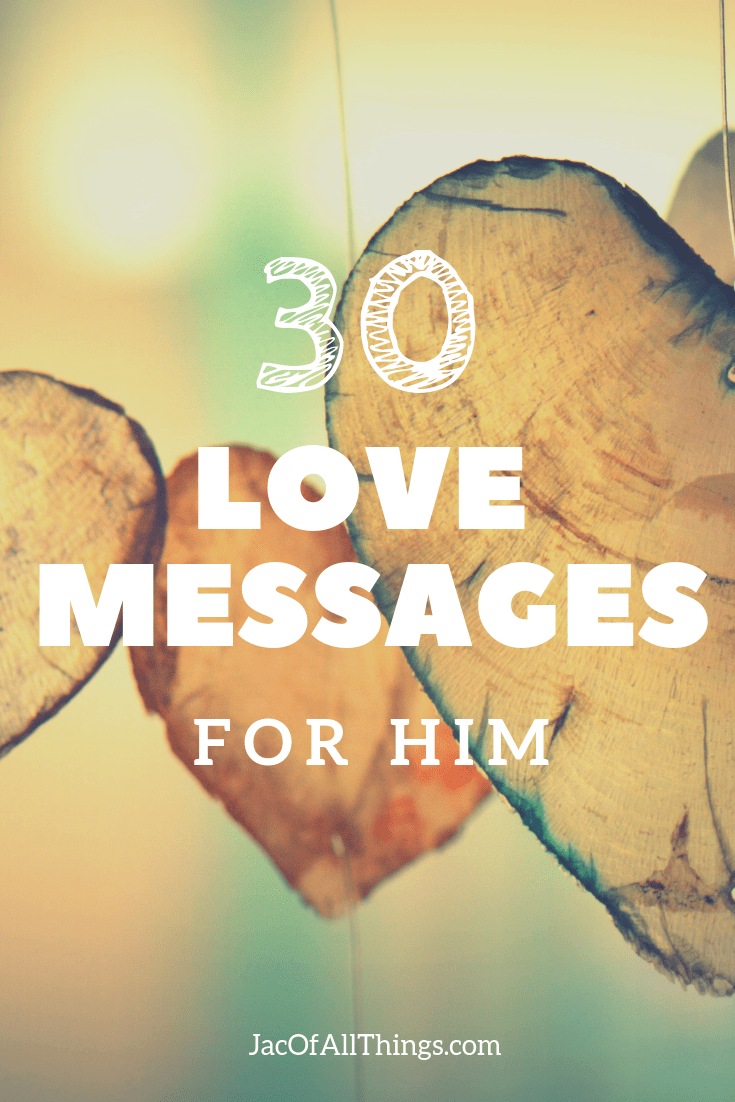 Disclosure: I may earn money or products from any of the companies mentioned in this post. Purchasing through an affiliate link comes at no extra cost to you. As an Amazon Associate I earn from qualifying purchases.
I know my husband loves getting these romantic love messages from me throughout the day and they are the perfect reminder that I'm thinking of him. One of his love languages is words of affirmation so sending little love messages throughout the day really makes him smile. (Check out
The 5 Love Languages
if you don't know what I'm talking about – it's an awesome book!)
Depending on the day, and how prepared I am, I send love messages to him in a couple of different ways. If I am looking for a quick and easy way, I send a sweet text message to him. For days when I may have more time (or be more prepared) I like to slip little love messages in his lunchbox, his pockets, or in his car. It's always a nice surprise and shows I really do care.
You can find the cutest love notes on Amazon for cheap! These are some of my favorites.
You can also purchase these cheap mirror markers to write a love message for him on your bathroom mirror to wake up to.
Whatever method you choose to send love messages to him, it's something he is going to love getting and will remind him how lucky he is to have you in his life.
Because it's easy to go out of control with the messages I try to stick with one love message a day to send. You can always show your love other ways too! (Check out my post on
23 Ways to Show Him Love
for more ideas!)
Below you will find my favorite 30 romantic love messages for him.
30 Romantic Love Messages for Him
I'm the luckiest woman in the world to have you as my husband.
You are my favorite adventure.
If we had nothing else in the world but each other, we'd still have it all.
I love you more and more with each passing day.
Little did we know of the magical life we'd live… (And share a picture of your first date or early memory in your relationship.)
I can't wait to snuggle up with you later.
Did I tell you today that I love you?
You + Me = everything I could hope for
I'm still waiting to wake up from this dream. It's hard to believe that being your wife is actually real life. I feel like the luckiest woman in the world.
Remember our wedding day? I thought that would be the happiest day of my life, but every day just keeps getting better and better. (And share a picture of your wedding day.)
You are my best friend. My love. My family.
Tonight is all about you. How can I make you feel special?
I am so proud of you.
Do you know that your are the most handsome guy in the world?
You: Knock knock.
Him: who's there?
You: Honeydew
Him: Honeydew who?
You: Honeydew you know how lucky I am to be your wife?
I'm listening to and just thinking about you.
You: When you see me later will you pinch me?
Him: Why?
You: I want to see if being married to you is all one wonderful dream.
Do you know you still give me butterflies when I see you?
Tonight I'll give you a massage. You just rest and let me take care of you.
Is there anything that I can do to help you today? You do so much for me and I want to take care of you.
Tell me about your dream date. I want to make it a reality.
Did I tell you how hot you looked today?
I am so lucky that you chose me.
I've been smiling all day thinking of you. Do you know how happy you make me?
When I was a kid, I dreamed about marrying Prince Charming. Little did I know I'd luck out even more and marry a King.
P.S. I love you
I can't remember life without you. Without us. You have filled my heart with endless love.
Remember when we went to I'm sitting here daydreaming about being back there with you. (And share a picture of date or destination.)
Today I was trying to tell a story about you, but I kept getting distracted by thinking of how hot you are.
You are my everything.
Other Marriage Related Posts
75 Fun and Romantic Date Night Ideas
12 Months of Dates – Date Night Gift Idea
25 Marriage Affirmations to Say Daily
Receive Weekly Life Hacks and Practical Advice
If you want to be notified of future posts, be sure to sign up for our email notification list! You will receive a weekly email with the latest posts added to Jac of All Things, as well as a weekly "Did you know" tidbit of information or life hack to make your life easier. Simply provide your email address below. By using this form, you agree with this site's privacy policy.
Receive Weekly Life Hacks
Subscribe to receive exclusive life hacks and practical information sent directly to your inbox! By using this form you agree with this site's privacy policy.