If you find yourself in North Arizona, you have to check out the natural beauty of Horseshoe Bend. Horseshoe Bend is a meander of the Colorado River famous for its unusual shape.
With breathtaking views seen from its steep cliffs, this natural beauty is becoming a popular tourist site.
We were in Page, Arizona to visit the out-of-this-world Antelope Canyon and stopped by Horseshoe Bend while in town.
Related: Everything you need to know about visiting Antelope Canyon with kids
Visiting Horseshoe Bend was not on our original itinerary, and was a spur of the moment decision. And boy, are we happy we got to see all of its beauty!
Read more about our experience visiting Horseshoe Bend with kids and all the tips we learned to make your experience unforgettable in this ultimate guide.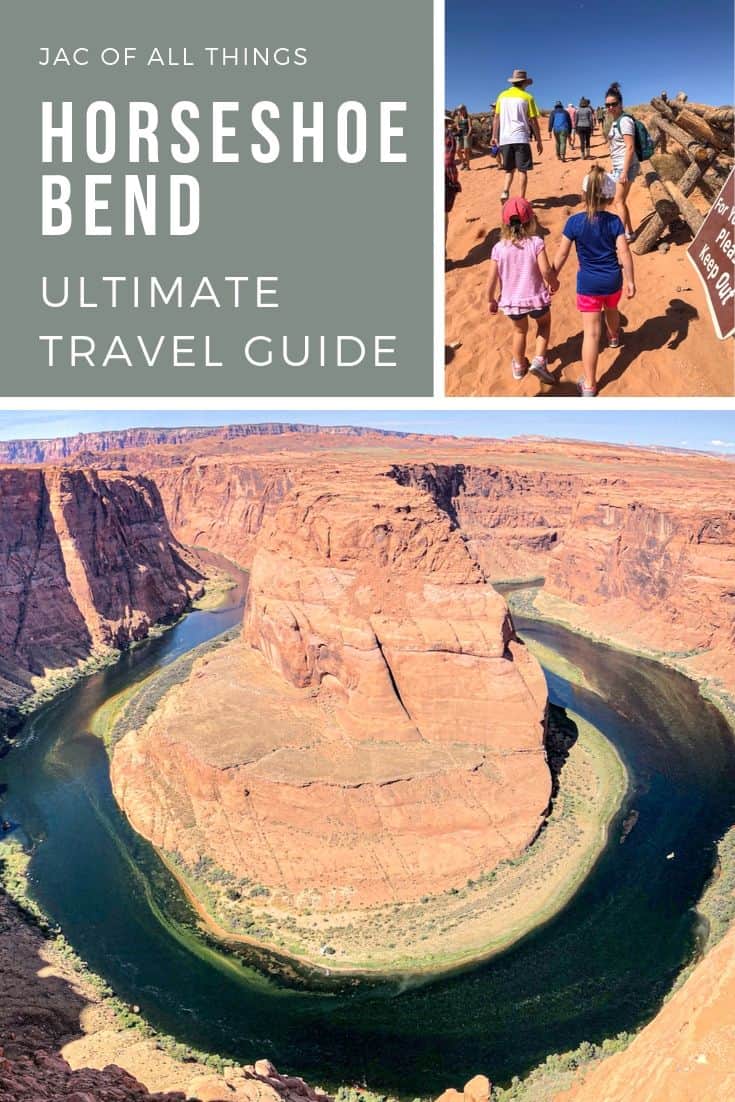 Where is Horseshoe Bend Located?
Horseshoe Bend is located 5 miles south of Page, Arizona and just a few minutes from nearby Antelope Canyon. It's the perfect stop to add to your itinerary when visiting the nearby slot canyons or Lake Powell.
How to get to Horseshoe Bend
From Page, Arizona, drive south on Highway 89. You will see the entrance on the right side of the road between mile posts 544 and 545.
Horseshoe Bend is about 2 hours from Grand Canyon National Park, about 2 hours from Flagstaff, Arizona, 2.45 hours from Sedona, Arizona, and 4.25 hours from Phoenix, Arizona.
Parking costs $10 per car. (Or $5 for motorcycles and $35 for commercial vans with a passenger capacity of 14 or less.)
In the far back corner of the lot, there are restroom facilities.
Related: The most creative ways to track your travel and adventures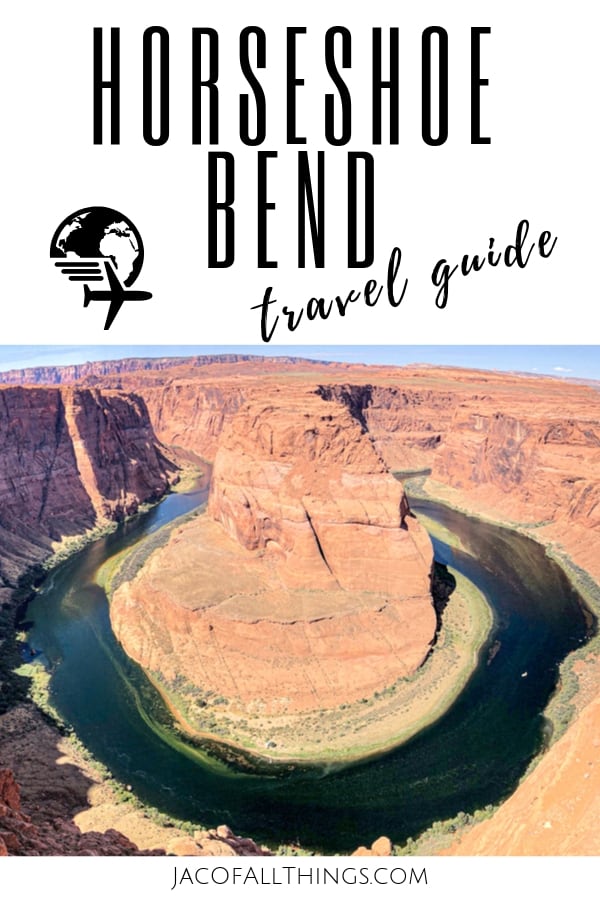 The Best Time to Visit Horseshoe Bend
Everyone seems to have their opinion as to the best time to visit Horseshoe Bend.
If you are looking for a view with the fewest shadows, visit either late morning or midday.
Horseshoe Bend will be in a shadow during both sunrise and sunset.
Related: 5 things you MUST do as soon as you check into a hotel
The Hike to Horseshoe Bend Overlook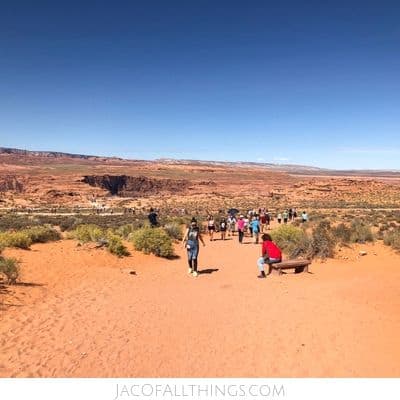 After you park, you will need to walk about 3/4 of a mile to get to the scenic overlook of Horseshoe Bend.
The hike itself goes up and down hill and is almost completely in the sand and rocks. It's not necessarily hard, but its easy to slip so you will have to take it slow.
You should wear sneakers or hiking boots.
Take it from me; do not wear brand new white Converse sneakers. They are now a lovely color of orange from the sand.
About halfway to the scenic overlook of Horseshoe Bend, there is a gazebo with some benches to get some rest and get out of the sun.
We were surprised as to how busy the short hike was. In fact, it felt busier than our visits to both Grand Canyon National Park and nearby Antelope Canyon.
However, as you get to the overlook, the crowds didn't seem to matter as much.
There is plenty of room to take in all of the views and marvel in the beauty that this Earth created thousand of years ago.
Most of the viewpoint had guardrails, so we felt safe with our kids. However, there were plenty of people sneaking around the rails to get risky pictures of them without the rails in view.
Related: The Ultimate Printable Vacation Packing List
Tips for Visiting Horseshoe Bend with Kids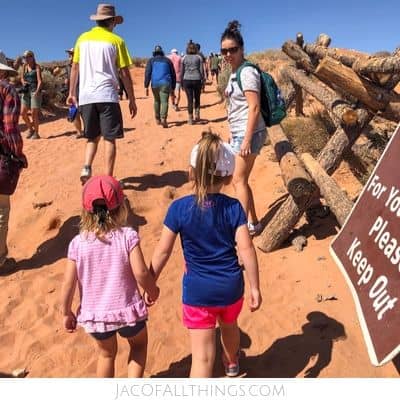 Horseshoe Bend is definitely doable with kids, but there are some things you should prepare for a smooth sailing trip.
From the parking lot, it's about a 3/4 mile hike to the scenic overlook. When visiting Horseshoe Bend with kids, you may want to bring a front or back carrier if they are unable to make the 1.5 mile walk.
The terrain is sandy and rocky, which makes strollers not possible.
Keep in mind that there is no cover, so you will be in the direct sunlight for the entire experience. Wear hats and plenty of sunscreen.
All that said, both of my girls, ages 3 and 4 walked almost the entire way. We took it slow and stopped a lot, but made our hike a fun and enjoyable experience.
If you are in the Northern Arizona area, Horseshoe Bend is a must see!
Related: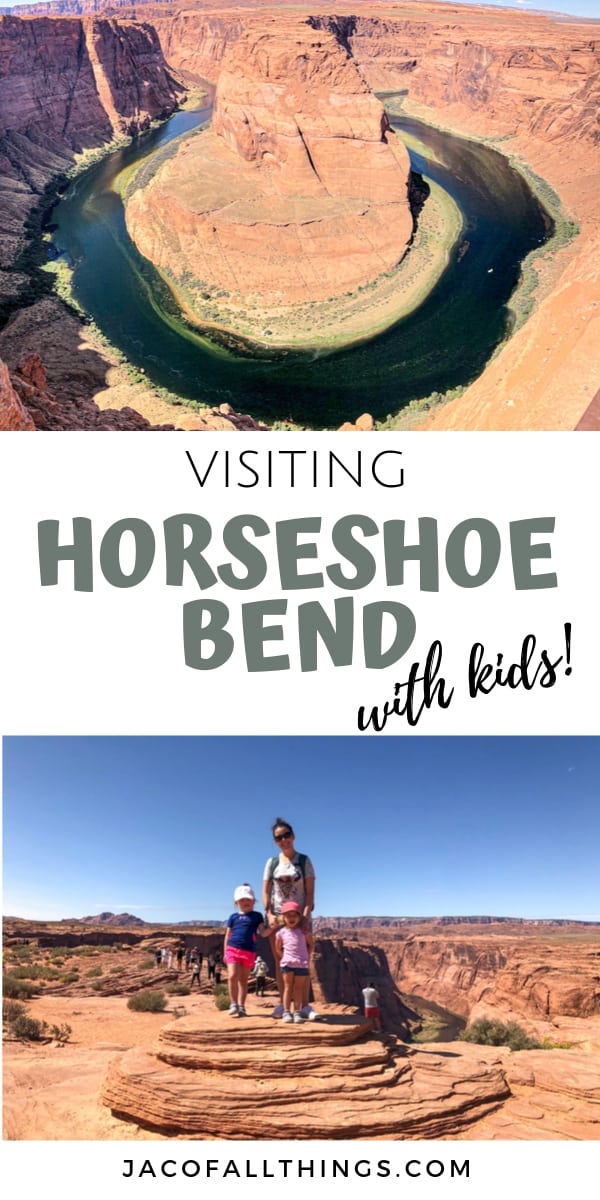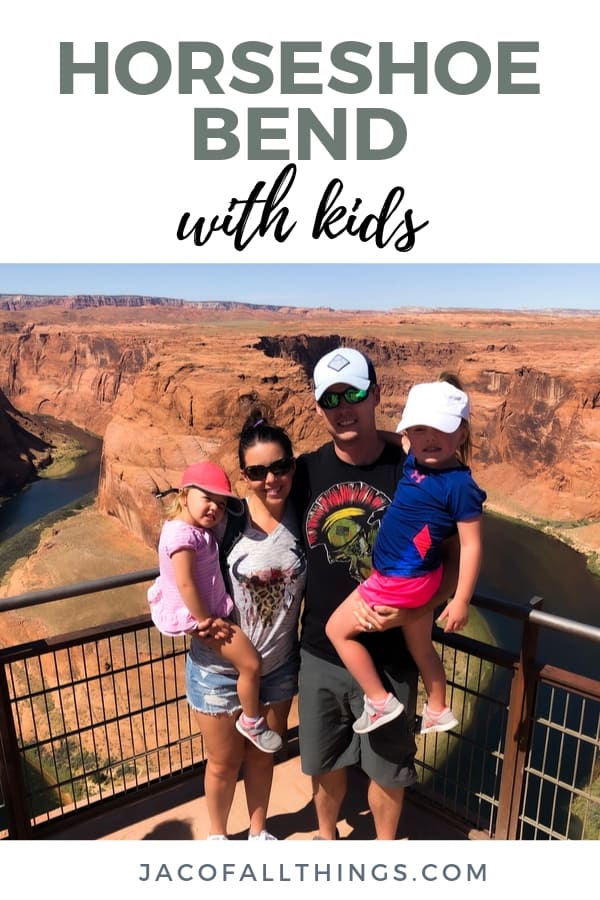 Receive Weekly Life Hacks
Subscribe to receive exclusive life hacks and practical information sent directly to your inbox! By using this form you agree with this site's privacy policy.