Have you ever found a hidden gem and wondered why in the world no one knows about it yet? That is the Azores. This magical destination needs to be on every traveler's bucket list.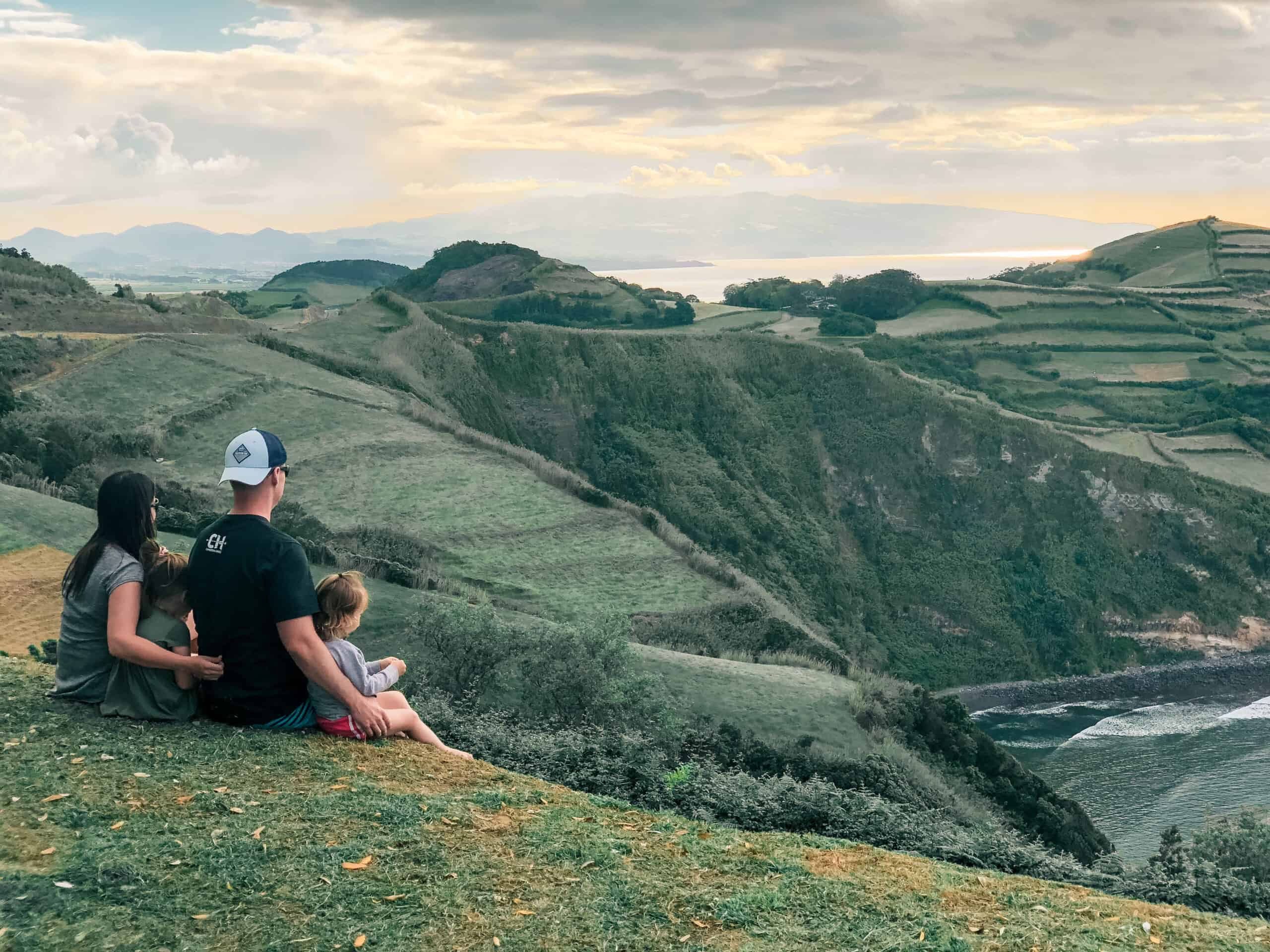 This post may include affiliate links. As an Amazon Associate I earn from qualifying purchases. Read the full disclosure here.
The Azores (aka "The Hawaii of Europe")
One day, I was casually scrolling through my emails and received an airfare deal alert from Going (Formerly Scott's Cheap Flights). My attention was immediately caught by the mention of the "Hawaii of Europe" and I quickly went down a rabbit hole of research about the Azores, an archipelago in the mid-Atlantic. How could such a place exist and I have no idea? After just a few hours, I was hooked on this place and we booked it just a few days later.
Where are the Azores?
The Azores are in the middle of the northern hemisphere of the Atlantic Ocean, about 870 miles west of Lisbon, Portugal and about 930 miles northwest of Morocco.
The Azores (officially the Autonomous Region of the Azores) is composed of 9 volcanic islands and is an autonomous region of Portugal. The nine islands that make up the Azores are: Flores, Corvo, Graciosa, Terceira, São Jorge, Pico, Faial, São Miguel, Santa Maria, and the Formigas islets.
Travel from the US to the Azores
We took a direct flight from New York (JFK) to Ponta Delgada (PDL), and got there in about 5 hours. There are nine islands that make up the Azores, but we just visited São Miguel Island.
The airport was small, the people were friendly, and it was an easy travel experience.
Every moment from when we got off the plane was just amazing.
We were able to get through customs in approximately three minutes and our rental car company was waiting for us in the airport lobby.
We rented a car through the company ANC Azores Holidays.
If you are going to visit the Azores, we'd strongly suggest getting a rental car. You can get around if you hire tours, but there are limited taxis and other forms of public transportation, so having your own car is critical.
The roads are marked well and it's pretty much impossible to get lost on the island.
Throughout the island, there are signs on the roads for mirodouros which represent viewpoints. You can take a whole day just driving in and capturing the beautiful sites.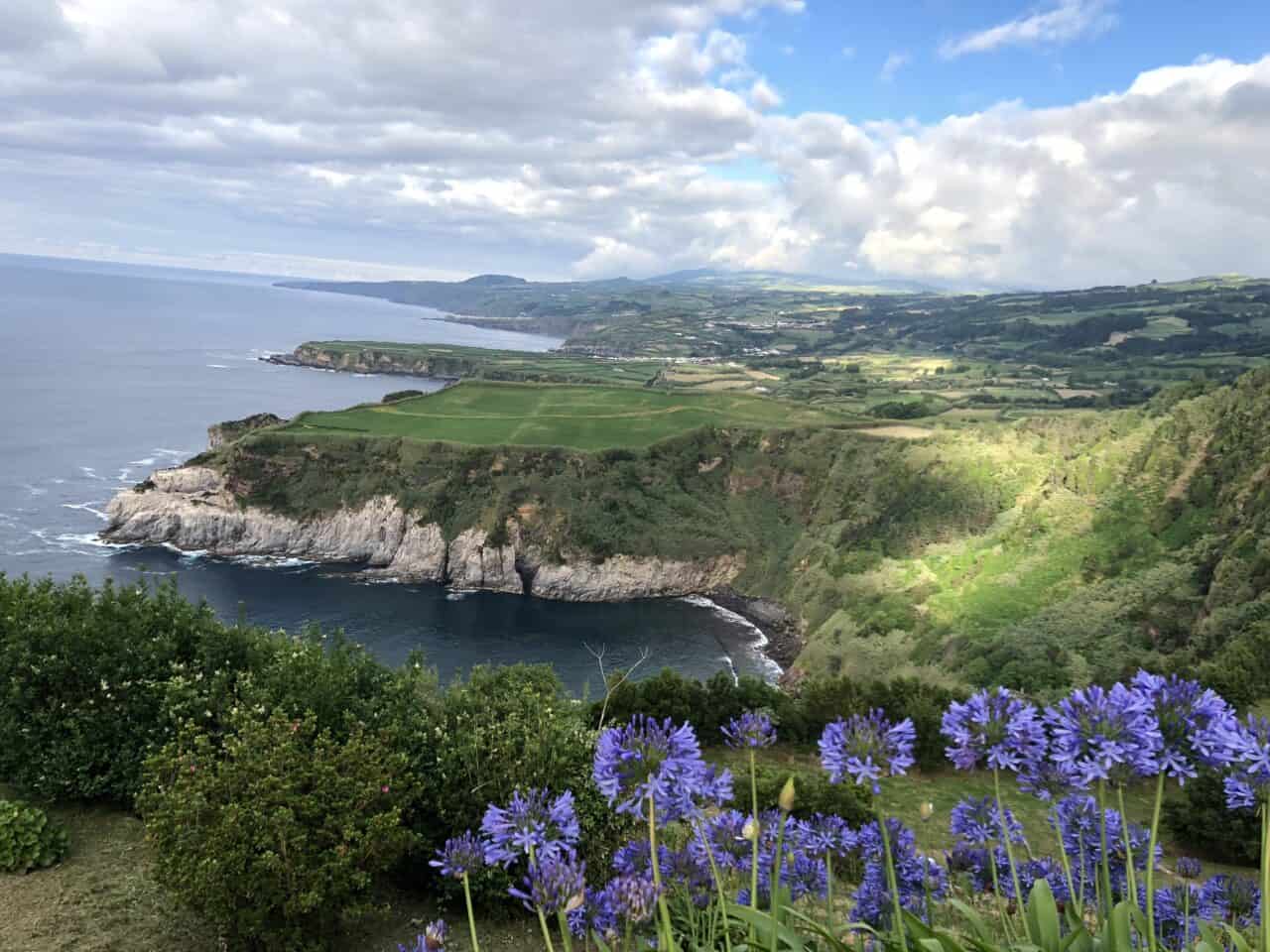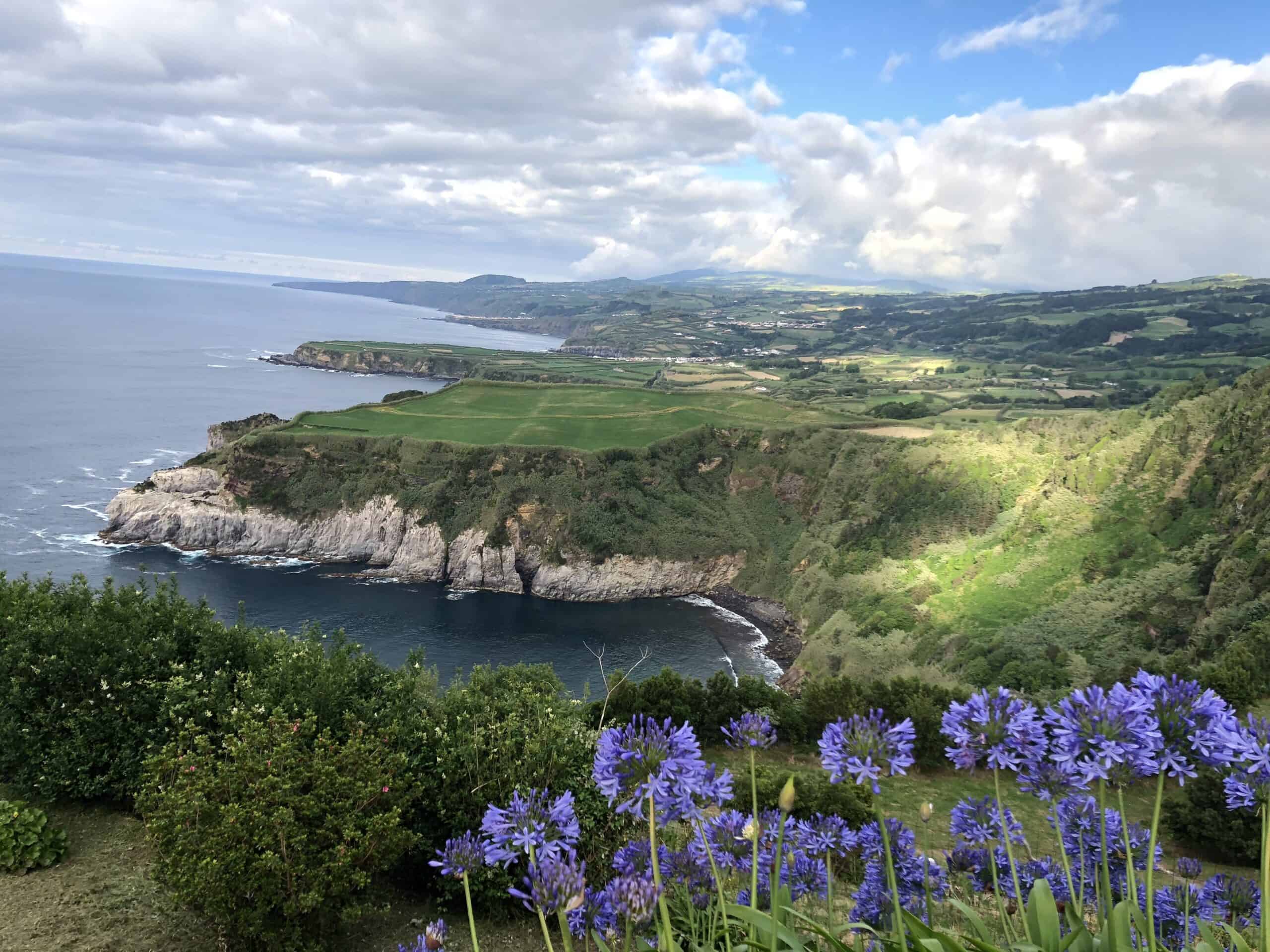 Day 1: Arrival in São Miguel
After we picked up our rental car, we headed to our Airbnb, a condo in Vila Franca Do Campo, which was just amazing.
It had three bedrooms, a huge living area and kitchen, and two balconies that overlooked an infinity pool and the ocean. They even provided cleaning service!
(Note, since visiting, it looks like the Airbnb listing was removed but you can book through other sites like booking.com or visitazores.info. Search for Marina Mar II in Vila Franca Do Campo.)
Our condo was located in the town of Vila Franca Do Campo, and was just a quick walk to the marina and other cafes and restaurants.
It was the perfect location. We were central to most sights and activities, it had a small town feel, and felt safe.
We spent the rest of the day exploring the beach and local sites around us.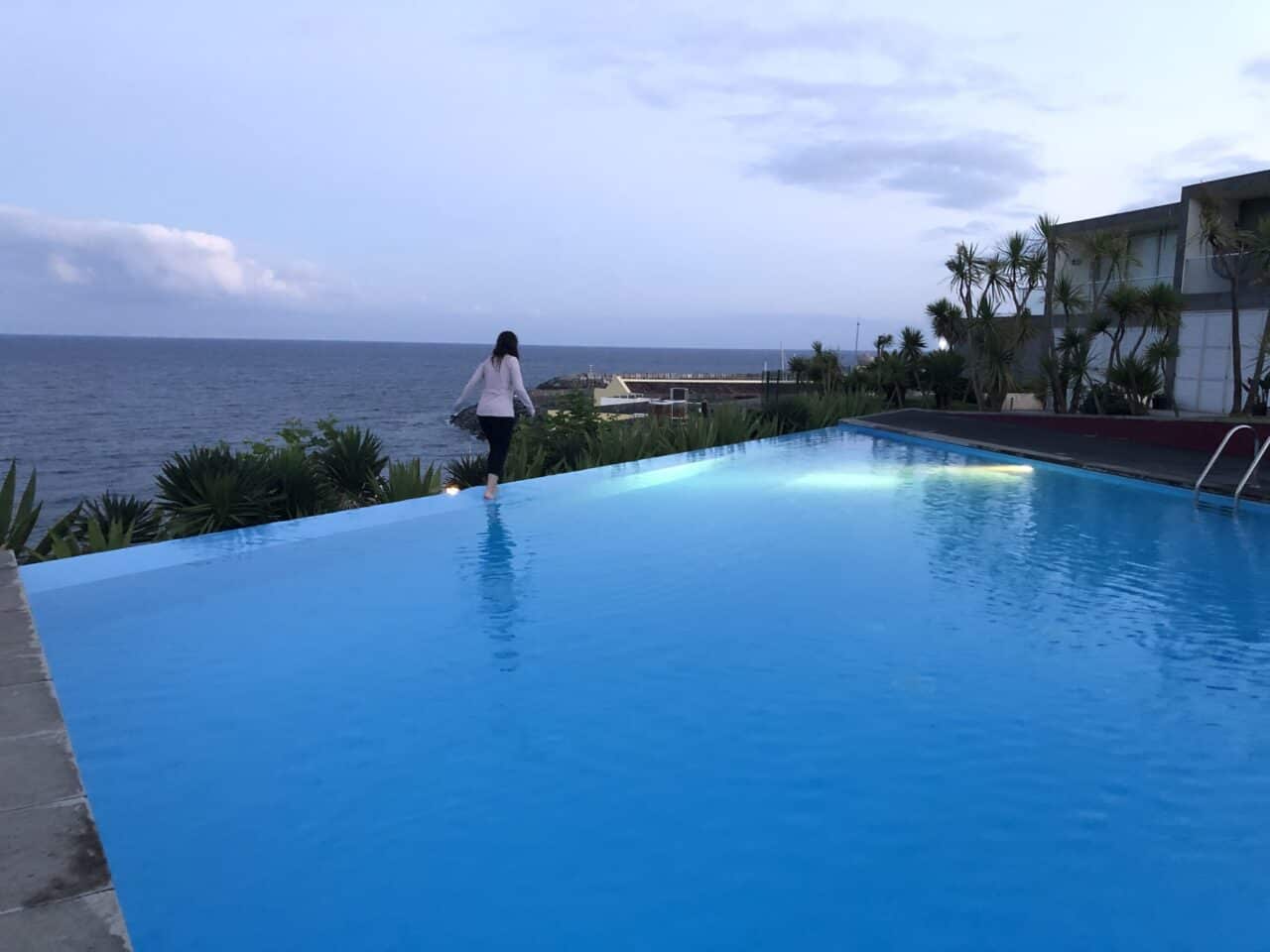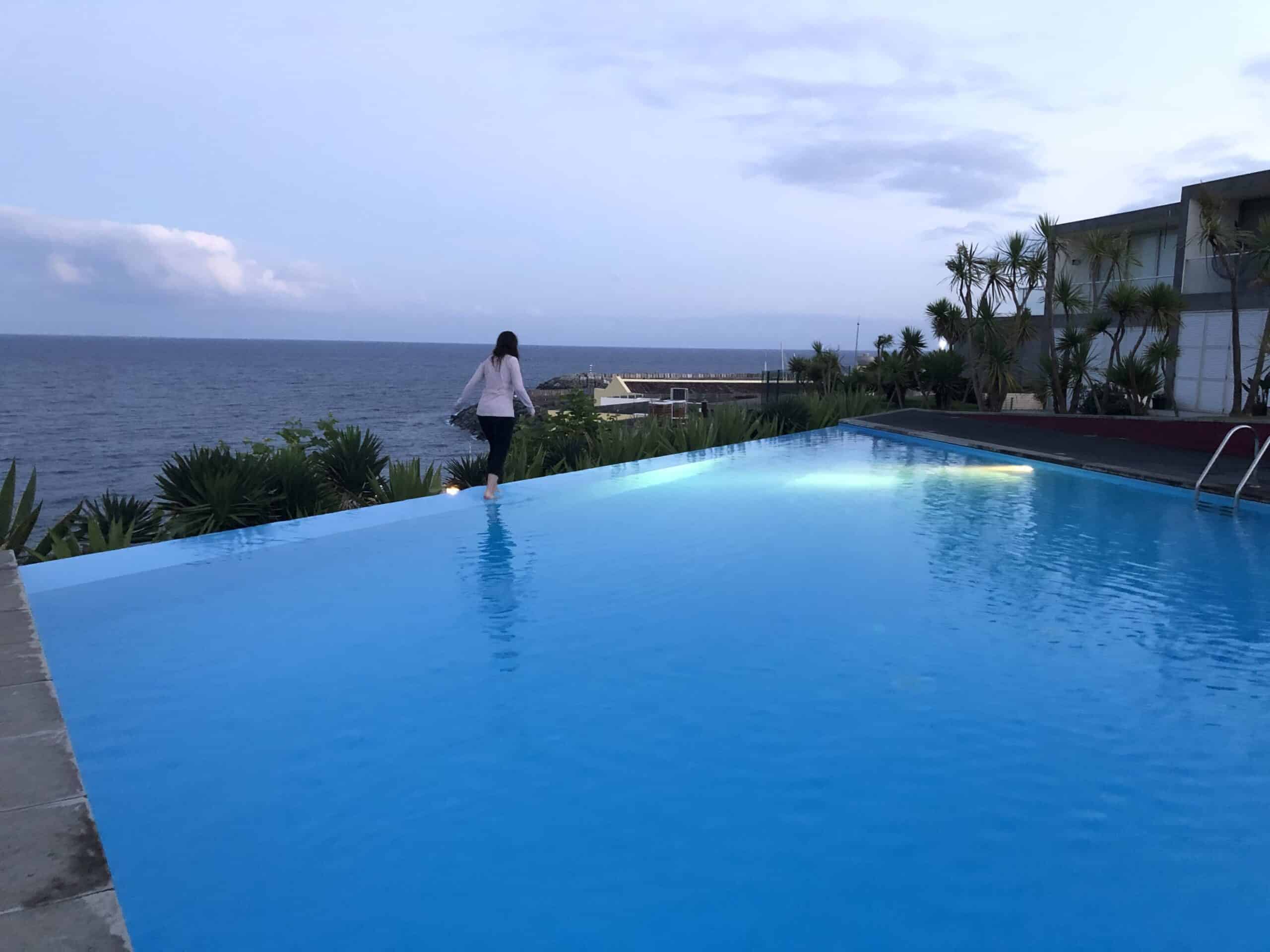 Day 2
When we woke up on the second day, one of the first things that I did was check the local web cameras to check the weather around the island. The weather in São Miguel can be unpredictable and can vary significantly from one side of the island to the other.
There are several beautiful sites on the island that you cannot see on a cloudy day, so timing your trip for the ideal weather is critical.
View web cameras here: https://www.visitazores.com/en/webcams
Unpredictable weather also means you need to be pretty flexible in your plans each day. I went into this trip with a list of all the places we wanted to go, but did not attach any days to our activities so we could pivot with the weather.
There were two sites (Lagoa do Fogo and Sete Cidades) that I knew we absolutely wanted to see, but needed a clear day. If it's a cloudy day, you cannot see anything past the clouds.
Amazingly, both looked clear on the web cameras, and we decided to start with Lagoa do Fogo, which means lake of fire.
Lagoa do Fogo
Lagoa do Fogo (translation: Lake of Fire) is a large crater lake with breathtaking views.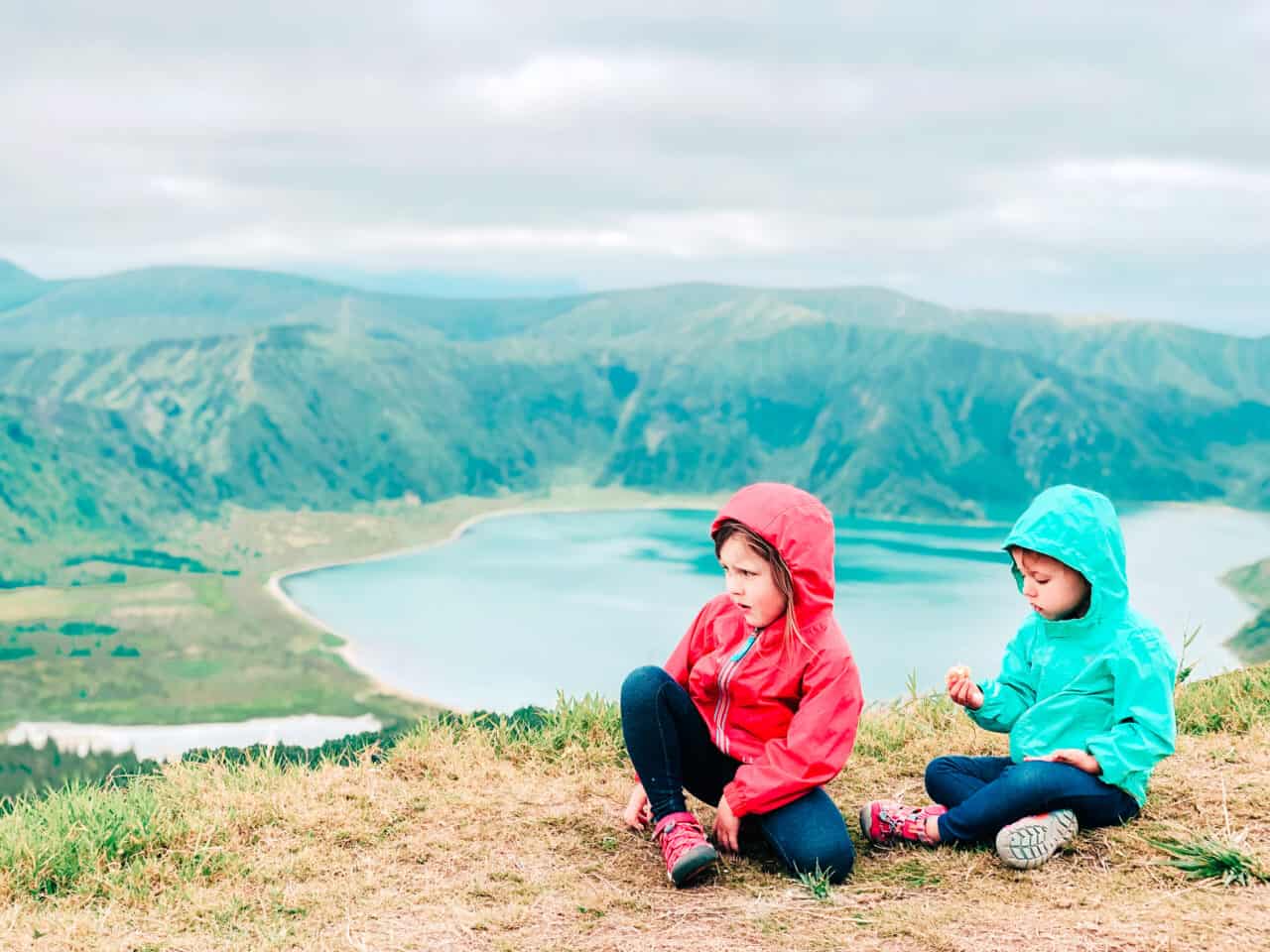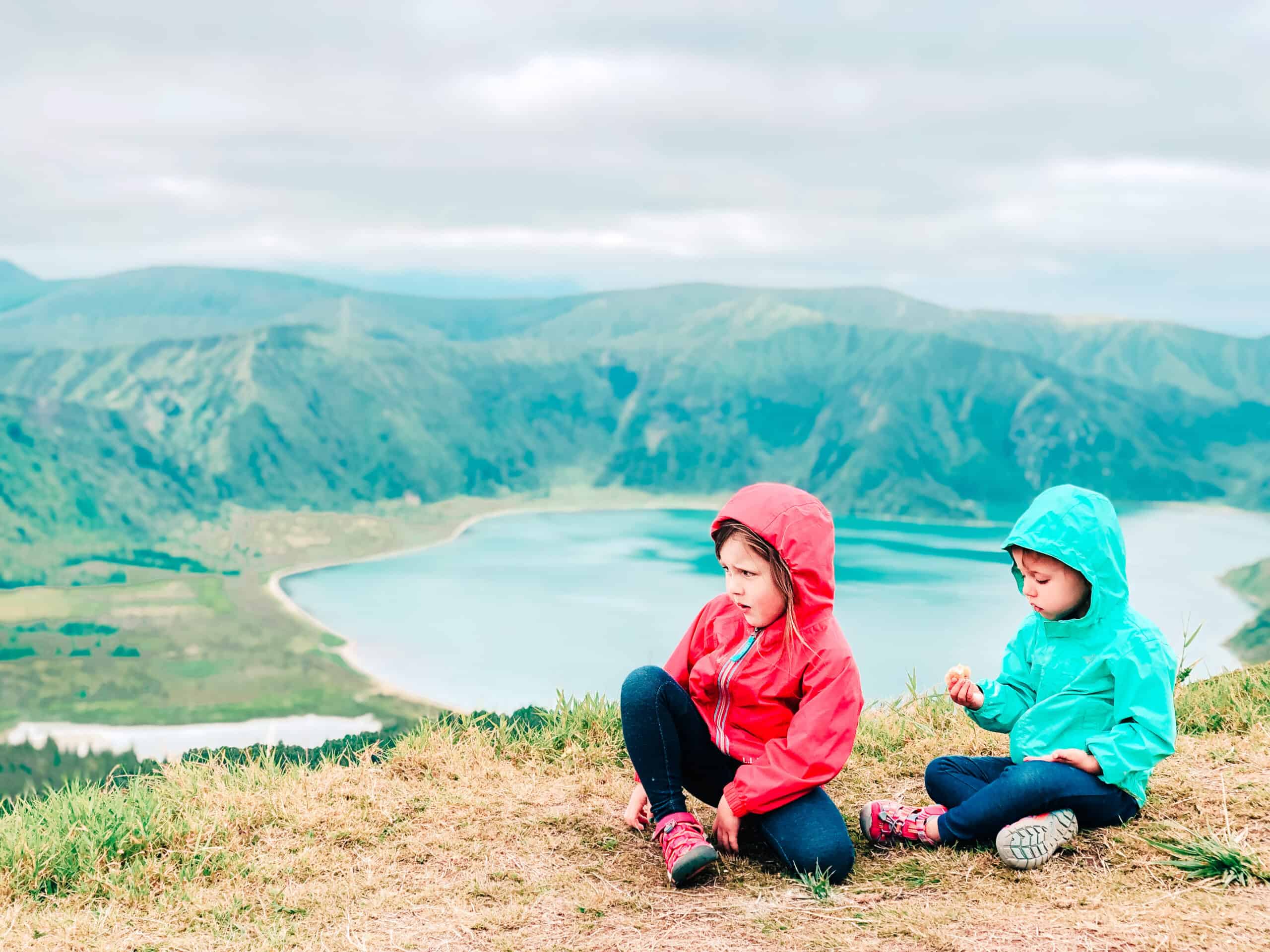 There are a few places to visit to get the best views of Lagoa do Fogo. (Refer to location information below.) The visit "up" brings you through windy roads on a trek that makes you feel like you are climbing for the clouds. The drive is beautiful in itself with blue hydrangeas lining the roads and cows grazing along green grassy hills.
As you enter the general vicinity of Lagoa do Fogo, the first viewpoint that you come to has a smaller parking lot and shows the views from the highest point. (Viewpoint: Miradouro do Pico Barrosa)
At this point, we got out to explore and the kids had a snack.
The second viewpoint is a bit lower, but provides just as pretty of views. (Viewpoint: Miradouro da Lagoa do Fogo)
While we stayed at the top to catch the views from above, there are several hiking trails you can take to get to the bottom of the lake.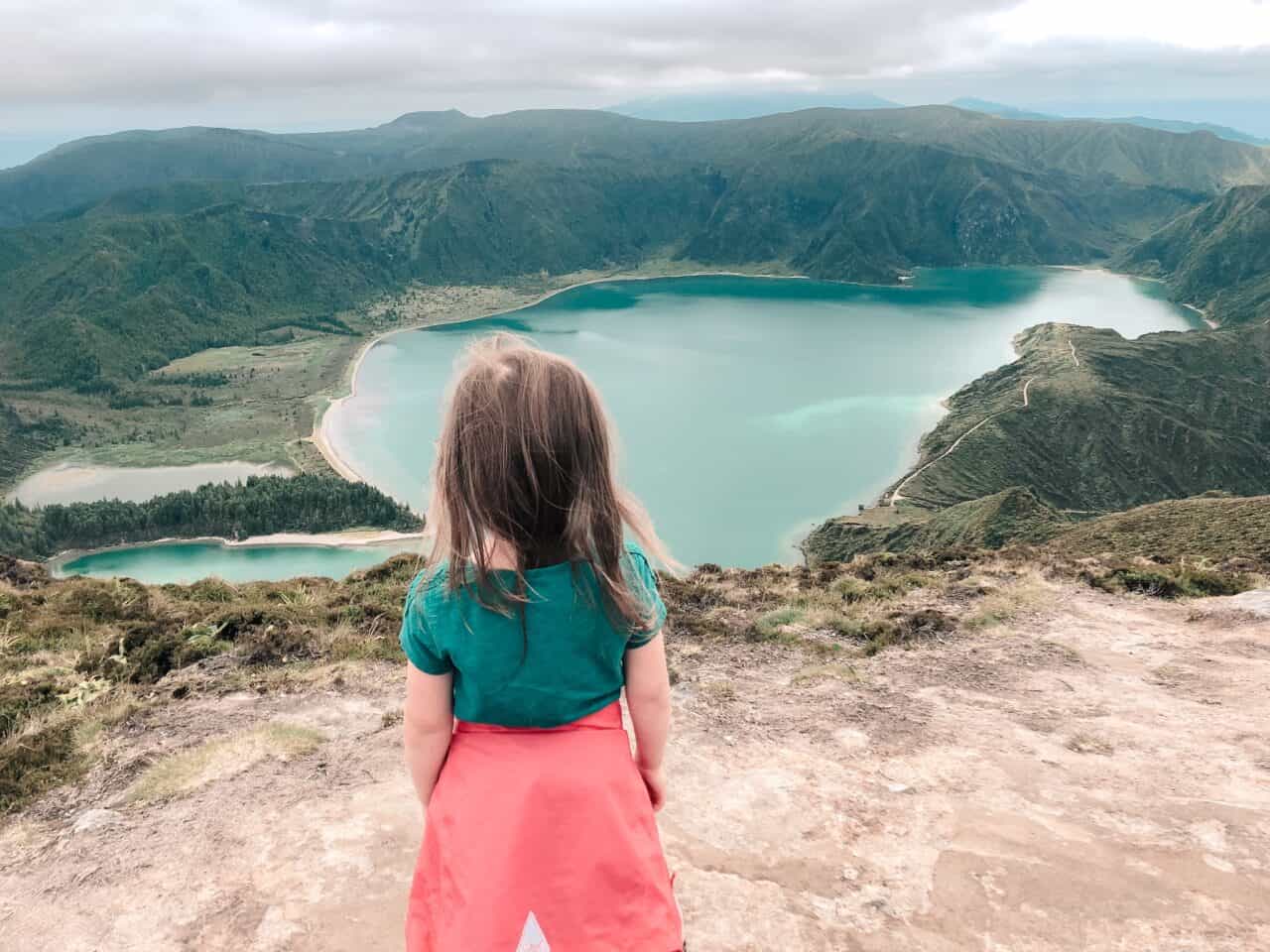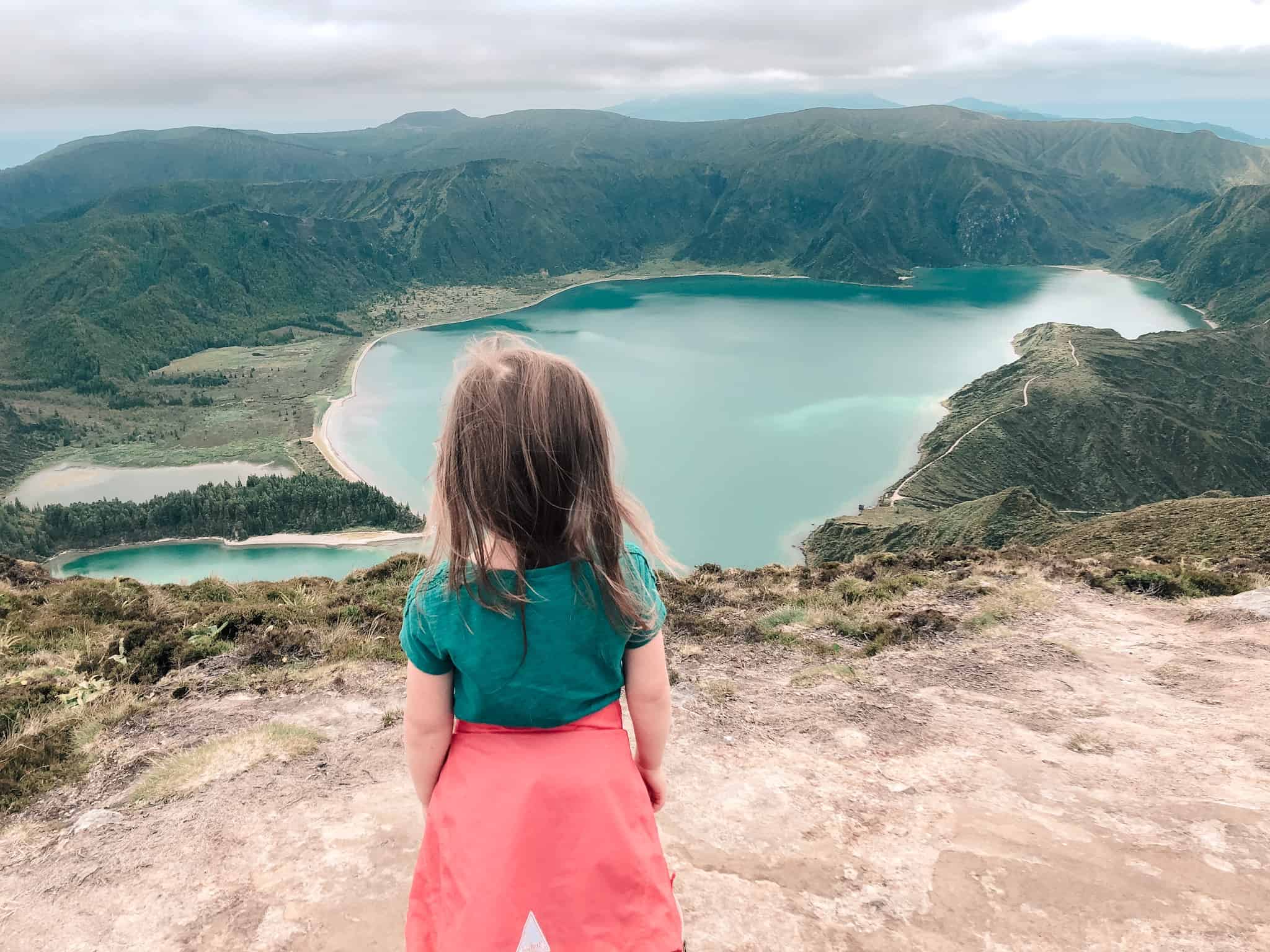 Finer details
Location: There are two viewpoints you will want to check out:
After visiting Lagoa do Fogo, we decided to go to Sete Cidadas, which was about an hour drive away.
There are plenty of other attractions that are much closer than Sete Cidadas, but it was a beautiful day and we knew the drive would give the kids a chance to sleep in the car. The web cameras also showed clear skies at Sete Cidadas and we didn't want to miss out on the great weather.
Sete Cidades
Sete Cidades is an incredible beauty. It consists of two lakes, one blue and one green, both with their own ecosystem, and separated by just a narrow straight.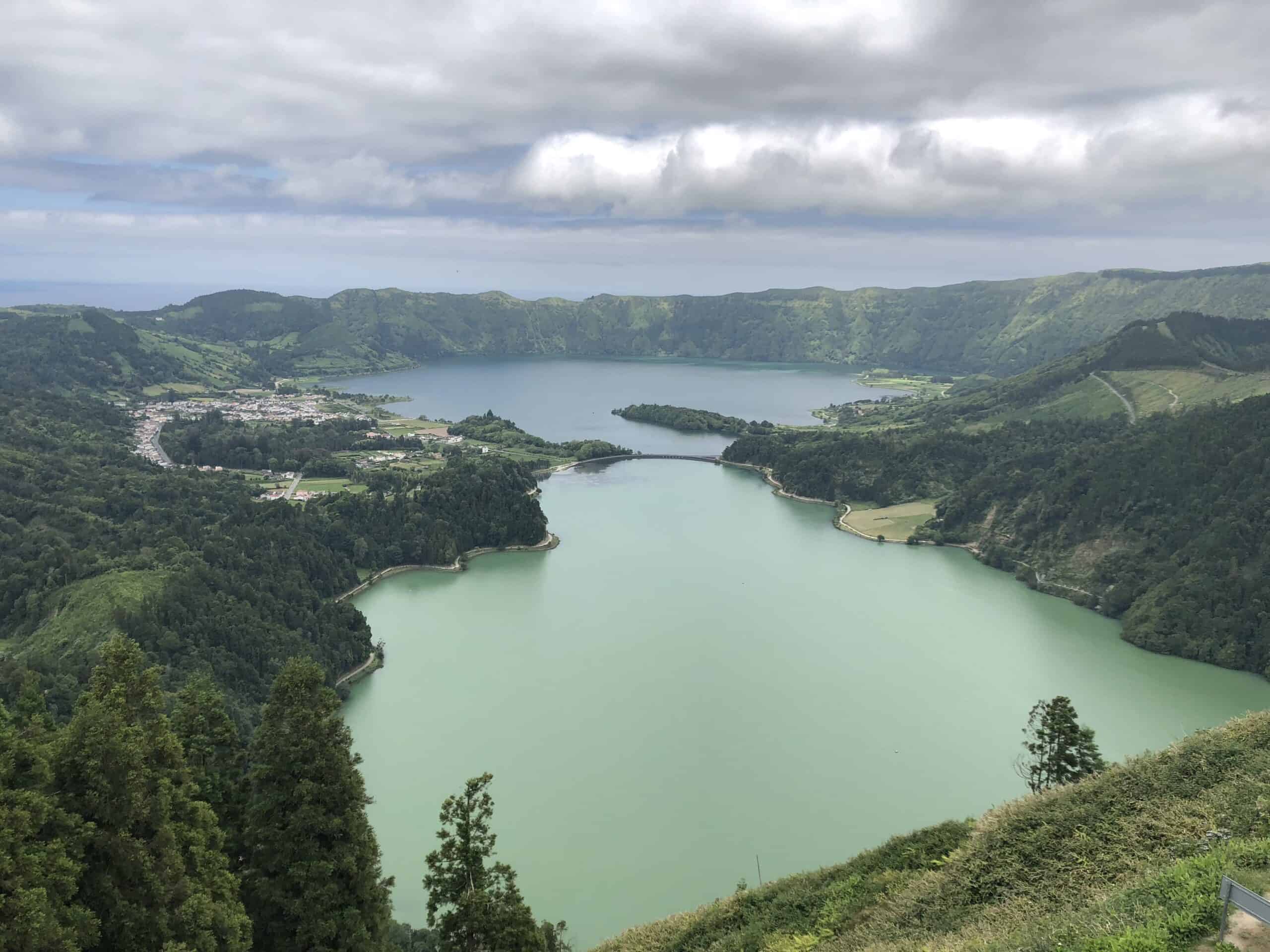 Legend has it that there was a princess who fell in love with a shepherd. When the shepherd asked for the king's blessing to marry the princess, he forbade it. The two lakes are said to be the tears of the green-eyed princess and the blue-eyed shepherd.
There are a couple of viewpoints that we checked out. First we went to Miradouro da Vista do Rei. There is an old abandoned hotel at this viewpoint.
The hotel in itself is quite the attraction. It's wild to be inside a place that was once one of the top hotels in Europe, now covered in graffiti and bare bones down to cement walls.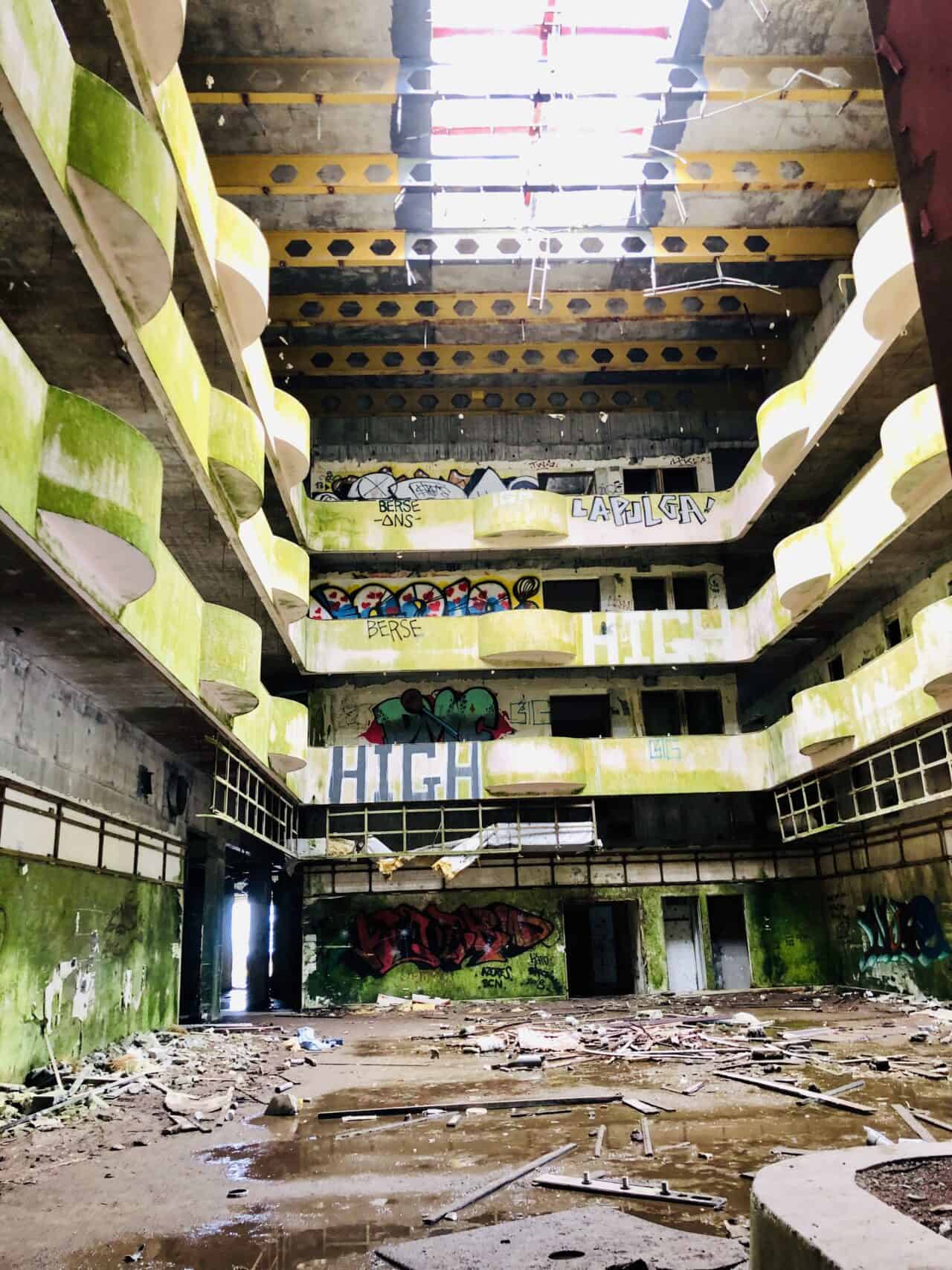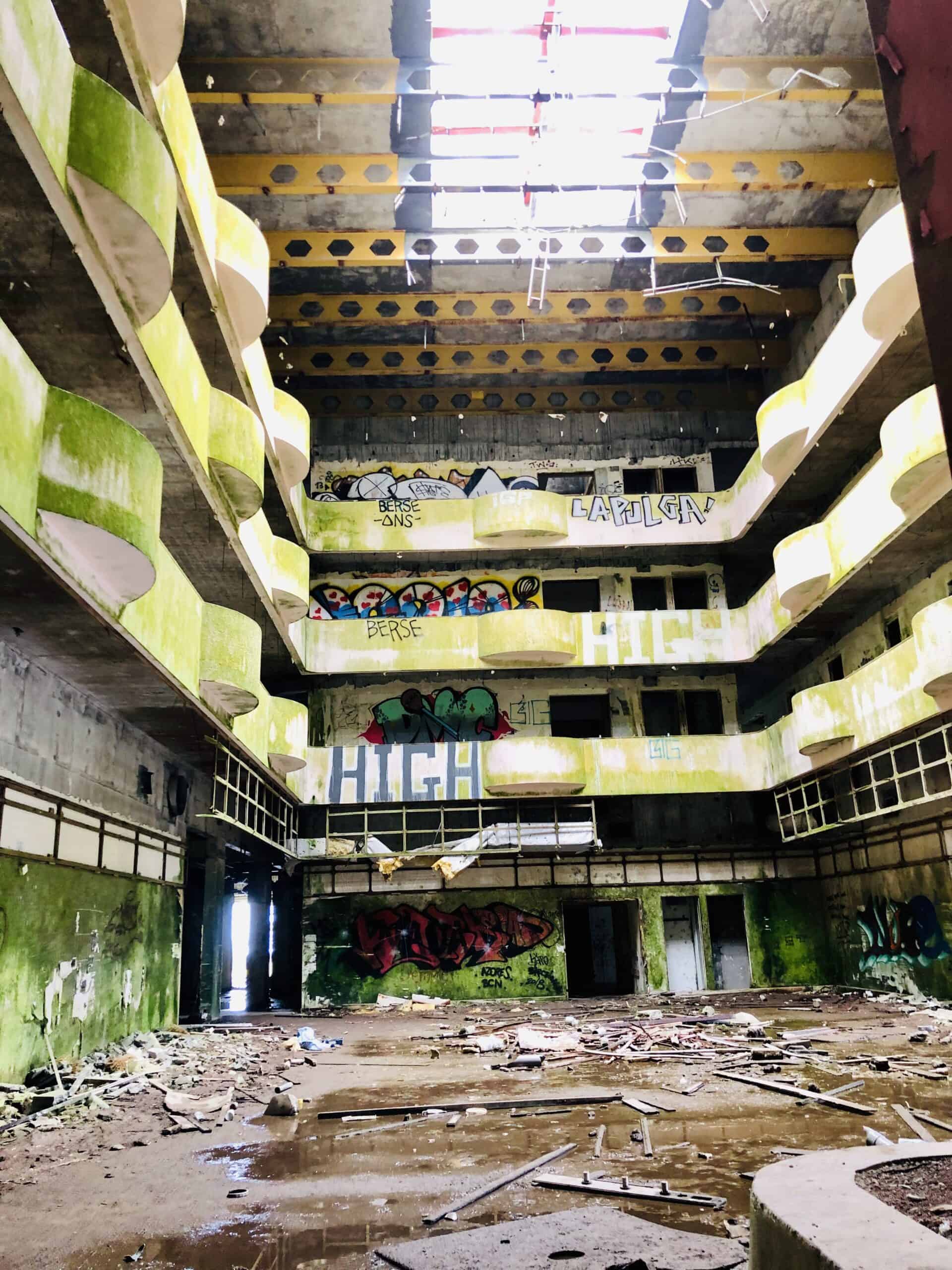 The views of Sete Cidades were pretty incredible from the hotel, especially from the roof. As we went with our kids, there were definitely a few moments where we decided to hang back and take an "easier" (and safer) route.
After exploring the abandoned hotel, we headed over to another viewpoint called Miradouro da Boca do Inferno. (Also called Miradouro da Grota do Inferno)
I can't tell which one I liked more. They were both so different. The hotel gave an unobstructed view of the lakes. But Boco do Inferno, which translates to Hell's Mouth, was dramatic and breathtaking in itself. There are huge cliffs on either side of you and just show the beauty of these creators.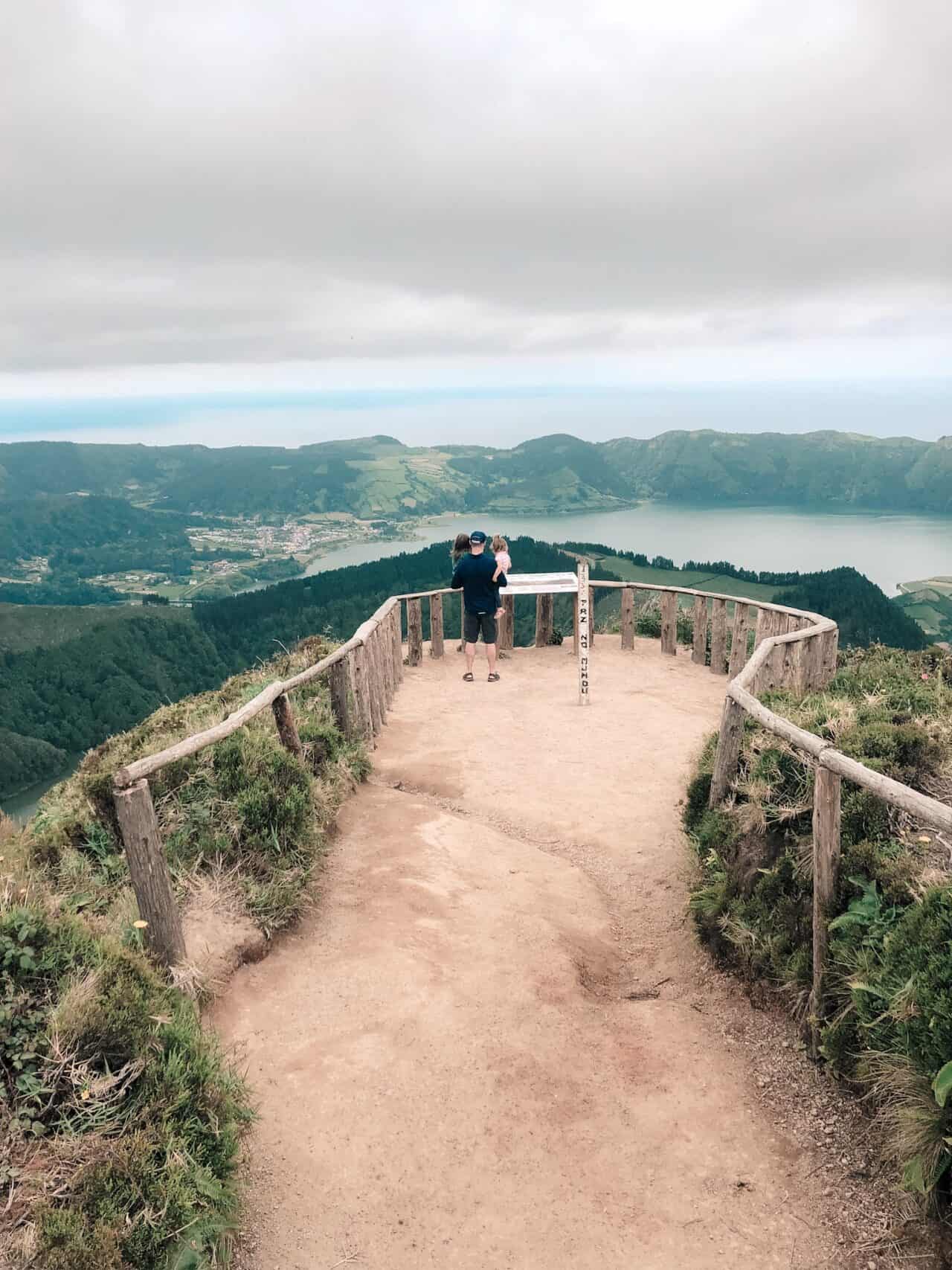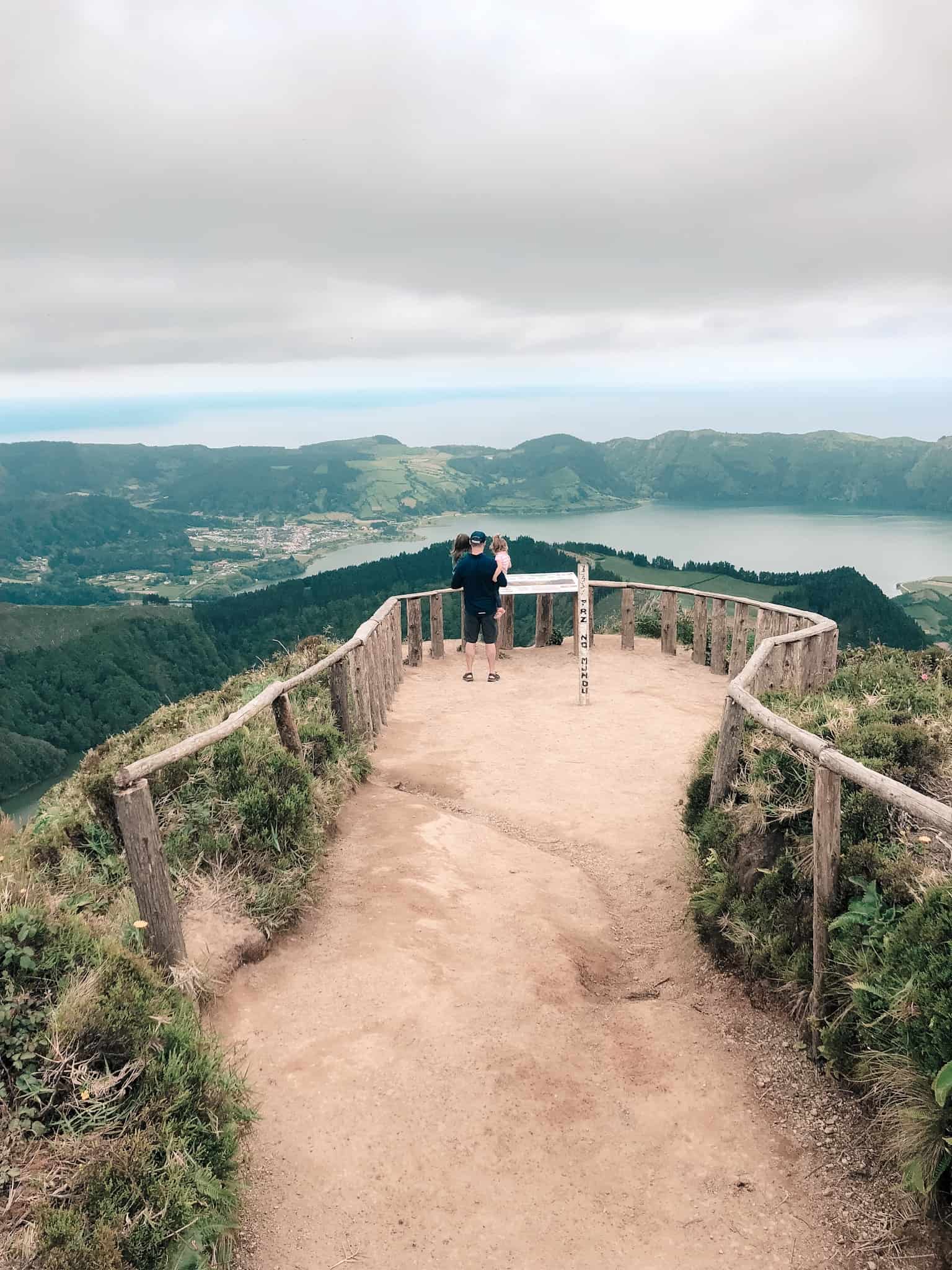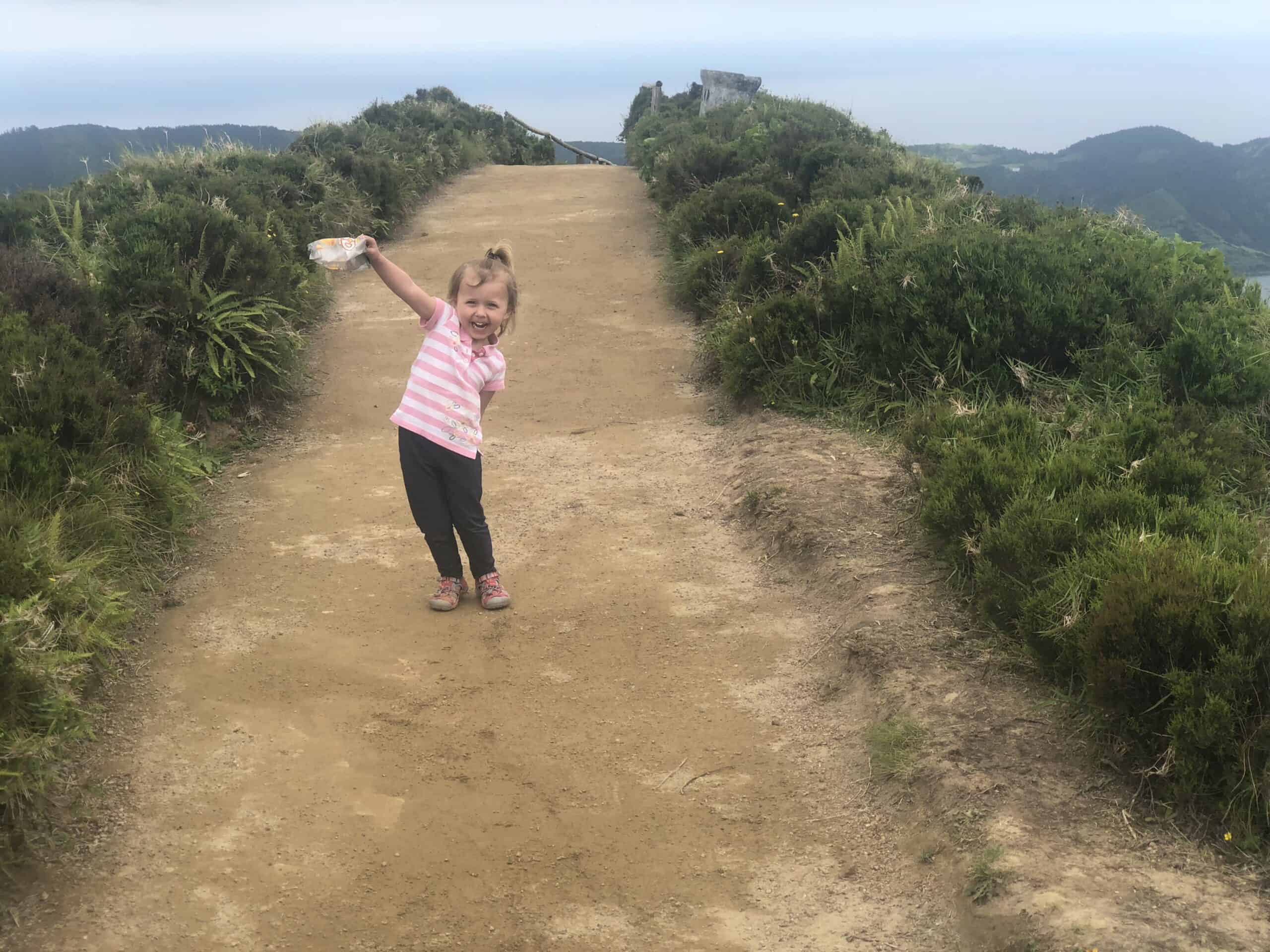 Finer details
Location: There are two viewpoints you will want to check out:
Day 3
We started day three by walking to a little cafe near our Airbnb that served donut-like cakes called queijadas. If you have a chance, it's worth a stop in Queijadas da Vila do Morgado to grab a coffee and queijadas. Head to the back of the shop and you can watch them be made too!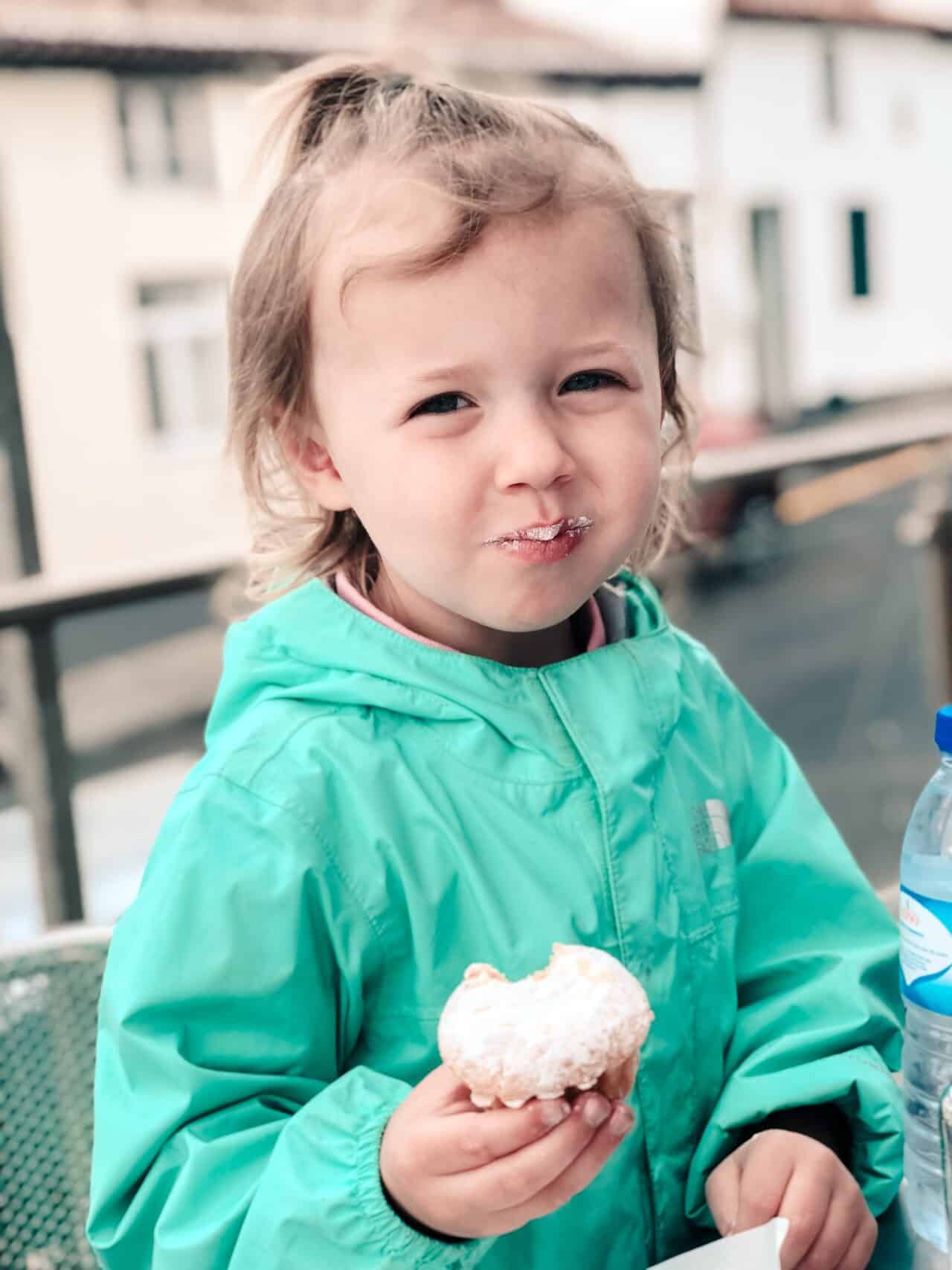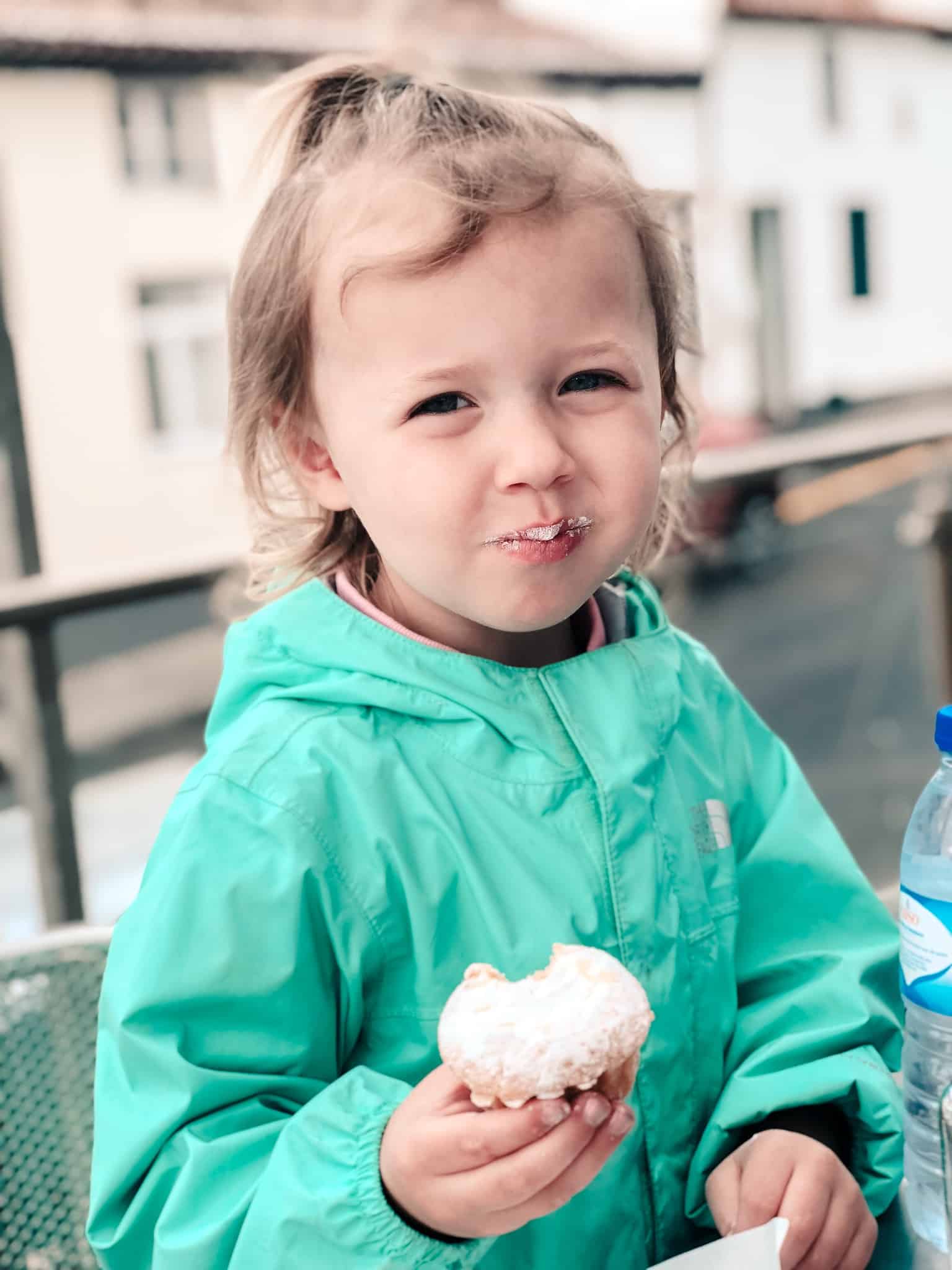 After breakfast we drove to a nearby church (Nossa Senhora da Paz chapel) that overlooked Vila Franca do Campo. The views from the top of the church were very pretty; we actually ended up going three times throughout the week. Inside the church, they sell beautiful rosaries and other small items, so remember to bring some Euros.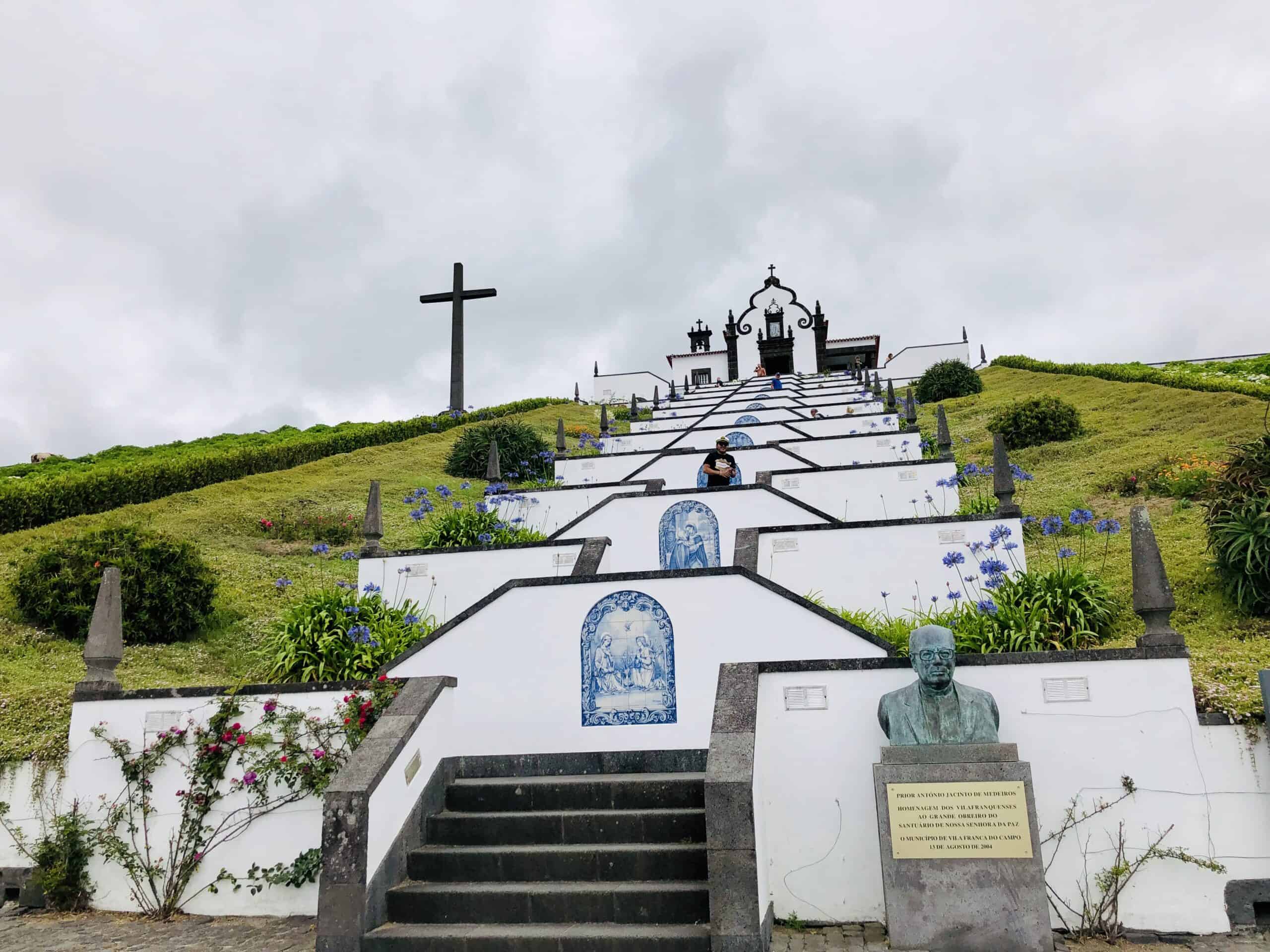 After that, we headed into the city of Ponta Delgada for whale watching.
Whale Watching with Futurismo
There are several companies that offer whale watching, but we chose Futurismo because their boats were large and kid-friendly. We selected a tour on their larger boat, and it was the way to go. The waves were rough at times, and there were a handful of people abroad who got sea sick. (Apparently, the smaller boats had it even worse.) Despite the rocky waves (at times), whale watching was one of our favorite adventures.
At one point a large group of dolphins came right up under our catamaran and played in the waves. We got to see a handful of whales too. .
After whale watching we got to spend the rest of the day roaming around downtown Ponta Delgada. We enjoyed a fantastic lunch and explored the local shops. As you enter the city, you walk under the famous gates of the city.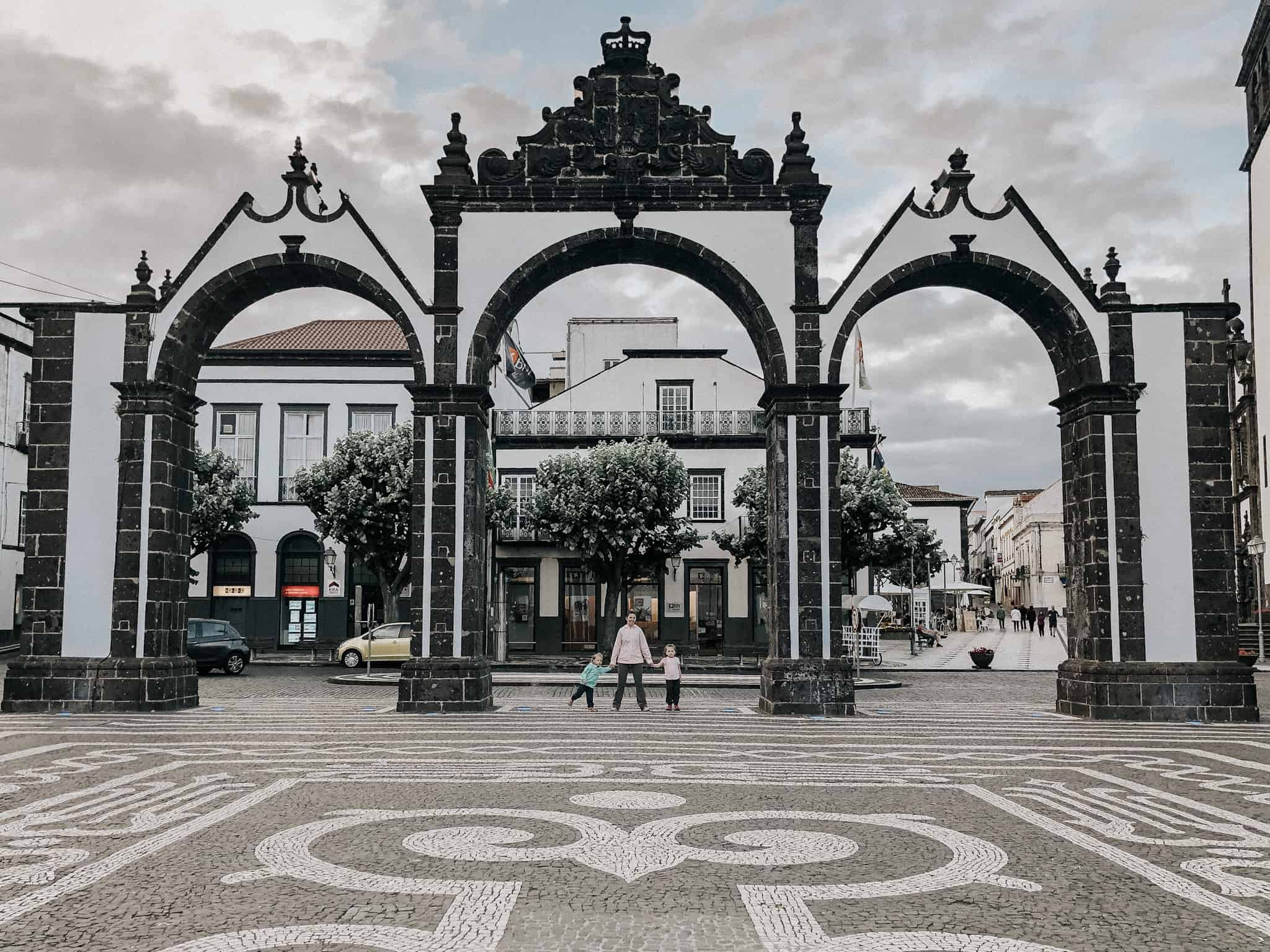 Day 4
Riberia dos Calderoes
We kicked off day four at a beautiful waterfall in a park called Riberia dos Calderoes. Besides the waterfall, this park had trails throughout to explore. At times it felt like we were exploring Jurassic Park, the scenery was just breathtaking.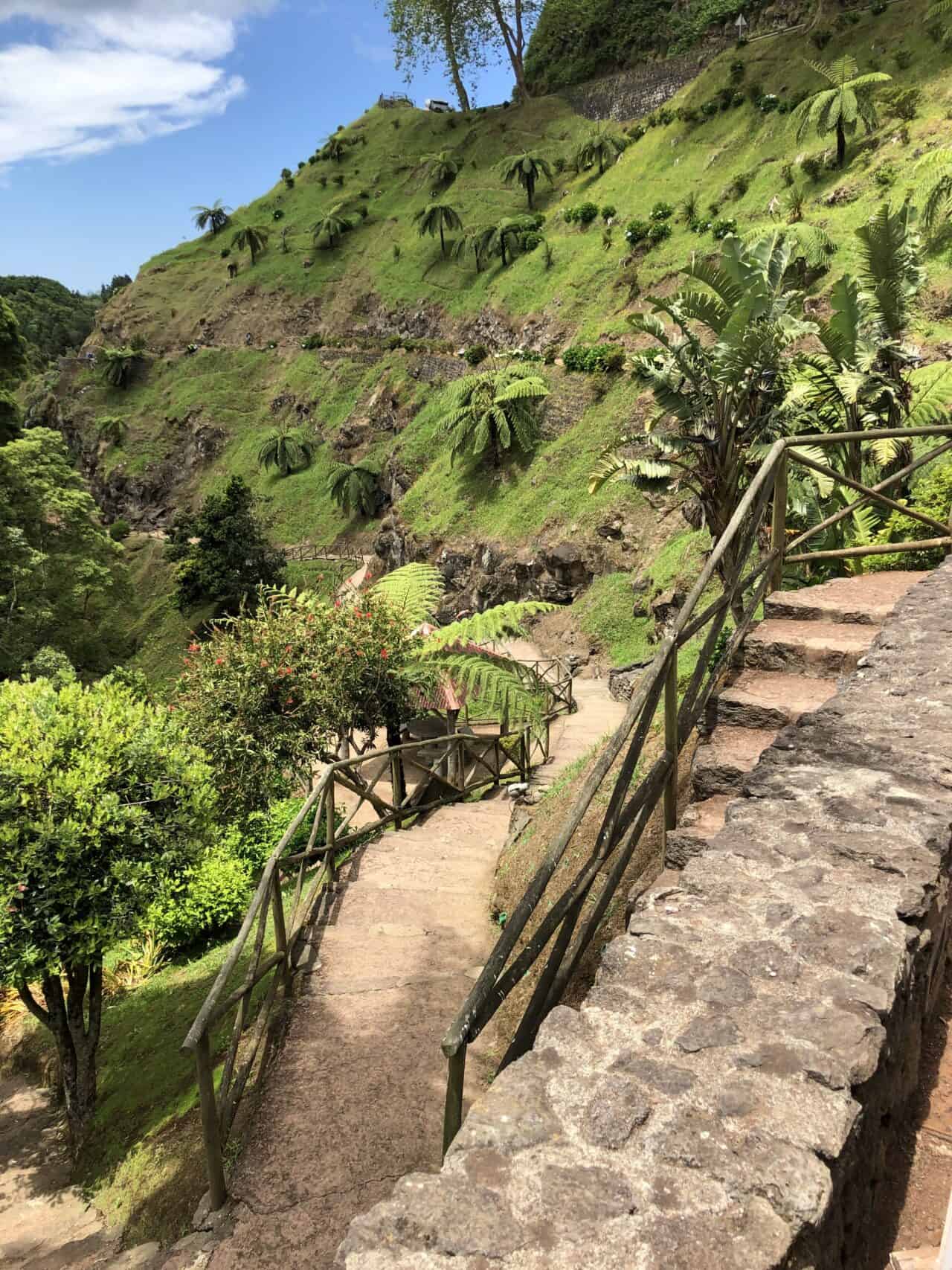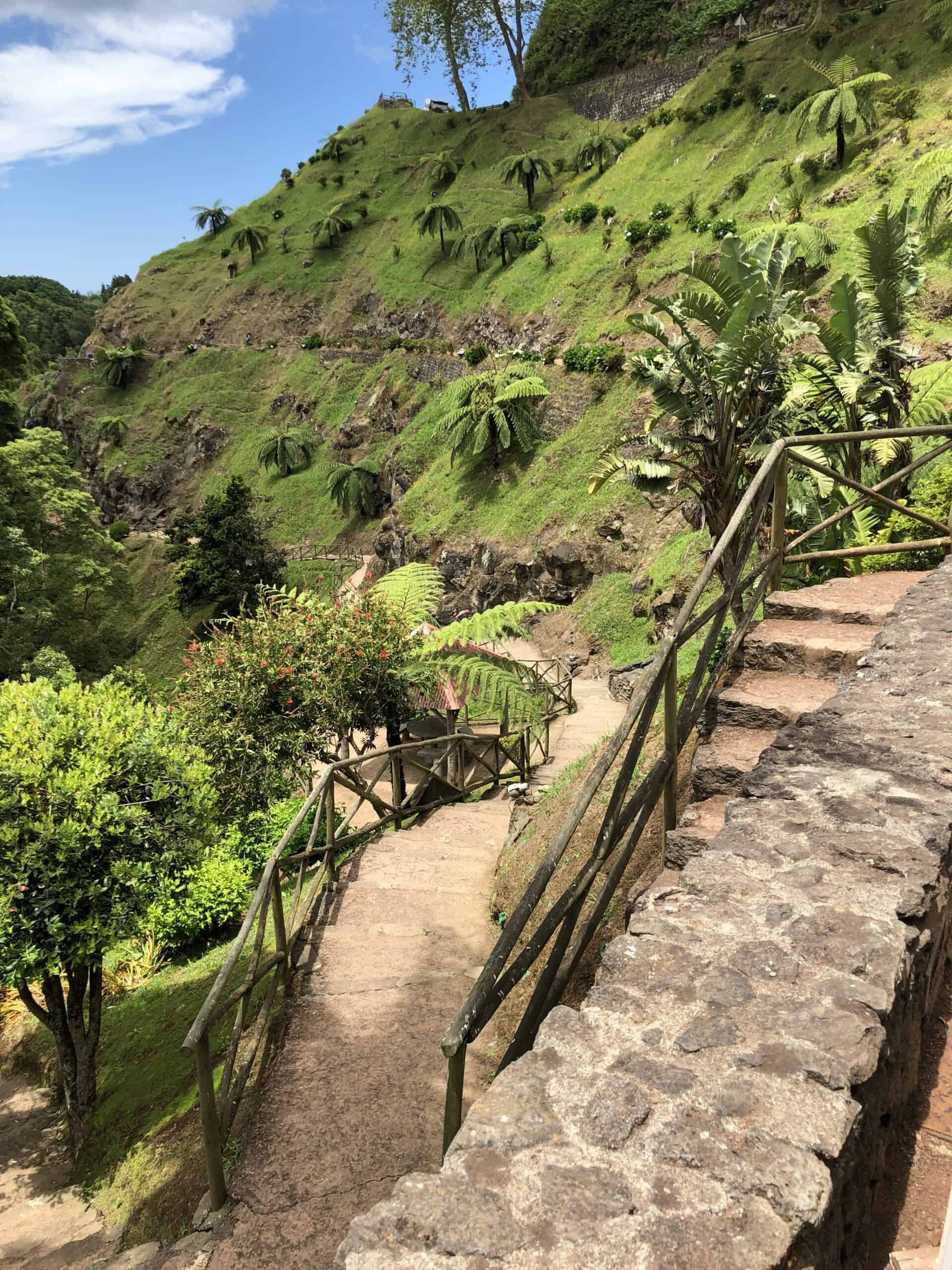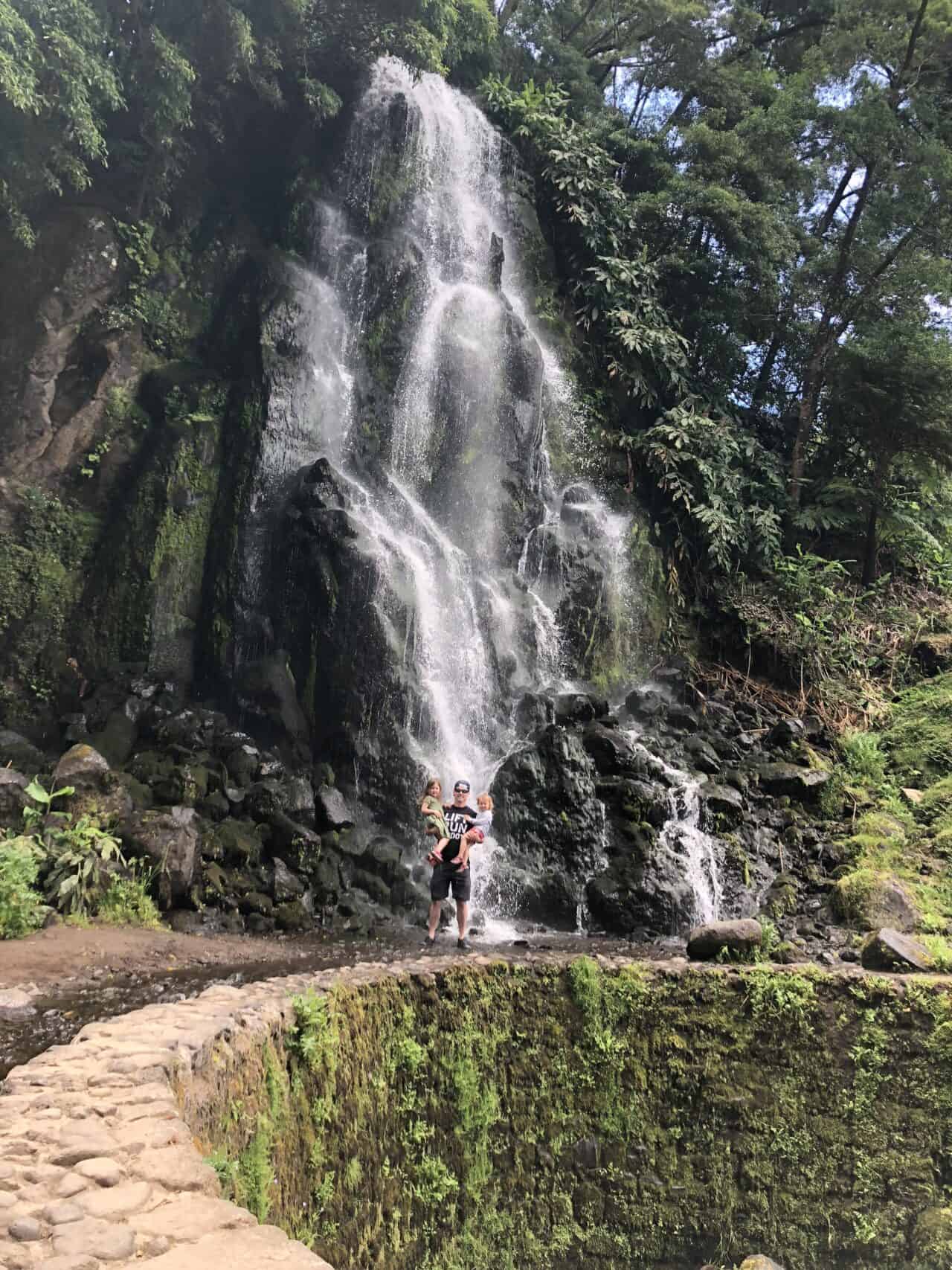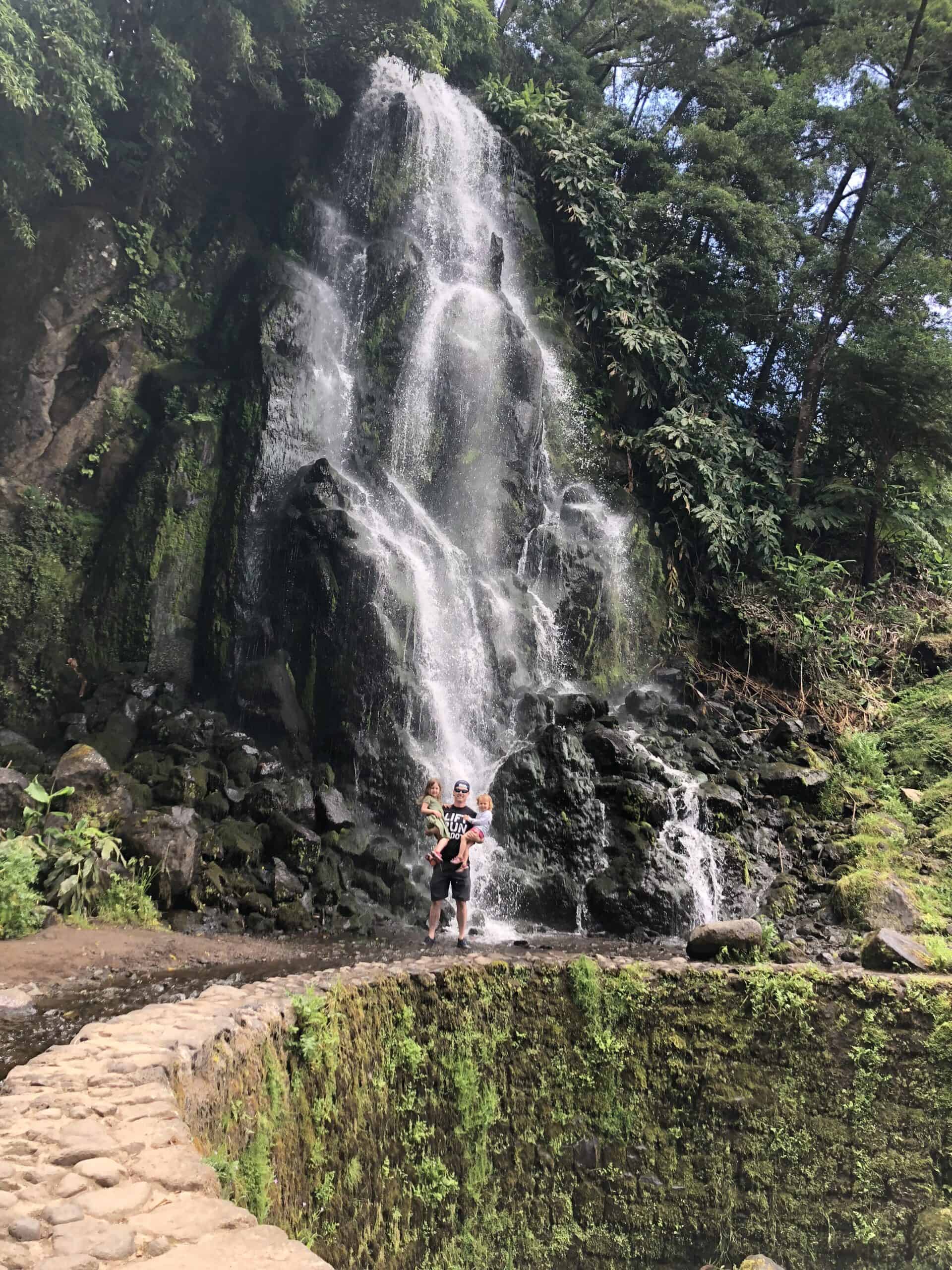 After doing some exploring, we had lunch at a little restaurant overlooking the park.
Finer details:
Address: Estrada Regional Achada, 011, Achada, Portugal
Cost: The park was free to explore. There was a small restaurant to purchase lunch.
We then went over to the north side of the island to Santa Barbara beach.
Surfing at Santa Barbara Beach
Have you ever been to a black sand beach? It's pretty awesome.
We really enjoyed the vibe at Santa Barbara beach. There is a small boardwalk with a restaurant and bar, and there are breathtaking cliffs surrounding the beach.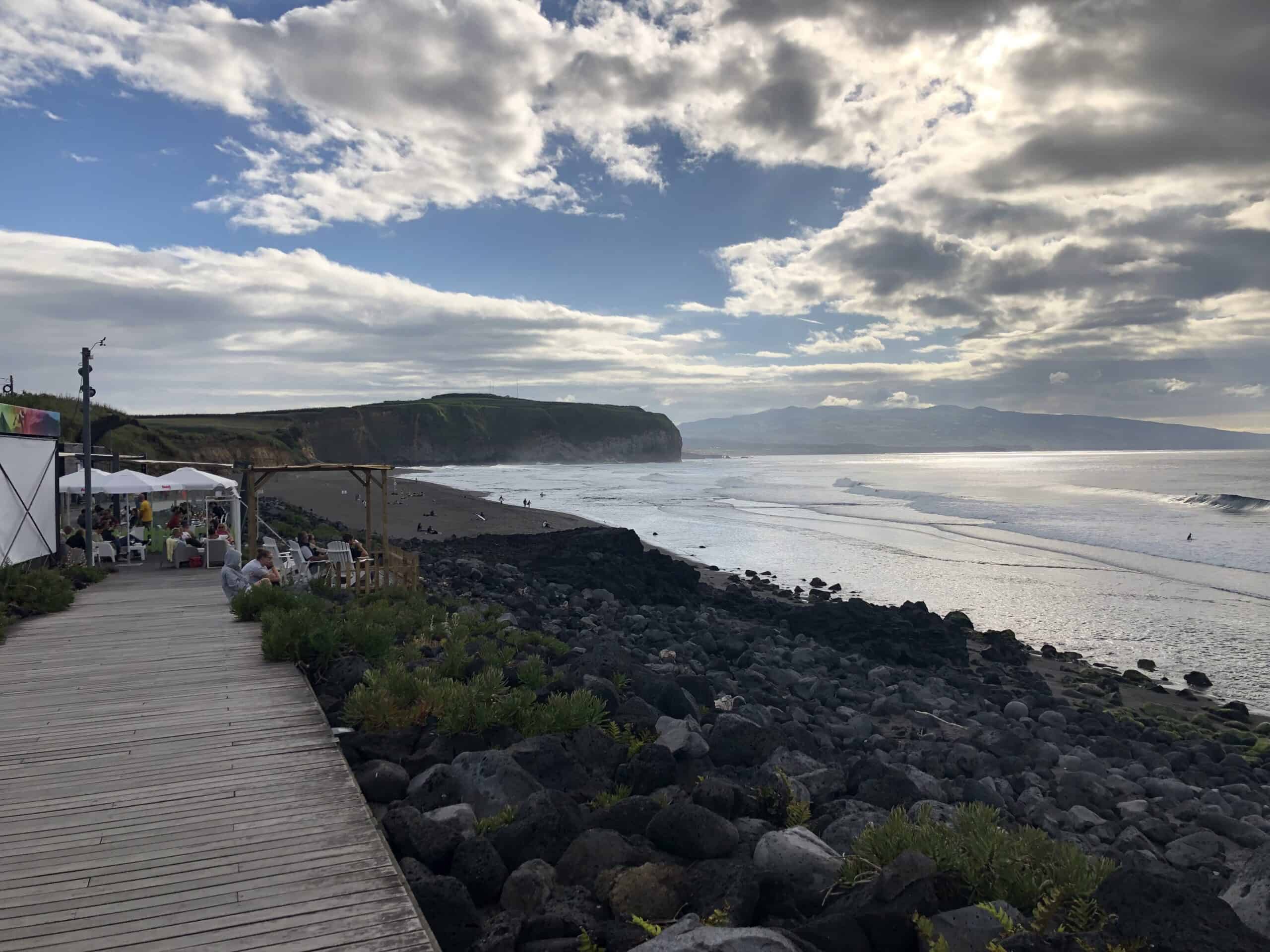 For years, my husband has been talking about learning to surf and he was finally able to make it happen at Santa Barbara Beach.
My husband reserved a surf lesson with Black Sand Box (https://www.blacksandbox.pt) and had the most fun riding the waves.
My daughters and I hung back on the beach to watch him and play in the sand.
Finer details:
Address: RF93+3M, Ribeira Grande, Portugal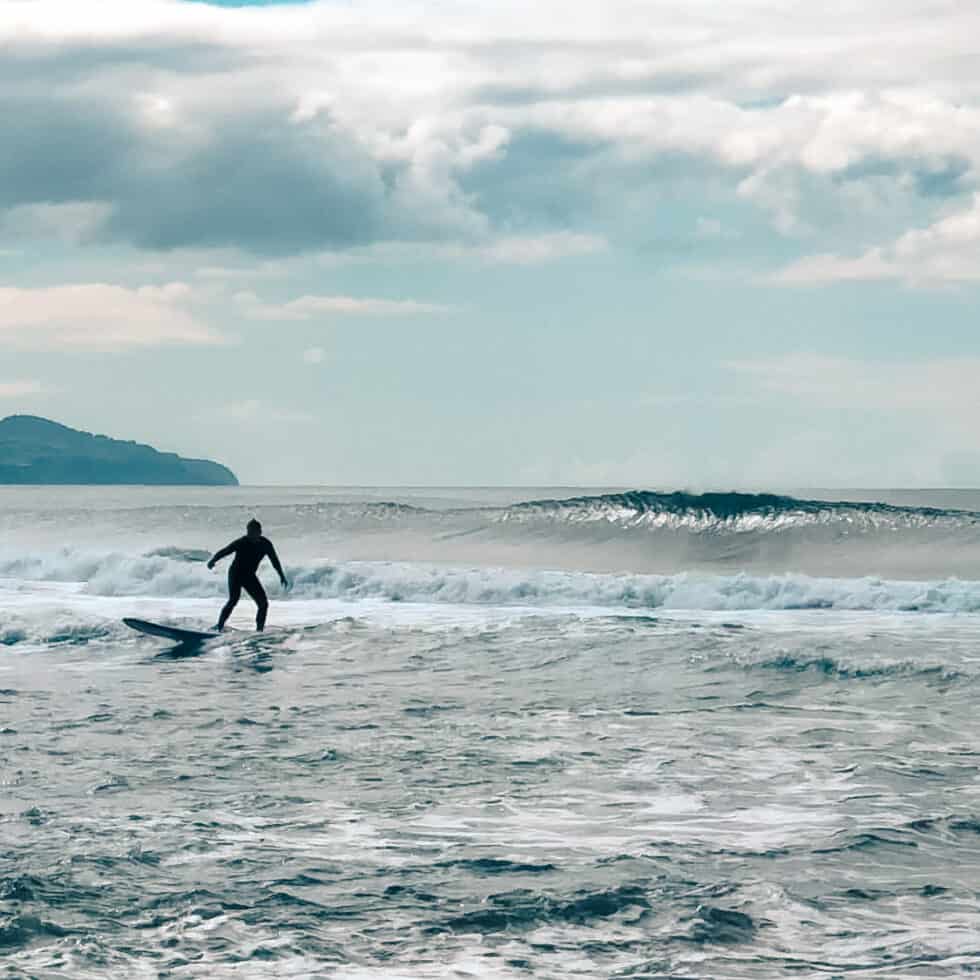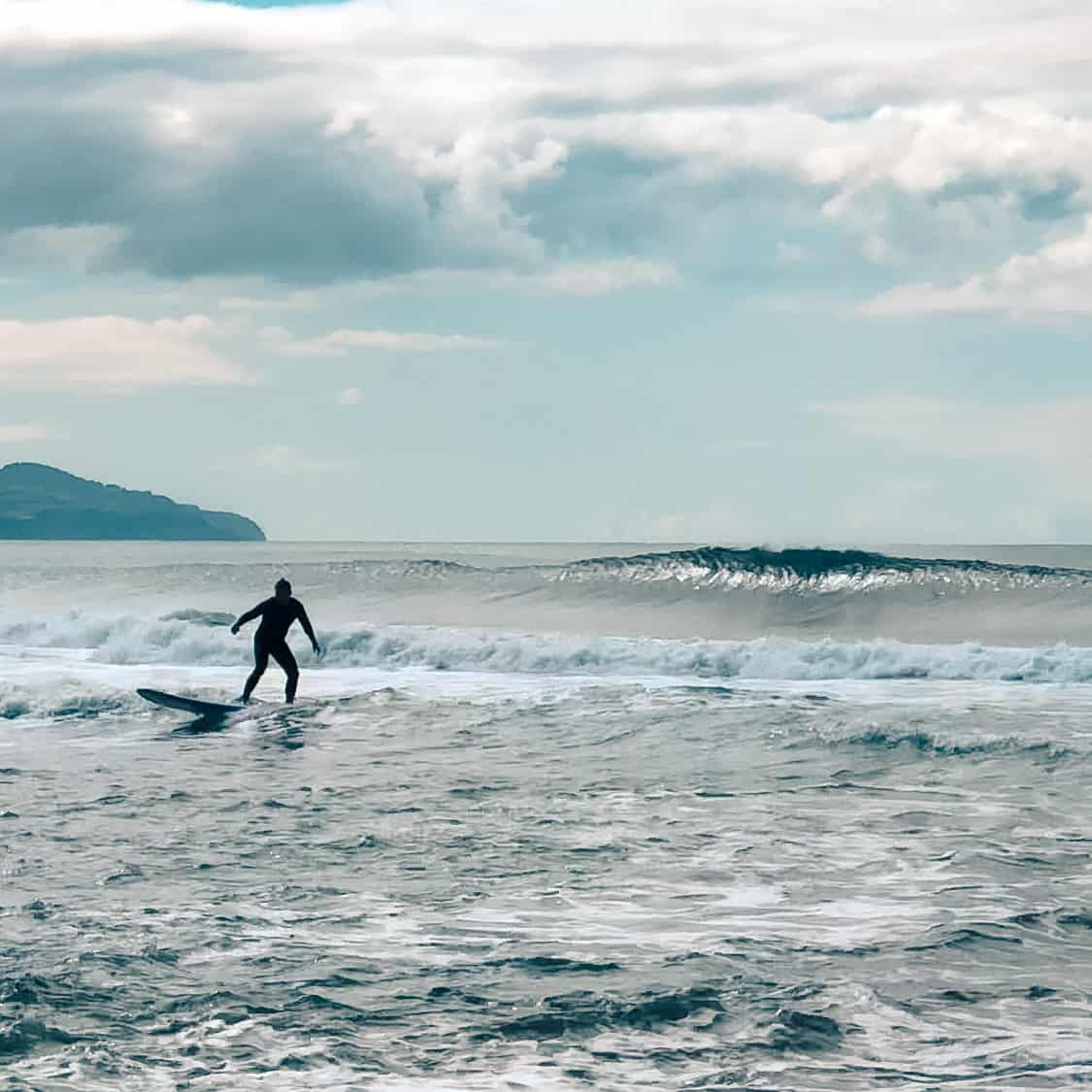 Day 5
We kicked off our fifth day early and headed over to a waterfall called Salto do Cabrito.
Salto do Cabrito
Salto do Cabrito was really special. We arrived around 9:00 am and there was no one there. In fact, no one else came until about 9:45 am so we had the whole place to ourselves to swim under the waterfall and enjoy.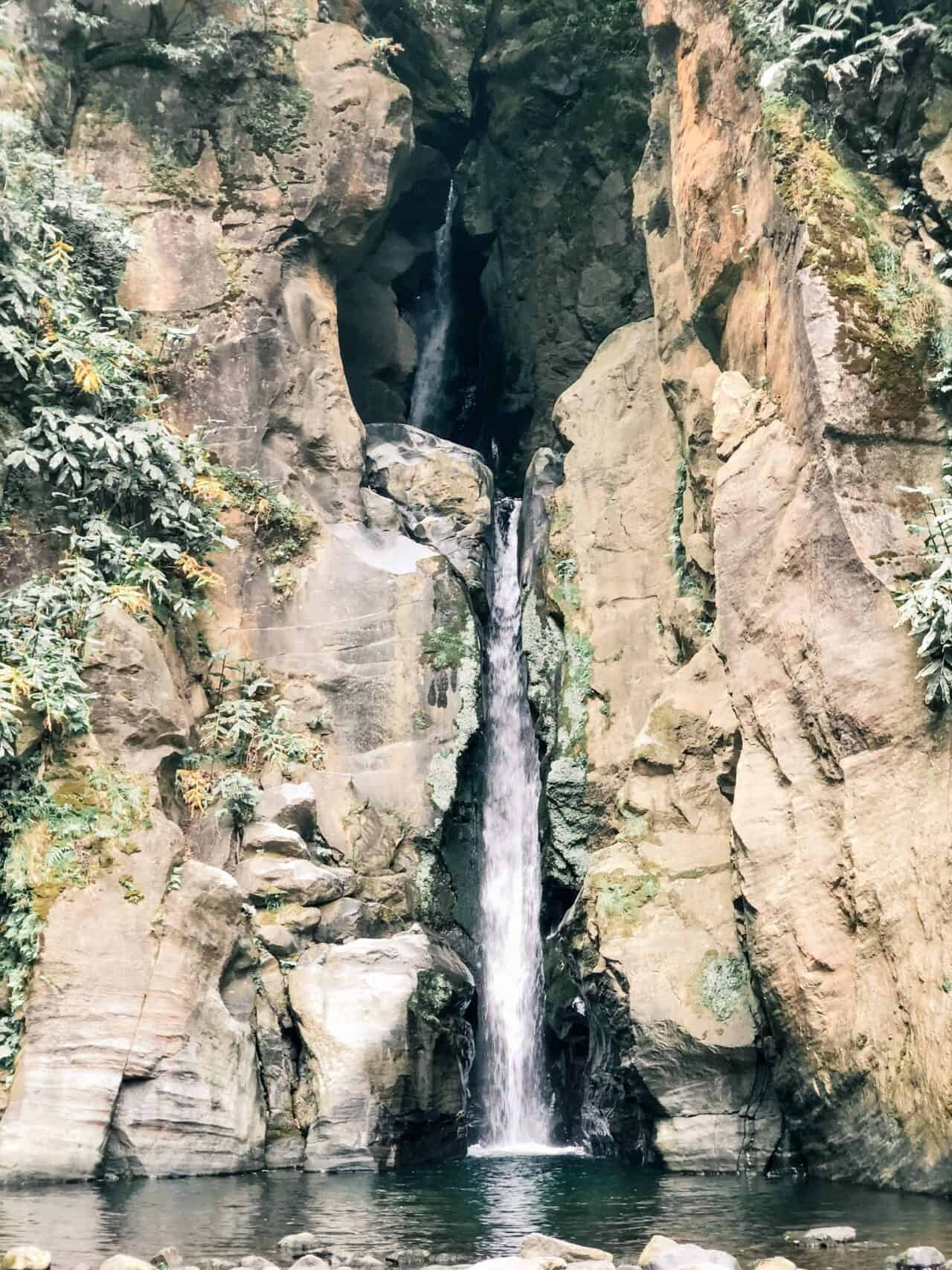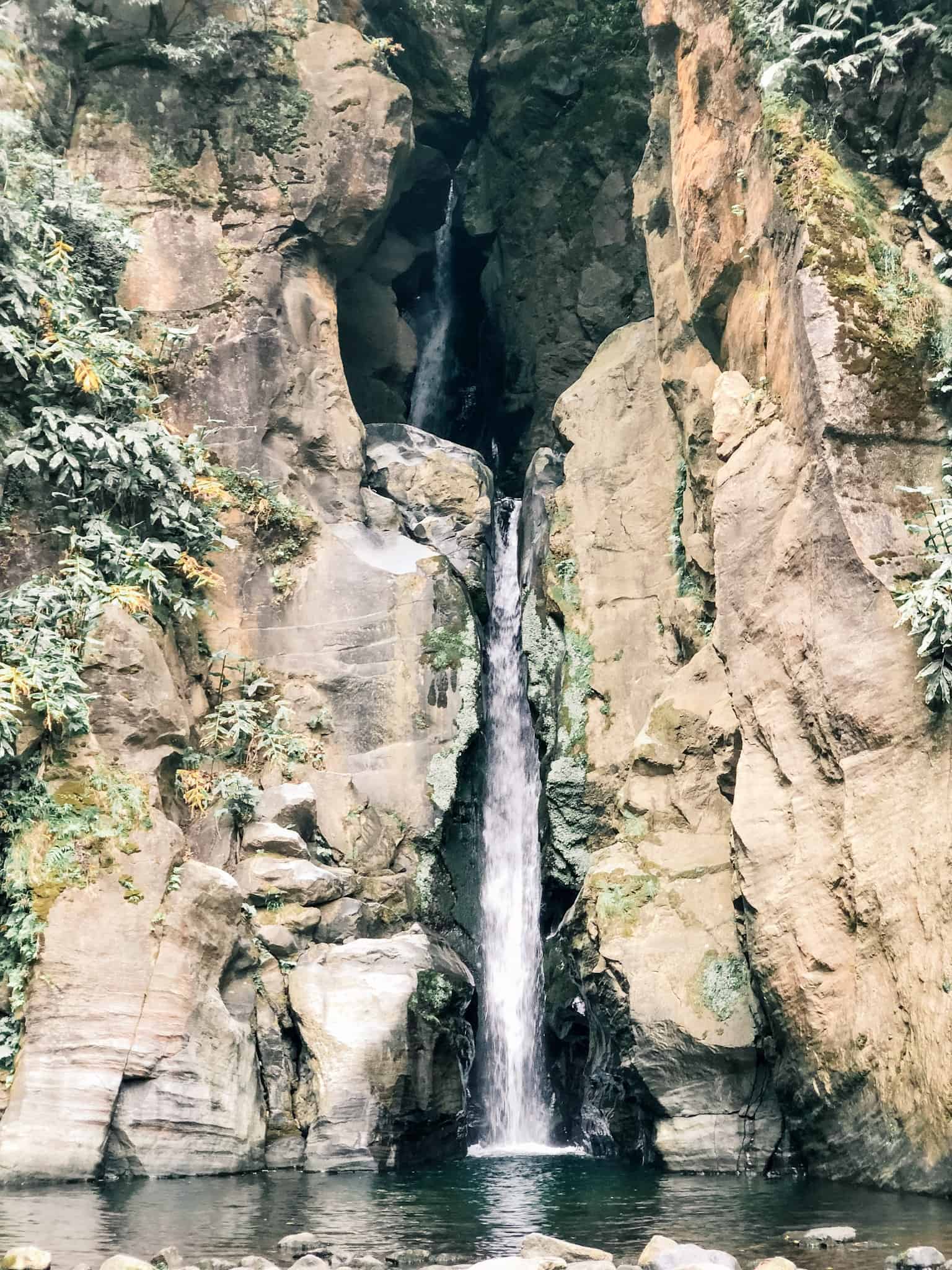 You can actually go above and around the waterfall on a short hike over an old hydric power plant. It was beautiful and scary all at the same time. The hike involves a decent amount of incredibly steep stairs; not suitable for someone with a fear of heights.
Finer details:
Tips:

Arrive early to beat the crowds
You can actually drive right down to the waterfall. Once you arrive at the location, continue down the long windy driveway/road to get to the bottom. It's pretty windy and steep, so take it easy and slow.
Bring a compact tripod to get some great shots with the waterfall in the background

Cost: Free
After the waterfall, we headed over to hot thermal pools to relax.
Hot Thermal Pools at Caldeira Velha Park
Caldeira Velha Park was a fun place to go to enjoy the island's natural beauty and relax. Throughout the park, there are various hot thermal pools. We learned that the pools are made from rainwater that seeps through the earth and are heated by hot volcanic layers.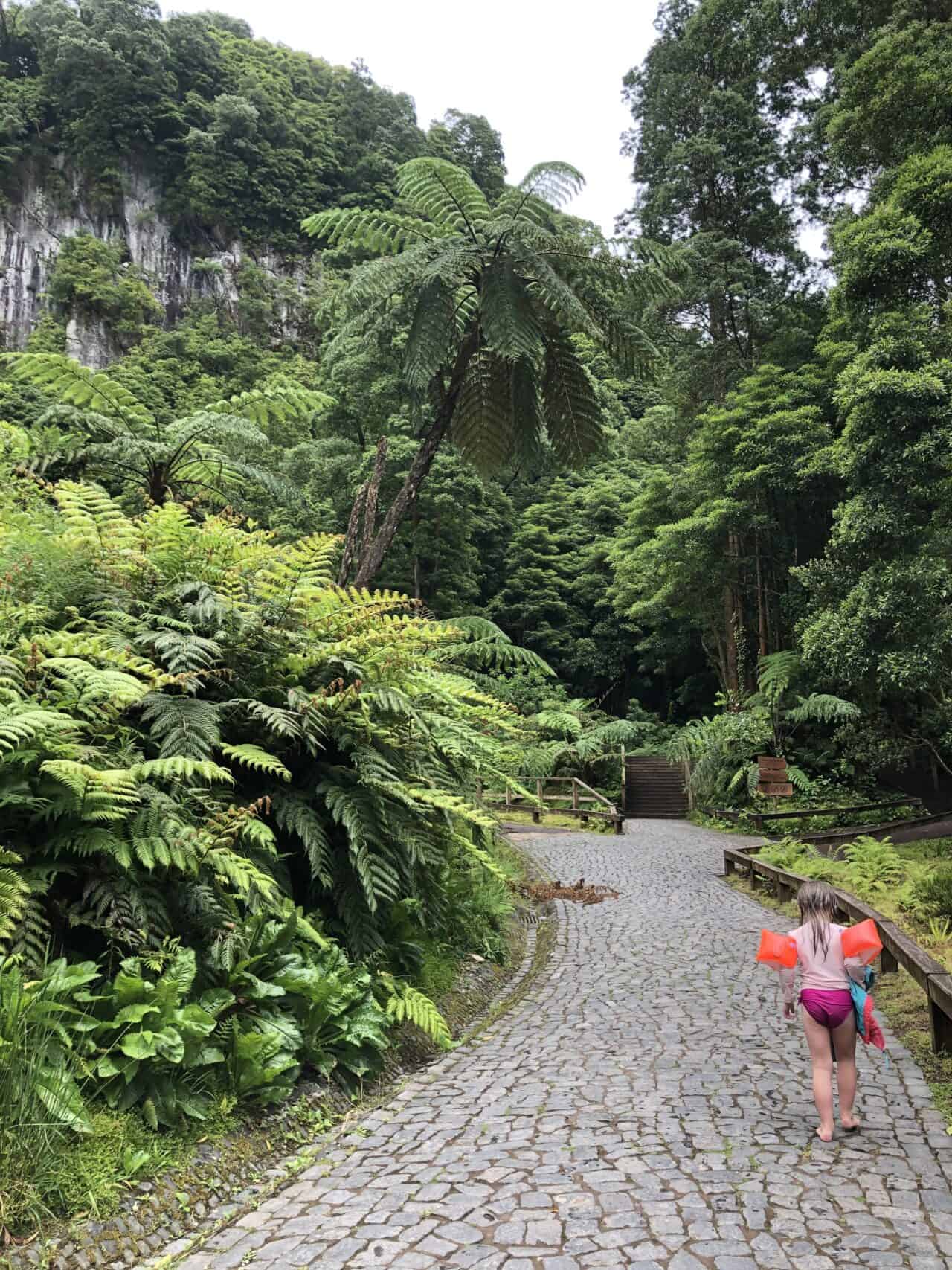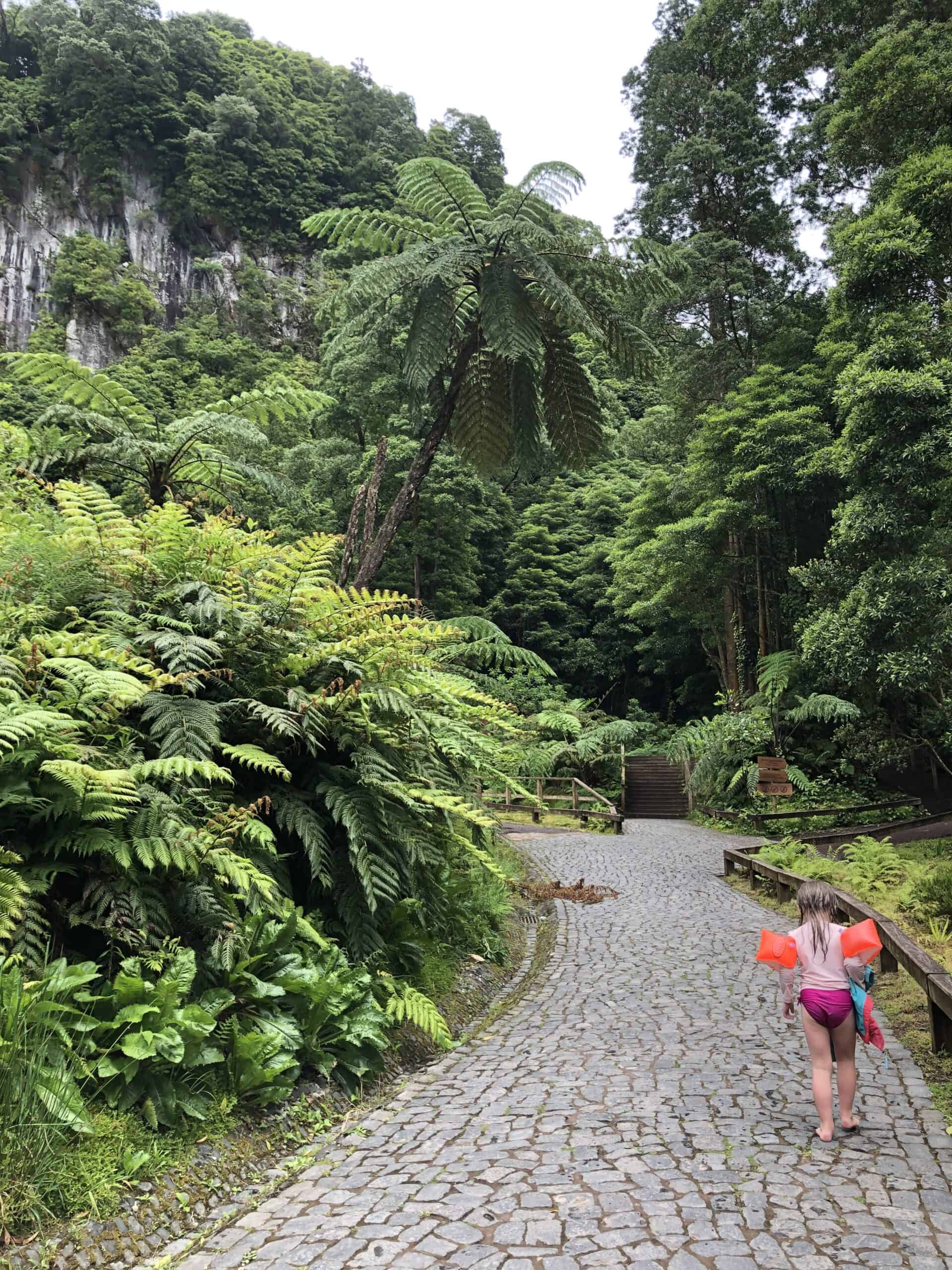 It rained while we were visiting Caldeira Velha Park but the rain actually enhanced our trip. The combination of the cool rain falling down while soaking in the hot tubs was just lovely.
At the park, you can rent a locker to store your belongings and there are changing rooms. (Note, there is a cost to enter and go into the thermal pools.
Finer Details
Address: Estrada Regional da Lagoa do Fogo, 9600-590 Ribeira Grande, Portugal
Tips:
We then headed to the only tea factory in all of Europe.
Gorreana Tea Factory
Gorreana Tea Factory is the only operating tea factory in Europe. You have the opportunity to tour the building to learn how tea is made and sample along your journey. The tour ends in the gift shop, where you can purchase your own tea.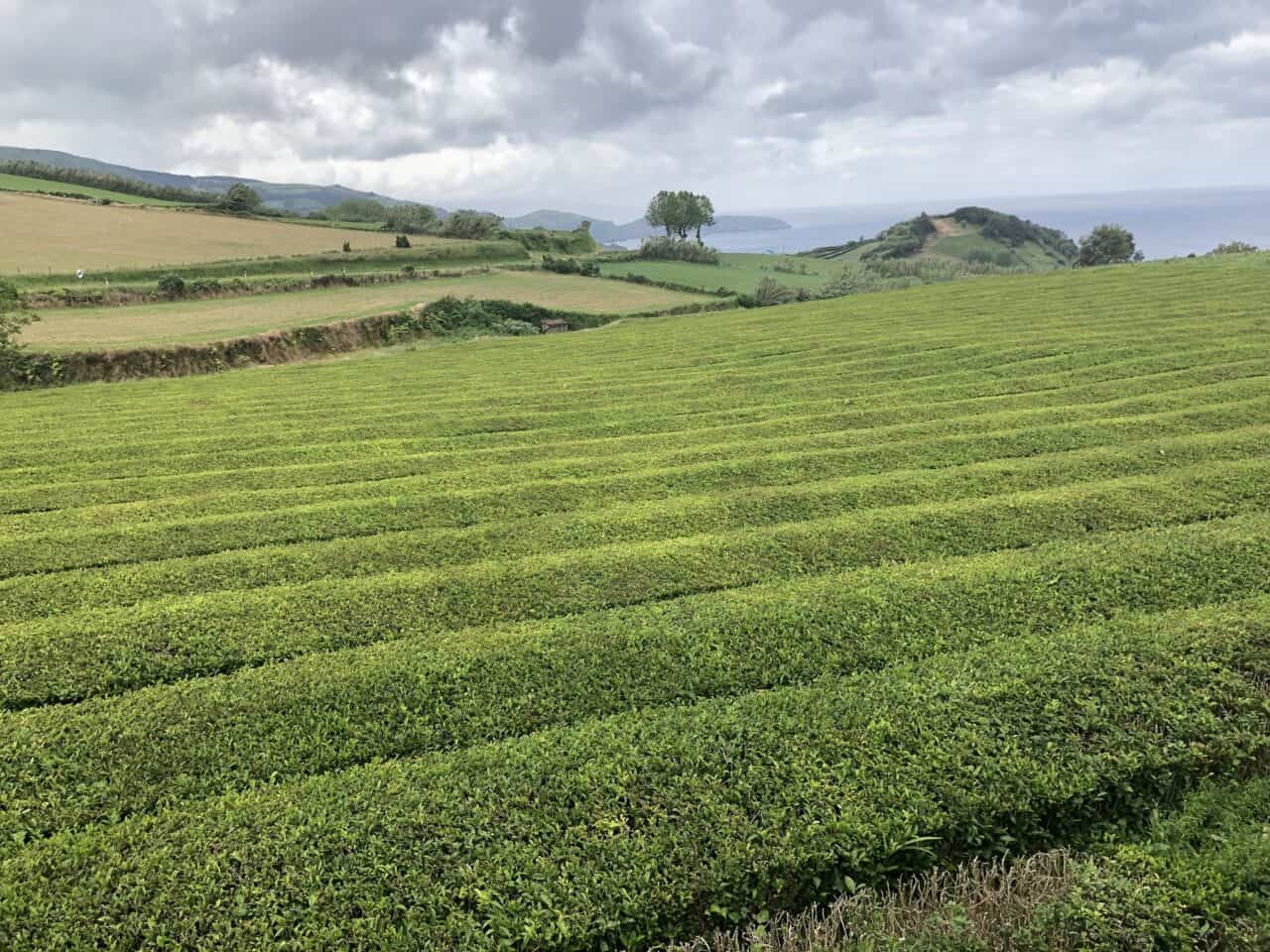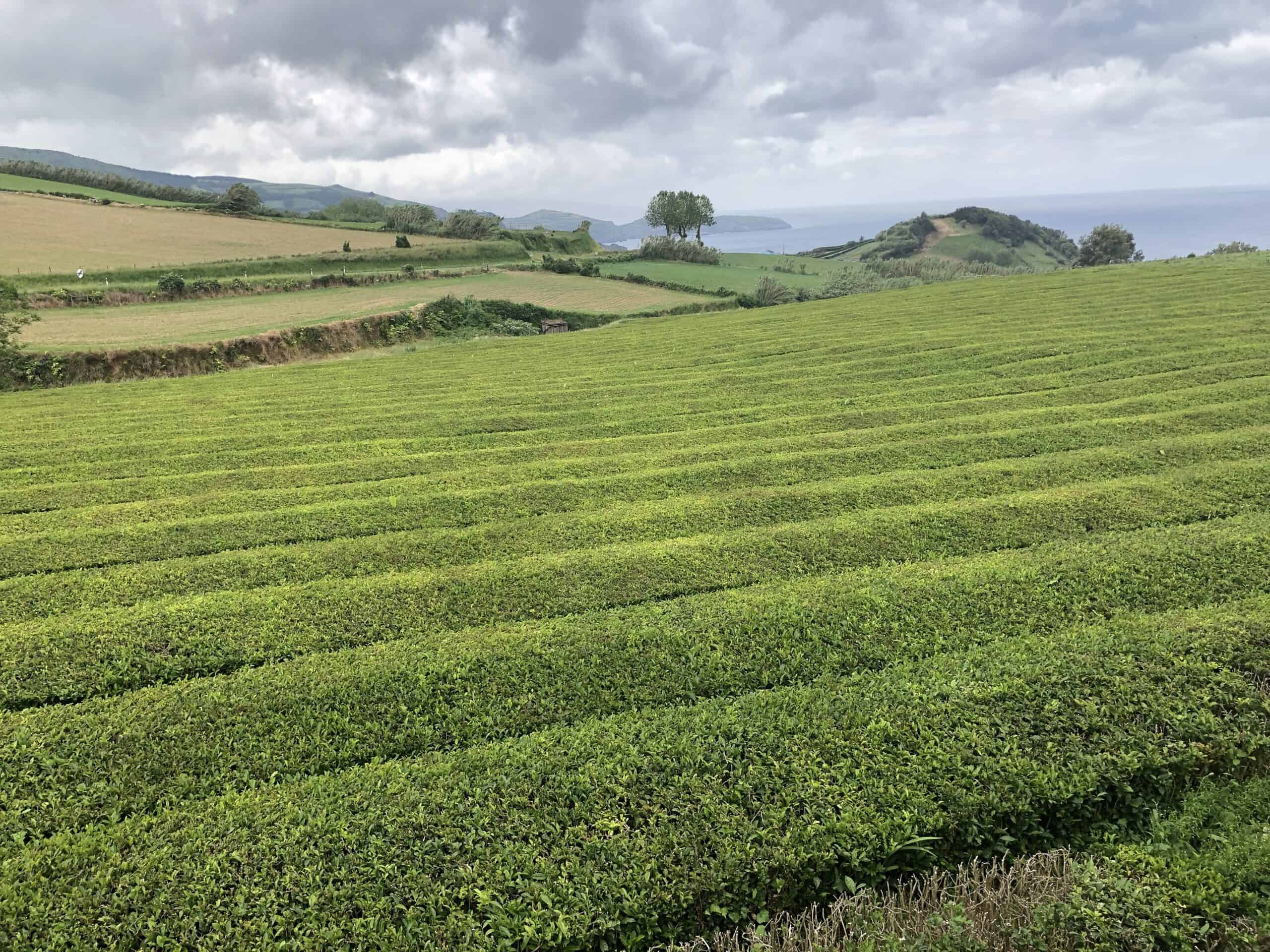 We visited while it was raining (which was fine as the tour is indoors).
Finer Details
Address: Plantações de Chá Gorreana, 9625-304 Maia, Portugal
Cost: Free
Day 6
The weather was a bit rainy when we woke up, so we hung around the house for a bit and then decided to check out a local pineapple plantation.
Augusto Arruda Pineapple Plantation
The Augusto Arruda Pineapple Plantation was a fun, quick stop. Here, you tour through various greenhouses to see pineapples in different stages of growth. In the center of the Augusto Arruda Pineapple Plantation there was a lovely gift shop with unique gifts. To the left of the entrance, there was an almost hidden stand to buy yummy treats.
If you visit, you have to try their pineapple cake and pineapple ice cream. It was the best I've ever had!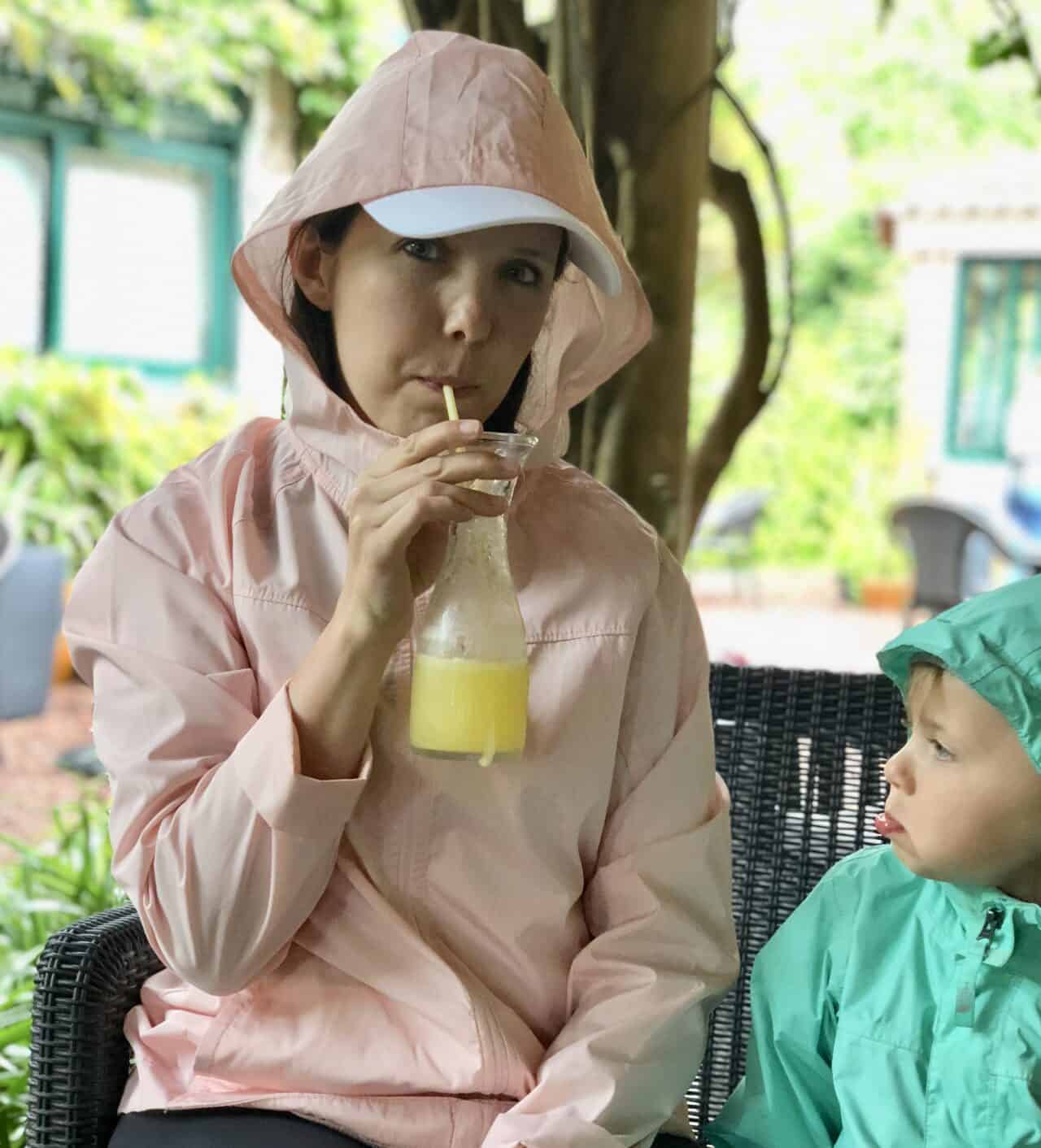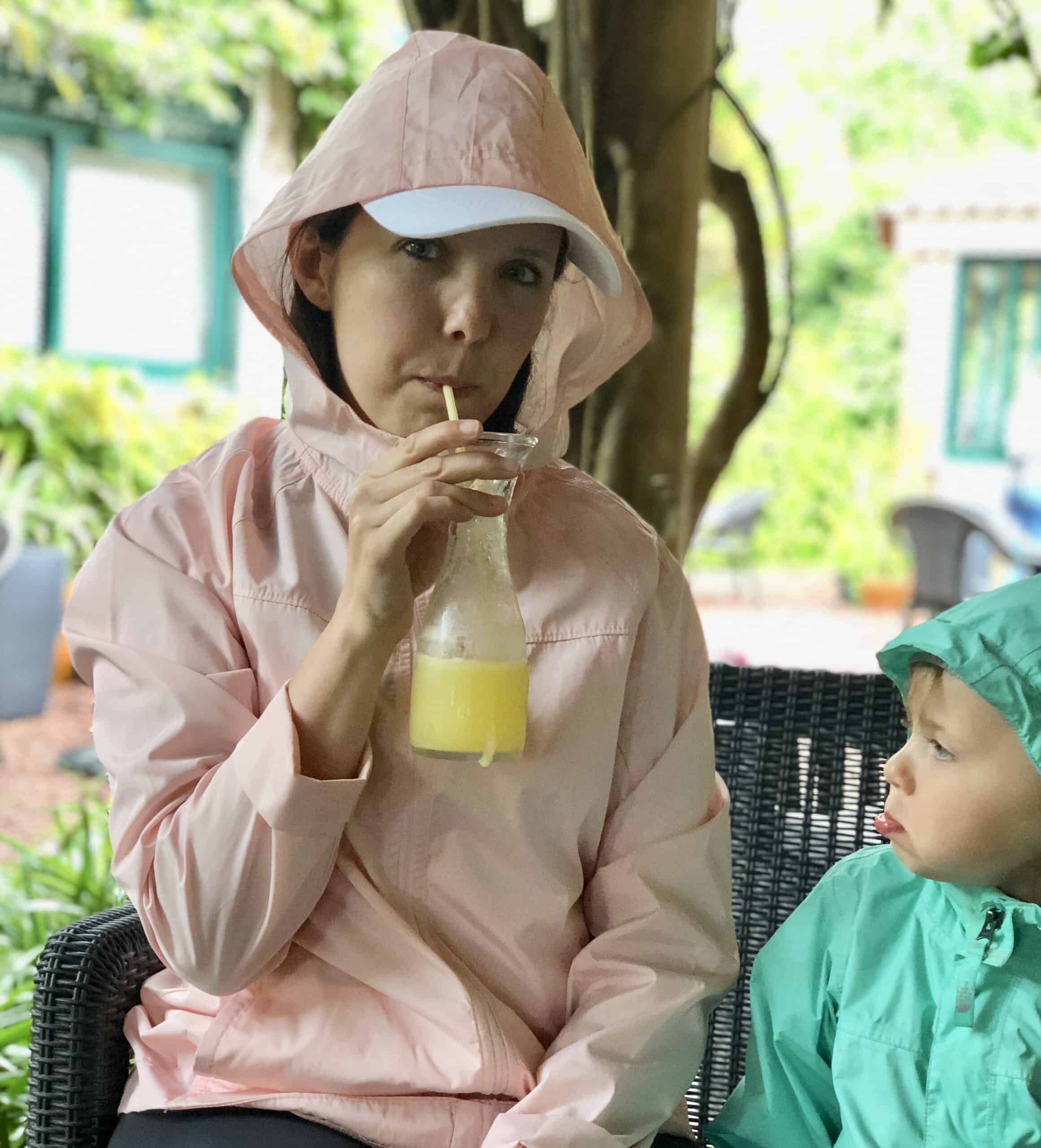 Finer Details:
Address: R. Dr. Augusto Arruda, 9500-454 Ponta Delgada, Portugal
Tips: Get the pineapple cake and ice cream!
Cost: Free
We ended the day with what was one of our favorite meals at the Restaurante da Associacao Agricola de Sao Miguel. The food here does not disappoint! In addition to being a great meal, it was relatively affordable. Compared to the cost of food in the Northeast (CT, USA), food and drinks in Sao Miguel was significantly cheaper. For about $80, we were able to enjoy a top of the line steak dinner, including appetizers, dinner, dessert, drinks, and tip for four people.
Day 7
Parque Terra Nostra
We spent our last full day at Parque Terra Nostra in Furnes. What a beautiful location! In the center of the park, there is a gigantic orange mineral pool that you can swim in. Throughout the rest of the park, there are gardens upon gardens of the most beautiful flowers, trees, and landscape.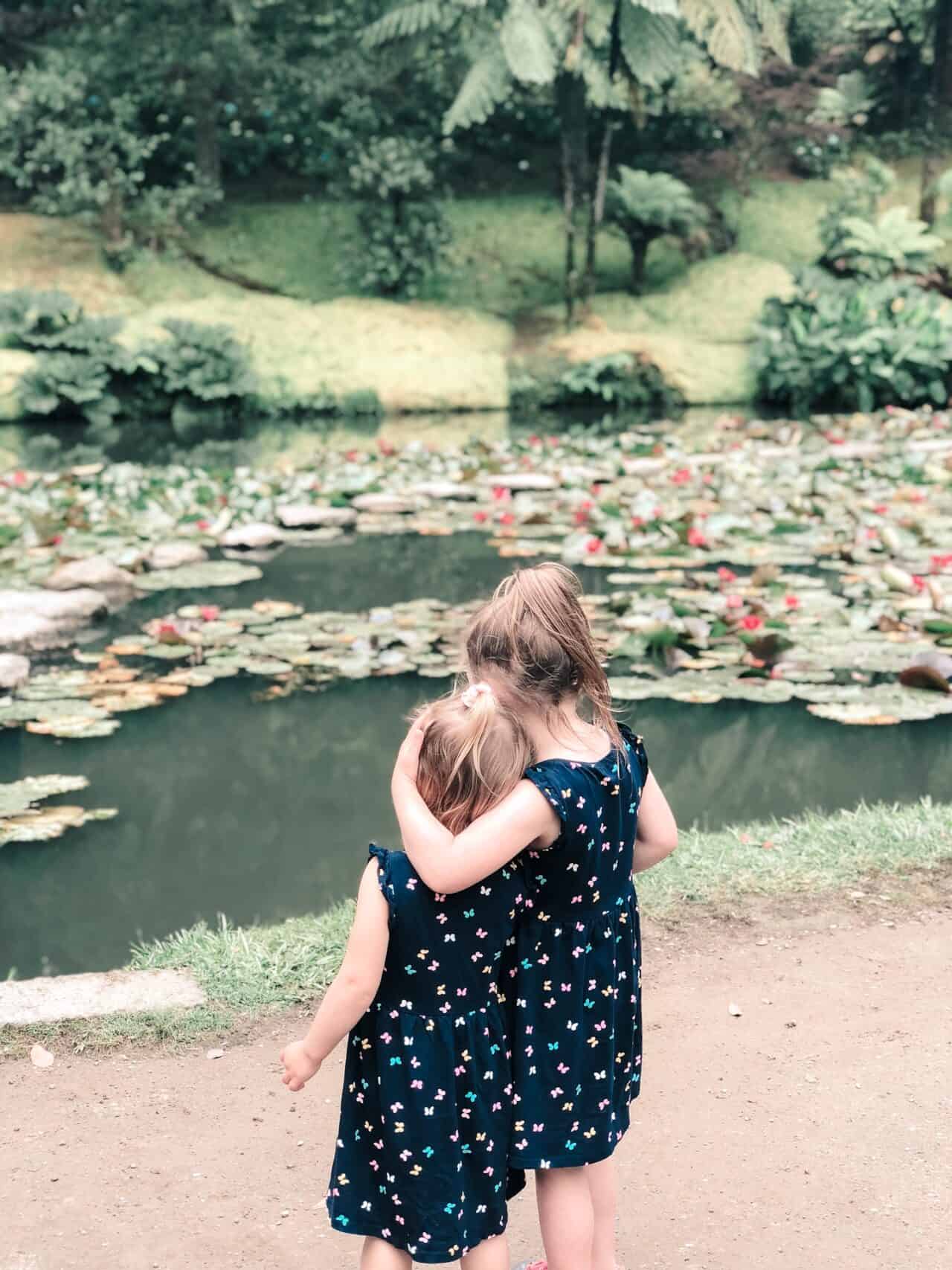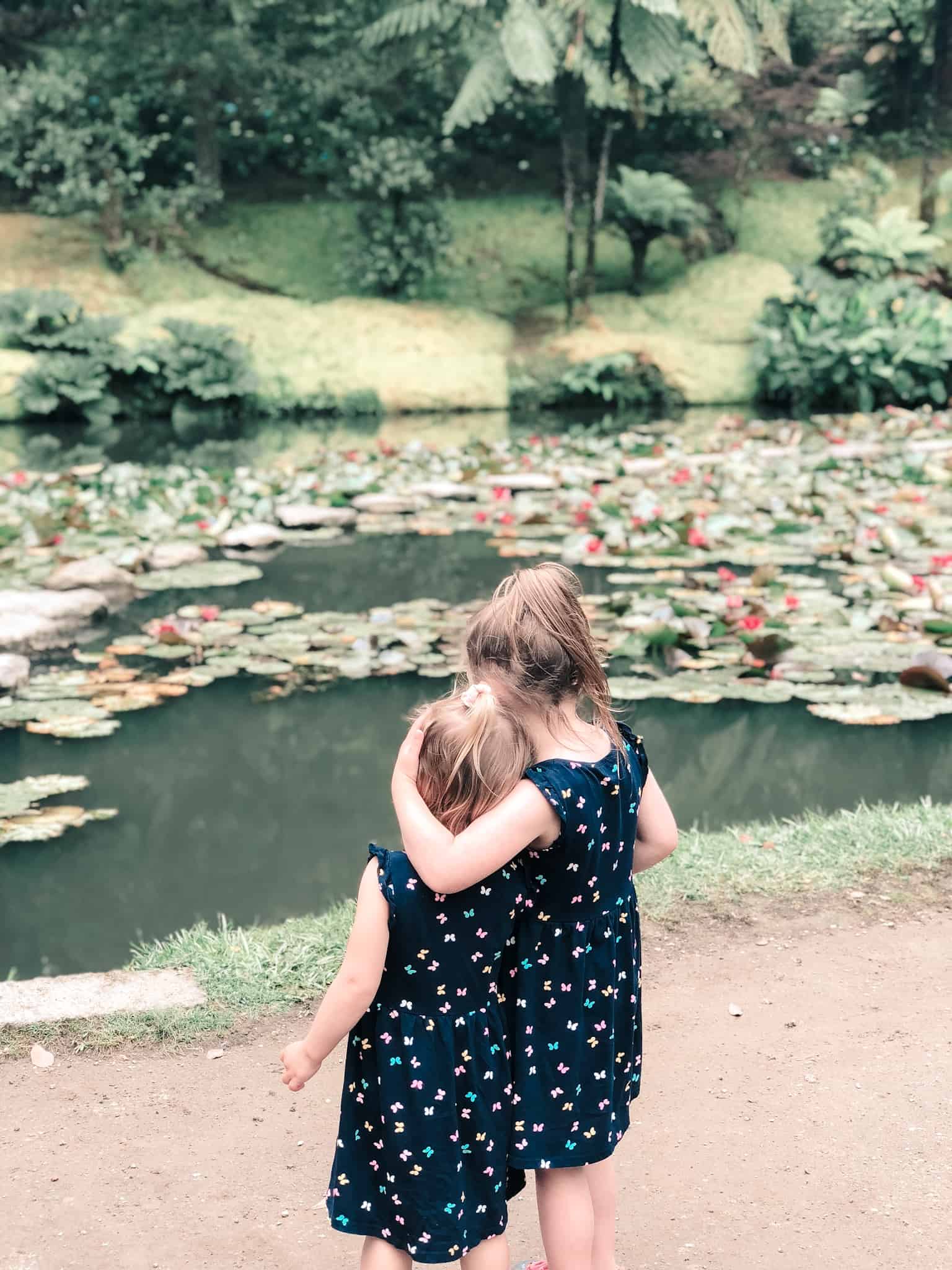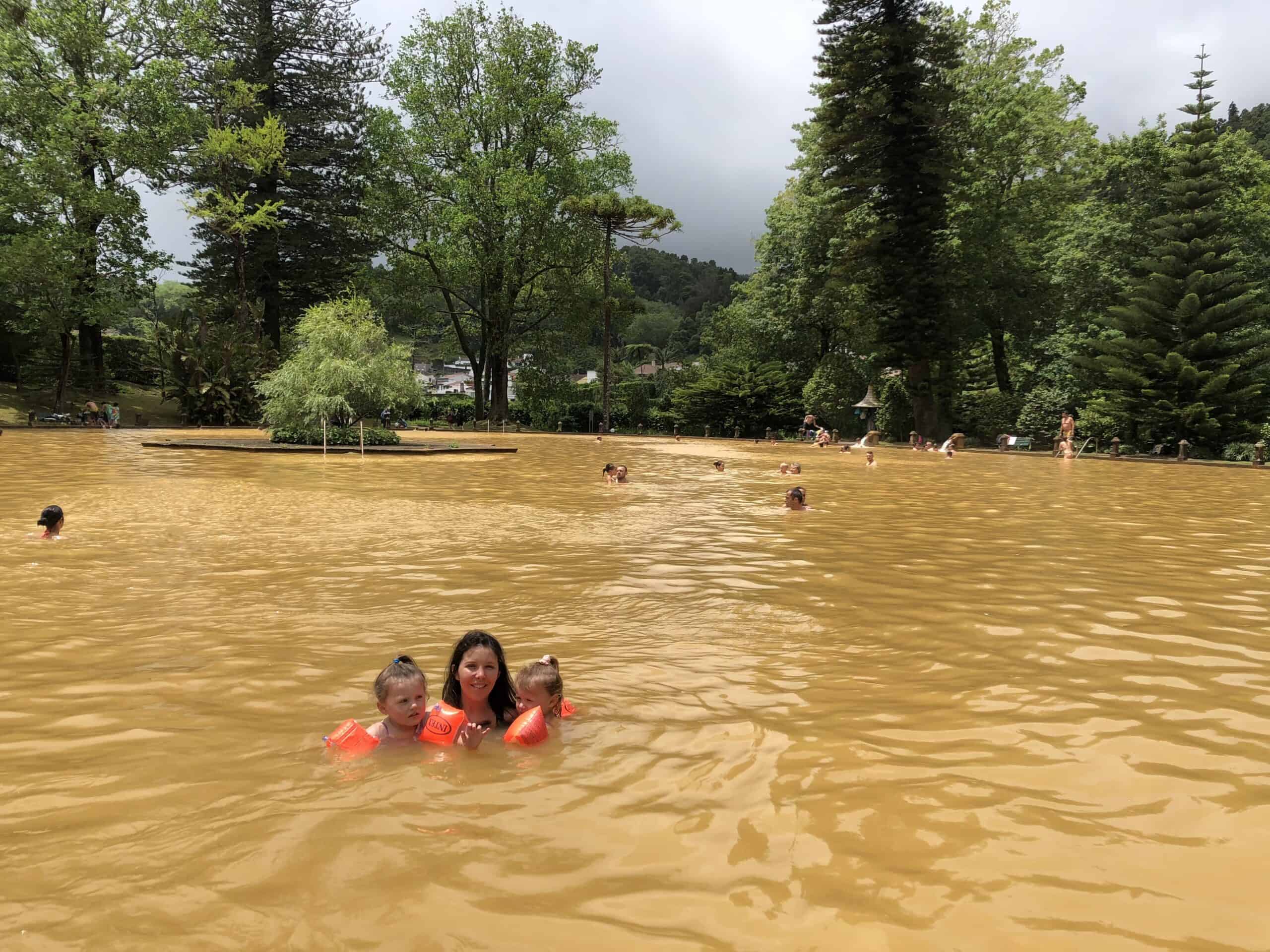 Finer Details:
Address: Largo Marquês da Praia e Monfort, 9675-061 Furnas, Portugal
Tips:

If you plan to swim in the mineral pool:

Wear a dark colored swimsuit to avoid staining.
Pin/tie your hair back if you have colored hair and avoid getting it wet.
Bring your own towel

Cost: $10 euros per person
After the park, we headed into the city of Ponta Delgada to explore an old lava cave known as Gruta do Carvao.
Gruta do Carvão
Gruta do Carvao is an underground lava tube that you are able to explore. During the tour, you are taken underground into the lava tube and learn how the volcanic lava flowed from the island underground.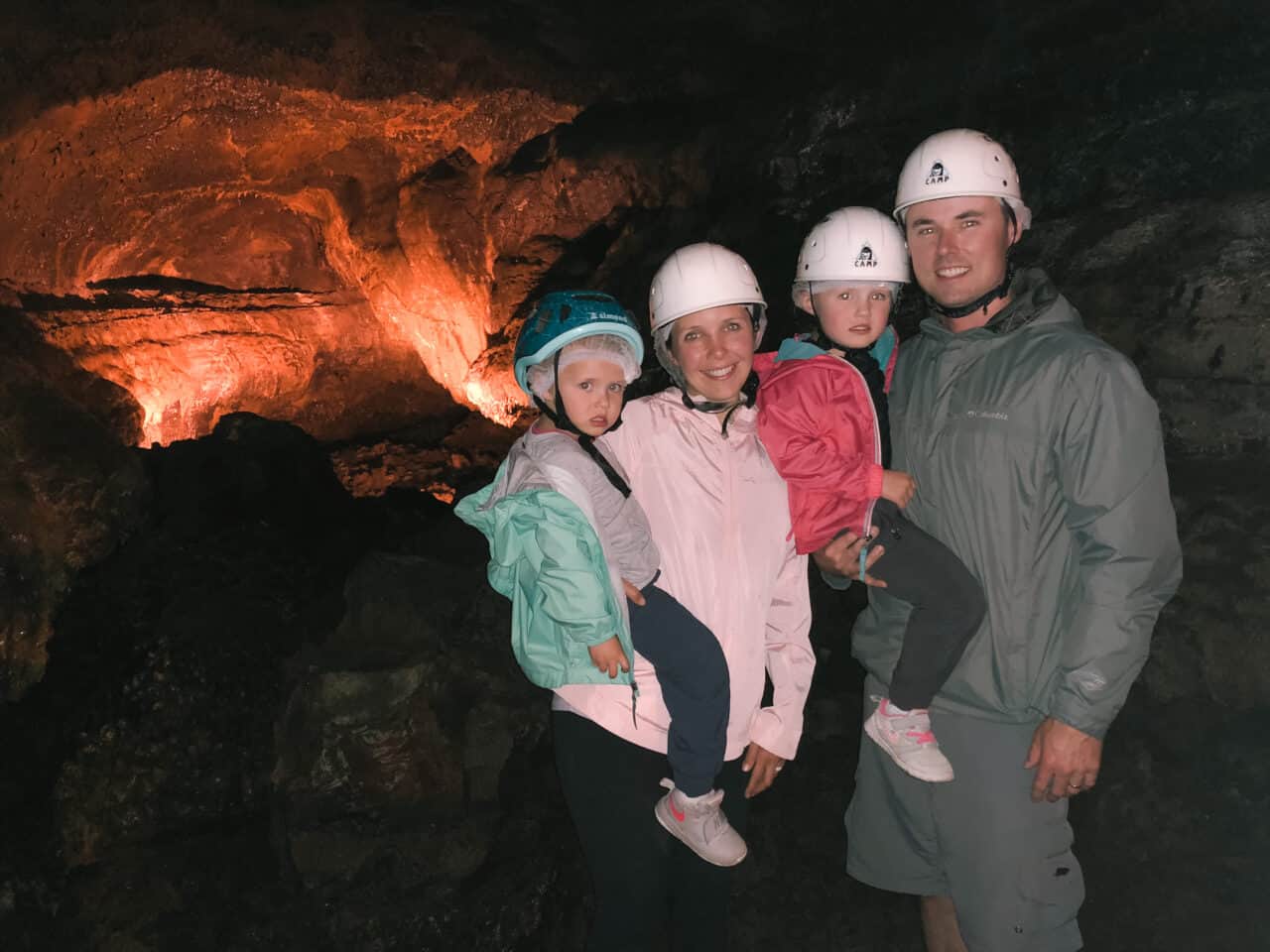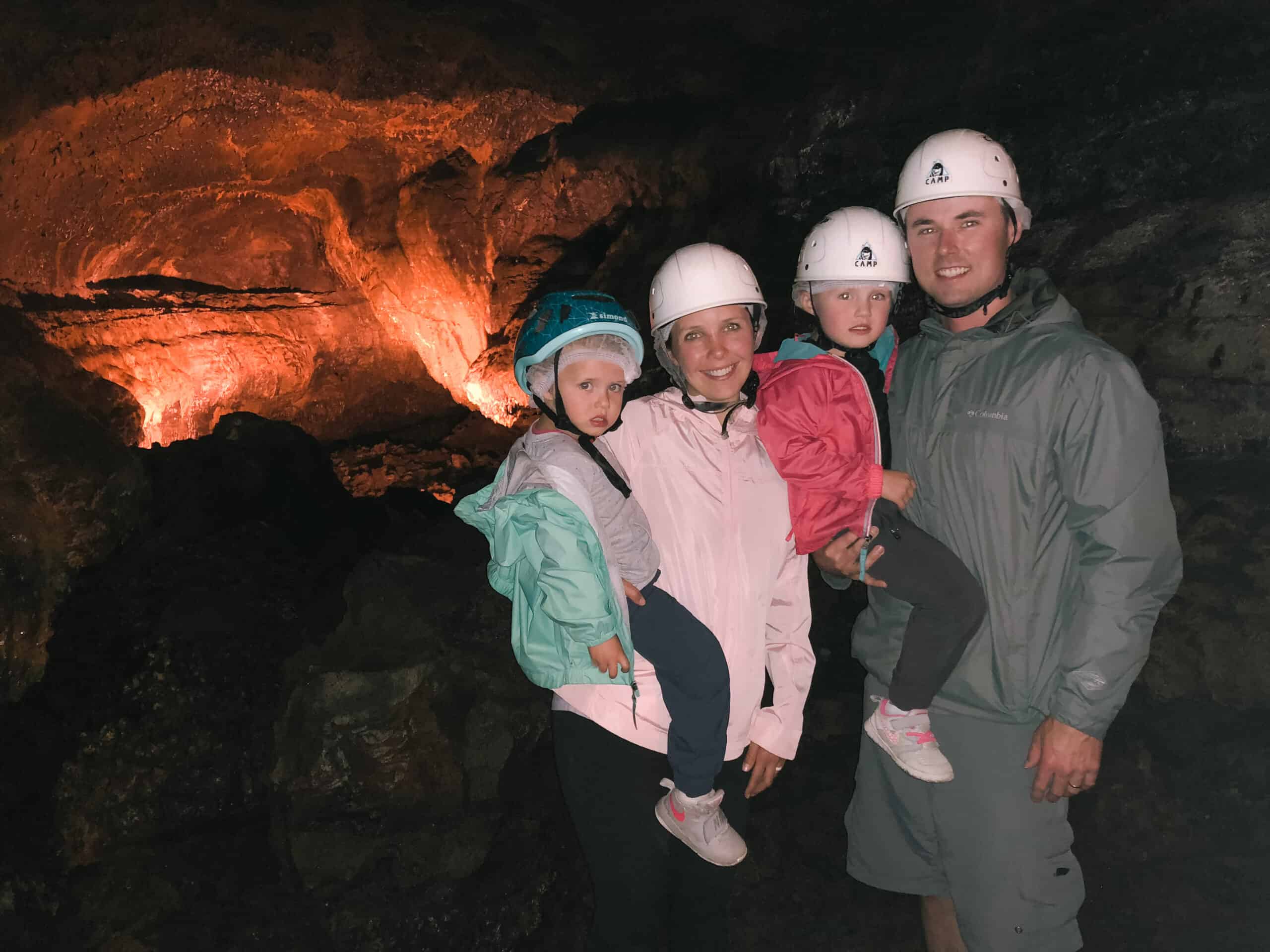 Finer Details:
Address: R. do Paim, 9500-230 Ponta Delgada, Portugal
Cost: 8 euros per person
We ended the evening at Santa Barbara Beach again to eat on the water at the TukáTulá Beach Bar. It was the perfect way to end a fantastic trip on Sao Migel.
Overall Thoughts on Trip and Miscellaneous Tips
Our visit to the Azores was one of the most magical trips we have taken as a family. We highly recommend a visit and will for sure return in the future.
Miscellaneous Tips
Download Google Maps prior to your trip. If you are not familiar with Google Maps, you can preload an entire location to your mobile device, and it serves as your map/GPS.
One of the best places to exchange money is via the ATM machines. (That is assuming your bank card does not charge for foreign transactions.) Most places take credit cards as well.
Check out the web cameras prior to any outdoor sightseeing/adventures. The weather changes quickly and varies across the island.
Tipping: Tipping is not customary in Portugal and not "required". That said, we gave several tips throughout our stay for wonderful service.
The temperature varies significantly across sites with higher elevation versus lower elevation. Bring a light jacket or sweatshirt.
There are so many places to enjoy a picnic across the island. I'd highly recommend paying a visit to a local grocery store and enjoying a picnic lunch.
Download our shared map to see all of the locations we visited and plan your own epic adventure!

https://goo.gl/maps/h3DStcXKb51uvPgv7
Related Content: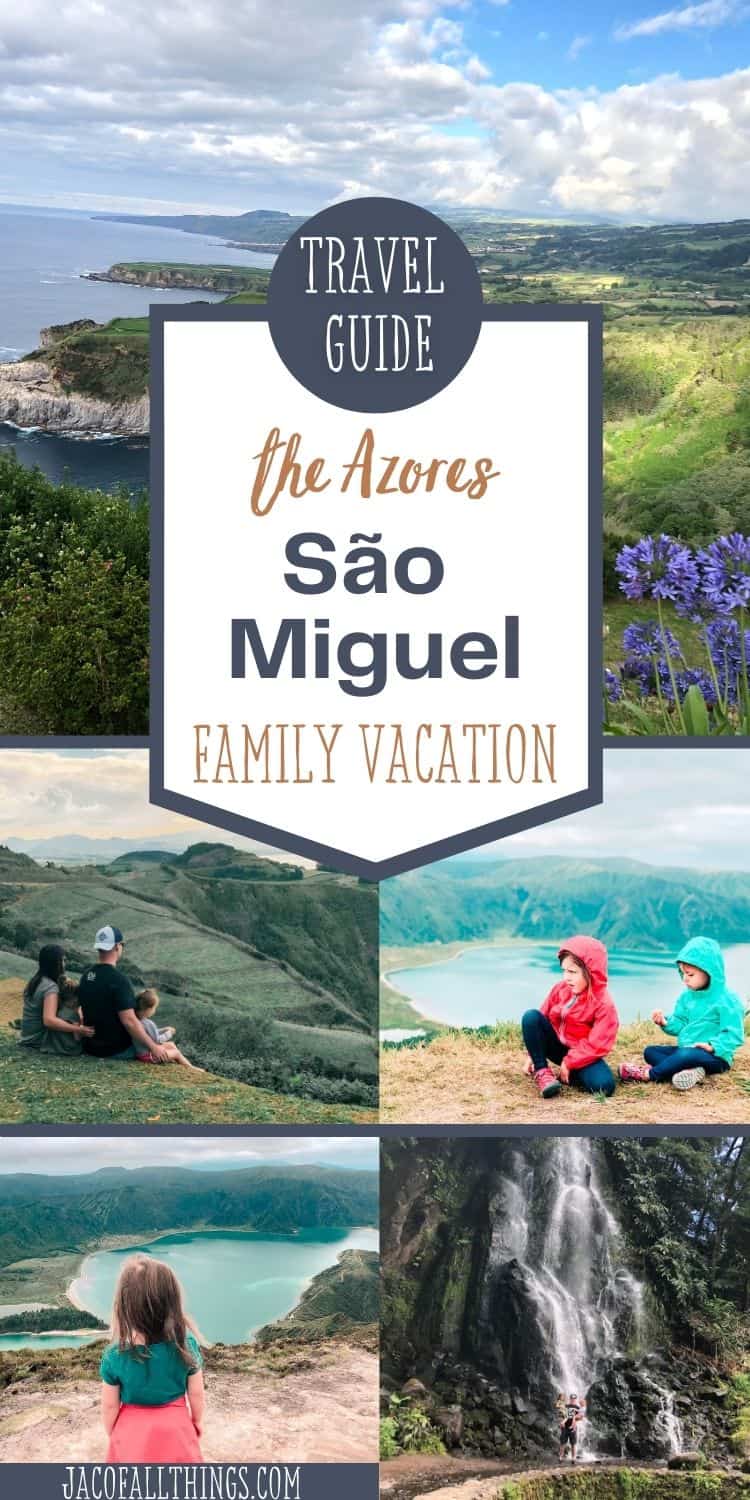 Receive Weekly Life Hacks
Subscribe to receive exclusive life hacks and practical information sent directly to your inbox! By using this form you agree with this site's privacy policy.