The Baha Mar Resort in the Bahamas is lovely and luxurious but comes with an expensive price tag. The good news is that you may save money on your vacation to Baha Mar by using these tips.
---
This post may include affiliate links. As an Amazon Associate I earn from qualifying purchases. Read the full disclosure here.
---
Use points to pay for the cost of your room
For a standard room at Baha Mar, the nightly rate is 20,000 Hyatt points (as of mid-2021). No Hyatt points? No problem? Did you know that Chase Ultimate Rewards points can be converted over to Hyatt points? Converting to Hyatt points is one of the best redemptions you can get for your points. Depending on the number of points you have, you may be able to get your entire stay covered for free!
If you already have Chase Ultimate Rewards, you can easily transfer over your points to Hyatt at a 1:1 ratio and book a room through Hyatt. If not, you can easily sign up for a new Chase Ultimate Rewards credit card (such as the Chase Sapphire Preferred or Chase Sapphire Reserve). You can receive a pretty significant sign-on bonus for new cards. Sign-on bonuses vary throughout the year but typically range from 60,000 points to 100,000 points once you meet minimum spend. This can cover between 3 – 5 nights at Baha Mar for free!
Purchase a reusable soda cup
Several locations throughout Baha Mar and Baha Bay sell a reusable cup to be filled with soft drinks and club soda. For maximum use, purchase a reusable cup on your first day! Note that not every location allows refills, though most pool bars and some indoor restaurants will refill your cup. The cost for a cup is $14, which you can use multiple times throughout your stay.
Save money on alcoholic drinks
Alcoholic drinks at Baha Mar are PRICEY! There are a few ways you can reduce costs.
Purchase liquor or beer at the duty-free shop when arriving at the Bahamas at the airport. Immediately before you exit the airport, after going through immigration, there is a duty-free liquor shop to the right of the exit.
Purchase liquor or beer at a local store before arriving at the resort. Ask your transportation service/taxi to stop at a local store so you can purchase what you need.
Once at the resort, order your drinks virgin and add your own alcohol.
For even more savings, buy a bottle of rum at the store and fill your reusable mug with soda throughout the week.
Bring Yeti cups to keep your drinks cool throughout the day.
Pack a collapsable cooler to carry drinks down to the pool.
Pack your own breakfast foods
Breakfast at Baha Mar can be expensive and you can save quite a lot of money if you pack your own breakfast foods. For a quick and easy option to grab something and go, pack your own dry breakfast foods such as granola bars or protein bars. Or bring protein powder to mix with water (bottled water is provided in your room).
You can also go to a local grocery shop and pick up morning meals.
Visit one of the cheaper restaurants at Baha Mar for breakfast
For a cheap(er), and quick breakfast option, visit one of the two Starbucks on the Baha Mar resort. Or enjoy a sit-down breakfast at Cafe Madeline. While I would not call it cheap, it is less expensive than other restraints at Baha Mar and serves the most delicious coffee and pastries.
Bring your bottled water with you to restaurants
Each day, you should receive free bottled water in your room. (You can also call housekeeping and ask for more!) Use this water wisely as water throughout the resort is expensive! Some restaurants only serve bottled water (that's right, no tap water!) and it costs $15 a bottle! To save at meals, bring the bottled water from your room to the restaurant.
Check to see if there are any current promos available that were not available at the time of your booking
Be sure to check on the Hyatt Baha Mar website to see if there are any current promos available that were not available at the time of your booking. If there is a promotion that was not available upon booking (such as stay three nights get one night free, or $100 per day food and beverage credit), give Hyatt a call to see if they will apply to your reservation.
Take the bus rather than taxi to downtown Nassau.
If you are looking to leave the resort, you can save a significant amount of money by taking the bus rather than a taxi. The bus costs $1.25 each way, compared to $20-$30 each way for a taxi.
To catch the bus, walk out of the main door of the resort, turn right and head to the bus stop.
Bring your own snorkel equipment to use right at the Baha Mar beach.
You can save money by exploring the ocean right outside the resort rather than booking a snorkel excursion. (Just remember to pack your own snorkeling equipment!)
Snorkeling right off the shore is a way to see many different species of fish and sea life, like turtles. You can also rent kayaks for free if you prefer to stay above the water.
Book excursions direct rather than through the resort.
Consider booking excursions direct rather than through the resort. Just remember to do your research first to ensure you are selecting a reputable provider.
Be sure to check out a site like Trip Advisor for feedback on local providers.
While there are plenty of tour operators that you can book in person, if you are attending during peak season, be sure to book in advance to guarantee your reservation.
(One of our favorite off-site excursions is the Blue Lagoon for dolphin experiences.)
Pay attention to your receipts and bills to avoid overpayment
Before tipping, be sure to check your receipt to see if a tip has already been added. (Most services already include a 15% tip!) You can also check your hotel bill throughout the week in your room (on the TV or tablet) to verify your charges are accurate.
Children under 5 eat free at many restaurants
Little known secret…children under 5 eat free at various restaurants (mainly by the pool). If you are traveling with little ones, be sure you ask if this is available to save money.
Research menu prices before making reservations
There are numerous restaurants to select from at Baha Mar, with a wide range of prices. Before deciding where you will dine, take a look at the menus (located on the Baha Mar website) to get a feel for the pricing. While nothing is "cheap" there are a few restaurants that offer meals at a lower price point, such as the pool restaurants, food trucks, and sit-downs including Stixx, the Swimming Pig, and Pizza Lab.
---
---
Related Content: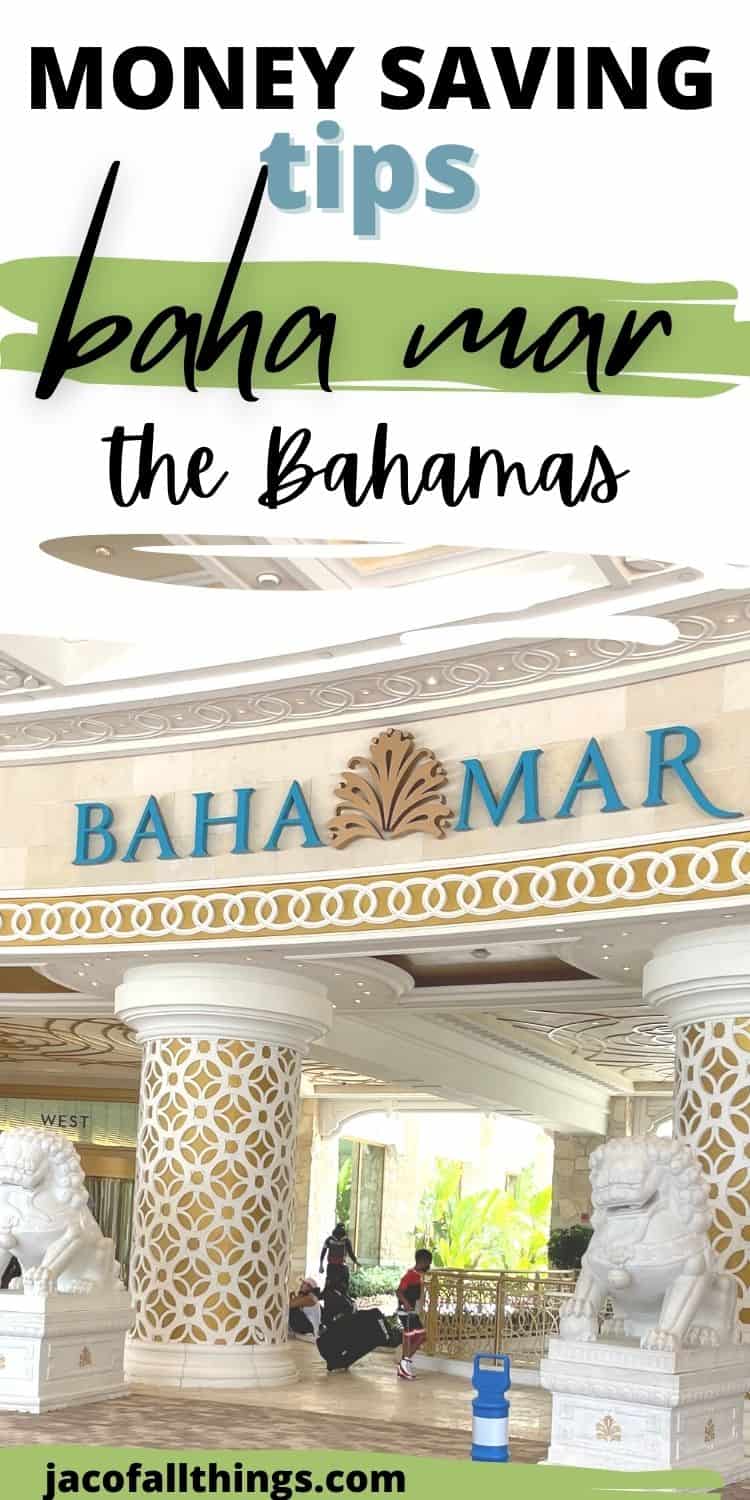 Receive Weekly Life Hacks
Subscribe to receive exclusive life hacks and practical information sent directly to your inbox! By using this form you agree with this site's privacy policy.